PowerPoint is one of the most powerful slide show presentation software, with over a hundred languages. For the last few years, Microsoft has established PowerPoint as an equivalent for the presentation program.
However, any kind of error on PowerPoint could be very disappointing, particularly when you have to deliver a presentation for others.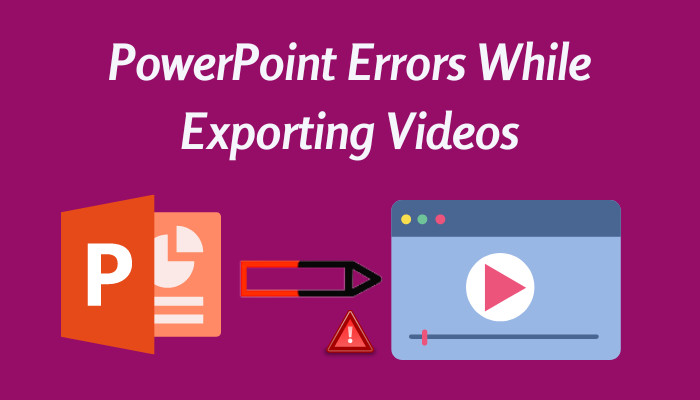 A few days back, when I tried to export a video for my presentation via Microsoft PowerPoint, I saw some errors, which was very frustrating. Through some research, I was able to find out the causes and solutions for this error.
By following this article, you will know the reasons and quick fixes for PowerPoint errors while exporting videos.
Why Can't I Export PowerPoint to Videos?
You can't export PowerPoint to videos due to some legal limitations that make it difficult to export PowerPoint presentations to videos. For example, according to copyright law, you can only copy a PowerPoint presentation for non-commercial purposes or your personal use.
However, suppose you want to share your PowerPoint presentations with your friends or family or with online users so that they could potentially see it at their office or home. In that case, you must convert it into another format.
There are several tools available that help you to convert your PowerPoint presentation into a video format. An example is the Microsoft Office video converter. Therefore, this third-party software supports the limited feature and is unsuitable for commercial usage.
Here's a complete guide on how to fix PowerPoint not recording audio.
How to Fix PowerPoint Errors While Exporting Videos
There are a few ways to resolve PowerPoint video exporting issues. When exporting a video from PowerPoint, it is essential to ensure that the file is exported correctly. That means monitoring the video settings and confirming the codec is set to the correct option.
If there is a problem, you can save your project as an alternative format that helps you to continue editing later. Before exporting your files, I recommend you check the video quality and ensure that it is displayed correctly on all devices without any issue.
Let's get started.
Here are the methods to fix PowerPoint errors while exporting videos:
1. Optimize media compatibility
One of the major and most common reasons for not being able to export video on PowerPoint is unoptimized data. If you try to export a large-size video file for a presentation, the PowerPoint application starts to struggle because it's designed for basic clips and videos.
Here are the steps to optimize media compatibility:
Launch PowerPoint application.
Click on the File menu and go to the Info.
Click on Compatibility Mode.
Wait for some time until the process is completed. Afterward, go back to your video and see if you can export it.
Also, check out our separate post on how to fix Powerpoint not saving error.
2. Disable background applications
Some of your applications may interfere with PowerPoint's export tool, explaining the error. That's why background applications are also responsible for this cause.
Let's fix this issue by disabling background applications.
Here are the steps to disable background applications:
Right-click on your Start icon from the bottom left corner.
Select Task Manager.
Go to the Services tab.
Navigate the apps you are not using and close them one by one.
Quit the PowerPoint application from the taskbar bar and reopen it to check if the video can export.
3. Disable Add-Ins
Add-Ins are complementary tools that add custom features and commands to various Microsoft office programs. These are used for most PowerPoint, but not all Add-Ins are influential. In this case, turning off Add-Ins may solve the problem.
Here are the steps to disable Add-Ins:
Open PowerPoint application.
Click on the File and select Options.
Navigate the Add-Ins tab.
From there, turn off all of your custom features and commands. Go back to the video you want to export and check if the problem is resolved.
Check out our expert-recommended error fixing, Microsoft Teams Error Code 42B.
4. Repair PowerPoint
If none of the above methods work for you, I suggest repairing the PowerPoint package can be the only solution.
Here are the steps to Repair PowerPoint:
Launch the Control Panel on your PC.
Click on the Programs.
Click on the Programs and Features.
Navigate to the PowerPoint application.
Select and right-click on the app.
Click on the Change.
Choose the Quick Repair option and follow the command.
After finishing the process, reboot your system and check if the problem is solved.
Here's a complete guide on how to Merge Microsoft Accounts.
FAQs
How do I export a PowerPoint presentation as a video?
To export a PowerPoint presentation as a video, Go to your File menu on PowerPoint and select Save to confirm all your recent work has been saved in pptx format. After that, click on the File tab > Export > Create a Video > Select resolution > Create Video and save it.
Why doesn't my PowerPoint have an export?
If you do not have an office 365 subscription, then you will not be able to see the export in a video format.
How do I convert a PowerPoint to a video with audio?
To convert a PowerPoint video with audio, Open PowerPoint and go to File tab > Export > Create Video > Choose your video quality, recorded timings, and Narrations > Create a video.
Can you upload a PowerPoint video on Youtube?
Unluckily, youtube accepts only video files. You need to convert your presentation file into a video file to upload it on Youtube.
How do I export a project from PowerPoint?
To export your video file from PowerPoint, open the Export tab and select Microsoft PowerPoint.
A Final Thought
A video file in PowerPoint does not perform well or is crippled for several reasons, which I mentioned already.
I hope reading this article helps you to know how to fix PowerPoint errors while exporting videos. Besides, these methods work for all devices. Remember that whenever you try to optimize your media file, it reduces your footage's visual quality.
If you still face errors on Microsoft Powerpoint, let me know in the comments section.