It's not uncommon for certain system services to eat up all the CPU resources unnecessarily, the Service Host(svchost.exe) being one of them. And the worst thing about it is that you can't just simply disable such crucial system services without any repercussions.
So the only option you're left with is to find a proper solution to fix its abnormally high CPU usage. Lucky for you, this article provides just that.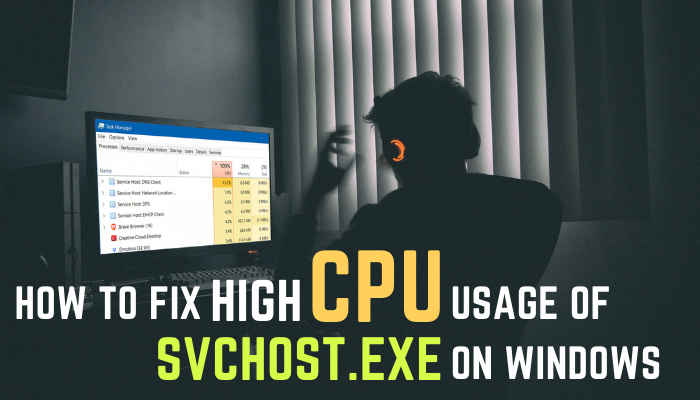 Let's fix this!
What is svchost.exe & Is It Needed?
The svchost.exe(Service Host) is a shared process that Windows uses to load services from DLL files. It is basically a shell for loading crucial services to perform system-level operations. It can host one or more Windows services that run from dynamic link libraries.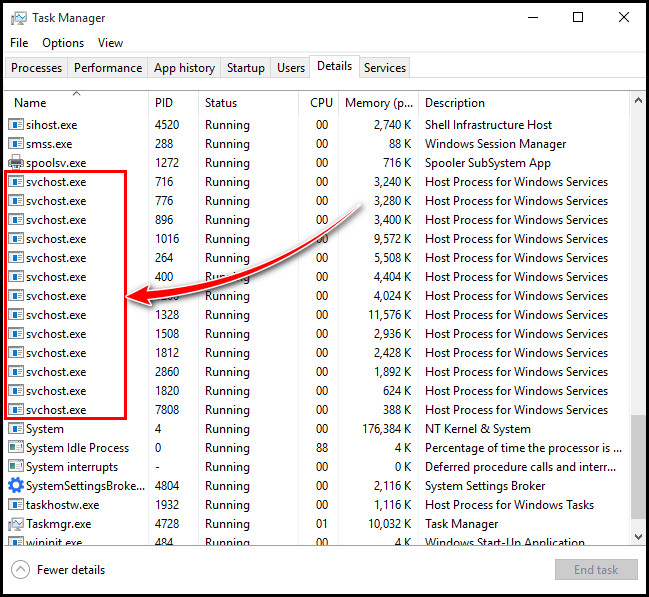 If you've checked the task manager, you would've noticed that there's more than one svchost.exe running in the background. You might be wondering why?
Well, many of these services are mandatory for booting up the Windows OS.
So if Windows only used one svchost instance to run all these essential services, a failure in any one of those services could crash the svchost process and bring down the whole Windows system.
If you are getting high CPU usage across different applications, check our guide where we give you the working fixes that are bound to reduce the utilization.
Fix Abnormally High CPU & Memory Usage of svchost.exe
Windows 10/11 users can fix the high CPU usage issue of Service Host(svchost.exe) by scanning for possible viruses or malware with Windows Defender or other third-party antivirus programs. If it finds any malicious programs or files, remove them immediately.
Additionally, disabling some non-essential svchost services can reduce its overall CPU resource utilization. These methods are also useful when the process uses too much memory or disk usage.
There are some additional alternate methods, which I have thoroughly discussed below.
Here are the methods to fix the high CPU usage of svchost on Windows 10/11:
1. Scan Your PC for Viruses/Malware
Since the Service Host is used for running certain Windows operations, viruses or malware can prevent svchost.exe from finishing its intended operation. As a result, its CPU, memory, or disk usage can get abnormally high.
Run an antivirus scan for possible malware/viruses on your PC. If you find any malicious programs, uninstall them & remove the viruses to see if the issue has been fixed.
If you don't have any third-party antivirus program, the built-in Windows Defender/Virus & threat protection will do just fine.
Here's how to scan your PC for viruses/malware:
Go to the Windows Search bar and type virus & threat. For previous builds of Windows 10/8.1, type windows defender.
Hit Enter.
Click on Scan options from under the Current threats section.
Select the Full scan option and hit Scan now.
Wait a few minutes until the scan is complete. If the utility detects any malware, it'll take the necessary actions to remove them from your device.
In case you're still unsure about whether viruses are causing high CPU usage or not, I'd still recommend running antivirus scans from time to time to keep your PC safe.
2. Disable Non-crucial svchost.exe Services
There are some svchost services that aren't essential for running Windows OS, such as Diagnostic Service Host, SysMain, Windows Update, etc.
These services can often run in the background and take up a huge amount of hardware resources unnecessarily. What you can do is disable those non-essential services to prevent those random CPU/disk usage spikes.
Here are the steps to disable certain svchost.exe services:
Press Windows Key+S and type services.
Hit the Enter button on your keyboard.
Find and select Diagnostic Service Host.
Click on Stop from the left pane.
Right-click on Diagnostic Service Host and select Properties from the context menu.
Click on the drop-down menu for Startup type and select Disable.
Hit Apply > OK.
Do the same for Windows Update and SysMain services.
But beware! Disabling any vital Windows services might introduce stability issues for your entire system. So be cautious about which process you're going to disable.
If the Diagnostic Policy Service gives you high CPU usage, use the fixes from our separate article to solve this issue instantly.
3. Clear Event Viewer Log
Large log files in Windows event viewer can slow down the operations of certain svchost services and cause high processor utilization issues. Fortunately, emptying those logs can reduce the strain on the process.
Here's how to empty the event viewer's log:
Press Windows key+R and type eventvwr.
Hit OK.
Expand the Windows Logs section from the left side of the pane.
Click on Application.
Click on Clear Logs from the right side of the pane.
Hit Clear.
Do the same for Security, Setup, and System logs.
Now, restart your computer and you're good to go. This is an effective solution for the svchost.exe high disk usage or memory leak issues. Hope this resolves your problem. Yet, there's one final last resort to fix this.
Sometimes you can get high CPU usage with Windows Driver Modules Installer. While this is normal, you can bring the utilization down easily. For that, see our article where we fix this issue.
4. Troubleshoot Windows Update
Certain svchost services, such as Windows Update, can often fail to operate. Hence, the service can get stuck in the background process and use a much higher amount of CPU resources than intended.
In such a case, troubleshooting the Windows Update service is your only viable option.
Follow these steps to troubleshoot Windows Update:
Click on the Windows search bar and type services.
Hit Enter.
Scroll down and find Windows Update.
Right-click on it and select Stop from the context menu.
Close Services and double-click on This PC to open File Explorer.
Go to Local Disk(C:) > Windows and delete the SoftwareDistribution folder.
Restart your PC and press Windows Key+I to open Settings.
Go to Update & Security > Troubleshoot > Additional troubleshooters. These steps are for Windows 10 users. For Windows 11, go to System > Troubleshoot > Other troubleshooters.
Click on Windows Update > Run the troubleshooter.
This should fix any underlying errors for the Windows Update service. It'll ensure that the Windows Update service won't make the svchost.exe stuck in the background. It should also fix Windows 11 update failed errors.
Frequently Asked Questions
How do I stop svchost.exe high disk usage?
If your computer is slowing down due to svchost's high disk usage, consider running a virus/malware scan and keep the Windows version up to date. In case the problem doesn't resolve, empty the event viewer's log and restart the service.
Why is my svchost.exe so high?
Svchost.exe can hog computer resources due to viruses or malware. It can also spike the processor/disk usage when Windows is trying to update but is unable to do so.
Is it OK to delete svchost?
No. You shouldn't delete a crucial system service like svchost as it may cause system instability.
Conclusion
Caution is highly recommended whenever you're trying to troubleshoot an essential system service. That being said, carefully follow this guide & you'll be able to reduce the processor utilization of the svchost system service without any risk.
Which method has worked for you? Let us know in the comments below.
Adios!