BIOS is the root access of your system that most people are afraid to enter. But flashing or updating BIOS has become a necessity these days. Because without the latest BIOS, you can't get new CPU features.
Q-Flash enhances this updating process using UEFI mode. However, Q-Flash is only available for Gigabyte motherboards.
Let me explain how Q-Flash works & whether you can Q-flash with the CPU installed on your motherboard.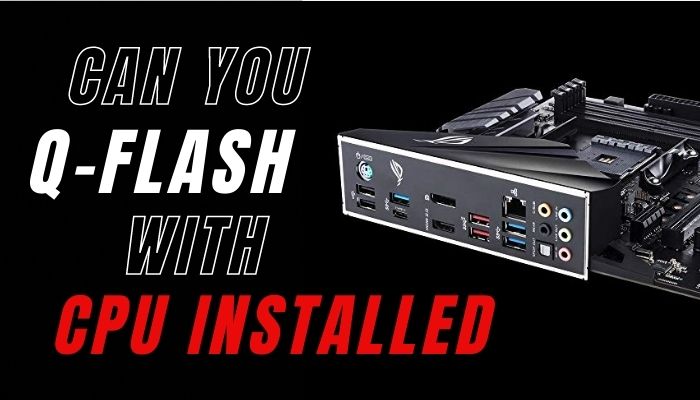 So, without further ado, let's jump in.
What Are The Cautions Before Flashing or Updating BIOS?
Improper changes in BIOS settings will leave your whole system unstable. In the worst case, reckless tuning can permanently damage PC components.
Precautions are unavoidable while you are flashing the BIOS firmware or updating it. Q-Flash brings flexibility to this particular task with a simple & interactive user-friendly UI.
However, the risk is still a matter of terror as you're dealing with the Root level of access.
Here are some cautious facts you must consider before Q-Flashing in the motherboard BIOS:
Make sure you have a backup for a power surge or power cut 一 UPS is the solution. Power cut between BIOS flash or updates can permanently toss off your motherboard.
Take the exact firmware your motherboard need. You can always find it on the specific support section of your motherboard manufacturer's site.
Use a proper CPU cooler while Flashing or Updating because CPU temperature may rise drastically.
Avoid beta versions of BIOS firmware, as it often comes with imperfections that cause issues.
Don't unplug the Flash Drive until the firmware upgradation or flash finishes.
Some other factors like restoring factory settings, readjusting OC settings, etc. are noteworthy tasks after a successful update or flash.
How to Q-Flash with CPU installed on Mainboard?
Flashing or updating the motherboard can effectively improve the experience. Because new features, hardware support, and bug fixes are applied to the motherboard through BIOS updates.
Gigabyte tried to mobilize this process by developing Q-Flash, which is really helpful and easy to use.
But can you install the latest firmware when the CPU is not installed in the motherboard?
It depends, some advanced and latest motherboards are able of installing BIOS Update without any CPU, RAM, Storage device, or any peripherals connected. Only the ATX-24 pin is needed to run such motherboards to install the latest BIOS version.
However, most motherboards require the whole system to be ready, when updating BIOS.
Here is the step-by-step process to Q-Flash with the CPU installed:
Download the latest firmware for your motherboard specifically.
Format your flash drive by selecting the FAT32 file system.
Unzip the downloaded firmware file.
Copy and paste it into the root directory of the flash drive.
Restart your PC.
Hit the Boot key continuously until the boot menu appears. (DEL key)
Press F8 or Click on the Q-Flash menu from UEFI mode.
You can see the current version of BIOS and the latest version you just downloaded and pasted into o flash drive.
Choose Update BIOS. (You can also Save the current version of BIOS)
Select your flash drive that contains the latest Firmware.
Click Yes from the pop-up window.
Hit Enter or click on Press to Start button to execute the process.
Click on Reboot, or it'll automatically reboot.
Re-Enter BIOS to verify if your BIOS is updated.
Reset and re-configure your BIOS according to your need.
Pro Tips: If your system gets unresponsive, you can reset your BIOS by removing the CMOS battery.
If you are concerned about whether a BIOS update can improve the PCs performance, check our separate article.
When is BIOS Flash or Update Necessary?
Old-generation computers are negligent about upgrading BIOS  as most users don't care. People only access the BIOS if there is a need for basic Overclocking, Undevonting, UEFI/Legacy mode changing, and similar reasons.
But advanced features like intensive OC tuning, XMP settings, CPU & GPU unlocking, attract users to become concerned with BIOS.
Also check if your processor is unlocked in our dedicated article, which shows the specific steps needed to check this.
AMD's 450 chipsets & some selected 320 chipset motherboards become compatible with newer 5000 series Ryzen CPUs by updating BIOS firmware, Surprisingly.
Here are some cases when you should consider BIOS update or flash in your system:
Latest generation CPU support with the firmware update.
Irresponsive system, that is insoluble by fixing OS.
Useful feature integration through BIOS update.
New hardware support on the latest firmware.
Lengthy Bootnig or Boot stuck.
Note: Some firmware versions oblige its previous version installed before the update. Look for a warning on the website before jumping or skipping any version.
Can you enter BIOS without CPU installed? Our separate article explains this. Do check it out.
Can I Flash/Update BIOS Directly From Windows?
Yes, you can install the BIOS update without entering the BIOS menu. But there is no unified solution for this because almost every motherboard manufacturer demands their own flashing software to access the BIOS menu from windows directly.
| Motherboard Manufacturers | BIOS updating software |
| --- | --- |
| ASRock | Can't Update BIOS through an app (Manual Update only) |
| Asus | Asus EZ Update |
| Biostar | Biostar BIOS Update Utility |
| EVGA Corporation | Unable to update BIOS but can download the Firmware. |
| Gigabyte Technology | @BIOS |
| MSI (Micro-Star International) | LIVE UPDATE 6 |
| Intel | No such app support. (Through BIOS Only) |
FAQs
Can you do Q-flash Plus with CPU installed?
You can perform a BIOS update without installing any components on the motherboard if you have Q-Fash Plus support on your motherboard.
Do you need to remove the CPU for Q flash?
There is no need to remove the CPU to Q-Flash. However, the CPU is required to be installed before running Q-Flash.
Can BIOS flash without OS?
Yes, Can update BIOS firmware without an OS installed into your system.
Conclusion
It's risky to enter BIOS without knowing certain things about it. But some basic tweaks are made easy with UEFI mode on recent motherboards.
Q-flash brings a new level of flexibility & simplicity to access BIOS. Users can easily update their motherboard firmware with several clicks, which doesn't require any previous experience with BIOS.
Leave a comment as you should find this article useful, and you can suggest more if any information is still valuable for this writing.