For the most part, reduced PC performance or high CPU temperature happens when the CPU is under 100% load, even when you're not running any processor-intensive app. It's not so uncommon to notice such an issue, and it's also not that difficult to solve it.
Is one process taking up nearly all the CPU resources on your PC? Don't worry. I have shortlisted all the precise methods to optimize CPU usage for all Windows users.
Enough chitchat, let's get started.
Why is My CPU Utilization Too High?
If you're wondering why the CPU usage is at 100% with nothing running, it might be due to background activity. There are some apps & services, such as Svchost.exe, Superfetch or an anti-virus, that can eat up all the resources even when you're not doing anything on your PC.
Additionally, outdated drivers, improper Windows configuration, and viruses or malware can also spike CPU usage.
Here are the possible causes of high CPU utilization:
Apps/services running in the background.
Outdated driver or Windows.
Virus/malware.
High performance power plan.
That being said, not all high CPU usage is a problem. When you're running a demanding AAA game or editing photos/videos, processor utilization reaching 80-90% is expected. But noticing such usage consistently, even in idle, calls for caution; which brings us to our main topic…
How to Reduce CPU Usage
If your CPU keeps hitting 100% without running any intensive program, open Task Manager & check which process is causing 100% utilization. If it's not a system service, select the process & click on End task. Also, run a malware scan & keep all the drivers up to date.
You can try disabling some system services, such as SysMain, Windows Search & Windows Update to free up some resources & prevent unnecessary CPU utilization in the background.
Below I have thoroughly discussed all these, and some additional methods to reduce unnecessary CPU utilization in the background.
Here's how to solve high CPU usage on Windows PC:
1. Restart Your PC
When your computer is running for a long period, it can keep some cache processes running in the background. As a result, CPU usage can increase over time and the system starts to become laggy.
In such cases, the first thing you need to do is reboot your device.
Completely shut down the system and wait a few minutes. Now turn the device back on and check whether the issue has been resolved or not. If not, move on to the next step.
2. Identify the Background Process that is Causing 100% CPU Usage & Close It
One of the most common reasons for high CPU usage is background running apps and services. To fix it, press Ctrl+Shift+Esc to open Task Manager and click on CPU to see which program or service is causing 100% usage. Select the program & hit End task.
However, if a system service/process is the culprit for high CPU utilization, caution is advised. Numerous issues can emerge if you terminate a crucial system-related service. So do a quick internet search before you close any services.
The diagnostic policy process can trigger high CPU use sometimes. As a remedy, do check our separate article for the fixes.
3. Disable Superfetch
If you have checked in the task manager which process is causing utilization spikes, you might have seen the superfetch service hitting 100% CPU usage.
This service is comprised of several system operations such as Windows search, updates, etc.
You can simply end the service from task manager but it will restart automatically and start eating up processor resources again. You need to follow some additional steps to properly disable it.
Here are the steps to disable superfetch:
Press Windows key+S and type services.
Hit the Enter button on your keyboard.
Scroll down and find Superfetch. It can also be named as SysMain in some Windows versions.
Right-click on Superfetch/SysMain and select Properties.
Click on Stop.
Select the drop-down menu for the Startup type section and choose Disable.
Hit Apply > OK.
Additionally, while you're at it, you can find Windows Search Properties & Windows Update services and do the same for those as well. You can also fix high CPU usage for Discord and WMI provider host.
4. Disable Background Running Apps
Startup apps can run in the background without being noticed since these programs launch in the background as soon as you boot up your computer. As a result, CPU utilization can skyrocket even when you're doing some light tasks.
To remedy this issue, you need to disable the startup apps and prevent them from running in the background.
Follow these steps to disable background running apps on Windows PC:
Right-click on the taskbar and select Task Manager.
Navigate to the Startup tab.
Choose the app that you want to prevent from running on desktop startup.
Hit Disable.
Close the task manager after disabling all the unnecessary startup apps individually.
Click on the Windows search bar and type msconfig.
Select System Configuration.
Go to the Services tab and tick the box for Hide all Microsoft services.
Select the services you want to disable, except essential ones like the sound driver, display driver, etc.
Click on Disable all.
Hit Apply > OK.
Now reboot your PC and you should be good to go. In case the issue still persists, move on to the next method.
If you have high CPU usage with svchost.exe, do not forget to check out our separate article. You will get all the possible fixes needed there.
5. Scan for Malware
Virus or malware is another possibility for experiencing higher CPU usage even when you're not running anything. So if you ever hear your CPU fan ramping up randomly when you're not doing anything, run a malware scan just in case.
To do so, press Windows key+S and type virus & threat. Click on Virus & threat protection and select Scan options from under the Current threats section. Now choose the Full scan option and hit Scan now.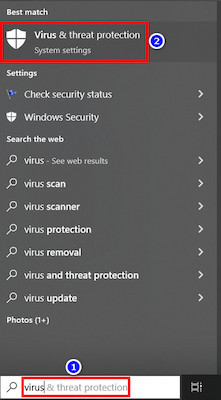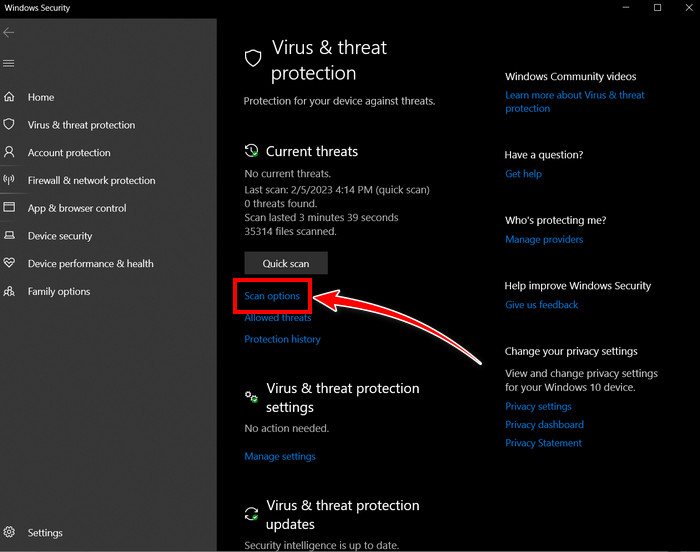 Wait a few minutes until the scan is complete. If it finds any virus or malware, it'll remove them automatically.
6. Disable or Remove Anti-Virus
Having a reliable anti-virus software installed on your PC can be beneficial in many scenarios. But the savior can often become the destroyer. Anti-virus software hogging CPU resources is not entirely unheard of.
Additionally, the built-in Windows Defender is a much more performance-optimized anti-malware service if you keep it up to date. So if you suspect that third-party antivirus software might be using up resources, I'd suggest disabling or uninstalling those programs.
Go to the Windows Search bar & search for Apps & features. Now hit Enter and find the anti-virus program such as McAfee or Avast. Click Uninstall to remove those programs from your computer. You might need to restart your computer to finish the uninstallation process.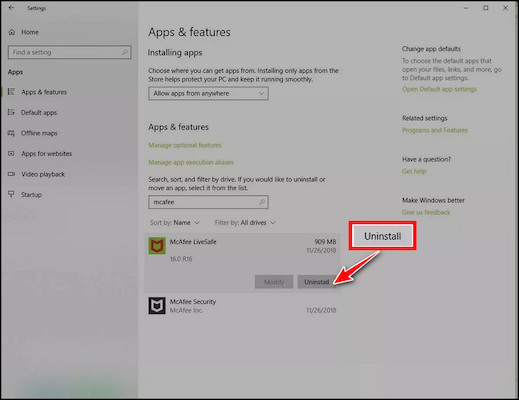 7. Update Drivers & Windows
Outdated or sub-optimal drivers might be at fault if certain processes are still using too much CPU resource redundantly.
Since drivers are responsible for bridging the connectivity between components, keeping them up to date can decrease CPU utilization issues by improving compatibility and eliminating bugs.
Press Windows key+S and type advanced system. Select View advanced system settings.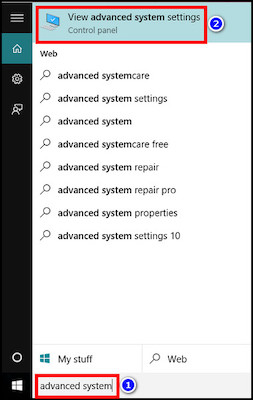 Now navigate to the Hardware tab and select Device Installation Settings. Then choose Yes, do this automatically(recommended) and hit Save Changes. Finally, click Apply > OK.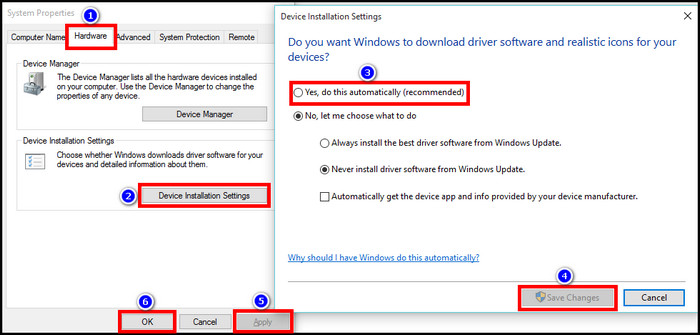 After that, press Windows key+I and select Update & Security. Then hit the Check for Updates button. It'll prompt driver updates for available hardware & services. This will also fix excessive processor utilization issues for the Microsoft block level backup engine.
Caution: Do NOT use third-party programs to update drivers as Windows is completely capable of updating drivers on its own. Many companies advertise free software to update drivers with one simple click. Don't fall for these scams, they can install bloatware or malware on your PC.
Pro tip: Updating the BIOS can often resolve high CPU usage if the cause lies in the motherboard's firmware. But beware!
8. Defrag C Drive
Slower hard drives can also be a reason for high CPU utilization. To resolve this, you can optimize the drives, especially the drive in which the OS is installed, by using defragmentation.
Here's how to defrag the hard drive:
Press Windows key+R and type dfrgui.
Select the drive you want to defrag & hit Optimize.
Another way to get rid of storage overhead is upgrading your storage from HDD to an SSD. It will not only reduce CPU via eliminating storage overhead, but it will also make your PC perform much faster and smoother.
FAQs
Why is my CPU usage so high?
CPU utilization can spike when you're doing resource-heavy tasks such as video editing or playing AAA games.
Is 90% CPU usage normal while playing games?
Yes. When you're playing Valorant, Warzone 2 or any other AAA title, 80-90% processor utilization is pretty normal.
How long can a CPU run at 100% usage?
Your PC can run at 100% CPU usage as long as it doesn't overheat. When the temperature reaches 95-100 degrees, the processor will start to reduce performance due to thermal throttling.
Can low RAM cause high CPU usage?
It is highly unlikely to experience high CPU usage due to low or slower RAM.
Conclusion
All things said and done, not all high CPU usage requires fixes. There's a chance that your PC is simply unable to keep up with the demanding apps or games that you're trying to run. In such a case, you should consider upgrading your desktop configuration.
Anyway, I hope this guide has helped you reduce unnecessary background CPU usage. Which solution has worked for you? Let us know in the comments below.
Have a wonderful day!