Do you have Malwarebytes installed on your PC & have been noticing a huge performance drop? Well, the Malwarebytes company has found an issue with a recent software update that has been causing 100% CPU utilization for many users.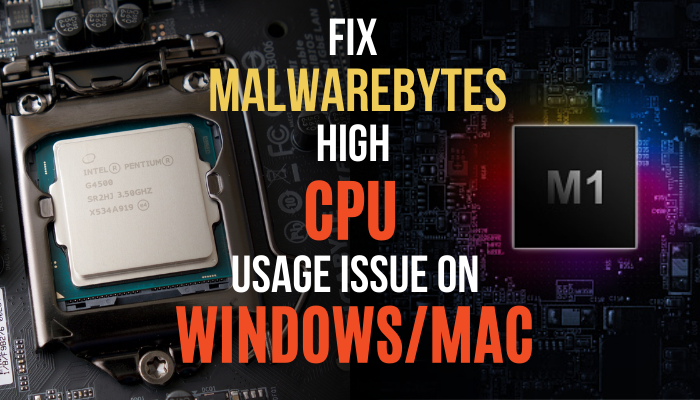 If you're one of those unfortunate, don't worry. In this article, I'll be covering everything you need to do to resolve this issue in no time.
So without further delay, let's dive in.
Reasons Behind Malwarebytes High CPU Usage
As mentioned before, the most probable culprit for high CPU utilization by Malwarebytes service is a bug/glitch in one of their software updates.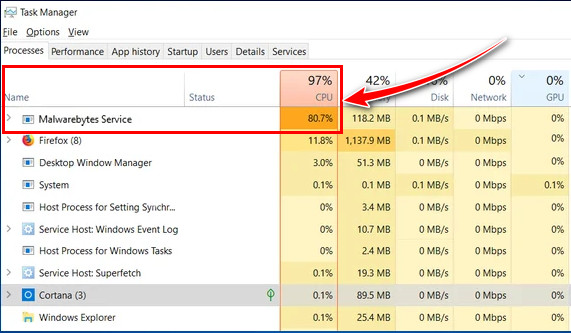 But that might not be the case for many users, as high CPU utilization by a particular program/service isn't uncommon and can happen due to several reasons. You can refer to our recent troubleshooting guide on High CPU usage to know more about it.
It's hard to pinpoint the exact cause of this issue, but here are some possible reasons behind Malwarebytes service utilizing too much CPU:
Corrupted patch/software bug.
Compatibility issue with Windows.
Outdated drivers.
Improper app settings.
Now that we know the causes of this technical issue, let's get straight to the troubleshooting.
The system idle process can sometimes cause high CPU usage. In that case, check our article, where we deal with this issue and remove this headache for good.
How to Fix Malwarebytes High CPU Usage Issue
To fix the high CPU usage issue for Malwarebytes service, launch the program & go to Settings > General. Now click on Check for updates to install the latest patch. Also, scroll down to the Manual scan performance impact section & select the Manual scan take less priority(less performance impact) option.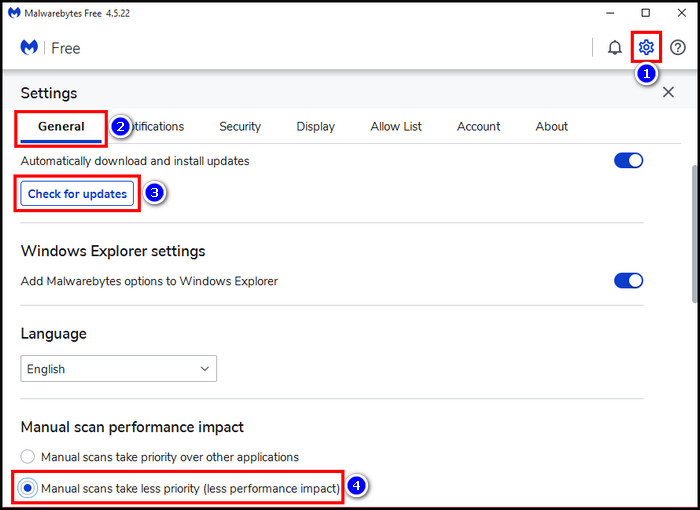 If the issue still remains after updating the app, uninstall the program & re-install it again. You can also try updating the drivers to ensure this issue is not occurring due to any conflict with other services. There are other methods you can try as well.
Let's talk about them in detail.
Here are the methods to fix Malwarebytes' high CPU usage on any PC:
1. Check for Updates
Since Malwarebytes company has acknowledged this issue, their official response to resolve it is to keep the service up to date. Since the program was hogging CPU resources due to bugs/glitches, the company has released a patch to resolve technical issues.
To install the latest patch, simply launch the Malwarebytes program and click on the gears icon to go to Settings. Now, from the General tab, select Check for updates. The app will start downloading any available updates and show a prompt to install patches. Click on Install.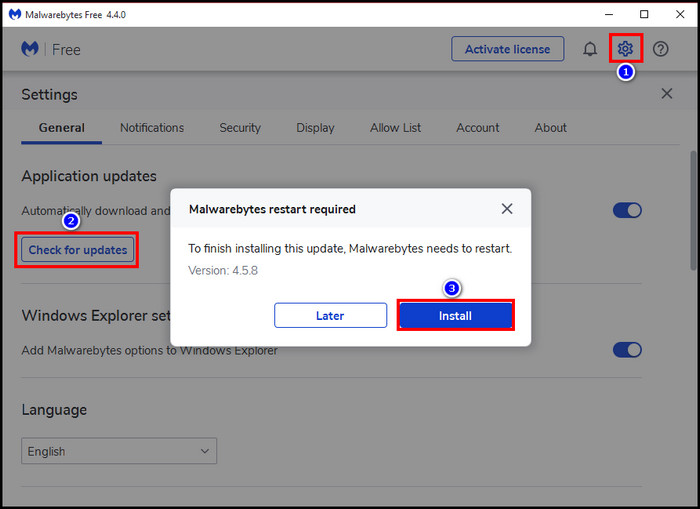 This should potentially fix any high processor utilization error. If the anti-malware program is still eating up CPU resources, move on to the next method.
You should also keep Windows updated on your PC. If you see the message Windows Update failed anytime, check our separate article to solve this issue.
2. Perform a Clean Installation of Malwarebytes
Patching updates over existing apps might not be effective. If installing the latest patch still doesn't resolve the excessive processor utilization issue, try performing a clean installation of the latest version.
Before we proceed, make sure you remember the Activation ID & key for the Malwarebytes premium account. If you're not a premium user, ignore this section and go straight to the re-installation method.
To retrieve the ID & key, press Windows key+R, type regedit & hit Enter. Now go to HKEY_LOCAL_MACHINE\SOFTWARE\Malwarebytes' Anti-Malware (for Windows x86) or HKEY_LOCAL_MACHINE\SOFTWARE\Wow6432Node\Malwarebytes' Anti-Malware (for Windows x64) to retrieve your ID and key.
After that, follow these steps to perform a clean installation of the Malwarebytes application:
Click on the Windows search bar & type apps & features.
Scroll down and find Malwarebytes.
Click on it & select Uninstall.
Select Uninstall again.
Wait until the uninstallation process is complete. You might need to restart your PC.
Go to Malwarebytes' official site and download the latest version.
Run the setup file and follow the on-screen instruction to complete the installation process.
Input credentials if you're a premium account user.
Now run the anti-malware service and check if the CPU usage has been reduced. You can also follow this method if you're wondering how to uninstall Malwarebytes in Windows 10.
Are you getting high CPU usage with svchost? That definitely is not a virus. But if you want to reduce CPU utilization, check out our separate article where we solve this issue.
3. Uninstall Other Anti-Virus Software
Although Malwarebytes doesn't conflict with other anti-virus tools, certain free anti-virus software can often conflict & prevent it from functioning as intended. This can introduce higher resource consumption by the Malwarebytes app.
In such a case, I'd recommend uninstalling & removing other anti-virus programs to ensure maximum compatibility. To do so, right-click on the Windows icon and select Control Panel. Now select Uninstall a program from under the Program section.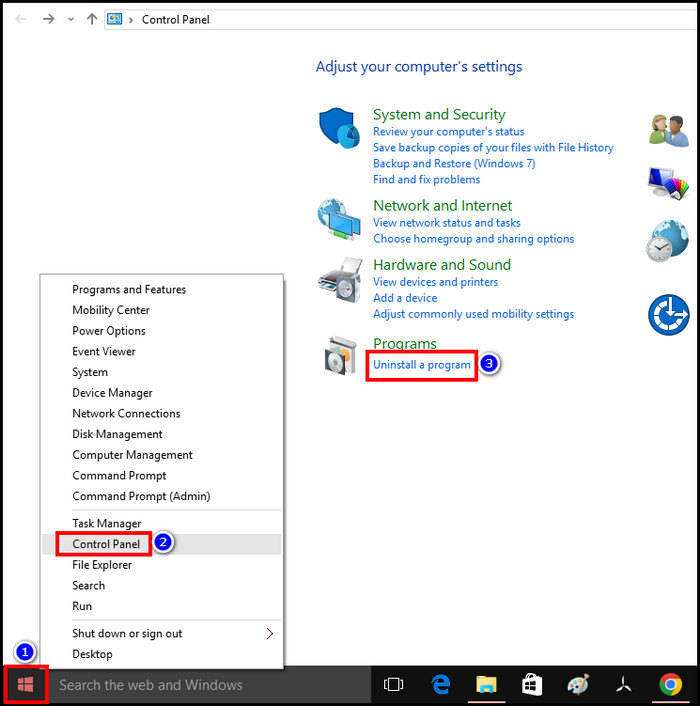 Then, find and select other anti-virus programs and click on Uninstall.
Sometimes viruses in your system can cause this high CPU usage. If you suspect that is the reason behind your PC's slowdown, surely check out our article, where we delve deeper into this topic.
4. Stop the Malwarebytes Service from Running in the Background
As the Malwarebytes service always runs in the background, there's a chance that it can cause processor utilization spikes randomly.
If you notice in the task manager that this anti-malware service is causing high CPU/memory usage in Windows 10 or 11 when idle, force stop and disable the service from running in the background.
Here's how to stop Malwarebytes service:
Press Windows Key+S and type services.
Hit the Enter button on your keyboard.
Scroll down and find Malwarebytes Service.
Right-click on it and select properties.
Hit Stop in the Service status section.
Click on the drop-down menu for Startup type.
Select Disable.
Hit Apply > OK.
Now the ani-malware service won't be able to hog computer resources in the background. This method can be helpful for Malwarebytes high disk usage issues. If you still face 99% disk usage issues, you might need to try other fixes.
Sometimes the system idle process can give you a high CPU usage. Surely check our separate article to fix this issue instantly.
5. Select Low-Performance Impact Option for Scanning
Another effective way to reduce CPU usage by Malwarebytes is to select the low-performance scan option from its settings. By doing so, the program will use minimal amount of resources during manual scans.
Follow these steps to set the low-performance scan option in Malwarebytes:
Run the Malwarebytes program and click on the gears icon to open Settings.
Scroll down to the Manual scan performance impact section.
Select Manual scans take less priority (less performance impact).
Keep in mind, now the manual scans will take much longer time to complete.
6. Configure CPU Usage Settings in Malwarebytes for Mac
Mac users can control how much CPU can be used by Malwarebytes. This feature allows them to reduce processor usage during manual or scheduled malware scans.
Here are the steps to configure CPU usage settings in Malwarebytes for Mac:
Launch the Malwarebytes program and go to Settings.
Navigate to the Advanced tab.
Select the Low option from the CPU usage section.
This will reduce the amount of CPU resources used by this anti-malware service in Mac during malware scans.
Frequently Asked Questions
How do I reduce CPU usage on Malwarebytes?
To reduce the amount of CPU power used by Malwarebytes, navigate to Settings > Advanced > CPU Usage and set the processor utilization from High (Recommended) to Low.
Is Malwarebytes heavy on resources?
No, Malwarebytes requires minimal resources and has little to no impact on overall system performance.
Is Malwarebytes good for low-end PC?
Yes. Since Malwarebytes consumes very few system resources to run, it's one of the lowest-impact anti-malware services on the market.
Conclusion
To wrap it up, if you're a Malwarebytes user, keep the service up to date & make sure to set the correct option for CPU utilization during a system scan.
That's about it. Hopefully, this write-up has helped you resolve this dilemma effortlessly.
Have a nice day!