Just imagine all your office bosses are waiting at a meeting for you to know the company's monthly production report. And here you are tired of trying but still, zoom is not working on your wifi.
Your head would be bursting with tension, wouldn't it? The smart decision would be to calm down and solve it with a cool head.
This put me in a clueless situation when I confronted this problem for the first time. Then, I researched this problem and listed some ways to fix this issue. I tried them and Zoom is working on my wifi smoothly since then.
Don't worry a bit. In this article, I'll show you all the easiest and most effective ways to fix Zoom that is not working on wifi.
Don't skip any part unless you want to solve this issue.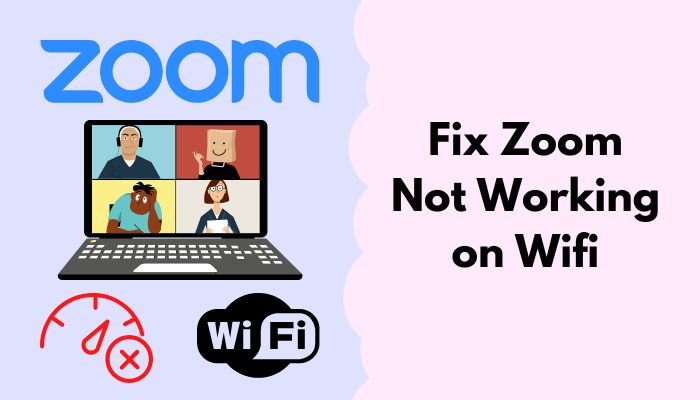 Here's a complete guide on how to fix Zoom low system resources error.
Why is Zoom Not Working On Wifi?
Unstable internet connection, hardware incompatibility, and system overload are the main reasons for Zoom not working on wifi. Additionally, the windows firewall,  bug in the Zoom app, and outdated network hardware are also responsible for this problem.
Zoom is a cloud-based video conferencing software for video conferencing, audio conferencing, webinars, meeting recordings, and live chat. Dependency on Zoom raises at a tremendous rate during the pandemic.
As more and more people started using Zoom, they started to face various problems. Zoom not working on wifi is one of them.
Users come across this problem mostly due to poor and unstable internet connection and if the application crash. If you try to use Zoom on an incompatible device, there is a possibility to face this problem.
I'll provide the guideline and let's fix this problem
Also, check out our separate post on Airpods not working in Zoom on Mac.
How To Fix Zoom Not Working On Wifi
As you see the problem is connected to the software and hardware-related issue, I'm going to focus on these issues to solve this.
Here are the ways to fix Zoom not working on wifi:
Fix 1: Close Zoom & Restart Your Device
When you face this problem, the first thing you should do is close the Zoom application and restart your device. Don't take it as a joke and many users solved this problem only by restarting their devices.
After restarting your device, connect it with wifi and see if you can attend the Zoom meeting or not.
If your zoom screen shares not working, then quickly check out our epic guide Fix Zoom Screen Share Not Working.
Fix 2: Check Internet Connection
If restarting the device fails to solve your problem, you should concentrate on your internet connection. Unstable and low internet connection is another reason responsible for Zoom not connecting on wifi.
You should check the connection speed to know if it's satisfactory or not.
Fix 3: Power Cycle Your Router & Contact Your ISP
Sometimes, your router faces trafficking issues if a lot of devices connect with your router. You can restrict the number of users for your user.
Power cycling your router is another way to check if you are having any connectivity issues or not. Power of your router. After 2-3 minutes, power back your router and connect your device.
If the connection is not satisfactory yet, contact your internet service provider.
Facing the error zoom camera not working, you can quickly Fix Zoom Camera Not Working from our detailed guide.
Fix 4: Run Your Inbuild Network Troubleshooter
If there is nothing wrong with your connectivity, you should call for help from your device build troubleshooter. If there are any issues to solve, it will notify you.
Here is the way to run a troubleshooter in windows:
Type Setting in the windows search box and press enter.
Click on the System option.
Below the home icon, you should find a search box. Type Troubleshoot here.
You will see Troubleshoot Other Problems option. Click on it.
At the top, you will see the Internet Connections option. Right-click on it.
You will see the Run the troubleshooter option. Click on it.
Once the option appeared, you should click on the troubleshoot my connection to the internet option.
If there is any problem in your network setting, the troubleshooter will find it and solve it. 
Have some time to spare? Quickly check out our epic guide on how to fix Zoom error your internet connection is unstable.
Fix 5: Use VPN
You should use VPN to protect your IP from bugs and malware. We visit a lot of sites every day and we don't realize when our IP has been affected. To be in a safe position and protect the IP, you can download a VPN and use it.
Fix 6: Check DNS Setting
Instability in your connection can be caused by your DNS server. You should change your existing DNS server.
Here are the changes you should make:
Type Settings in your windows search box and press enter.
Once the option appeared, click on Network and Internet option.
At the right pane, there is Advanced Network Setting.
Navigate to the Change Adapter Options.
Right-click on the option. Now you should click on the Properties option.
Double click on the Internet Protocol version 4(TCP/IPv 4) option.
Click on the Use the following DNS server address option.
Apply ok.
Also, check out our separate post on how to fix Zoom another meeting in progress error.
Fix 7: Check the Firewall
Your windows firewall is another reason for facing this problem. If the windows firewall addresses your IP as infected or can be harmful, it will not allow Zoom to connect with your wifi.
You should disable the windows firewall before starting any Zoom meeting.
Frequently Asked Questions
Why is Zoom keep crashing on wifi?
Overload systems, unstable internet, and incompatibility device are reasons for which zoom keep crashing.
Does Zoom use a lot of data?
Zoom uses an average of 800 to 2 GB of data per hour.
How many people can attend a Zoom meeting at once?
Generally, 100 people can attend a zoom meeting. But you can increase the no of participants upon request.
What is the duration of a Zoom meeting?
Zoom meeting ends after 40 minutes.
Bottom Line
In this article, I've tried to show the reasons responsible for Zoom not connecting to the wifi. I've also tried to show the way to fix this issue.
Restarting the device and power cycling the router should solve your problem. If not, then you should go for network troubleshooting and change the DNS server settings option. You should uninstall the application if needed.
Here is a comment section. You can inform our experts if you need any help. Our experts will try to help you as early as possible.