Well. The importance of Zoom grew dramatically compared to the other software in the last two decades, don't you think so?
At this moment, it is one of the most viable and trustworthy video meeting services encircling the entire world. But does it sometimes fail to detect the camera? Yes. The issue is quite annoying for everyone.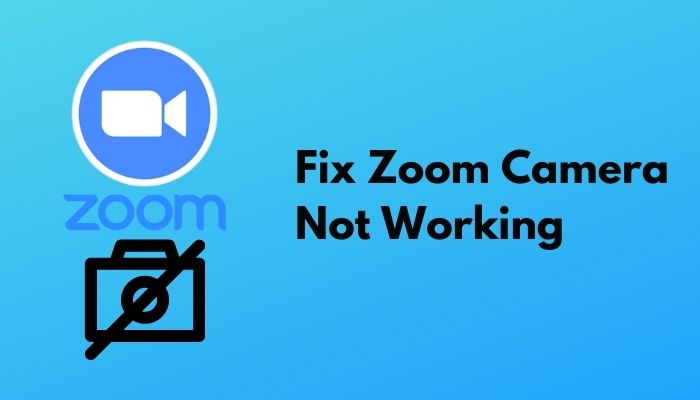 Why can't Zoom detect my camera on my laptop?
The reasons for the zoom camera not working are outdated software and drivers, absence of camera driver, inconsistencies in privacy settings, and so forth. Some other subtle issues are also held accountable.
Don't worry. As a tech enthusiast, I found and verified some exclusive ideas that you can use to solve your problem. Then, you will be able to appear to others and convince them anytime.
Keep reading. Don't skip any part as I will discuss the matter thoroughly.
How to fix Zoom camera not working on laptops
If the zoom camera does not work correctly on your system, several reasons may actively roll in behind this.
Though it is not a grave issue, you cannot avoid this as well. Before following a solution procedure, I recommend you figure out the root cause. This will help you to heal the problem permanently.
Here are the ways to fix your zoom camera from not working on your laptop:     
1. Update Zoom, Windows, and Drivers
Updating everything includes your computer's operating system, Zoom app, and necessary drivers. You need to check all of these if they have any updates pending.
Here, I will show you the steps to check for your software's updates:
Zoom Updates: 
Open the Zoom application.
Click on your profile picture.
Select Check for Updates to update Zoom.
This will automatically update the Zoom app. So, wait till it finishes. Once it is done, close the window and restart the Zoom.
OS Updates:
Go to Settings by clicking on the gear icon.
Navigate to Update & Security.
Click on Windows Update from the left pane.
Press the button Check for Updates.
Tap to Download and install once the checking is completed.
This way, you can integrate additional features along with security improvements to your existing OS.
Driver Updates:
Launch the Device Manager. For easy access, you may click on the Start menu and type Device Manager. Click on it from the suggested suggestions.
Find out the Camera from the list of devices, and right-click on it.
Select the Update driver from the options, and the camera drivers will start getting updated.
2. Install your camera driver (Manually)
You can only update camera drivers only if they are installed but outdated. But, if you find your camera drivers missing, you have to install them manually. It is not a weighty task at all.
You can download it from your camera manufacturer's website like Dell, Asus, Hp, Samsung, etc. Do search in google, visit their website, download your required driver and install it. Simple!
3. Check Privacy Settings
There are a couple of specific options on Windows 10 & 11 that abstain the hardware and software from accessing your camera. Some specific Privacy Settings may create issues. This ultimately results in your camera not working. So, let's check for those.
Here are the steps to check privacy settings:
Go to Settings. Alternatively, you may click the gear icon.
Navigate to Privacy.
Select Camera under the section of App permissions.
Scroll down a bit. Under the Camera, you will get Allow apps to access your camera. Toggle it on.
Scroll down further and switch Allow desktop apps to access your camera on as well.
You are done. Those are the selective changes you need to make for a smooth Zoom camera performance.
4. Close other apps that could access the camera
If you have programs installed on your computer that use your camera, they may block the Zoom application from detecting and accessing it. Hence, before running Zoom, check if any such program is running that may use the camera. If you found one, close the program and then run Zoom.
Here are the steps to find and close other apps to prevent them from accessing the camera:
Launch the Task Manager. You may use the shortcut key of (Ctrl+Shift+Esc).
Find out the applications that can use your camera.
Right-click on each of them.
Choose End task from the appeared options.
This will close all the camera-using applications which were running on your system.
Zoom webcam not working on Lenovo laptops
If you particularly experience a Zoom camera problem on a Lenovo device, Lenovo recommends turning off the camera privacy option in Lenovo Vantage. Now, we will know how to do that.
Here are the steps to fix the Zoom webcam on Lenovo laptops:
Go to the Windows Search bar and type lenovo.
Choose Lenovo Vantage.
Install it from the Microsoft Store if the app is not available on your device.
Move to Hardware Settings.
Select Audio/Visual.
Scroll down and locate Camera Privacy Mode.
Disable the option.
Now, check your webcam by a video call on Zoom.
Zoom webcam not working on the Internet Browser
This fix is precisely applicable to Zoom's web version. When you find your Zoom web is not finding the webcam, most likely it is due to your browser's settings.
Therefore, I am going to show you how you can modify your browser settings to allow the webcam to Zoom. I will consider Google Chrome here. On other browsers, things are almost the same.
Here are the steps to adjust the settings for Zoom web:
Go to Settings. You will find Settings from the drop-down menu. Alternatively, you simply click on three vertical dots at the top-right corner of the browser.
Navigate to Privacy and Security.
Go to Site Settings.
Choose View permissions and data stored across sites.
Type zoom.us in the search bar and hit Enter.
Click zoom.us and then click on the small upward arrow to access the permission settings.
Allow Zoom to access your webcam.
Refresh the browser and check. If possible, close the browser and reopen it. You should get the best result now.
How to switch the Zoom on my laptop camera?
Well. You can control your HD camera on Zoom Rooms while you are in a meeting. You can do it with the help of Zoom's Pan-Tilt-Zoom (PTZ) functionality. This controller also supports far-end camera control and camera presets.
When you notice that two or more cameras are available in the Zoom Room, the situation is in your favor. You can dynamically toggle on the specific one which you want to keep active. You can switch between them whenever you want.
Here are the steps on how you can switch the Zoom on your laptop camera:
Start or join a meeting.
Tap on Switch Camera on the controller.
If more than two cameras are available, Zoom will show you the list of all cameras. You can manually choose one easily. If there are only two cameras ready, clicking on Switch Camera will automatically replace your current one with the inactive one.
Final words
So far, I discussed some possible fixes to Zoom being unable to detect webcam on laptops. Since it is one of the best and widely used video conferencing apps, the problems entwined with it mess anyone up.
I hope you have solved your problem. Mainly the issues lie up Zoom updates and settings. So, check for updates regularly to avoid this problem. After fixing by following one of the methods, I stated above, restart your laptop. A restart is magical, can settle down many hidden unrests.
Feel free to contact me regarding your problem. You can also talk to the manufacturer companies if you need further help. Comment in the box below if you are helped with this article.