Spending money or data to buy a game is not easy for gamers, but they do it anyway. Because they want to explore new eventful worlds, the experience of new and side quests can fill their hearts with joy.
Being a gamer, I feel the rush in my blood when I play an exciting game like Black ops 2 or Uncharted on PS3.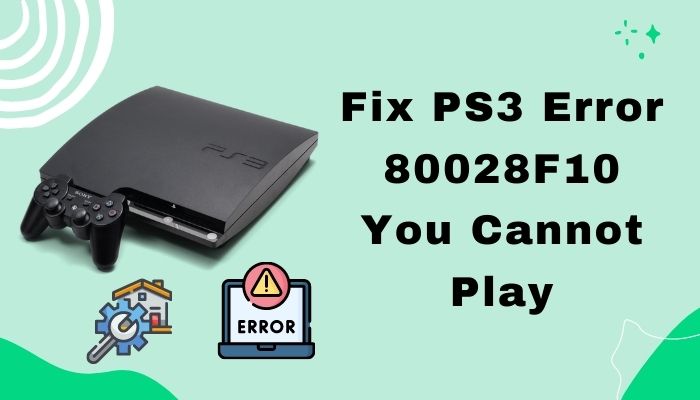 But all your excitement can fall into sorrow when you face a problem like PS3: Error; you can not play this game at the current video output setting(80028F10).
After research, I found some easy fixes, which are stated below. Read the entire content without skipping to find your solution.
Let's jump in!
Check out the easiest way to fix PS5 Eject Button Not Working
Why Did PS3: Error 80028F10 Occur?
While using HDMI, the video display output sometimes doesn't match your game settings in PS3; this can cause error 80028F10. On the other hand, if you do not use HDMI, then the automatic 16:9 ratio is not maintained, which can result in the PS3: Error 80028F10 issue.
The PS3 was first launched in 2006. It took the world by storm with its build and compatibility. But some issues appeared as the days went by; error 80028F10 was one of them.
Although so many years have passed, it still haunts us. It is a frustrating error that breaks your gaming flow. When this problem occurs, you need to configure your PS3 in a way that can cure your concern completely
To assist, I place the needed solution below.
Here's a complete guide on how to fix PS5 not downloading games.
How to Fix PS3: Error 80028F10
You can change your PS3 settings and adjust them according to the arrangement below. It will eradicate your problems and give you a smooth playoff.
Here are the steps you can follow to fix PS3: Error 80028F10:
1. Change the Display to 720p
HDMI users need to know that PS3 is best compatible with 720p. If your PlayStation is not in that format, you can always change it to 720p with some simple adjustment.
Here is the adjustment you need to change the display to 720p:
Choose the Settings option.
Select the Display Settings interface.
Find the Video display output option.
Click on the HDMI button.
Select the Custom option for the Settings method interface.
Hit the 720p option.
Check if it works for you or not. If you are not an HDMI user, follow the below arrangement to overcome your problem.
Check our exclusive tutorial on the fastest DNS servers for PlayStation5.
2. Use Different Display Output
If you are not using HDMI, you can always use Different Display Outputs to fix your issue. The process is stated below.
Here are the steps to use Different Display Output:
Go to the Settings option.
Find the Display Settings interface.
Click the Video Display Output button.
Choose the Composite or S-Video options that you use.
Select the 16:9 Resolution option.
Test it and find out if it works or not. The majority of the user finds it more compelling and reliable.
Quickly check out our epic guide on how long do PS5 Controllers last.
3. Modify Regional Settings
In my research, I discovered that there is one more fix if you are a regional user. When you modify your location and log back into your PS3, your problem can disappear instantly.
Here are the ways to modify your regional settings:
Select the Settings interface.
Go to the Debug Settings option.
Find the Region Settings button.
Change region as you see fit.
Now your PlayStation will black out and restart. When the PS3 comes online, find the game and run it to see if it works or not.
Have some time to spare? Check out our latest post on how to fix PS5 error code wc-365475.
FAQs
What does an error has occurred mean on PS3?
When you open a game, if its files are corrupted, or the firmware is faulty, an error can occur.
Did Sony shut down the PS3 servers?
Yes, Sony shut down the PS3 survey due to security issues.
How do I rebuild my PS3 database?
Hold the power button of the PS3 until it turns off; keep holding the button until it turns back on and wait for two beeps. When you are in the Recovery menu, then release the power button. From there, you can rebuild the database.
What is two-step verification PS3?
When you sign in to the PlayStation console with the help of a PC, Android, or Tablet, a secret code is sent to your phone. This authentic process is called two-step verification.
Is PS3 still free online?
PS3 is no longer supported online and is discontinued, so sony gives it for free now.
Conclusion
When you configure your settings as per my findings, your problem will be gone for good. But if the error still arises, then change your region and give it a check.
When an Error appears on our game screen, it twists our minds, and frustration covers our thoughts; it is an obvious reaction. At that moment, if you keep calm and try my fixes, it will serve you well.
PS3: Error, you cannot play this game at the current video output setting(80028F10) is an easy fix, as you already know if you read the content thoroughly.
Share your afterthoughts with me in the comment below.
Have a good day!