Missing important calls and notifications from friends and associates can be very annoying.
As a Discord user, I agree that it is a fantastic platform to connect with your friends and peers. But, sometimes, I also face some issues regarding notifications and calls in the discord app, which I fixed myself.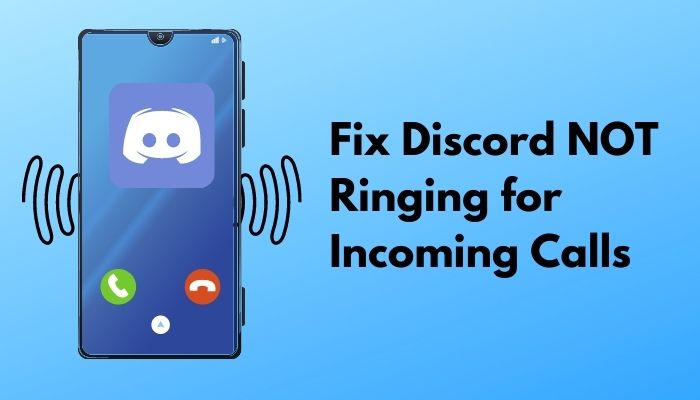 So, why isn't discord ringing for incoming calls? 
The main reason for Discord not ringing for calls and notifications is usually improper audio settings or might be caused by bugs in the Discord app. Most of these issues can be fixed by reinstalling the app or changing audio settings.
Stick with me till the end and follow my guidelines to fix Discord not ringing for calls and notifications.
Check out the easiest way to Fix: Discord Won't connect to Incoming Calls
Why isn't Discord Ringing in Streamer Mode?
Discord call ringtone has both pros and cons for the users. If you're just checking the messages from your friends or just browsing some of your favorite servers, you won't mind getting an incoming call.
But if you're busy playing a game or doing something that needs great concentration, then the ringtone sound can break your concentration.
That's why in the Discord app if you're in streamer mode, you won't be able to get the call ringtone. Instead, you'll just receive a notification about the call.
It is the default setting for streamer mode. But if you don't like it, you can change it from the settings.
Check if your streamer mode is on. If it's on, then you will not get the ringtone. All the notifications are muted on streamer mode.
Also, check out our epic guide to Fix Discord Video Call Not Working
How to Turn on Notifications on Discord Streamer Mode
As I said before, the Discord app mutes all the rings and notifications sound when you're on streamer mode.
Now, I'll show you how to customize the streamer mode for receiving incoming call rings.
Here are the steps below to turn on Discord notifications for streaming:
Open the Discord app on your PC
Click on the user settings icon from the bottom left corner
Scroll down the menus and click on streamer mode
Scroll down the streamer mode options.
Toggle off the Disable Sound and Disable Notifications options
You can now receive calls and notifications while being in streamer mode.
You may check out some awesome voice changers for discord.
How to Fix Discord Not Playing Notification Sounds on Direct Messages
If you're not in streamer mode and yet do not receive caller ringtones, there must be an issue with your discord app settings or with your device.
Several issues might cause Discord to not ring for calls. You have to go through the possible reasons and guidelines below to find and fix the issue to enable incoming call ringers.
Here are the steps to fix discord not playing notification sounds:
1. Turn On the Discord Incoming Call Sound
To get the incoming call sound from discord calls, you must turn on the Discord Call Sound.
It is the most important thing to keep in mind. You won't get notifications about calls if the ring option is turned off by default. So, if it is off, just turn it on, and you'll get rings.
I've provided the guidelines for both PC users and Mobile users on how to turn on this feature. Follow the steps to turn on the discord incoming call sound.
Follow our guide to fix discord krisp not working.
Turn on the Incoming Call Notification for Discord PC Users:
For those who use Discord on PC, read the whole guideline and follow as the instructions say:
Open the Discord app on your PC.
Click the user settings icon from the bottom left corner.
Scroll down and select Notifications from the menu.
Scroll down to Incoming Ring and toggle it ON
Facing error 502, you can quickly fix Discord 502 bad gateway error from our detailed guide.
Turn on the Incoming Call Notification for Discord Mobile Users:
If you're using Discord for mobile and wondering how to turn on the incoming call notification, then follow the guide below to do it yourselves:
Open the Discord app on your mobile.
Click on your image at the bottom of your screen.
Tap on Notifications.
Toggle on Both System Notifications and In-App Notifications.
Tap on Tweak notification settings.
Toggle the top right Switch on and Scroll down.
Select Call and turn the toggle on.
Now that you've turned the calling notification on, You'll receive the Discord incoming call ringtones and Notifications.
Read more on how to use stereo mix in Discord.
2. Check the Audio Settings of Your Device
The audio settings of your device control the audio output volume when a sound or music is playing.
If the audio is muted, you will not hear the call ringtone from the Discord app. So, check the audio setting of your device and make sure it is not muted or in Do Not Disturb mode.
Follow the steps below to check the audio settings in your device:
Windows: For Windows users, follow these steps:
Click on the speaker icon on the bottom right corner.
Adjust your desired volume level using the arrow keys or your mouse.
Now, you can hear the ringtone from Discord incoming calls if there are no other issues.
Also, check our separate tutorial on how to add a music bot to Discord.
3. Check the Permissions of Discord App
If everything else till now is alright and you don't see an issue with your settings, check the permissions of the Discord app. Make sure if it has all necessary permissions are enabled.
I'm showing you the process to check the permissions of the Discord app on your device.
Windows: For Windows users, the guideline to check the Discord app permission is below:
Select Windows Start
Open Settings
Click on Privacy
Scroll down to Phone calls and enable it.
Scroll to Background Apps and toggle on Discord.
Check out how to fix discord screenshare no sound.
4. Change Server Settings
Sometimes, your server settings don't allow the Discord app to make notification sounds. That's because all servers are not configured similarly.
To change your server settings:
Open the Discord app.
Right-click on the server icon.
Open the server you are having trouble with.
Select Notification Settings from the drop-down menu.
Select All Messages from the Server Notification Settings.
Click Done.
Repeat the above steps for all the servers you want to get notifications with sounds from your server lists.
5. Update Discord App
If all the solutions mentioned above fail to solve your problem, then you should uninstall the discord app from your PC and reinstall it.
Bugs in the app inside cause issues related to notification and call ringtones. But, luckily the developers always track these kinds of bugs, fix the issues, and release an updated version of the app.
So, you should consider re-installing the Discord app from the official website.
But, before installing an updated version of the app, make sure to delete the junk files and folders of the previous version. Or else, it'll collide with the updated app files and raise another issue for you.
Check out the easiest way to fix Better Discord not working.
6. Update Windows
Just like updating the Discord to the latest version, you should update your windows to the latest version too.
Old versions of Windows can't keep up well with the apps made for an updated version. That's why Discord might have issues running flawlessly on your PC.
Updating the windows to the latest version will keep you safe from the issues related to your device's hardware. Microsoft always releases Windows updates to fix various types of bugs which makes your user experience much better.
Also, Windows always comes with the latest hardware drivers for your device, which makes sure that there are no issues running the Discord app on your device.
So, update your windows to the latest version and install Discord again if the other solutions mentioned above, fails to solve your problem.
How to Fix Continuous Discord Call Ringing
For continuous ringing problems, follow the steps below to fix:
Open Task Manager by left-clicking on your taskbar.
Search for Discord and click on it
Click on End Task on the downright corner of the window.
You may also like to read: change your Nickname on Discord.
FAQ
Question: What does the ring button do in Discord?
Answer: The ring button allows you to be able to call someone to a server's voice chat, the same process, right-clicking on someone's name in a group chat and click ring.
Question: Why don't you get notifications when someone calls on discord?
Answer: If your Discord status is not set to Online, you won't receive notifications about calls. Open the Discord app and click on the user avatar, from there change your status to Online.
Final Thoughts
The above steps will help you to fix your issues about the Discord app not Ringing for Incoming calls. Apply all of them to fix your problem.
If you're having any further inquiries, don't hesitate to contact me.