Discord is a paradise, especially for games and advanced users who communicate with the same interest ground. But using Discord for streaming might seem complicated when it comes to sharing internal sounds of your PC.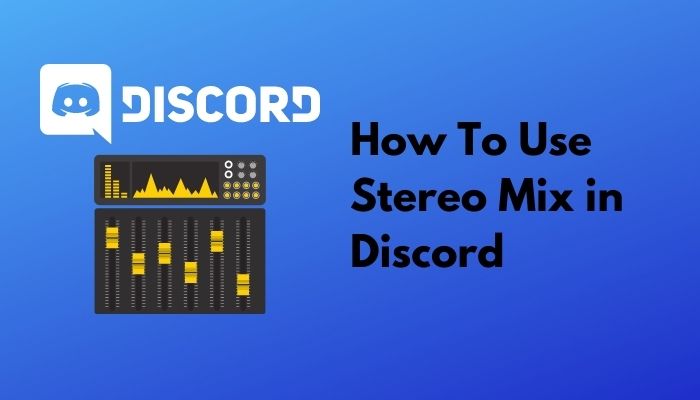 Can you use Stereo Mix in Discord?
You can use Stereo Mix in Discord. It's usually used to share all kinds of sounds from your PC with those you're talking with or streaming. With just some simple tweakings in Settings, you can use Stereo Mix in Discord.
I also faced some difficulties when I tried to use Stereo Mix in Discord. But I managed to wipe them out with ease.
Keep reading to find out how you can quickly use the Stereo Mix on Discord.
What is Stereo Mix?
Stereo Mix is a feature that allows a PC to record its sounds without a microphone or any separate recording peripheral. And it doesn't go through any analog-digital conversion. Choosing Stereo Mix as input, it'll record the sound playing on the PC.
For example, if you play a song on PC and want to record it along with your voice, Stereo Mix makes it easy. You won't need to play the song from the loudspeaker to record it. Just turn on the Stereo Mix, and your job is done.
What happens when you enable Stereo Mix in Discord?
Enabling Stereo Mix allows your PC to record its sounds. Such as error, flag, USB is connecting disconnecting, or if you play any music on your PC on your own, Stereo Mix records them all. It doesn't need any extra device to record the exact sounds are being played on the speakers.
Stereo Mix is an often-needed feature for those who stream games and kinds of stuff on Discord, allowing you to talk over a microphone connected over the auxiliary port and record that simultaneously. It's a handy feature that usually seems less critical. But when you need it, it'll get the job done very well.
Check out our separate post: Why is Discord Giving Static Sound.
Should you enable Stereo Mix for Discord?
Yes, you can enable stereo mix for discord. By enabling the stereo mix, you can record your favorite songs without even a microphone.
It entirely depends on your preferences. First of all, you need to identify why you need the Stereo Mix. Is it just because your friend mentioned the day before yesterday, or do you need to get something done?
Often people get confused over Stereo Mix, thinking that it might be a professional tool for advanced users like professional music artists or something. But that's not.
It's just a simple system tweak that you need to cast your microphone's input and PC's internal output simultaneously. So if you're a gamer interested in show-off your skills alongside telling your thoughts to the audience, this will be the tool you need.
Follow our epic guide to Fix Clownfish Music Player Not Working in Discord.
How to enable Stereo Mix on PC to use it on Discord
Now you know what Stereo Mix is used for, you need to enable it from the system itself.
Here are the steps to enable Stereo Mix on PC:
Click on the Speaker icon on the taskbar1
Go to the Recording tab in Sounds, and click on it.
Lookup into Select a recording device option, right-click in the empty space.
Enable Show Disconnected Devices and Show Disabled Devices
Now you'll see Stereo Mix. Enable it.
All Set, You are done.
Following the steps carefully, you should be able to enable the stereo mix on your system successfully.
Note: If you don't see Stereo Mix even after reaching Step 9, you might be having a bad day with your outdated audio drivers that are more likely to need an update as soon as possible.
Important: In some cases, whether your drivers are up to date or not, it simply does not matter as long as these are not supported on your system.
The driver that comes with your audio gear might not have support for Stereo Mix. Then you will have to find some other supported alternative drivers that might come with Stereo Mix.
Use Stereo Mix in Discord while Gaming
You already enabled Stereo Mix from the system at this stage. But you need to enable it from the Discord app itself too. Otherwise, Stereo Mix won't work in Discord.
Here's how to enable Stereo Mix in Discord:
Dive into Settings of Discord app for PC.
Find out the Microphone from the Voice & Audio section.
You'll see a list of selecting microphones. Select Stereo Mix.
You may also like to read: Discord Screen Share No Audio.
You're done. Now you are good to go.
Following these steps, after making sure that you did turn on Stereo Mix from your PC settings, you are ready to go now.
Note: If you face any problem finding out the Stereo Mix option on the Discord App itself, try updating the app to the latest version available right now.
So, you just set up the Stereo Mix option on Discord that had been a headache for you until now. This is the easiest and simple way.
However, things keep changing. Often Discord gets updated and might have been updated to a new version where the options and menus might get a new place when you're reading this article. Check in the other audio sections of the Discord app if the steps here do not match the newest version of the app.
In some cases, audio drivers might lack the Stereo Mix feature. This might happen in the newest version or could be in the older one. Search for the right audio driver that suits your hardware. You can either contact your hardware manufacturer or do a search on google mentioning the speaker model.
After you've set up the Stereo Mix successfully, some issues might arise in the audio or the settings. I have gone through the issues and discussed them for you below.
Follow our guide to Fix: Discord Not Working with Audio Interface.
How to Fix Stereo Mix not picking sound from PC
If you have done all the steps mentioned above, the Stereo Mix feature isn't working or not working correctly, then don't get stressed. You've already done the critical part. The remaining ones are easy.
1. Check Default Device
It might happen that your default device is not the one you need now. For the time being, you need Stereo Mix to be the default device. You need to fix it. Here's how to do it.
Open Control Panel
Go to Hardware and Sound
Scroll to the Stereo Mix and hit right-click on it
Set it as the Default Playback Device
Test if it's working or not by simply clicking on the Test icon there.
Follow the green bars. If they are moving up and down, it's working.
You're all done!
2. Stop Using USB Microphone
Microphones that input data with USB ports often fail when using Stereo Mix in Discord. Your PC just can't detect the sound properly; hence it fails to deliver the optimal experience.
Better to switch to an auxiliary connector-based microphone that is made to input sound through the microphone.
3. Check Device Volume
Check if the hardware volume is at 30-70% in the Discord app and the Windows system itself. It's the average volume that is optimal for the Stereo Mix feature. It often happens.
Read more on how to fix API error latency Discord.
FAQ
Question: How to use Stereo Mix in Discord?
Answer: By enabling the Stereo Mix from the system, you can use it. Just turn on the Stereo Mix following the guide above, and enjoy.
Question: Does Discord support stereo?
Answer: Yes, Discord allows microphone and system sound at a time. You just need to tweak Stereo Mix in system settings following the above.
Question: Can I share my game sounds using stereo mix?
Answer: You can share your system's sound, including gaming sounds using Stereo Mix.
Question: What's the volume level I should keep while using Stereo Mix in Discord?
Answer: Discord has it's own volume controls so that you can configure it through the Discord app. Keep it between 30-70% for the best experience.
Question: How to reduce noise in Discord while using Stereo Mix?
Answer: Stereo Mix in Discord app has an option called Noise Reduction. Enable it.
Conclusion
Discord is a free platform for sharing, great for gamers and advanced users focused on servers and communities. It allows users to explore new interests and connect with people with the same interests.
While other social media platforms are not that focused on gamers, Discord took the chance and has almost everything gamers need for a better experience.
Discord allows sharing the sounds from your PC with the help of Stereo Mix. Discord offers several features for its users. Some tips might be helpful for you to get the best experience from Discord. These tips might increase your productivity while gaming and communicating with others.