I don't know about your thoughts, but when that buzzing noise comes out of the Discord voice channel, it feels like I'm watching TV in the 90s in my basement. And trust me! Instead of sweet nostalgia, I feel anger, A LOT!
So, what could possibly go wrong in your device that Discord audio is giving static sound?
After researching for hours, I managed to find out the most common reasons, and of course! The instant workarounds to solve that issue.
Would you like to figure that out too? Well, you don't have to examine every possibility; I have eased that out for you.
Continue reading until the end of this article to get proper expertise regarding the Discord crackling sound issue.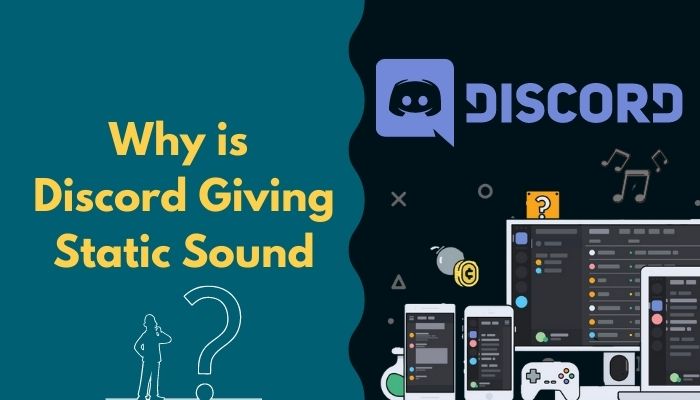 Follow our guide on how to Change Discord Sounds
Why is Static Noise Coming out of Discord Application?
Faulty audio output settings is the primary reason behind the static noise of Discord. Using out-of-date output drivers, hardware issues of your device, bugs, and glitches inside the discord app are additional reasons. And obviously, using a broken headset is a valid reason.
Since you are using Discord for various purposes, getting a humming noise is entirely predictable. The usual messenger services can't provide the assistance of instant chatting or communicate while streaming your display.
As Discord is the pioneer in this regime, the issues you face using Discord are quite unconventional. But this problem does not appear out of the blue. There are always reasons behind something going wrong with this well-optimized(!) media application.
Let's find out those obvious reasons that are giving you a headache (literally!).
Check out our separate post on how to fix Discord screen share no audio problems.
Here are the reasons behind your Discord audio output became buzzing:
Faulty Audio Output Settings
Audio output settings are the core elements of your sound output. If you fail to channel your audio output in the right direction, you are probably gonna end up with crackling sound effects.
How do people mess up with the audio output? As you know, windows let you customize your audio channeling. That means you can use one application to play audio through your headphones and another to direct sound throughout your speaker.
Most of us get confused while setting the output media, the result- improper sound eating off our ears.
Wanna get rid of the issue? Thought you would never ask!
Here's the procedure for setting up default audio output:
Press Windows + I button to launch the windows settings.
Move to System settings from the menu.
Select Sounds from the menu.
Scroll down and click on more sound settings.
Right-click on the device you want to set as your default audio and confirm.
Those steps are to fix your messed-up audio output settings. But remember, to perfectly fix your Discord static sound, you need to follow the How to fix.. segment, which I will add later.
If you like music bots on discord then check out how to add rythm bot.
Outdated Audio Driver
Apart from the fact that outdated drivers make your PC vulnerable to malicious software, they also create issues whenever you try to utilize them. Using an outdated audio driver tends to interrupt your daily tasks with many built-in bugs.
And that's the last thing you want. How to check if your audio driver is out of date? Follow the next steps to find out.
Here are the steps to check whether your audio driver is outdated:
Press the Windows + X button and select Device Manager from the list.
Expand audio inputs & outputs
Right-click on your audio driver and select properties.
Go to the Driver tab and note down your driver version.
Search in google to check the latest audio driver for your device.
If the noted version doesn't match with the latest, then you surely know what's the issue here. Scroll down to the bottom of this article to find out how to update your audio driver to the newest version.
Also, check out our separate post on how to change Discord background.
Improper Discord Settings
Discord audio settings play a massive role when it comes to noise distortion in the application. If you disable some obvious settings from the discord sound settings, there's no way you can avoid the buzzing zzzz sound from your headset.
Which settings are responsible for the discord application? Check out the following list.
Here are the responsible discord audio settings for crackling audio output:
Turning off automatically determines input sensitivity, and noise suppression in your discord voice settings can trigger the static sound.
Echo cancelation and noise reduction– if you toggle off those settings, you are likely to face the distorted sound in the voice channel.
Selecting input & output devices inadequately can lead you to a pitched noise.
So, these are actual reasons behind your Discord giving irritating sound while you are connected to a voice channel.
Jump to the next section if you want to throw away this issue from your device.
Also, check out the easiest way to enable Discord push to talk.
How to Fix Static Sound Issue with Discord Audio
Let's just agree that you are entirely aware of the most probable reasons behind the static sound coming from your Discord. Now it's time to solve it with efficient methods.
To start with, open Discord in your web browser. Sometimes, your installed application tends to interrupt work due to many reasons. Launch your web browser and log in with valid information. Check if the web version is also giving a humming noise.
Another method you can implement is to try out a different headset. If your current headset is not working properly, connecting a secondary earphone device can help you out.
Couldn't anything assist you in resolving the static sound?
Here are the methods you should perform to fix buzzing noise with Discord audio:
Reset Voice Settings in Discord
You need to reset your discord audio to default settings to get away with the issue.
Here's the procedure to reset Discord voice settings:
Launch the Discord application from your device.
Click on the Settings icon from the bottom left.
Go to voice and video options from the left menu.
Scroll down to the bottom and click on reset voice settings.
Click Okay to confirm the command.
Check if the irritating noise still persists on your Discord. Check out the following methods if it still does.
This step also helps in fixing discord Krisp not working issue.
Update Audio Driver
In the previous section, I explained how you could check if there's any update available for your current audio driver. And I assured you how you could update the driver when it's available. Read the steps to find out.
Here are the steps to update the audio driver on your computer:
Press Windows + R to open the run command.
Type in msc and hit enter. That will launch the device manager.
Expand the audio inputs and outputs
Locate your audio driver and right-click on it.
Select Update driver from the list.
Click on Search for automatic updates in the following window.
After installing the update, restart your computer and launch discord. Your sound issues should be solved once you update the sound driver.
If not, check out the following method. That will help you a lot.
Tweak Discord Audio Settings
As you are aware of the discord settings that can lead you to the whizzing sound while in a voice channel, it's time to switch those settings in your favor.
Here are the steps to maintain discord voice settings:
Launch discord from your desktop shortcut.
Navigate to settings > voice & Video.
Scroll down and toggle on noise suppression.
Get down to the voice processing section and turn on echo cancellation and noise reduction.
Exit from discord settings and join a voice channel. Check if your audio is distorted like before. I suppose not.
Thumbs up! You have just solved the most irritating problem one can encounter.
Also, check out our separate post on discord not ringing for incoming calls.
Frequently Asked Questions
How to fix Discord giving static sound while streaming?
To fix that issue quickly, go to the control panel > select uninstall > Uninstall Discord. After that, download the discord application and reinstall it. That's the most hassle-free method.
Do I need to update my audio drivers regularly?
Yes, you need to update the audio drivers from time to time to avoid static sound.
Should I install any third-party application to fix the Discord buzzing sound?
That's up to you. But, I would recommend to read this article with proper attention and work accordingly. That should be more than enough.
Final Words
Discord is a nice application to communicate with gamer buddies. If you find any irregularities while using the application, don't just uninstall it thoughtlessly. I was hoping you could read the article and apply the methods as I explained.
If you are concerned with other issues, reach out to our website and seek for solutions.
If that doesn't help you solve your issues, contact us through the comment box. We will always be happy to serve you with tech solutions.