Did you recently purchase a pair of Apple AirPods Pro or Bluetooth Headphones, only to find they don't work with Microsoft Teams?
Don't worry, you are not doing anything wrong. According to Microsoft, Airpods are not officially supported on Teams and Skype for business. Does this mean there is no way to use Airpods with Teams?
Well, no, that's not it. I can relate to your thoughts as I had the same experience from last year when I bought the new AirPods.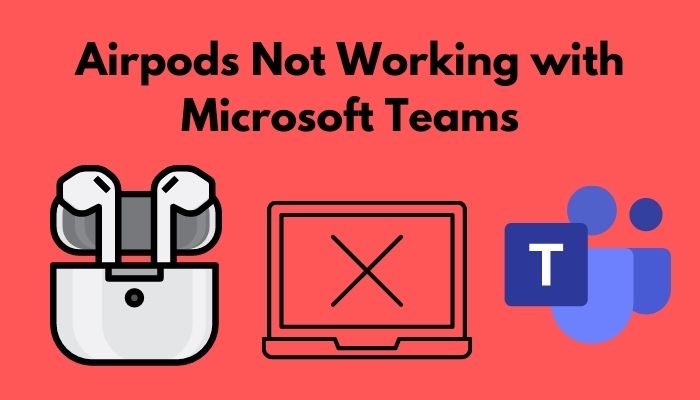 In this post, I will guide you through the reasons behind the MS Teams AirPod problem and provide their solutions. I will try to answer all the questions you might ask about this issue.
So, without any further ado, let's start the quest.
Follow our guide to fix can't I share my screen on Microsoft Teams.
Why is AirPods not working with the Microsoft team?
Your AirPods may not work due to mismatched Bluetooth requirements. Though AirPods requires at least Bluetooth 4.0, It doesn't perform as expected with devices less than Bluetooth 5.0 as it requires continuous connectivity. Laptops cannot always deal with Bluetooth 5.0.
If your AirPods microphone doesn't work on Teams, make sure to disconnect it from other devices and connect AirPods as a voice and music medium. Also, look if there's enough charge and a Bluetooth dongle is connected to your device if required.
Several requirements need to fulfill to connect devices with AirPods. If any of them go wrong or your device lacks any requirements, AirPods will start to malfunction.
Being two products from two distinct manufacturers, AirPods and Microsoft Teams are not generally an ideal pair. AirPods are mainly IOS eccentric accessories, which use different Bluetooth codecs and drivers other than Windows.
You may face malfunctions like frequent disconnects, no sound issue, or no mic issue because of cross-platform differences.
Here are some reasons why you can't connect your AirPods to your Windows PC:
Check out our latest fix for Microsoft Teams Error 80090030
Paring Wrong AirPod Device
The most common mistake causing the issue is pairing the wrong AirPod to your PC. There are two options when searching for Bluetooth devices to connect AirPod in windows:
Headphones (AirPods Stereo)
Headset (AirPods Hands-Free AG Audio)
Suppose you pair your laptop by selecting the first option. In that case, you'll face issues like no sound, no mic, and frequent disconnect because windows Bluetooth drivers aren't capable of exchanging massive data for AirPods' stereo mode.
Low Charged AirPod
If your AirPod doesn't have enough juice to go through another load of work, it'll lower it's capabilities to save power.
As laptops' Bluetooth chips aren't capable enough for transferring the audio codecs of MS Teams to AirPods, it makes the job more challenging for AirPods to receive data in it's power-saving mode.
Follow our guide on How to Record Microsoft Teams Meeting
Outdated Bluetooth Driver
Windows components depend on their specific drivers. Bluetooth is no exception to that.
If your Bluetooth driver isn't updated to the latest version, it won't work with the latest AirPods. Bluetooth drivers come with the latest addition to Bluetooth technology, and most certainly, an outdated driver can't cope with a cutting-edge product.
Your AirPods will frequently connect and disconnect with your device and terminate playback sounds because of that outdated driver.
Check out the easiest way to delete a conversation in Microsoft Teams.
Selecting the Wrong Audio Output Device
You can also face issues with AirPods if you've selected the wrong device for your audio output medium. That'll make your AirPod only an input device.
In simple words, only the mic of your AirPods will be active so, your teammates will hear you, but you won't hear them as you've not selected the AirPods as your playback device.
How to Fix AirPods Not Working with Microsoft Teams
You can fix Airpods not working with Microsoft teams on Windows 11 by either resetting your Apple AirPods or updating audio drivers. You can follow the steps to do this below. Note that these should with even if your Bluetooth headset is not working.
From the previous section, you've read the possible reasons behind MS Teams AirPod issues. You've noticed that most of the problems are because Windows' software limitations and MS Teams' complicated audio settings.
You can fix the problem by taking some specific actions to improve your audio quality. I've saved you the time and effort of searching for the solutions to this problem.
You can get your AirPods working by doing something as simple as allowing permissions to access camera, microphone and speakers that are connected to your PC.
Check out our expert-recommended error fixing, Microsoft Teams Error Code 42B.
Here are the steps to fix AirPods not working with Microsoft Teams:
1. Reset AirPods
First of all, If you're facing any issues with your AirPods at all, try to reset them. It sometimes fixes your problem at the start.
If you connect multiple devices with your AirPods, it changes it's audio codecs based on the device's requirements. Sometimes, it may fail to change the codecs, leading to connectivity problems like frequent disconnects.
Also, check out our separate post on why can't I create a team in Microsoft Teams.
So, to reset your AirPods, follow these steps:
Place the AirPods inside the case and close the lid.
Press and hold the AirPod setup button in the back of it's the case for 15 seconds.
Hold the button till you see the indicator light turns white from amber.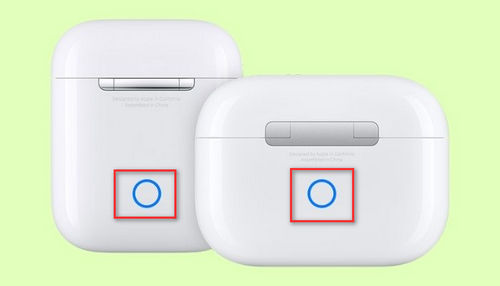 Now your Airpods are entirely reset. You have to pair them with your devices again to use. Hopefully, this step fixes your issue, and you won't have to go any further.
2. Pair the Correct AirPod Extension
While connecting the AirPods to your device, make sure you pair with the appropriate AirPod extension. When you search for available Bluetooth devices, you'll notice two AirPod extensions as I told you before.
Headphones (AirPods Stereo)
Headset (AirPods Hands-Free AG Audio)
You have to choose the second option to send the pairing request. Windows Bluetooth drivers aren't capable enough to deliver stereo sound quality through AirPods.
The sound quality might ruin your ears, but you won't face any inconvenience like an auto disconnect, only mic or sound issues.
Note that whenever you search for devices to use in AirPods for Windows, you will see two options if you pair the wrong AirPods to your PC
Follow our guide on how to Export Chat History in Microsoft Teams.
3. Charge Your AirPods
Before using your AirPods and connecting with any device, make sure that there's enough juice left for your session.
Without enough charge, the AirPods will not perform up to the mark for usage. It'll lower it's performance to save power, and you'll face various complications like a frequent disconnect, mic, and sound issues.
So, always remember to charge your AirPods before using them, and don't use them when they are on low battery.
Check out our separate post on Delete a Conversation in Microsoft Teams.
4. Update Bluetooth Driver
If you're on Windows 10, it generally updates all it's drivers automatically. However, if you're facing Bluetooth issues, try to update the driver manually to fix the problem. You can use the Device Manager to do this but it's simpler to go to Settings.
Follow the steps below to update the Bluetooth driver manually:
Click the Windows Start button.
Click on Settings.
Select Update & Security.
Select Windows Update.
Click on Check for Updates if it's there.
Click on View optional updates.
Go to the Driver Updates tab.
Select the Wireless Driver to update.
Click Download and Install.
After that, follow the onscreen instructions to update the wireless driver, fixing any issues regarding your wireless drivers, including Bluetooth.
Facing error code caa70004,you can quickly Fix Microsoft Teams Error Code CAA70004 from our detailed guide.
5. Select AirPods as Playback Device
In Windows, the selected device for the audio output decides whether you will be able to listen to sounds from your PC.
Select Apple's AirPods in Windows as your playback device manually to use the microphone on your Airpods like any other Bluetooth Headphones or listen to sounds.
To change your playback sound, go to Control Panel> Sound > Playback and choose AirPods Hands-Free AG Audio as your default sound playback device.
Now, it'll fix the MS Teams AirPods issue.
But before that, go through our epic guide on Microsoft Teams Can't Change Status from Offline
6. Update AirPods' Firmware
This issue can be resolved by updating the firmware, which also will increase it's efficiency and support for various cross-platform devices and will fix any issues among them.
But, unfortunately, Apple automatically updates the AirPod's firmware while it's connected to your iPhone. There's no manual button or option to update it.
On your iPhone, go to Settings > General > About > AirPods > Firmware version. If the firmware version is 4A400, then it's already on the latest firmware.
Otherwise, put the AirPods inside the charging case and charge it, leaving the lead open and AirPods connected.
This will initiate the firmware update process. You may have to wait for a few moments to finish the update process.
Check out the easiest way to Share My Screen on Microsoft Teams
7. Use Bluetooth Dongle
If everything else fails, I recommend buying a Bluetooth dongle to connect your Windows laptop with the AirPods.
Plenty of reputed brands offer a reliable Bluetooth dongle to ensure seamless connectivity with your AirPods. Buy any one of them and pair your AirPods through them. It'll overcome the limitations of your laptop's Bluetooth chip by replacing it.
After connecting the dongle of your choice, you'll only need to change the playback device to that dongle. Then, the dongle will connect with the AirPods, and all the cross-platform hassle will get diminished.
Apply this step as a last resort to save your relationship with your co-workers and avoid inconvenience during an online meeting in MS Teams.
Have some time to spare? Check out our latest fix for Microsoft Teams Error Code CAA20002
8. Disable Bluetooth Le Enumerator
If you're experiencing any problems with your Bluetooth connection, disabling Bluetooth LE Enumerator could be an option. However, bear in mind that some features of your system require this component of Windows to work. If this is compatible with your Bluetooth driver, you can proceed with disabling it.
However, if you notice a lack of hardware support or drivers must be installed, it's best to avoid disabling it as the driver will not be capable of running properly without them.
If you decide to disable it, simply go to Device Manager, find the Bluetooth LE Enumerator, select it, and then click on the Disable option. Wait a few seconds and then check if the issue has been solved. If not, there could be an issue with your driver or hardware, and it may be best to seek further assistance.
How to connect AirPods to Microsoft teams
Putting aside the complexity of AirPods in Microsoft Teams, you can enjoy every other aspect of a Bluetooth device with the AirPods on your pc.
You can connect the Apple AirPods with your pc like any other Bluetooth device.
Here are the steps to connect AirPods with your PC:
Put the AirPods inside the case.
Hold the backside button of the case and wait for the status light turns white and start blinking.
Click on the up arrow icon on the Windows status bar.
Right-click on the Bluetooth icon and select Add a device.
Click on Add Bluetooth or other devices.
Select Bluetooth on the next window.
Select your AirPods in the next window.
Click Allow on the next window.
Now, your AirPods are successfully connected with your pc, and you can enjoy your movies and music wirelessly.
Check out the easiest way to Green Screen with Microsoft Teams
Conclusion
I've covered every possible solution to ensure that your AIrPods can start working with Microsoft Teams and also provided reasons why AirPods will not be compatible. Go through every step and point out the issues first, apply the solutions after.
Make sure to apply them carefully as a wrong step can wreck your pc or AirPods.
If you have any queries regarding AirPods not working with Microsoft Teams, comment down below, and our experts will try to answer them right away.
Also, don't forget to let us know if your problem is solved.