Did you recently purchase a pair of Apple AirPods Pro or Bluetooth Headphones, only to find that you hear choppy noises with Microsoft Teams?
According to Microsoft, Airpods are not officially supported on MS Teams. This is due to the different Bluetooth drivers that are used on Windows and Mac.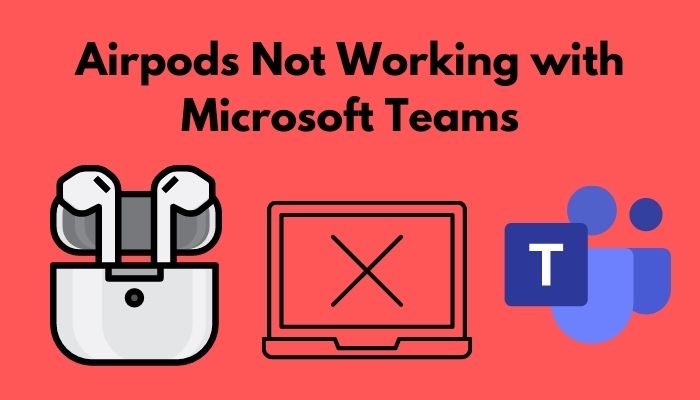 To fix this, I will guide you through the reasons behind Airpods not working with MS Teams and provide their solutions. So, without any further ado, let's start the quest.
Why is AirPods not working with the Microsoft Team?
AirPods do not work with Microsoft Teams if Stereo Mode is selected from the Bluetooth menu on Windows. Additionally, selecting the wrong audio output device, outdated Bluetooth drivers, or the AirPods being connected to a different device can cause this issue.
These are the reasons why AirPods stop working with Microsoft Teams:
Stereo Mode Selected
The most common mistake is selecting AirPods' wrong audio mode on your PC. There are two options when searching for Bluetooth devices to connect AirPod in Windows:
Headphones (AirPods Stereo)
Headset (AirPods Hands-Free AG Audio)
Suppose you pair your laptop by selecting the first option. In that case, you'll face issues like no sound, no mic, and frequent disconnection. The main reason is, for audio calls and conferences, you will need to use the hands-free mode. Stereo mode is good for listening to audio where the microphone is not used.
This issue is also common among users who use AirPods Pro and Pro 2 with Microsoft Teams.
Selecting the Wrong Audio Output Device
If you select the wrong audio output device, Microsft Teams will not work with AirPods. That'll make your AirPod only an input device then.
In simple words, only the mic of your AirPods will be active, so your teammates will hear you, but you won't hear them as you've not selected the AirPods as your playback device.
Outdated Bluetooth Driver
Windows components depend on their specific drivers. Bluetooth is no exception to that.
Your AirPods will frequently connect and disconnect with your device and terminate playback sounds because of the outdated driver.
If your Bluetooth driver isn't updated to the latest version, it won't work with the latest AirPods. Bluetooth drivers come with the latest addition to Bluetooth technology, and most certainly, an outdated driver can't cope with a cutting-edge product.
AirPods Connected to Another Device
If your AirPods microphone doesn't work on Teams, make sure to disconnect it from other devices and connect AirPods as a voice and music medium.
Suppose the other device is playing back audio, this will mess up the Bluetooth signal that Windows sends to the AirPods. So, always remain connected to a single device at a time when using AirPods.
How to Fix AirPods Not Working with Microsoft Teams
To fix AirPods not working with MS Teams, select Handsfree Mode inside Bluetooth Settings on Windows. Next, select Airpods as the speaker and microphone from Audio Output devices. Finally, update the AirPods firmware and Bluetooth driver on your laptop to the latest version available.
Let's take a look at these fixes in detail.
These are the methods to fix AirPods not working with Microsoft Teams:
1. Select Handsfree Mode
You need to select the hands-free mode on Airpods to make it work with Microsoft Teams. This normally uses a two-direction channel for audio and voice data, which is essential during a call. If stereo mode is used, which uses both channels for audio, either you would hear your pals, or they would hear you.
Here are the steps to set handsfree mode on Windows:
Search for sound from the Start Menu.
Click on the Playback tab.
Click on AirPods Hands-Free option.
Press the Set as Default button.
Repeat the same for the Playback tab.
Click on Ok.
Next, we need to make sure, Airpods is getting the audio sent from Windows.
2. Set AirPods as Output Device
Airpods must receive the audio and transfer it to Microsoft Teams. If that does not happen, you simply won't hear anything. You need to check the audio output device on both Microsoft Teams and Windows separately before making a call or attending a conference.
Here are the steps to set AirPods as the output device on Windows:
Right-click on the speaker icon and click on Open Volume Mixer.
Set AirPods under both Output and Input devices.
Scroll down and find Microsft Teams under Apps.
Set the maximum volume from the volume slider.
Now we need to do the same from the MS Teams interface.
These are the steps to set AirPods as the output device on Microsoft Teams:
Open Microsoft Teams.
Click on your user icon and open Settings.
Press Devices on the left tab.
Under Speaker and Microphone, select AirPods Hands-Free. If you use AirPods Pro, that may appear here.
Scroll down and click on Make a Test Call. Speak something and see if you can hear it back.
Once you hear the audio, that means the setup process for the AirPods on Microsoft Teams is successful. Now try making a call and see if everything goes correctly. Your AirPods should start working perfectly now.
But what if the problem lies with the AirPods software? The next part deals with it.
3. Update AirPods' Firmware
This can resolve AirPod's efficiency and support for various cross-platform devices and will fix any issues among them. The good thing is that Apple automatically updates the AirPods firmware while it's connected to your iPhone. There's no manual button or option to update it.
Put the AirPods inside the charging case and charge it, leaving the lead open and AirPods connected. This will initiate the firmware update process. You may have to wait for a few moments to finish the update process.
On your iPhone, go to Settings > General > About > AirPods > Firmware version. If the firmware version is 6.8.8 or 5E135, then it's already on the latest firmware. You can visit the Apple support page for more information related to this.
4. Update Bluetooth Driver
If you're on Windows 10 or 11, it generally updates all its drivers automatically. However, if you're facing Bluetooth issues, try to update the driver manually to fix the problem. You can use the Device Manager to do this, but it's simpler to do this from Windows Settings.
Follow the steps below to update the Bluetooth driver manually:
Press Win + I to open Settings.
Select Update & Security.
Select Windows Update.
Click on Check for Updates if it's there.
Click on View optional updates.
Go to the Driver Updates tab.
Select the Wireless Driver to update.
Click Download and Install.
After that, follow the onscreen instructions to update the wireless driver, fixing any issues regarding your wireless drivers, including Bluetooth.
5. Reset AirPods
This is generally the main fix if AirPods do not function properly. It is not limited to MS Teams but across all devices and OS. If you're facing any issues with your AirPods at all, try to reset them.
If you connect multiple devices with your AirPods, it changes its audio codecs based on the device's requirements. Sometimes, it may fail to change the codecs, leading to connectivity problems like frequent disconnects.
To reset your AirPods, follow these steps:
Place the AirPods inside the case and close the lid.
Press and hold the AirPod setup button on the back of it's the case for 15 seconds.
Hold the button till you see the indicator light turns white from amber.
Now your AirPods are entirely reset. You must pair them with Windows again to use them with Microsoft Teams. Do not forget to set the AirPods as the audio output device, which is mentioned earlier. Take a look at that if you need.
6. Use Bluetooth Dongle
If everything else fails, I recommend buying a Bluetooth dongle to connect your Windows laptop with the AirPods. Maybe your laptop's Bluetooth device isn't compatible with the AirPods, which is causing all the issues.
Plenty of reputed brands offer a reliable Bluetooth dongle to ensure seamless connectivity with your AirPods. Buy any one of them and pair your AirPods with them. It'll overcome the limitations of your laptop's Bluetooth chip by replacing it.
After connecting the dongle of your choice, you'll only need to change the playback device to that dongle. Then, the dongle will connect with the AirPods, and all the cross-platform hassle will get diminished.
Apply this step as a last resort to save precious time and avoid inconvenience during an online meeting in MS Teams.
How to Fix AirPods Not Working with Microsoft Teams on Mac
AirPods are designed to work flawlessly on Mac. And it actually does.
But if you are having trouble using it with a third-party application such as Microsoft Teams, it is a good idea to check if the AirPods are the default audio device. If not, no audio will be transmitted, and you won't hear anything on the earbuds.
Here is how you can set Airpods as the audio output device on a Mac:
Click on Apple Menu and open System Preferences.
Go to Sounds.
Click on the Output Select the AirPods here.
Repeat the same with the Input tab.
Adjust the volume slider at the bottom.
Now open Teams and go to Devices under its Settings. Here you can now see the AirPods listed. Select these as the audio output and input devices. This should fix the Airpods not working with MS Teams.
How to Fix AirPods Not Working with Microsoft Teams on iPhone
Many users have complained about Teams and AirPods not going along nicely on iPhones too. Normally the AirPods work fine with other apps. But as soon as you are in a meeting, boom. No one can hear anything that you are saying.
Well, this issue seems to be rooted in a new feature called Voice Isolation. It removes the background noises so that calls can become clearer for the user on the other end. But apparently, MS Teams does not support it and hence the communication blackout.
To fix this, set the microphone to the standard profile.
Here are the steps to disable Voice Isolation on iOS:
Swipe down from the top right and tap on the Microphone icon.
Set this to Standard.
Now any noise reductions enforced by iOS are gone. Try joining a meeting or making a call using Microsoft Teams. Everyone should be able to hear you now.
How to Connect AirPods to Microsoft Teams
You can connect the Apple AirPods with your PC like any other Bluetooth device. After that, just switch the audio output to Airpods, and audio calls and conferences will work seamlessly on Microsft Teams.
Here are the steps to connect AirPods with your PC:
Put the AirPods inside the case.
Hold the backside button of the case and wait for the status light to turn white and start blinking.
Click on Action Center in the Windows taskbar.
Right-click on the Bluetooth icon and select Go to Settings.
Click on Add Bluetooth or other devices.
Select Bluetooth in the next window.
Select your AirPods in the next window.
After that, Windows will notify you that the connection is successful. Now click the volume icon and switch to AirPods. Repeat the same procedure with other applications where you can do audio and video calls, such as MS Teams, Zoom, etc.
Now, your AirPods are successfully connected to your pc, and you can enjoy your movies and music wirelessly.
Conclusion
I've covered every possible solution to ensure that your AirPods can start working with Microsoft Teams and also provided reasons why AirPods will not be compatible. Go through every step and apply the solutions accordingly.
If you have any queries regarding AirPods not working with Microsoft Teams, comment down below, and our experts will try to answer them right away.
Do let us know which step fixed the problem for you.