All of a sudden your wifi signal has gone crazy! It started to drop the connection randomly. So you decide to fix this but you don't know where the wireless router is because it's been set up and placed by the previous owner of the house.
Does it seem too much difficult for you to find the router? Don't know how to detect the physical location of a router?
It becomes a puzzling matter for someone who didn't know where the router is. It turned into frustration when the router gets faulty. Finding the router becomes a headache.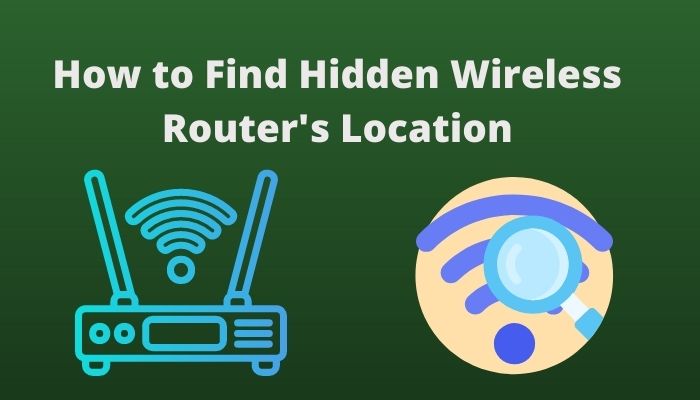 Don't worry buddy. I will help you to find the router so that you can fix your wifi problem. After investing a lot of time I have found several methods to locate a hidden wifi router. I think you can find your hidden router if you read the article till the end.
Check our exclusive tutorial on Oculus Quest 2 Not Connecting to Wi-Fi
Sometimes you noticed that several open wifi networks were available in your office. But you don't know from where those wifi signals were broadcasting. Hackers or other people who want to cause damage to the company can steal important files or steal bank details. If any employee connects with it, chaos is bound to spread.
In order to protect important files or ensure security across the office, you need to find that hidden wifi router. When you connect a device through a wifi signal hackers can gain access to your device by tampering with the wifi.
You may become a victim when your personal information like bank or credit card details, Security passwords on social media got hacked.
Another reason to find a hidden router can be if you don't know where the router is and you need to physically access it to fix an issue. A big factory or office has several routers but it becomes a pain to detect the faulty ones because you don't know which router is sending the bad signal.
So when you face scenarios like this, then finding that hidden router becomes a hard job to do. But don't worry I will show you the way how to do it.
Also, check out our separate post on how to Fix Discord Not Working on Wi-Fi
A router is a device that makes a connection between devices and the internet wirelessly. The router helps to send and receive data packets between computer networks. It's the most used networking device right now. It will be a surprising matter if you don't find any router in a commercial office area or in a city home.
But if you don't know how to locate your router when it is placed in a hidden spot then it will be an issue for you. So, let's dive into the methods for unveiling a hidden router.
Check our exclusive tutorial on the fastest DNS servers for PlayStation5
Here are the methods to find a hidden wireless router:
Method 1: Use InSSIDer software on the laptop
InSSIDer app is available for both Windows and MAC OS. It is a leading tool for inspecting your wifi networks by visualizing wifi networks by analyzing channel settings, signal strength measurement, enabling security, etc. It's been in the app market since 2007. So, you can count on it.
Step 1: First download the InSSIDer app from the metageek.com website into your laptop. After downloading open the app and Sign Up for a Meetageek account to use the software.
Step 2: Then enter your hidden router SSID into the Search bar of the app and then hit "Enter".

Step 3: To find the hidden router just walk toward the point where the router's signal is stronger with your laptop.
Step 4: Next step is to look under the tabs labeled "5GHz Channels" and "2.4GHz Channel", and try to locate whether your hidden router's SSID is in the list or not.

Step 5: If you see your router's SSID is in the list then look at the amplitude monitor section. The close you get to the hidden router the higher will be the spike or graph. You can also look for signal strength or other network specs of the signal.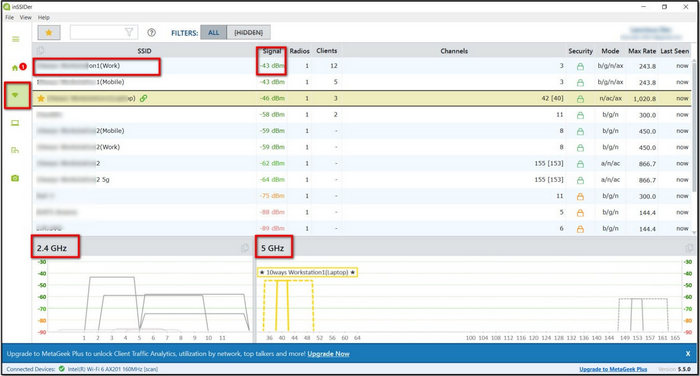 Step 6: When you see the spike is in the highest position then you are so close to the router. Try to find out the nearby power cable, networking cable, or ports if you find any then trace the cable. It will lead you to the hidden router's position. Job Done!
So, it's an easy task to find a hidden router with this app. Try it you won't be disappointed.
Here's a complete guide on how to fix PS5 not downloading games.
Method 2: Use WiFi Analyzer App on Mobile
You can detect a nearby router by using a WiFi Analyzer app. The most interesting fact is that this app can show you the distance between you and the router.
Step 1: First download the WiFi Analyzer app by olgor.com from the Play store.
Step 2: Then open the app on your mobile. You will see a Graph-based chart that represents channel vs signal quality. The higher spike level and lower -dBm (it represents signal strength quality) indicate the closest router.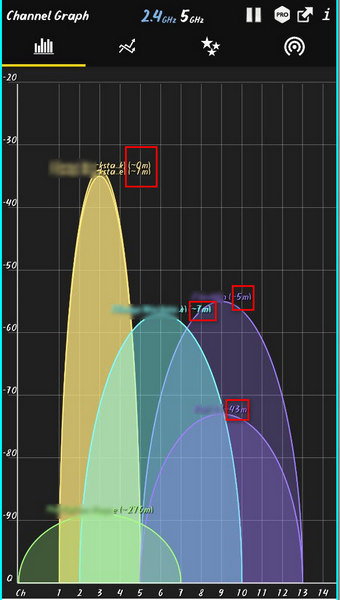 Step 4: In the graph, every spike is presented with its SSID and beside the SSID you will see the distance of the router.
Step 5:  You can also detect both 2.4Ghz and 5GHz based router signals.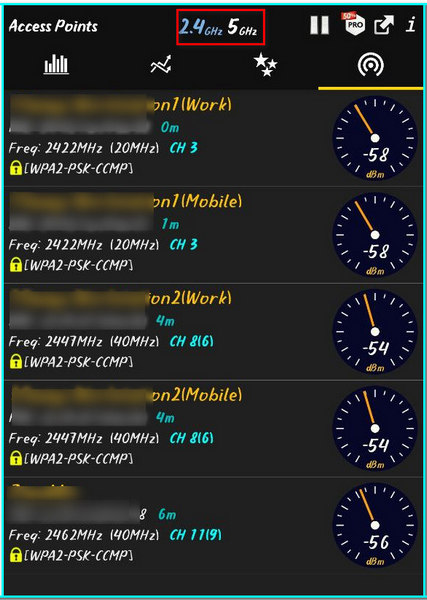 By using this app you find the hidden router's location. It's a great app to use. Try it.
Follow our guide on How to play discord on PS5.
Method 3: Use NetSpot App on mobile
It's another popular app that is available for both Android and iOS. It can also detect the nearby router and can show its networking specs through a graph or detailed list view.
Step 1: Just go to the play store and download the NetSpot – WiFi Analyzer and Site Survey Tool app published by Etwok, Inc.
Step 2: Open the App. After that, you will find Discover, survey and Internet Speed Test options. Tap on the Discover option.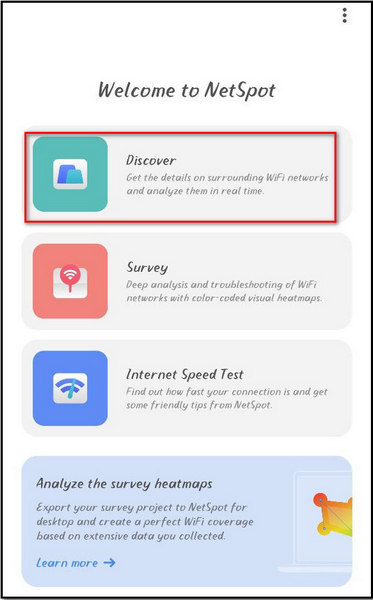 Step 3: Then you will be redirected to the Networks tab section. Here you will see a listed view of the available wifi networks. The closest router will be top listed with signal strength on the right side. You can also see band quality, channel number and MAC address of the wifi signal.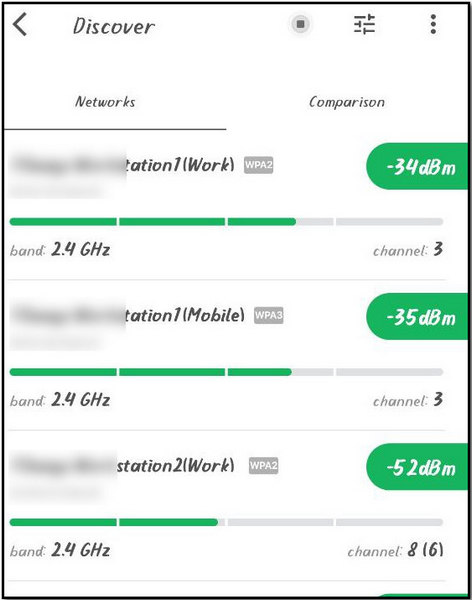 Step 4: When you tap the Comparison tab you will find a graph view of the available wifi signals. The higher graph spikes represent the closest router signal. You will find the listed view on the lower side.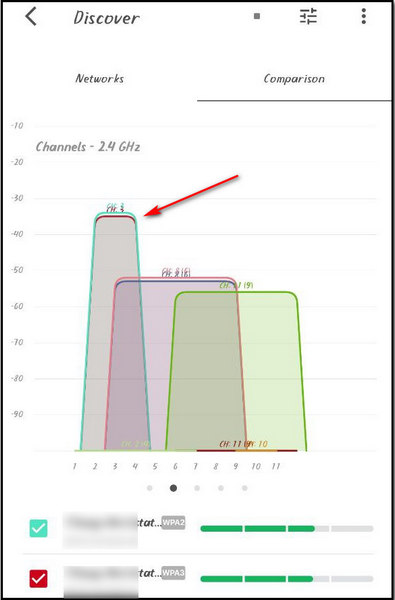 This app can help you to detect the router which is located in a hidden spot. You can definitely count on this app.
Also, check out our separate post on how to make only one page landscape in Word.
From Mobile:
You can connect your device with a hidden wifi network. Wifi networks broadcast signals through a service which is called SSID (Service Set Identifier). If you hide this SSID then your wifi signal won't show up in your device's available wifi list. Some users do this for extra security purposes.
But you can connect your device if the SSID is hidden by the following steps.
Here are the steps you can follow to join a hidden network from your android mobile:
Step 1: Just go to the wifi settings on your mobile. Turn on the Wifi.
Step 2: After turning on the wifi you will see Add network option at the end of the available wifi networks. Tap on it.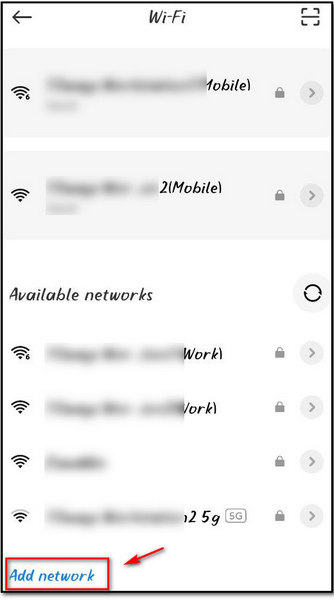 Step 3: After this, you will see a text bar where you have to input your SSID name.
Step 4: After the input, you have to select the type of security (WEP, WPA/WPA2- Personal, WPA/ WPA2/ WPA3 – Enterprise, WPA3 – Personal) in which it is broadcasting the signal.
Step 5: After selecting you will find a text bar labeled as Password. Here you have to input the security or login password for the wifi signal.
Step 6: After entering the password you tap on the ok button (✔). Done you are now connected to a hidden network.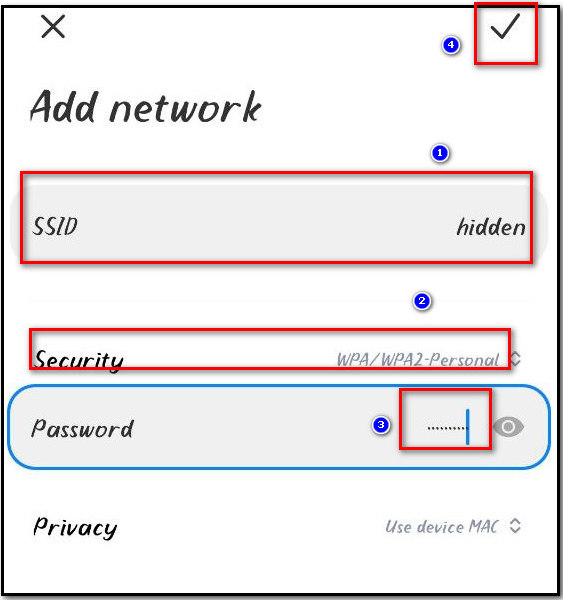 But in order to connect to the hidden network, you must have to know the SSID name, Password, and security type of the wifi signal. Sometimes there is an option to select if it is hidden or not. Just select the hidden network and you are good to go.
From Laptop or Desktop:
You can also connect with a wireless hidden network from a desktop or laptop. Just follow the steps.
Here are the steps to follow to connect to a hidden wifi network from  a desktop or laptop:
Step 1: First go to settings from the menu.
Step 2: Then go to →Network & internet→ Wi-Fi→ Manage known networks.


Step 3:  After that click Add a new network button.

Step 4: Then input the Network name and select security type(WEP, WPA/WPA2- Personal, WPA/ WPA2/ WPA3 – Enterprise, WPA3 – Personal).
Step 5: After security type selection, you will have to put the security key. Then check the Connect automatically option.
Step 6: Click on the Save button. You are done!
By following the above steps you can connect to a hidden wifi network through your laptop or desktop.
Check out the easiest way to enable equation editor in Microsoft Word.
Final Thoughts
Finding a wifi router that is hidden from you is not a tough nut to crack. Hackers can gain access to your file if you connect your device to an unknown open wifi network. So, it is very important to find a hidden router.
You can do that by installing the above-mentioned apps on your devices. You can do it easily. Now you also know how to connect to a hidden wifi network if you know the SSID and security key.
If you have read the entire article then you can easily detect a hidden router's location. Let me know if you have further queries or failed to understand any methods related steps by leaving a comment in the comment section. Good luck finding a hidden router.