When you click to log in, firstly, nothing happens as expected, and then the screen grays out and sometimes gets stuck.
If this is the scenario of your Disney+ account login, do not worry about it, yet I know it is tough to stay calm here. But, I will not let you ruin your entertainment experience as you are a Disney+ subscriber.
As a tech geek, I made a thorough and intense study on this Disney Plus logging-in issue. Eventually, I concluded with some impeccable solutions that, for sure, will help you out to solve the login problem.
So, keep reading the entire article because skipping any portion may cause you doubts and questions.
Let's get the ball rolling.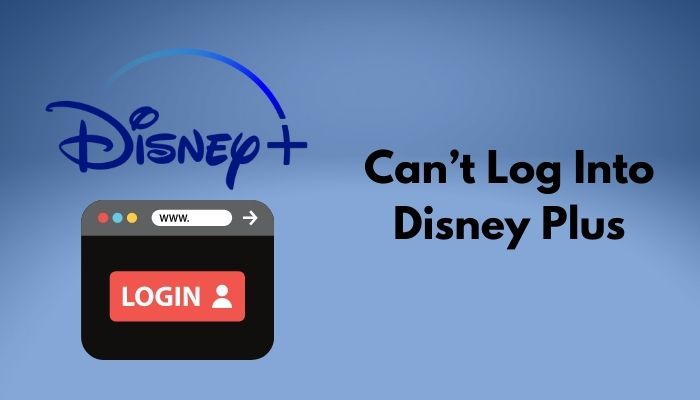 Also, check out our separate post on AirPods not working on Netflix.
Why Can't You Log Into Disney Plus?
You already know Disney Plus is a large as well as diverse media repository developed by The Walt Disney company. The most lucrative feature of this is the content users watch here is absolutely free of ads, and you can access any movies or TV shows from Marvel, Pixar, National Geographic, of course, Disney, and others.
As per reports, no such significant error is there to bother you except log in or connection issues. The case when you cannot log into Disney Plus even after repetitive clicks has been classified as Error 24 and Error 43 by Disney.
Fortunately, whatever and however the error is, I readied a number of simple fixes that you should try to resolve. Before that, I would like to take you to the roots where the errors come from.
Also, check our exclusive tutorial on fix Netflix we're having trouble playing.
Here are the reasons for the login issue in Disney+:
An unstable or poor internet connection often causes this problem in Disney+.
Sometimes, temporary technical bugs or glitches from your end may trigger this issue.
If the Disney Plus server is down, you will not be allowed to log into your account.
Your Disney+ application that lacks updates may prevent you from logging in.
If you use VPNs or any problematic extensions on your browser, they may block or thwart your attempts to log in.
When a sudden change in your router or browser settings takes place, you can be stopped from logging into your Disney+ account.
In gross, these are the root causes; still, some other factors may be held accountable for this. Be that as it may, I will consider all the reasons while listing the probable fixes down. So, stay tuned, I am going to talk about the solutions immediately.
Quickly check out our epic guide on how to watch Netflix on Google Cardboard.
How to Fix Login Problem in Disney Plus?
To make you out of the inconveniences, I have already analyzed the reasons. Now, I will move towards the fixes that will be quick and straightforward to follow and perform.
Before that, I would like to request you to check the Disney+ server status. You can make it by going through their official website, discussion forums, or social media groups. As soon as you make sure the server is not down, apply the following methods one by one.
Here are the methods to fix the login problem in Disney Plus:
1. Check your Internet Connection
To deal with any software or online issues, it is foremost to check the availability of your internet. This frequently comes out as the main culprit of most online issues.
If the signal strength and network health are poor, the connection is not stable, there is a high chance you will face these sorts of login issues. So, first, check it. If you find anything inappropriate, contact your internet service provider.
Here's a complete guide on how to get Netflix Student Discount.
2. Verify your Login Credentials
Inserting wrong credentials to log in to websites is another typical cause of failing to log in. Until and unless you put the exact information as you set while signing up, the system will not allow access to their website.
Often we, the users, are in a rush and make typos. So, please, have some extra care when you put in your login credentials. If you find the credentials are perfect, still, you cannot log in to Disney Plus, jump into the next method.
Check out the easiest way to change your Netflix Password.
3. Change your Password
If you struggle with your password, resetting can be a mighty option to handle this. Sometimes changing it, even if you did not forget, can help you secure your profile.
Here are the steps to change your password:
Open your browser.
Land on the Disney Plus login page.
Insert your email on the field.
Tap the Continue
Click on Forget Password.
Choose the email for a new password.
Open the email sent by Disney+ where you will get the instructions to retrieve or reset your password.
Now, check if you can log into Disney Plus.
Follow our guide to know how long do Netflix downloads last.
4. Check if your Profile is Still Active
A Disney Plus account holder or paid subscriber can retain up to 7 profiles for one single account. This is undoubtedly conducive to keeping things separate for friends and family.
However, if the account owner deletes your profile deliberately or accidentally, you are not supposed to enter the account. So, I suggest you make sure your profile is still active.
5. Update the Disney Plus App
Running any outdated application poses a threat to user experience. Likewise, out-of-date Disney Plus may malfunction and create a variety of errors on your device. Therefore, I would like to recommend you update the application immediately if any update is available.
Here are the steps to update the Disney Plus application:
Windows:
Type Microsoft Store on the Windows Search Box.
Click on Microsoft Store from the appeared suggestions.
Type Disney Plus on the MS Store search bar.
Click on the Update button, if any update is available.
Android:
Open Google Play Store.
Type Disney Plus on the search bar.
Click on the app.
Tap on the Update button on the right, if any update is available.
Have some time to spare? Quickly check out our epic guide on how to fix Netflix error code: M7353-5101.
6. Disable the VPNs, Antivirus, and Unnecessary Extensions
Third-party tools or applications like Virtual Private Networks (VPNs), antivirus software, or other problematic browser extensions frequently create problems by blocking several important programs or applications or sites that you need to visit quite often.
The blacklisting by these sorts of tools may get exaggerated, and it may happen, any of them have blacklisted Disney Plus. Probably that's why you are not allowed to enter or log into Disney. So, try to keep them configured or uninstall them right away to get rid of issues.
7. Log out Disney Plus from All Devices
Though many applications support multi-device login, there are still lots of applications that restrict logging in from multiple devices. You can log in to Disney from another device provided that you have logged out of the previous one.
Here are the steps to log out of Disney Plus from all devices:
Open Disney Plus on your browser.
Hover over your Profile
Click on Account.
Tap on the Log Out of All Devices
You will be logged out of all devices.
Check out the easiest way to fix Netflix code NW-4-7.
If your browser stores any corrupted data as cache files and cookies, that may compromise security or block some sites that you intend to enter. To deal with this, it is better to clear the cache and cookies of your browser.
Here are the steps to clear browser cache and cookies:
Click on the 3-dots icon at the top-right of your browser.
Hover over More tools and select Clear browsing data.
Navigate to Security and Privacy from the left pane.
Click on Clear browsing data.
Make sure all the boxes are checked and the time range is set to Last 4 weeks.
Click on Clear data.
Now, relaunch the browser and try to log in to Disney Plus.
Here's a complete guide on how to take screenshot Netflix on any Device.
9. Run Malware Scans
To check if there is any injection by malware or viruses, you can run malware scanning. This will lead to settling down any external threats or data breaches.
Here are the steps to run a malware or virus scan:
Go to Start.
Click on the gear icon to get into the Settings.
Navigate to Update & Security.
Choose Windows Security from the left pane.
Click on Virus & threat protection under the Protection areas
Tap on the button Quick scan under Current threats.
Wait for a while until the scanning finishes.
You will now get the malicious programs and software that are behind your troubles. Delete them all permanently or find a suitable way to fix them.
10. Reinstall the Application
The last resort for you remains uninstalling and reinstalling the app on your phone or Windows. If there is any problem with your download and installation, this is the option to fix it at once.
Here are the steps to reinstall the Disney Plus app:
Go to Start.
Click on the gear icon to initiate Settings.
Locate the option Apps and click on it.
Navigate to Disney Plus from the list of all installed apps, and click on it.
Tap on Uninstall.
Give the necessary permissions to start uninstalling.
Wait till the process finishes.
Download a fresh copy of the Disney Plus
Install it carefully.
Now, check if the login problem persists.
Conclusion
I hope you may have logged in to your Disney Plus account. The methods I demonstrated are quite simple and effective, as users felt and reported.
Still, you cannot solve the issue, try loading it on another browser or contact Disney Plus Help Center. They will definitely help you out.
If you have fixed the login issue, please share this article with your buddies so that they can as well.