If you want all the components of your gaming rig to run smoothly, a good motherboard is a must for you.
And why won't it be?
A motherboard acts as the backbone of the total system. Whether you want to build the rig using Intel or a Ryzen processor, the first emphasis should always be on the board.
Now, if you want to build an AMD Ryzen gaming rig, this motherboard from EVGA can be a perfect choice.
Also, check our separate review on the best motherboard for i9-10900K
And why is that?
Don't worry. As in this review, I'll cover all the aspects involving the EVGA X570 Dark moboard. All you need to do is to stick with me throughout this review.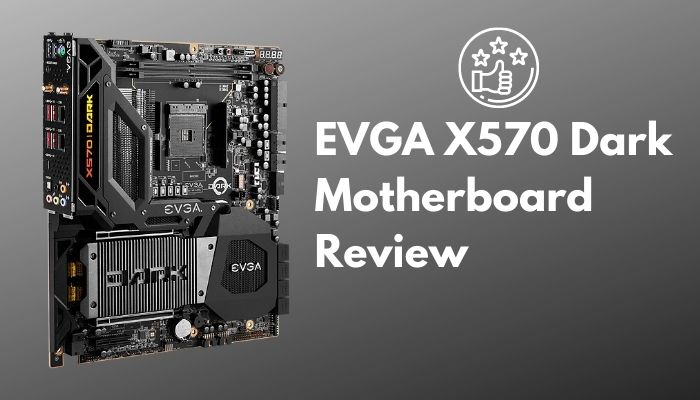 So, let's not waste time and jump right into the discussion.
Specifications
Form Factor: E-ATX
PCIe Slots: 2x PCIe 4.0 x16, 1x PCIe 4.0 x4
Memory DIMMs: 2x DIMMs Dual-Channel
Memory Capacity: 64 GB
Number of SATA Ports: 8
Fan Headers: 2x CPU PWM, 4x PWM/DC, 2x PUMP Header
Socket Type: AMD AM4
Wi-Fi: Intel Wi-Fi 6 AX200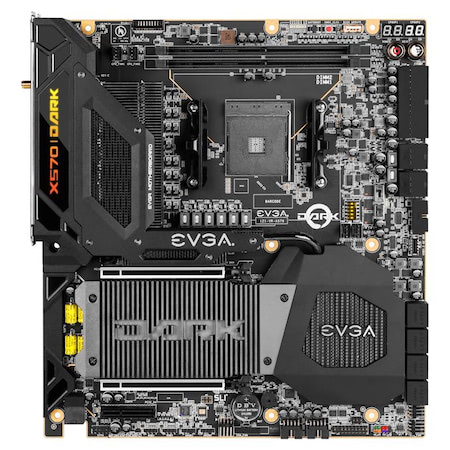 Check Today's Price ➜
1. Form Factor
One of the most prominent aspects while choosing any PC component is its size. If the physical size of the component is incompatible with the PC you would be using for building your gaming rig; it is of no use.
Since the motherboard is the component that will hold all the components together, you must select an option to accommodate all other PC parts.
Here's a complete guide on how to fix motherboard can't detect hard drive.
Generally, motherboards come in different types of form factors. The most prominent ones are – Mini-ITX, Micro-ATX, and ATX. The most common are the ATX motherboards, followed by the micro-ATX ones that are for the SFF builds.
Let us now talk about this model from EVGA.
This model has an E-ATX form factor, which means it is much bigger than standard ATX motherboards. Eventually, it also means that this motherboard requires extra space.
Therefore, I think you already realize that a larger PC case is needed to accommodate this moboard. The best part is that you can hook up high-end PC components with such a model, making the moboard perfect for high-end builds.
Besides, the vast array of compatibilities makes this type of motherboard a good choice.
Also, check out our expert's recommended motherboard for Ryzen 9 5900x.
2. Aesthetics
If you focus on the looks of your gaming rig, the aesthetic appeal of the components will matter a lot to you. As a PC builder, you will try to keep all your components under a pattern so that your build looks attractive.
Also, check out our separate post on how to fix motherboard HDMI no signal.
There is nothing wrong with it. In fact, I always try to build gaming rigs that look appealing to the eyes.
In this regard, my reason is quite simple. I build the rig in such a way that, at first glance, it will feel alluring. That said, I try to gather all components similar in terms of texture and patterns. And since it is about all the parts, the motherboard will be the center point.
As for the appearance of this board from EVGA, it has a nice darkish texture all over. It sports the outlook of a high-end board, which was one of the core reasons for giving such design.
However, a few extra aesthetic shrouds are absent in this version, which could've added a bit more flair. Nonetheless, it is a top option that also looks decent.
Check out the comparison between ASUS RTX 3080 Vs. EVGA RTX 3080.
3. Expansion Slots
The whole point of having an adequate number of expansion slots in your motherboard is to use the expansion cards appropriately.
Usually, a motherboard can hook up with a variety of components other than the CPU. These components are mainly the graphics card, sound cards, SSDs, HDDs, networking cards, etc. For proper operation, you need to connect with them perfectly, where expansion slots come into play.
Mostly the expansion slots these days are the PCIe 3.0 or 4.0 slots. These slots are mainly of four types, and each of them has different bandwidth.
Also, check out the what are the fastest PCIE 4.0 SSDs.
Now, if you have any expansion cards that you need to install, you need to plan accurately. Because if you align a faster card in a slower PCIe slot, it might result in bottlenecking the card.
As for this model, it comes with 2x PCIe 4.0 x16 and a single PCIe 4.0 x4.
These slots are good enough for hooking up with the most modern, powerful GPUs or SSDs. Therefore, if you aim to build a high-end build, this model has ample slots to support your need.
Check out our experts tested and reviewed the best RGB CPU coolers, best Aura Sync RGB GPU and best Aura Sync Compatible RAM for your PC.
4. RAM Support
The memory support of your system is another crucial aspect that you need to consider while buying a motherboard.
Basically, the type of motherboard we have will dictate your decision to buy RAM.
The amount and type you have to buy are totally dependent on the compatibility with the motherboard.
You need to know the memory size that your board can accommodate and the number of modules. That said, you don't have to buy a model with high capacity initially as you'll always have the chance of upgrading.
Also, check out our separate post on how to overclock DDR4 RAM
In my opinion, boards with four memory slots are always better. Because you always have the chance of increasing the memory in future
In the case of this model, it comes with a couple of DIMM slots. You might feel that it has some limitations, but actually, it doesn't.
In both these slots, you can accommodate up to 64 GB of memory, which is way higher than the optimum capacity for gaming.
The only problem is that you cannot add any module with a capacity of 8 GB if you want to have a DRAM of 16 GB.
Other than this, 8 GB DRAM is suitable for light use, and you can easily accommodate them in both these DIMM slots.
Check out our experts tested and reviewed the best 4800 MHz DDR4 RAMs.
5. Number of SATA Ports
You must consider the total number of SATA Ports while buying any motherboard. This consideration is quite important as a SATA port enables you to connect with storage and optical drives properly.
Therefore, in the first place, you need to set your priorities right and make sure that your motherboard has all the ports that you need for the drives.
Now, if you are an average user, your motherboard having 2-3 ports is enough. But for gaming, I always like to go for the boards with at least 4-6 ports. And that said, the number of ports depends highly on the board's size and chipset.
For this board with an X570 chipset, I think the number of ports is more than enough. In this model, there are 8x Gb/s ports, which is above the average number.
This trait eventually makes this motherboard very suitable for high-end operations and extreme gaming.
Moreover, you don't need to worry about the ports if you plan to buy this model from EVGA.
Also, don't forget to check out our experts tested best RGB/ARGB splitter cables.
6. Performance
The output of the motherboard is most crucial because it is the hub of all other components. The total performance of any build depends on the quality of this single component.
Therefore, it's quality should be top-class if you seek high-end results.
When I tested the EVGA X570 Dark, I was pretty impressed by its offerings. It fared up pretty well in my test results.
What I would say is that this board is very good for overclocking. It allowed me a decent amount of CPU boost at the default settings, and the entire process was without any hitch. Also, the heatsink is good enough to keep the system cool during the whole tweaking process.
Also check our exclusive tutorial on can motherboard be repaired.
7. Pricing
Since the board has an E-ATX form factor and is catered mainly towards the high-end builds, the pricing for this board is expensive.
However, that shouldn't be a problem if you are aiming for something high-end. Things that require extreme and superior outputs are always a toll on the wallet.
But if the budget is short, do not go for this motherboard.
Also, check out our separate post on will motherboard turn on without CPU.
Final Thoughts
So that was my take on the EVGA X570 Dark motherboard. I tried to cover all the aspects that would matter while making a choice.
I hope that I was able to give a clear view of this motherboard in this article. Still, if you feel that I skipped anything, do let me know.