If you are a gaming freak and still using age-old HDDs on your gaming build, you are doing it all wrong, mate!
Don't have time to read? Well, just get the WD_Black SN850 SSD.
You're not living in the late 2000s when HDDs were the best you can get. That said, you seriously need an upgrade, and that upgrade is a PCIe 4.0 SSD as storage on your rig.
But the question is, are there enough viable options?
Worry not, mate!
In this post, I will be reviewing seven top SSDs that you can buy right now.
Check out our expert's recommended best aura sync ssd.
Fastest PCIe 4.0 SSDs Reviewed
There is no doubt that everyone likes things that are fast and smooth. With the SSDs, you can have it all in your system. It makes your system super responsive and gets things in action much quicker.
Now, compared to PCIe 3.0, the PCIe SSDs are almost twice faster. It can handle twice the amount of bandwidth than that of PCIe 3.0 SSDs.
To be precise, you'll get a considerable speed bump with these drives.
When I got my hands on the first SSD of this type, I was like, hell yeah, this is the SSD I'm gonna put in my PC. And this made me test a few other models, which eventually prompted me to write this well-curated review.
I won't waste your time anymore. So, let's get this thing straight.
Also check out the Best RAM for Ryzen 7 3700X.
Here is the list of the seven fastest PCIe 4.0 SSDs:
1. WD_Black SN850
Western Digital has been in the scene for years when it comes to producing some top-notch mechanical drives. With SSDs replacing the mechanical HDDs drastically, they jumped into the bandwagon immediately.
They started producing some of the best of class products. And this model here I will be talking about right now is one hell of an option that you should look for.
The Western Digital Black SN850 comes with the following features:
Capacity: 1 TB
Sequential read speed: 7000 MB/s
Sequential write speed: 5300 MB/s

Check Today's Price of WD_Black SN850 ➜
Western Digital introduced this model mainly catering towards the gaming freaks. It is head and shoulders above its predecessor, which is why it's so much hyped.
As a gaming enthusiast, you can blindly trust this model as it is one of the fastest PCIe 4.0 SSD that you can find around.
Comparing it with the predecessor version that is the WD Black SN750, I noticed that improvement is there both in read and write speeds. The best part is that this trait eventually gives a massive boost to the performance.
Now, the outlook of this PCIe 4.0 SSD is pretty straightforward. It comes with limited aesthetic opportunities and is mainly suited for fitting in a tightly defined space. That means you can easily fit it in a PCIe 3.0 M.2 slot.
But I won't recommend you to do this. Because then the whole idea about buying this SSD would be pointless as you won't be able to experience the capabilities of a PCIe 4.0 drive.
Let's now move into the performance.
This 1 TB version comes with a 5300 MB/s write speed, which is staggering, in my opinion. The random IOPS is also on the higher side, but it's a tad less if I compare it with the Corsair MP600 Pro.
However, this model is faster than its competitors like Corsair MP600 Pro and Samsung 980 Pro. Also, it edges them in terms of the accurate read/write speeds.
What's more exciting is that this model is 50% swifter than SATA drives. Even when the SLC cache seems exhausted, this model will continue to process with a write speed of 1 GB/s.
However, this drive has some cons that you need to know before buying despite all these excellent features. It is without a heatsink and doesn't have hardware encryption.
The pricing is also high, and if you are someone with a meager budget, this model won't be a reasonable one.
To sum up, I would say that this SSD is a tad overpriced. But if you have a system that can exploit it's bandwidth, then it's a perfect buy. Also check out our top picks for the Best Graphics Cards for Ryzen 7 3700X.
2. Sabrent Rocket 4 Plus
The following SSD on my list is a highly potent option that you can rely on. It comes with the following mentioned specs:
Capacity: 2 TB
Sequential read speed: 7100 MB/s
Sequential write speed: 5300 MB/s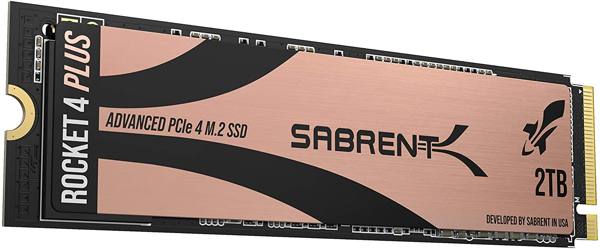 Check Today's Price of Sabrent Rocket 4 Plus ➜
Mechanical drives might be the king capacity, but when it comes to quality and performance, none beats the SSDs. This model from the Sabrient Rocket series is one such option that is highly reliable from every type of function.
As an SSD, it's just on a different level. It comes with superb craftsmanship that looks quite solid. The best part is the black PCB with copper sticker enables a top-notch heat dissipation, with added pleasant outlook.
Performance-wise, I would say that this SSD will make you feel about the real performance boost that the PCIe 4.0 has over PCIe 3.0. That said, the presence of the Phison E18 controller makes this SSD an absolute beast. Check out some awesome AM4 socket-compatible cpu coolers.
In my testing, I found that big files are loaded in no time. I installed games and softwares with almost no issues.
What might matter is the price, which is on the higher side. But it would serve the purpose greatly for which you would be buying.
3. Samsung 980 PRO
Samsung was the first to jump onto the PCIe 4.0 SSD bandwagon. They are one of the leading manufacturers of SSDs, and this model that I will be talking about is one of the fastest ones to be tested. It sports the following specs:
Capacity: 1 TB
Sequential Read Speed: 7000 MB/s
Sequential Write speed: 5000 MB/s

Check Today's Price of Samsung 980 PRO ➜
Here I will be talking about the 1 TB version of this model. It brings a considerable speed boost to the table.
If I have to compare it to the Samsung 970 Pro, I would say a 90% increase in speed. That said, it is a perfect example of what generation leap does to two distinct models.
Also, this model is backward compatible, but I won't recommend you to use it so that you won't enjoy the features of PCIe 4.0.
As for performance, I rate its sequential write performance as the best ever. Also, check out some best 240mm CPU coolers.
Besides, the thermals are alright. You won't experience any significant issues of overheating.
However, this PCIe 4.0 is expensive. But a 5-year warranty along with insane fast loading times makes it an excellent option to choose.
4. Seagate Firecuda 520
The fourth SSD on my list the Seagate Firecuda 520. It comes with mentioned specs below:
Capacity: 1 TB
Sequential write speed: 4400 MB/s
Sequential read speed: 5000 MB/s

Check Today's Price of Seagate Firecuda 520 ➜
I would say that this SSD is a very worthy upgrade of its predecessor. It's a combination of both value and performance. It's a perfect example of how the PCIe 4.0 interface is changing the entire SSD landscape.
It comes without a heatsink, which makes it somewhat unique in terms of looks. That said, it mainly banks on the moboard having a dedicated M.2 heatsink.
It possesses a black PCB and features a pseudo-SLC write cache to absorb the inbound writes. Check out some budget-friendly CPUs for RTX 3070, 3080, 3090 series.
Overall, I would say that as an SSD, it's fast and enables loading complex games and files quite easily. Backed by a 5-year warranty, it would be a fantastic choice if you have an X570 platform.
5. Corsair MP600 Core
Corsair is one of those brands that every gaming enthusiast trusts. Their gaming peripherals are top-notch. That said, this PCIe 4.0 SSD from them can be a good option for your gaming build.
It sports the following specifications:
Capacity: 1 TB
Sequential read speed: 4700 MB/s
Sequential write speed: 1950 MB/s

Check Today's Price of Corsair MP600 Core ➜
If you are looking for something affordable, this model from Corsair might be it. This PCIe 4.0 SSD is something that offers you a high-speed output that comes in competitive pricing. Now, let us talk in-depth about this SSD. It sports an aluminum heat spreader which maintains its superior output.
For performance, I would say it delivers excellent loading times. It usually takes 8-10 minutes to install a complex file using a SATA SSD. But what I experienced with the MP600 Core is that 10 mins turn into just 2 mins.
But while I was multitasking, I saw some issues that were hard to avoid. Few programs took around 3-4 mins to load, while 10-12 tabs opened. Besides, another problemslows in this QLC-based SSD is that it tends to slow down while transferring heavy files.
But given the price it has, it is somewhat tolerable because most mechanical HHDs or SATA SSDs are even slower than this.
Moreover, it is a handy option if you are short of budget.  Don't forget to check out the best alternatives to dark rock pro 4 cpu cooler.
6. WD_SN750
It is the second model from Western Digital on my list, and it is the WD SN750. It attributes the following specs:
Capacity: 1 TB
Sequential Read Speed: 3470 MB/s
Sequential Write Speed: 3000 MB/s

Check Today's Price of WD_SN750 ➜
With this model, I bring you yet another inexpensive, high-performance option. It's a perfect choice for any type you have, or you are planning to build.
This SSD is incredible in terms of everything.
You wanna edit videos or play games that involve reading and writing a large amount of data. This SSD is a perfect choice.
It is under that range of SSDs from the company that highly prioritizes the read and write speeds. And as it's supported by PCIe 4.0 it takes just a few minutes to load something substantial.
The best part is that the price tag it comes with is evident in the SSDs with the SATA interface that obviously comes with less speed than the NVme ones. Check out some of the best 4400 MHz RAMs for a faster gaming experience.
From my part, I would say that I experienced a performance in my Ryzen 5600x build. Pretty sure you would feel the same in case you choose to buy this as your preferable SSD.
7. XPG Gammix S50 Lite
Adata is a hugely popular Taiwanese brand for PC components. They come up with top-end PC peripherals. And that said, this PCIe 4.0 SSD is one such product from them.
This SSD comes with the following notable specs:
Capacity: 1 TB
Sequential Read Speed: 3900 MB/s
Sequential Write Speed: 3200 MB/s

Check Today's Price of XPG Gammix S50 Lite ➜
For the boards with a PCIe 4.0 interface, this SSD is just perfect. It can deliver that next level that a high-end PC requires.
What you will like the most about this model is its high affordability. If you don't want to waste your money, this model is precisely for you. It comes with a 4-channel SM2267 NVMe 1.4 SSD controller. It boasts a well-crafted aluminum heatsink that has a well-brushed finish.
Besides, it doesn't require much die space and also doesn't run hot at all. Don't forget to check out some of the best 4000 MHz RAMs for a faster gaming experience.
As far as the performance is concerned, in my testing, the IO performance was top-notch. Also, read/write speed comes as measured. I would highly recommend this as a model dedicated to read-heavy tasks.
Are PCIe 4.0 SSDs worth it?
PCIe 4.0 is the most recent version of all the PCIe interfaces that are introduced to date. It comes with twice as much bandwidth as what it's predecessor had to offer.
But the question is, is it worthy enough to spend money on them?
Before answering that, let's talk a bit about PCIe interfaces. Also, check out the best CPU cooler for i9-10900k.
PCIe stands for Peripheral Component Interconnect Express. It's an expansion bus through which you can connect various expansion cards like GPUs, SSDs, Modems, Sound cards, and so on so that they can interface with the motherboard.
Now, if I go by the things written on the spec sheet, PCIe 4.0 is far superior to any other version. But when you consider the gaming performance, it isn't necessarily so.
If I have to talk specifically, I would say that the bandwidth that PCIe offers doesn't matter when it comes to gaming performance. However, in the case of SSDs, there is a slight advantage that you'll experience. It is that there exist improved loading times for the games. But other than this, the story is pretty much similar.
Moreover, my opinion is that there is no noticeable change in gaming output. But if you want to use your rig as a workstation, then the improved loading times make it somewhat viable. Also, check out some best 120mm CPU AIO coolers. Also, check out some best 360mm CPU AIO coolers.
Why is the NVMe SSD better?
NVMe or Non-Volatile Memory Express is one of the latest industry-standard interfaces for SSDs.
Now the question is, how is it better than the SATA SSDs?
The reason is quite simple. These SSDs were built around ACHI, and the companies that made them had their firmware to run those drives.
But that wasn't just enough to make the SSDs too fast. ACHI had its issues, prompting people to install special drivers to adopt. Eventually, this resulted in NVMe replacing SSDs with ACHI.
NVMe was the most modern SSDs with a PCIe interface. Compared to the SATA drives, the lower latency present in them makes them faster and responsive, which eventually makes NVMe a better option.
How fast is PCIe 4.0?
Before I talk about how fast PCIe 4.0 is, let me go back to its predecessor. If I take its immediate version into account that is the PCIe 3.0, I would say that it was blisteringly fast. It has a bandwidth of 16 Gbps on both ways for a full-sized 16x link.
Now, the upgrade from PCIe 3.0 to 4.0 followed a similar pattern to its previous versions. Just like the predecessors, the bandwidth is doubled for PCIe 4.0.
That means it has a staggering speed of 32 Gbps in a 16-lane slot.
But the question is, what to do with so much speed?
This is something that I felt the need to shed some light on.
When you were having the PCIe 3.0, only the GPU consumed the maximum bandwidth, leaving other components competing with each other.
But with PCIe 4.0, this isn't an issue. You will have ample lanes available to use for other components to connect in the hub, which speaks a volume about the speed that PCIe 4.0 will be offering.
Final Thoughts
As I end up, these are the top seven PCIe 4.0 SSDs that you can get for your build. Among these seven, you'll find all types of options that might suit your needs. The one I recommend to you is the WD_Black SN850.
It is by far the best option to choose from this list. Besides this, if you are looking for something affordable or with specific functionality, there are models from Samsung and Adata.
Overall, I genuinely hope that you would be able to find the right PCIe 4.0 SSD from this blog. Till then, goodbye, and if any question arises, do ask in the comments.