For a content creator or Gamer, connecting all the audiences from multi-platform such as Facebook, Youtube, Reddit, Twitter, Steam, Twitch, and so on has become very trendy in recent years.
It enhances the opportunity to gather more and more traffic to one's required site and be connected to the audience in every place.
But lately, Youtubers faced their Discord not showing Youtube preview video's thumbnails. Though some of them ensured they didn't face this issue regularly, the problem seems very disappointing.
It frequently happened in early 2016, and Discord even Twitted to clarify the issue. But I feel very sorry for the users who face the same problem after 7 long years in this technological advancement era.
If you are a victim of this miserable issue, read this well-researched article to resolve the issue for good.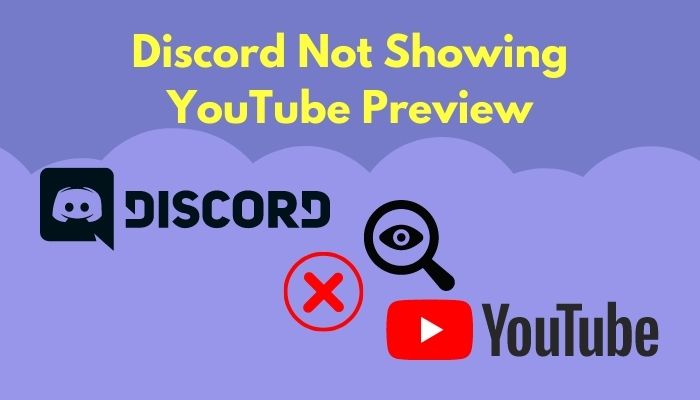 Check out our separate post: Spotify Not Showing on Discord
How to Fix Discord not Showing YouTube Preview
Discord is not showing a Youtube preview because the link previews option is not enabled, and the metadata of Youtube is not enough. But random glitches and bug issues, specific problematic links, and the initial installation of Discord are also responsible for this problem.
Discord made its journey in 2015 and became very popular among gamers worldwide. It enables tons of features for video game streamers and YouTubers from different paths.
Did you know: According to a trusted stat in 2022, Discord has over 150 million monthly users.
But apart from the significant benefits Discord provides, users face various issues when using Discord. For YouTubers, it comes down to Discord failing to show the Youtube preview thumbnail.
Quick Learn: 30.26% of Discord's users are from the USA.
In this article, we'll go through the fixes, proven and certified by us. You can apply them sequentially to fix the issue.
Related guide: Discord Notification Badge Not Showing
Here are the tested fixes to Discord not showing Youtube preview:
Fix 1: Close and Restart Discord
When you face Discord not showing preview thumbnails of Youtube, there is a chance of appearing the issue because of some arbitrary bugs and errors. So, before you perform any other fixes, you must close and restart Discord.
Some users also get benefitted from a simple restarting of their device and Discord.
Restarting a device and Discord have similar credibility in fixing temporary glitches and errors. So, try a simple close and restart the Discord app to see if this resolves the issue for you.
Fix 2: Enable Link Previews
In most cases, the Youtube links do not show preview thumbnails issue appears because users forget to enable Link Previews option. So, it's time to ensure we don't forget to allow the permission.
Read more on how to fix Discord Crown Not Showing Up
Here are the straightforward steps to enable Link Previews:
Launch Discord and click on User Settings.
Move to Text & Images under App Settings on the left bar.
Toggle on the Show embeds and preview website links posted into chat If you find the option enabled, you must turn off and turn on the option.
Restart Discord and see if the issue is solved for you by now. I hope majority of you fixed the problem. But if it persists, try the next ones.
Check out the easiest way to fix Discord Channels Not Showing
Fix 3: Do Not Use a Link Shortener
In our 6 month-long research, we see Discord sometimes doesn't show a Youtube preview thumbnail if we shorten a link.
So, paste the full-length Youtube URL and tell us if this fixes the trouble. And ensure you don't use a link shortener to short your video URL and use them sharing on Discord.
Also, check out our epic guide to Fix Discord Showing Online When Not
Fix 4: Specific Link or Metadata Issue
Some specific links or troubled metadata can cause Youtube to Discord video preview thumbnail not working issue. If you encounter this problem by pasting the same link repeatedly, you must stop it right now.
Discord interpreted the problem like there is no preview showing because of the metadata that the website sends to Discord.
In that case, you must re-upload the video and use the new links to see if this works for you.
You may also like to read: Fix Discord Custom Status Not Showing
Fix 5: Reinstall Discord
A straightforward reinstall of Discord can fix arbitrary glitches issues. Give a quick reinstall to the Discord app to see if this fixes your trouble.
Here's a path you can take to reinstall Discord:
Press the Windows key+R and type cpl in the box run prompt.
Click OK, and you will get to the Uninstall or change a program
Right-click on Discord and select Uninstall.
Go to Discord and redownload the app.
Ensure to apply the on-screen instructions to install the app on your device.
Use your Username and password to log in to your account. See if it helps resolve the issue for you.
Fix 6: Contact Discord
If none of the aforementioned fixes helps you solve the issue, go to support.discord, and submit a request. Let them know your problem properly.
You can also Tweet your problem and mention Discord to get your issue solved.
Quickly check out our proper guide on how to set viewing reminder on YouTube.
FAQs 
Why is youtube not showing on Discord?
Youtube is not showing on Discord if the automatic Link Preview option is disabled.
How do I preview a YouTube video on Discord?
You can preview a Youtube video on Discord by moving to the User Settings > Text and photos. Paste the required link in the link preview function in the tabs.
How do I sync Discord with Youtube?
You can sync Discord with Youtube by navigating to User Settings > Connections > Youtube.
A Final Thought
Discord is a daily use for mostly Twitch streamers, game developers, and Youtubers. It helps these people gather their followers in one place and engage by leaving a post or comment about a situation.
But while sharing the Youtube links, some users face Discord not showing a Youtube preview.
The article is for you to solve the issue permanently. Just go through the fixes and get your preferred flavor of using Discord.
If you have anything to say, please leave a comment. We'd love to hear what we need to fix for you.
Peace out!