Using Discord Nitro for quite some time and planning to renew it every month can be a common scenario until you face any issue with renewing.
Lots of people are facing the fact that they can't use the cross server emojis and the animated ones even though the transaction has been okay.
For some people, the boost does stay but the Nitro doesn't get updated. And the rest of the sufferers can't do anything but pass the horrible times.
It has been appearing for almost more than a year and Discord just ignores it and keeps letting it befall.
Strange, isn't it?
If the context fits your situation in any way, I suggest you read till the end and go through the nitty gritty methods to fix the issue.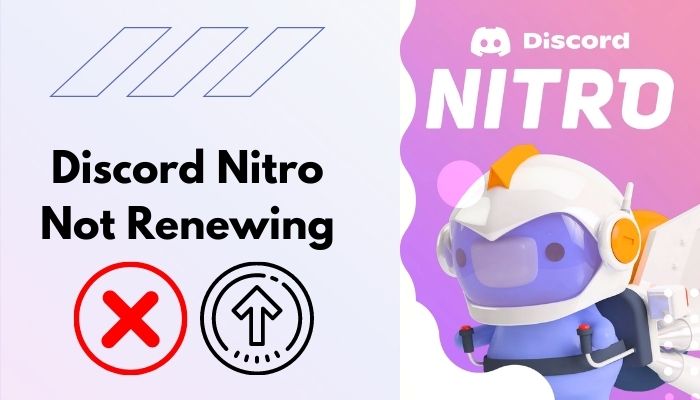 Check out the easiest way to Fix Discord Nitro Link Not Working
How to Fix Discord Nitro not Renewing
Discord Nitro is not renewing due to your former subscription being canceled, the former Nitro was in past due, and the existing or previous subscription of Nitro didn't match the gift type you received. Apart from these, some technical issues like temporary bugs and errors can cause the issue too.
In my case, it was 16.99$ for Nitro with apple credits. My money was gone and I got no subscription whatsoever. I got frustrated, and it took 15 days of research until I finally resolved the issue.
In this article, I will let you know all the minimalistic solutions available that you can try to get your issue resolved.
Let's get started!
Here are the solution methods to fix Discord Nitro not renewing:
Method 1: Re-Login to your Account
Sometimes the status is not updated, and you see no change in the app because of some internal glitch. So, whether you are using Discord in your browser or the app, I suggest you take a quick break, Log out from your account and Log in again.
Here's a quick path to re-login to your account:
Launch Discord and click on the profile avatar.
Move your cursor to Switch Accounts and click on Manage Accounts.
Click the three horizontal dots and select Log out.
Restart your device and relaunch Discord.
Input your credentials and log in to your account.
Simply re-login can fix the internal glitch of Discord or your device. See if that works in your case.
Also, check our exclusive tutorial on how to buy Discord Nitro without Credit Card.
Method 2: Check the Nitro Gift Type
You might face a Discord Nitro payment method not working because of having different Nitro types. Nitro only works like Nitro with Nitro and Nitro Classic with Nitro Classic.
So, if your Discord is currently running Nitro Classic and you got Nitro, it won't work. You need to cancel the subscription that's presently running first, wait for the end of this subscription, and then sign up for the credit type.
Either you need to select the credit as a payment method or give payment info; your credit will automatically be used for renewing next month after the end of your current subscription.
Method 3: Don't Claim an Invalid Nitro Gift
Claiming an invalid Nitro gift must create a Discord Nitro payment not working issue. So, before you claim the gift, make sure it's not used already.
It will definitely work if the Nitro gift is not used and is of the same category you're currently using.
Method 4: Change your Device
Try a different device rather than you're currently using to enter your Discord and see if the problem persists or not. If the problem is solved, we'll know the device is troubled and causing the problem.
Method 5: Reinstall Discord
If your Discord got a bug or error, you might face Discord Nitro payment not working on iPhone or any device. So, you must uninstall Discord and reinstall it to resolve the problem.
Check out the easiest way to change your Discord tag without Nitro.
Here's an easy way to reinstall Discord:
Click on the search option and type add or remove programs. Hit enter.
Scroll down and click on Discord. Select Uninstall.
Go to Discord and reinstall it.
Tap on the Discord icon and tap on the minus (-) sign if you are a mobile user. Select Uninstall.
Go to the App Store or Play Store to reinstall Discord again.
I hope your issue is resolved by now. But if it persists, move to the following method.
Method 5: Get a Ticket
If none of those mentioned earlier methods can fix the Discord Nitro payment not working issue, you need to get a ticket.
Here's how to get a Ticket:
Go to Discord and select the issue category as Billing.
Choose the appropriate billing issue.
Provide all the other information correctly and hit Submit.
Have patience cause it'll take a while for Discord to get back to you.
Related guides: How to Cancel Discord Nitro, How to Claim Discord Nitro with Xbox Game Pass.
FAQs
How long does it take for Discord Nitro to be active?
It takes approximately 1 hour for Nitro to be active.
Does Nitro automatically renew?
Discord Nitro will auto-renew if you don't cancel the subscription.
How to cancel auto-renew Discord Nitro?
Navigate to your profile > Discord Nitro under the User Settings > Cancel Subscription > Answer the on-screen questions. If it fails to work, go to Discord and choose Billing as the category, Canceling Nitro as the billing issue. File a request and submit it after completing.
How to cancel Discord Nitro subscription on mobile?
Tap your profile icon > Manage Subscription > Discord Nitro > Cancel > Cancel Subscription.
How do I resubscribe Discord Nitro?
Navigate to User Settings > Discord Nitro > Subscribe and choose your preferred monthly or yearly plan.
What happens if your Discord Nitro expires?
It will return to the state from where you subscribed to Nitro.
A Final Thought
Discord is a daily use for the people who use Nitro or Nitro Classic. If you're one of them, facing Discord Nitro not renewing can hamper your daily task, job, or business.
Following the solutions such as re-login to your account, checking your Nitro gift type, not claiming an invalid Nitro gift, changing your device, reinstalling Discord, and finally getting a ticket by filing a request can resolve the issue.
Comment below if the problem remains on your Discord. Besides, let our readers know if you have any working solutions to settle the issue.
Have a wonderful rest of your day!