Suppose you decided to play a game and stream it to your friends on your Discord server so they can enjoy it too.
After sending everyone invite links and setting everything up, you go live but your Discord status isn't going purple as it should be while streaming. That's irritating, right?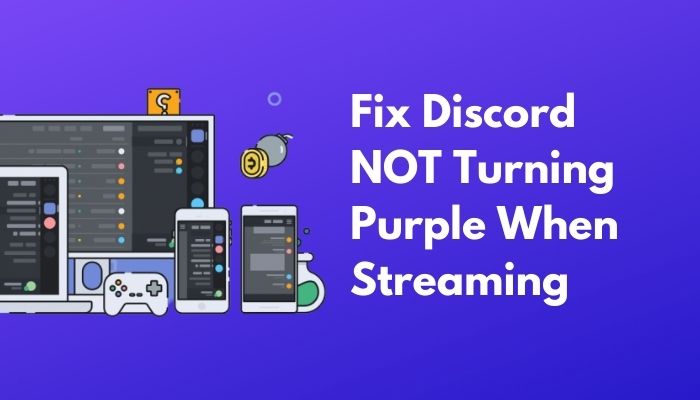 Why is Discord not turning your status into purple when streaming?
Stay with me and read the whole post to fix the issue quickly.
Check out our separate post on Discord Not Streaming Netflix
Why is Discord NOT Changing the Status When Streaming?
Discord should automatically detect if you stream when you turn on streamer Mode. However, if you don't add your Twitch account inside Connections before Turning on Streamer Mode, your online status indicator won't change to streaming.
There are five different status modes based on your activity on Discord. All of the Status modes have their unique color icons.
Green means you're Online, Yellow means Idle, Red means Do Not Disturb, Purple means Streaming and Gray = Invisible/Offline. Streamer mode, the app will automatically detect your activity and put your status automatically to Streaming, and your status icon will change to purple color.
Several reasons might cause the Discord app not to turn your account status to streaming. I identified and explained them to you below:
Disabled Streamer Mode
If you don't turn on the streamer mode on Discord app settings, it'll not know that you are streaming.
In default settings, the streamer mode is turned off. If you don't turn on streamer mode settings, your status won't change to streaming, and also, your status icon won't become purple.
Also, check out our separate post: Discord Stream not Loading
Syncing Issues Between Discord and Twitch
If you're streaming your gameplay on a streaming platform like Twitch, it needs to be connected to your Discord account while you stream.
If your Twitch account isn't synced with your Discord account, you won't be able to stream your gameplay in the Discord app, and it'll not identify that you're streaming.
In that case, your status will not change when you start streaming on Twitch, and also, the status icon won't become purple to let your friends know that you are streaming.
Discord's Inability to Run Background Process
Discord and Twitch are fantastic ways to get an audience for your streaming. But both of them need to run a vast amount of processes to perform smoothly.
But, if you run them simultaneously, some of their background processes conflict and various issues arise.
As a result, Discord cannot perform smoothly, which hampers it's its processes related to identifying if you're streaming or not.
So, your Discord status won't change to streaming, and the status icon doesn't become a purple dot.
Follow our guide to Fix Discord Stream Volume Slider Not Working
Connectivity Issues
Another reason for Discord not turning purple when streaming is a lousy internet connection.
Twitch demands a stable internet connection for streaming as it exchanges a hefty amount of data during a stream. Discord has to perform with the leftover speed of that connection to interact with its servers.
As a result,cannot perform well while being pressured by Twitch's hunger for internet data, and it can't run it's its processes smoothly.
So, Discord fails to identify that you're in streaming mode and can't turn the status icon purple.
How to Fix Discord Not Turning Purple When Streaming
Discord is a fantastic social communication app and a great platform to promote your activities. As a gamer, I frequently stream gameplays to my friends and peers on Discord but, this issue was bothering me often.
So, I hunted down the reasons for this problem and organized a solution for them.
Now, I'll show you how to solve these problems and change your status to Streaming on the Discord app.
Read more on how to Stop An Echo in Discord Voice and Stream
Here are the methods to fix discord not turning purple when streaming:
1. Enable Streamer Mode in Discord
To change your current status to Streaming, enable the Streamer mode in Discord from the settings first. By clicking on the gear icon to go into settings, you can have Streamer mode enabled from there.
Don't worry if you don't know how to enable streamer mode. Follow the steps below to turn on streamer mode:
Open the Discord app.
Click on the settings icon.
Scroll down and select Streamer Mode from the vertical menus.
Toggle the switch beside Enable Streamer Mode.
Now, you've successfully turned it on, be sure to make use of Discord's streamer mode to the fullest. You can also customize the options inside this mode as your choice.
Follow our guide on how to Stream VR On Discord
2. Sync Your Twitch Account With Discord
Many Discord users stream on their Twitch channel. If you don't connect your Twitch profile to Discord, the streaming information won't sync between these two, and therefore Discord won't change your status when you go live on your Twitch channel.
Here's what you need to do to connect your Twitch account with Discord:
Open the Discord app.
Click on the Settings Icon.
Look for Connections and click on it.
Select the Twitch icon from accounts.
Log in to Twitch using your credentials.
Your Twitch profile is now linked to your Discord account. Only then the online status indicator for Discord will change to purple to let the people who're connected with you know that you are currently streaming.
If you've already linked your Twitch account with Discord, and the problem still appears, try unlinking it and then linking again.
Spare a few minutes and know the cause of why discord overlay is not working.
3. Run Discord, Twitch, and OBS As Administrator
If the previous solutions don't fix your problem, try running Twitch, Discord, and other streaming software like OBS (Open Broadcaster Software) in administrator mode.
As I have explained, Twitch and Discord often conflict with their background process but, if you run them as the administrator, they'll run their processes individually and won't conflict with each other.
Follow these steps to run any app as an administrator:
Right-click on the app icon you want to run as administrator.
Select Run as administrator.
Run Discord, Twitch, and OBS as administrator and look if the problem still appears.
4. Use a Stable Internet Connection for Streaming
If you use a stable internet connection to stream your gameplay and share the stream in Discord, your problem will not bother you anymore.
If you have any issues regarding your network connectivity, contact your network admin and ask his help to fix it.
Also, if you notice any kind of sudden fluctuation in your internet speed, contact your ISP (Internet Service Provider) and ask them to solve the issue.
Streaming requires a stable internet connection with a good speed. If you use an unstable internet connection, this issue will appear frequently and ruin your streaming experiences.
5. Turn ON Activity Status in Discord
If your problem isn't solved yet, you might as well turn on the setting that shows the status of your activity. It will automatically detect the game you're playing and will put your status to streaming.
This step also helps in fixing Discord won't open links.
Follow these steps to turn on the Activity Status option:
Open the Discord app.
Go to Settings.
Select Activity Status.
Turn on Display current activity as a Status Message
Now, if you start streaming a game your status will automatically change to Streaming.
What Is Discord Streamer Mode?
Streamer mode is an essential feature for streaming your gameplay. It keeps all the distractions away while you concentrate on your live stream. It turns off notifications and sounds. It also has options to hide your personal information while streaming.
If you're wondering what Discord streamer mode is, it is a dedicated environment within the app to assist you while you're streaming. It has a bunch of customization options that might come in handy when you stream your gameplay and avoid interacting with notifications.
You can customize the settings inside streamer mode as your choice.
You can hide invite links and information about yourself that you don't want to share outside your friend list when you stream on Discord.
Discord Streamer mode also ensures your privacy when you want to stream for a limited amount of Discord friends, keeps distractions from the Discord app away when you're in the middle of an intense gaming session, and creates a perfect environment for streaming.
Also, check our exclusive tutorial on how to remove Better Discord from your PC.
FAQ
Question: How Do I fix my stream not showing in Discord?
Answer: If your stream isn't showing in Discord, turn on the Streamer Mode option from Discord settings and connect your Twitch account with Discord. Also, try turning off and on the option called Activity Status from settings.
Question: How do I enable streaming status on Discord?
Answer: Turn Streamer Mode on from Discord settings and toggle on the Automatically Enable/disable option. Also, connect your Twitch account with your Discord app. Now, whenever you start streaming, Discord will automatically change your status to Streaming.
Final Thoughts
When you stream, Discord will change your status to streaming along with the purple icon if all's well. If it doesn't happen, I've traversed all the possible reasons that might cause the Discord app not to become purple and not change your status to streaming when you start to stream your gameplay using Twitch.
Feel free to comment down below for any discord-related problems.