If you have used Instagram, Snapchat, you already know the frustration of not being able to set your preferred name. Most apps make usernames to identify various users, and this can be a disappointment if you had a mindset on one, but that's already taken.
That's where the Discord sneaks in.
A Discord permits you to take whatever name you wish, and you can change it in two ways— with or without Nitro. But some Discord users think they can't change their Discord Tag without Nitro.
So, is it possible to change your tag digits without Nitro?
Yes, it is possible to change your tag digits without Nitro. You can't change your current tag digits to your desired ones, but you can let it change randomly. All you have to do is to change your username. Every time you change your username, you get new tag digits.
Changing Discord Tag without Nitro is not that difficult. I'll explain both ways of changing Discord Tag with or without Nitro. Just go through the steps and read till the end to change your Discord tag.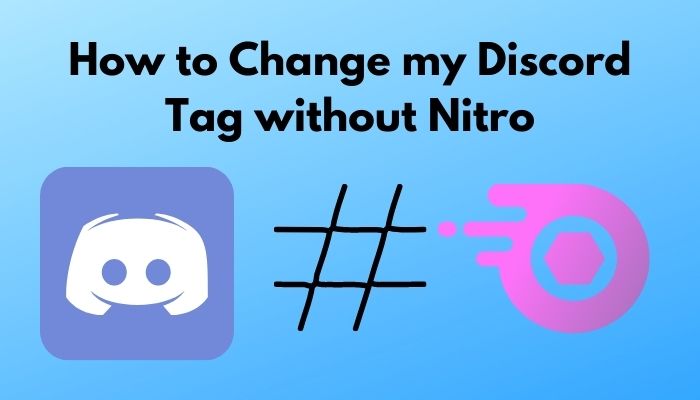 How to Change Your Discord Tag Without Nitro
Discord is well known for its highly customizable user experience. If you have explored the app, you already know that you can change your username and set an individual one for every channel.
You can do this with or without Nitro, and I will talk about how you can change your username without Nitro first. But before diving into that, please make yourself comfortable, and let's talk about some basics.
So, what is a Discord Tag?
A Discord Tag is a hashtag with four numbers alongside your username. Let's say your username is "Big Papa" and your username with the tag will be Big Papa#1169. I wish to take the same username. But I can only use that with a different Tag, like Big Papa#1971 or Big Papa#0069, and so on.
Note: Discord Tags are randomly generated after you have set a username.
Two people can not have the same username and Tag combo. If you want to add me on Discord, you need to enter the username along with my tag.
Case Sensitivity: Make sure both the capitalized and small letters have been written correctly to find the right person.
To change your Discord tag without Nitro, first, you need to go to your account settings and edit your username. Then, you have to change your username to your tag and change it back to your previous username immediately after. Thus, your tag will be changed to a random one.
But if you don't like the tag you get, you can repeat the steps to get another tag. This method doesn't allow you to edit the tag, but it changes your tag until you prefer one.
Now let's go to the step-by-step method on how you can change your Discord Tag without Nitro.
This step also helps in fixing Discord Nitro Not Working.
1. Go to the Account Settings
First, you have to go to the Account Settings and start the process. In this step, you need to:
Go to the Google Play Store, search for the

Discord

app and download it. 

Install it, and log in to your account. 

Tap on your

profile icon at the bottom of the navigation bar.

Choose

Account

on the

Settings page.

Tap on

Username

under the

ACCOUNT INFORMATION

header. It'll open the

Edit Username page.
2. Change the Username to Your Tag
In this step, you have to change your username to your desired one. After you go to the Edit Username page, you'll find your current username and tag. Now you need to change it as you like.
Here are the steps to change the username to your tag:
Tap on the

Username

box, and change it to your preferences. For instance, your username is Big Papa and your tag is 1169. You want to change only the tag to 1971, but not the username Big Papa.

Change the username to a random one, say, YourDaddy, and tap on Save.

Enter your Discord password on the

PASSWORD

field to verify your password.

Tap

Done

.
Follow our guide on Discord Nitro won't Renewing.
3. Change Back to Your Previous Username
After completing the second step, go back to your Account Settings again. You will see that your username is changed along with the tag, but not the tag you want.
You wanted the tag to be 1971, but it has changed to 3070. So, this time you've to try to change your tag. 
Here are the steps to change back to your previous username:
Tap on the

Username

again to open the

Edit Username page.

Tap on the

Username

box, and change it to the previous one. 

Tap on

Save

and then verify your password again. 

Tap

Done

.
Check out the easiest way to Fix Discord Nitro Billing Address is Invalid.
This time, if you are satisfied with your tag, you don't need to do anything else. Nevertheless, if you're not happy and want to change it, repeat the same process again and again until you like one.
But it is highly unlikely to expect the tag to change from 1169 to 1971 because all tags are randomly generated.
Note: You'll be temporarily blocked by Discord if you change your username too often. The interval should be at least 30 minutes or more between changing two usernames.
If you have questions like "How do I change my Discord tag" or "How do I change my tag in Discord", I think I've answered half of it. There are two ways to change the Discord Tag, and I've covered without the Nitro version. There is another way of changing the tag using Nitro.
But what is Discord Nitro used for?
Discord Nitro is used for enhancing your all-in-all Discord voice, video, and text chat. It is the premium subscription tier of the most popular gaming chat service. It allows people to use any emojis, custom Discord Tag, screen sharing, increased upload limit, Go-Live streaming, and animated avatars.
You may also like to read: Fix Discord Nitro Gift Not Working.
How Do I Change My Tag in Discord with Nitro
Discord permits you to customize your tag if you have a Discord Nitro or Discord Nitro Classic subscription or a Discord partner.
Here are the steps to change your tag in discord with Nitro:
Open

Discord

and click on the

menu button

at the top left corner.

Tap on the

Discord

icon on the bottom menu.

Go to

My Account

and tap on the

Username

.

Change your tag to any 4-digit number you wish.

Press

Save

and enter your password to confirm the changes.

Press

Save

again.
If you want to change your tag, but don't have a Nitro subscription or are not a Discord partner, you need to change your Discord tag without the Nitro. This doesn't allow you to get a custom tag. 
Read more on how to Buy Discord Nitro with Google Play.
Discord Tag is the combination of a username and a discriminator, and it enables multiple users to have the same usernames. 
But there are some limitations that come with the Discord Tags. Let's have a look at them.
You can claim any Tag that is available for your username. As every username and Tag combo must be individual, you can't get your desired combo. 

Valid Tags are 4 digit numbers between #0001 and #9999. 

Suppose you wanna choose a custom Tag. Your tag will remain until your Nitro subscription lapses. If your Nitro subscription collapses, Discord can't save your old tag. 

There is a limit to changing your username and tag. When you hit a rate-limited error, you have to try again within an hour.
Conclusion
You can't get your required username and Tag combo without Nitro. But hey, at least you have got your desired username, and it's free!
You can only change your tag 5 times per hour. So, changing your Discord tag is tiresome work. If you want to avoid it, get Nitro. Else, embrace your journey while the tag project of yours will be going.
I hope my article would help you in solving your problems. But again, if you have any confusion, then let me know.