The BIOS application error is a pretty common issue if you are using an HP computer. The fixes you apply collecting from the internet to resolve the issue, are also ordinary. I tested those fixes and the result was shocking! Implementing those fixes didn't resolve the issue permanently.
If you are too facing this trouble, and you are worried about your computer's health, then you've come to the right place.
After using a couple of hp notebooks and solving a lot of trifling issues, I found out the main reasons behind that type of BIOS error and how to solve them permanently.
Do you know how that works? If not, that's not an issue. Not knowing about something is not a crime, and the urgency of learning is always appreciated.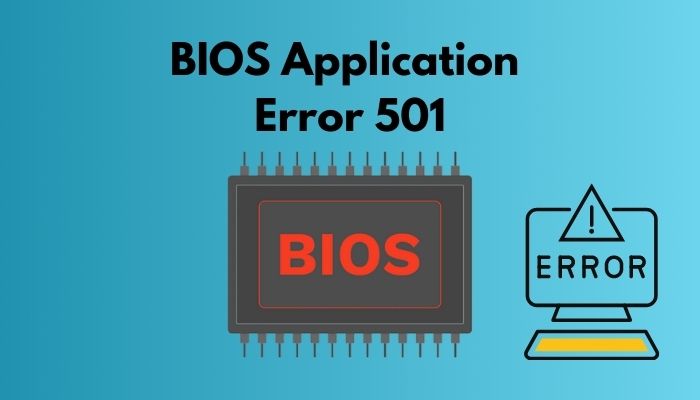 Before knowing about the fixes, you must know why BIOS application 501 occurs.
The primary reasons are corrupted BIOS system and not using hp preload image. In addition to that, if the operating system can't find an EFI partition, i.e., a missing partition on the HDD / SSD or an outdated firmware problem also creates the error.
Sounds a lot, right? As long as I'm here, you don't have to worry about the issue.
Also, check out our separate post on what is SVM mode in BIOS.
Why does BIOS Error 501 Happen?
Do you know, not using the HP preload image and pressing the INFO button while starting can cause this error?  There are also other reasons why this horrific app error appears, and I'm gonna explain why this error occurs to you and how to fix that.
Check out our separate post on Motherboard Affecting Performance on PC.
Here are the reasons behind the Error 501 occurs:
Corrupted BIOS system: BIOS systems can get corrupted due to power overflows, a failed BIOS upgrade, or a virus. If the BIOS gets corrupted, it can lead to an application error.
Missing EFI partition: EFI means, Extensible firmware interface. When you boot your computer, the system firmware loads the data stored on EFI to operate your system with various utilities. If any of the EFI gets missing due to corrupted data or other variables, the BIOS immediately shows an error message.
Outdated Firmware: When your computer's firmware runs out of date, it can not detect modern hardware, and it introduces the hardware as a threat to the system. And the force usage of the hardware displays as an error code, and in short, it's shown as a BIOS error.
These are the main reasons behind an error message displayed on your screen. Learning the reason will help you to fix the issue.
Enough with the why! Let's work on How!
Follow our guide to fix keyboard not working in BIOS.
How to Fix BIOS Application Error 501
Now that you know why this error occurs, it's time to prevent it from happening again. In this section, I'm going to explain different solutions regarding BIOS errors. You have to be the judge of choosing a method.
Nervous? That's the last thing you need solving the issue. Being anxious or tensed won't help. Instead, read the whole article and follow my instructions.
Check out our post on will motherboard boot without CMOS battery.
Here are the methods to resolve BIOS Application Error:
1. Reinstall CMOS Battery
When your computer's CMOS battery begins to lose power and strength, the BIOS becomes vulnerable, and it starts to lose data. If that happens, your computer might exhibit a BIOS application error.
You need to reinstall the battery every now and then. Do you know how to do that? Follow me if you don't.
Have some time to spare? Quickly check out our epic guide on how to fix CPU fan not detected in BIOS.
Here's how you can reinstate the CMOS battery:
Shut down your computer and remove the power cables.
Open up your casing or open up the back part if you're using a laptop.
Find out a small, silver-colored battery on your motherboard.
Remove it and wait 10-15 minutes.
Put the battery back in. Do it carefully.
Close the casing / back part and power up the computer.
You can also use a new battery if it is much old. The battery powers your computer's BIOS firmware. If it works properly then you might not get a new app error for some time.
Check out the easiest way to gateway BIOS updates.
2. Configure BIOS Settings
When it comes to faulty BIOS settings, it can lead to various error messages, including the app error 501.
There are two methods to configure the boot menu. You can either reset the boot menu, or you can change some specific settings, and you can apply whichever seems easy for you.
But before that, go through our epic guide on can SSD cause Blue Screen.
Here are the methods to shape the BIOS:
Reset BIOS: You need to follow the next steps to reset BIOS.
Press F2 / Delete key while starting up your PC
Press F9 key to load the factory default settings.
Confirm the changes by pressing
Save and exit the menu by pressing
This process will reset the BIOS to default settings, and your app error should vanish away.
Also check our exclusive tutorial on BIOS not detecting USB.
Change Device Configuration: To perform the fixation, you need to track the following steps.
Open your boot menu by pressing Esc / F1 / F2.
Go to the System configuration tab on the BIOS.
Select Device Configuration by navigating arrow keys.
Scroll down to Hp Quickweb,Hp Quickweb write product and uncheck those.
Disable those options if the tick mark( ☑ ) is not available.
In a hurry? Check out my new post on Is SSD Affected by Magnets.
Both of these methods will work fine, and app error will come to an end.
Before commencing any further, I must clarify that all of the above solutions are temporarily workable. That means, if you apply those solutions, your application error 501 messages will stop but there's a chance it might come back.
If you need the permanent solution, follow the next chapter exactly as it is a more technical solution.
Also, check out our separate post on fix M.2 SSD not showing up in BIOS.
3. Recover BIOS System
If you use one of the latest versions of the hp computer, it comes with a feature that allows you to recover BIOS emergencies. If you are using older versions, then the next steps are for you.
Also, check out our separate post to find out whether Motherboard Screws Universal or not. Have some time to spare? Check out our latest post to Enable Aura Sync Control for Corsair RGB Memory
Here's how you can recover the BIOS version.
Turn off your computer.
Press and hold Windows + B keys simultaneously when it's turned off.
While pressing those keys, try to press and hold your computer's power button for more than one second.
Release the power button but keep pressing the Windows + B keys till you hear the beeping sound or the BIOS update screen appears.
If you hear the beeping sound then the HP BIOS Update screen will show up. Wait till the window comes to your display. Process next to update the system.
Check out our experts tested and reviewed the best Aura Sync Compatible SSDs.
NOTE: Remember, it is troublesome to get into the BIOS update screen. Follow the steps as I explained. If you can't get to the window, repeat earlier steps but hold the power button + Windows + B keys a little longer (more than 3 seconds). Try repeating the process till you get the result.
Follow the next steps to complete the action.
Click on the Continue startup button after the BIOS is recovered.
Press Enter to continue when you get the message. A system BIOS Recovery has occurred.
Your system will take some time to restart. After rebooting, you might get a message saying the computer was shut down improperly or something like that. Don't panic. That message means you've done your part successfully.
That's a permanent fix you can apply when you get the error code 501. Though it is a lengthy process, I would recommend you implement this as you will be relieved for good.
Also, check out our expert's recommended fastest PCIE 4.0 SSDs.
Conclusion
The last thing I would like to add is that be careful with the methods I mentioned here. Implementing them wrongly will damage your system even more.
A well-optimized system is the least needed thing for a computer user. And to make that happen, you need to ensure your components are in their best condition.
If you've been to this place of the article and read every word I have put, I can assure you that you will be able to solve the BIOS error on your own, and you won't face any trouble implementing them.
But, If you face any difficulties applying them, feel free to comment. I'll try my very best to solve them.