Microsoft Teams is an all-in-one platform where people can join and communicate with ease. If you use Microsoft Teams on a regular basis, you have already noticed that it offers animated GIFs and stickers. It not only expresses anyone better but also brings fun to any conversation.
However, despite animated GIFs being a great expressing technique, they can be distracting for many users. I believe you are one of them who doesn't like any kind of distractions in the workplace.
This animated GIF feature is turned on by default in Teams conversation. Though Microsoft doesn't let you completely disable animations, you can turn off the autoplay of all animated texts, GIFs, and stickers in chats.
As a tech enthusiast and regular Teams guy, in this article, I'll guide you through the disabling techniques of animations in MS Teams.
So let's get started.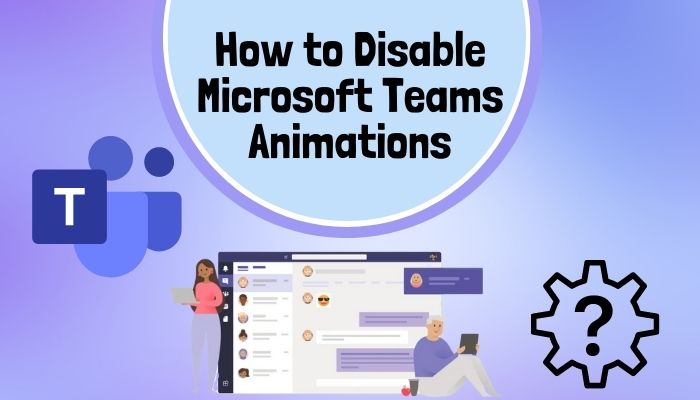 What Happens When You Disable Microsoft Teams Animations?
You may not know that Microsoft first introduced GIFs with Windows 2.0 in 1987. And it's been roaming in the internet world for 35 years now; indeed, a long time! That's why Microsoft includes them on every communication platform.
However, Microsoft lets you turn off their communication platforms' animations. But you will see the animated GIFs and stickers in your chat even after turning off the animation.
Then what the heck will it benefit?
After turning off the animations, the only difference you will see is that the animated GIFs won't start to play automatically. However, you can still play those animations. You need to click play each of them manually.
Follow our guide on how to export chat history in Microsoft Teams.
How to Disable Animations on Microsoft Teams
I love animated GIFs and stickers as they are awesomely creative and fun to use. It's heartbreaking for me to guide someone to disable these animations. But a job needs to be done!
You can turn off the animations on Microsoft teams in two manners. If you use the Microsoft Teams personal account, you can turn animations off from inside the app. Another method is if you are an admin of a Teams channel, you can disable it from the admin center.
Here are the two methods to turn off animations in MS Teams:
Use the App Settings
In case you are a member of a Teams channel, you most likely receive tons of animated stickers and GIFs from your colleagues in the group conversation. But you can easily turn off the auto-play of those animations as you can't permanently disable them.
But before you go anywhere, make sure you got the MS Teams app and a stable internet connection.
Here is how you can disable animations in MS Teams using the app:
Launch Microsoft Teams.
Click on your profile picture from the top right corner.
Select Manage account.
Navigate to the General tab.
Scroll down all the way to the Display section and check the box states Turn off animations.
You must restart the Teams in order to apply the change. Now take a look that the animations won't automatically play when someone sends them.
Check out how to fix Microsoft Teams Error 80090030.
Use the Admin Center
If you own or are the admin of a Teams channel, you can set the messaging policies to turn off the memes, GIFs, and stickers in the channel conversation using the Teams Admin Center.
You can turn off the animations, either creating a new messaging policy or tweaking the existing one.
Here is how you can set messaging policy in Teams Admin Center:
Go to the Teams Admin Center.
Click on Messaging policies. (In case you don't find this option, you can select Setup policies from Options)
Toggle off Use Giphys in conversations under the Chat section, also Use Memes in conversations and Use Stickers in conversations under the Giphy content rating scetion.
Apply the changes.
After disabling these settings, Teams members won't be able to send GIFs, animated stickers, and memes in the chat conversation.
However, if you love animations and want others to use them, you can filter the animated pictures based on their content ratings.
You will find three levels of filtration on MS Teams. They are:
No restriction: Users can insert any GIFs in chats, including adult content.
Moderate: Teams moderately restricts adult content GIFs.
Strict: This option will block all adult content GIFs.
As long as you manage a school's Teams account, you may want to apply the changes org-wide. Blocking the animation completely may impact the students' attention in a positive way.
But before that, do check our latest post on the change your background on Microsoft Teams.
Frequently Asked Questions
How do I turn off auto emojis on Microsoft Teams?
Sadly, you can not turn off auto emojis on MS Teams. Microsoft doesn't let you do that. You can press Ctrl + Z to undo the emoji conversation as a workaround.
Can you disable reactions in Teams?
Yes, you can disable the meeting reaction before the meeting starts from the Meeting options page. However, the meeting organizer can enable or disable the reactions. The raise hand will still be available when the reactions are turned off, as it exists before reactions.
How do I remove a GIF from a team?
Use the delete button to remove a GIF from the MS Teams conversation. You can delete any unwanted texts, images, or anything from Teams conversation anytime.
The Bottom Line
Whether you are an average user or an admin, following your required methods from these two will instantly turn off the animations in MS Teams. So that's all about the disabling methods of MS Teams animations.
You can share your thoughts and related questions in the comment section below. Thanks for reading this article. Talk to you in the next one.
Peace!