You just added new RAM to your computer, and now you are having some issues with it? Or you have updated the windows and facing some problems with hardware reading.
I have updated my BIOS several times as I have been updating both hardwares and softwares on my system to experience a better gaming experience.
So, Why should you update your BIOS?
You should update your BIOS after new software or hardware updates as it will enable your motherboard to correctly identify new hardware such as RAM, Processor, etc. New BIOS also comes up with better security updates and stability.
To know more about the BIOS updates and how you should apply them continue reading. I will be showing everything here so that you do not need to search anywhere else.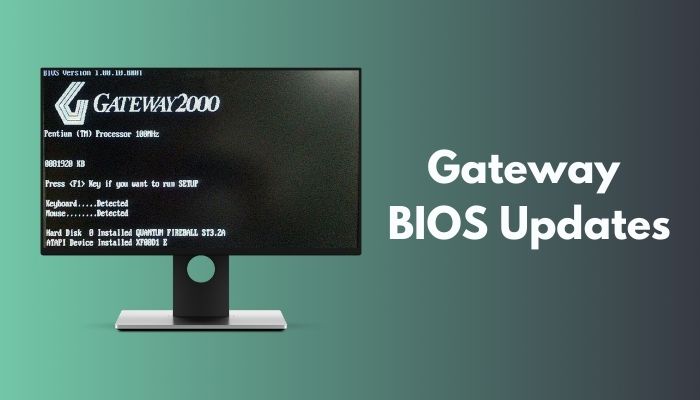 Follow our guide to fixing CPU Fan Not Detected in BIOS.
To update your BIOS, you will first need to open up the oot menu on your Gateway PC. There are quite some ways to access it, and to be honest; different manufacturers tend to change it to their liking.
Go through our epic guide on how to Fix Keyboard Not Working In BIOS.
Here I will be including every way you can access the boot menu:
Escape key
Hold Escape key
Ctrl + Escape key
Alt + Escape key
F1 key
F2 key
F6 key
F7 key
F11 key
F12 key
Delete key
Ctrl + F2 key
Ctrl + Delete key
Press *F* key 5 times
Hold Tab key
These keys should be enough for all the computers out there. Sometimes boot key changes with BIOS updates, and other times you have to get to Troubleshoot Menu or Boot Selection Menu to get to BIOS.
Note: You have to press these keys while your computer is starting.
Check out our expert-recommended Gateway BIOS Updates.
How do I update my Gateway BIOS?
BIOS stands for Basic Input Output System, and it is a set of statement codes stored in a chip on your motherboard. When your computer boots up, it checks these commands and helps the computer establish communication between the operating system and hardwares.
Gateway rarely releases BIOS updates. You should not need to update your BIOS unless you face compatibility issues while installing new hardware to your system.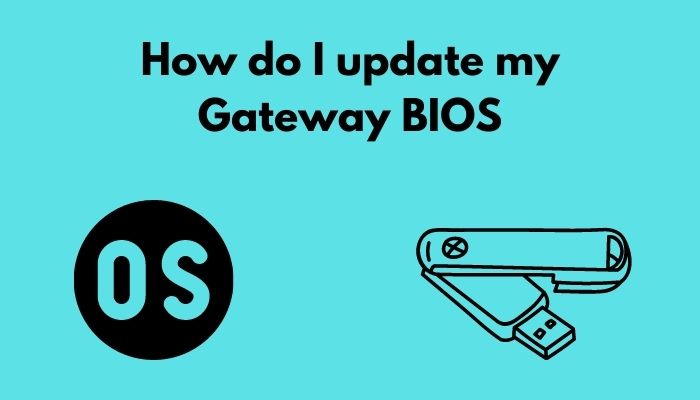 Tip: To be on the safe side, back up your important data before updating the BIOS.
Here are the Methods to update your BIOS:
Method 1. Updating through A Windows Operating System
Before Updating the BIOS on your Gateway Computer/Laptop, you have to check which version it is currently running on. Follow these steps:
Press Windows Key + R to open the Run dialog box. Type msinfo32 and hit enter, which will open a System Information Window.
Select System Summary ib the left pane, and you will get many information in the big right pane. There you will find BIOS Version/Date showing the current BIOS used in your computer. From the System Type, you will find which bit your computer is running, and it will be either 62 bit or 32 bit.
Search serial number on Gateway website to download the drivers. Press Windows + R and type in cmd to open Command Prompt to get the serial number.
Type "wmic bios get serialnumber" and hit enter, which will show you the serial number.
Find your serial number on the Gateway website of your motherboard. Look if there are any newer BIOS updates for your operating system and serial number. Download the update, and it should be an application that you have to run.
Close all the background running programs and run the application.
Follow the on-screen instructions, and you will be good to go.
Do not turn Off your computer or Laptop during the update process. If you are updating the BIOS on Laptop, then make sure it is fully charged and make sure it is plugged in just for safety.
If you cannot find your BIOS drivers for your operating system, you will need to follow the next Method.
Also, check out our separate post on fix M.2 SSD not showing up in BIOS.
Method 2. Updating Using A Bootable Flash Drive
You can also update your Gateway BIOS using a USB Flash Drive. Your system model will be written on your system's body, and the serial number will be printed on a sticker at the bottom of your laptop or on the bottom right of your CPU's right panel.
Now follow these steps to update BIOS via bootable flash drive:
Open up the Boot menu when powering up the computer using any of the above stated keys. You will find which BIOS version you are currently running in the BIOS setup.
Download the latest BIOS version from your respective Gateway website.
Download Rufus, a software to make the Bootable Flash Drive.
Open Rufus and select the USB drive under Device. Select FAT32 in the File system and select FreeDOS next to "Create a bootable disk using". Hit Start.
Press Close after completing the process.
If the downloaded file is an application, simply copy the file to the USB. Note down the exact name of the file. For example,  Q5WV1113.exe.
If it is a zip folder, unzip it and copy all the files to the bootable drive.
Connect the flash drive to the system of which BIOS you want to update/flash. Now restart the computer/laptop and get in the boot menu.
Select the bootable drive to boot the system from it.
A command prompt window will appear. Type C: and press Enter.
Type dir to list the files on the flash drive.
Now type the exact filename of the BIOS update executable file you copied, e.g., Q5WV1113.exe, and hit Enter. If you copied the zip folder files, then type autoexec.bat and hit Enter.
Follow the on-screen commands accordingly, and Do not turn off your computer during the update process. If you are updating a Laptop, remember to keep it fully charged and plugged into AC Adapter to be on the safe side.
For most cases, following these methods should fix your issues.
Pro Tip: If the issue is with your computer or a laptop/notebook, you should try using Restoro Repair to scan the repositories and replace corrupt and missing files. This works in most cases, where the issue is originated due to system corruption.
Do check our latest post on the BIOS Application Error 501.
How Do You Reset The BIOS On A Gateway Laptop?
In your Gateway Laptop, you want to run more complex programs, and so you added extra RAM to upgrade the memory. However, after you add the memory to your Gateway, you should reset its BIOS to ensure that the memory settings are automatically and correctly configured.
Resetting the BIOS on your Gateway Laptop is relatively easy, and it will take only a few minutes to do so. Just follow these steps, and you will be good to go:
Restart your Laptop, and as soon as it starts to boot up, keep hitting Del or F2 key. It should get you into the boot menu.
Press F7 to load the optimized default settings, and it will reset all the custom settings you had previously to its default setting.
Hit F10 to apply and save the new settings.
Pres Escape and it will exit the boot menu, which will reset and restart your Gateway Laptop and start with the default settings.
Conclusion
Hope this article helped you solve the ongoing problem with your Gateway Computer/Laptop. If you are still facing problem or for further queries, feel free to contact us. We will be more than happy to help you.
Pro Tip: Use the Restoro Repair application before going for the big hassle. If it solves everything, then your precious time won't be wasted.