For gamers, the gaming headset matters a lot. It's like one of the essential components in their gaming arsenal.
Most of the time, the vibe of gaming is gone due to a lack of good sound quality. If you don't correctly feel what you are gaming, it won't give you that excitement.
That is why a top-quality gaming headset is essential.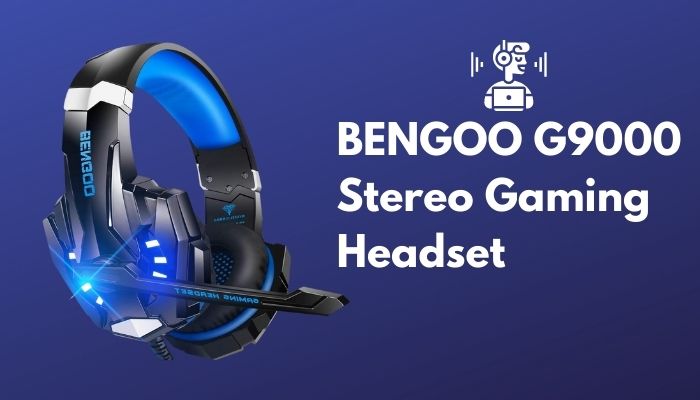 But, you know, there are a good number of options to buy. And that said, most of the top-end ones come with a high tag.
No worries, mate! This gaming headset from Bengoo is precisely what you need. It is the middle ground when the price and performance come into act.
But can it truly align with your needs? Let's find out.
Before we dive deep into the review, let us have a quick look at the specifications:
Specifications
Speaker Size: 40 mm
Ear Cushions: 20 mm Plush Leatherette
Frequency Range: 15 kHz – 20 kHz
Microphone: 6 X 0.5 mm
Sensitivity: 105 +/- 3 dBa
Cable Length: 49-inch
Compatibility: Supports PS4. PC, Laptop, Ipad, PSP, Nintendo 3Ds, Mobile Phones, etc.
Check Today's Price ➜
Here are the main reasons why you should buy the Bengoo G9000:
1. Sound Quality
The first and foremost feature that anyone prioritizes in a headset is its sound quality. While gaming, if you aren't satisfied with the output of your headset, your need isn't accomplished.
It is a serious thing to consider because it might affect your gaming performance in the long run.
Let's say you are playing multiplayer shooting games like PUBG, and you can't clearly hear the footsteps of your enemy. What will happen next is you might get killed and eventually get frustrated.
At that instance, you would feel the need for a superior gaming headset.
Quickly check out how to play music through a microphone like your favorite YouTubers.
The Bengoo G9000 stereo gaming headset somewhat alleviates that need, in my opinion. You'll get a crisp audio output through it, which is excellent compared to most other contemporary models.
This model is a plus for the ones who are fond of heavy-bass music. I was impressed with punchy bass at the time of testing. As a regular gamer, I bet that you'll love this model.
This model comes at an affordable tag and therefore won't really produce top-end audio outputs. That means you can't expect the same level of performance that a headset from Bose or Sony can give you. However, you should keep your expectations a bit realistic.
But whatever it comes with, this model can assure you of an immersive sound experience while regular gaming.
2. Level of Comfort
Distractions or uneasiness can have a drastic effect on gaming performance. No one feels good when it gets itchy or stiff around the ears at the time of gameplay.
Especially during longer gaming sessions, such things can be a significant factor. In that context, the headset that provides the highest amount of comfort should be the most suitable option.
Now, let's talk about the Bengoo G9000.
This headphone is lightweight and pretty easy to carry. The cushions present in it are soft and smooth. And the head strap doesn't let you feel awkward at the top of your head.
If your PS5 headset is not working, then check out our handy guide.
The ear holes in the headset are a tad small, which might be problematic to some. However, if you have ears bigger than the average size, an issue might arise. It might even cause some discomfort, therefore avoid this model if you have bigger ears.
But if that isn't the case for you, there remains no question about the perfection in comfortability that this headset provides.
3. Build Quality
Build quality differs greatly depending on the type of offering and also the brand. In most high-end brands, you will see that most models have an extremely durable build-up.
At least, in the headsets from Bose and Razer, I found such qualities.
The type of materials used and how they are given shape to the present form of the headset determines how long the model will last.
Especially the headphone models that come with metal framing or even heavy-duty plastic play a big part in the sturdiness and the longevity of the model.
In the case of the Begoo G9000, it comes with a rigid build-up, thanks to the hard plastic used in it. You can remain assured that it won't break easily unless you have a grudge against it.
Apart from this, the materials used in the cushions are also of top-quality, leaving no chance of complaints.
4. Microphone
If you are playing multiplayer games with your friends, a mic makes the job of communication pretty easy. Almost all of the headsets dedicated towards gaming features a mic nowadays.
Because the need is such and that's why you need a particular focus on this feature.
A good microphone in-ear headset ensures that the audio quality gets better. As a gamer, if you use platforms like twitch for streaming, you just need a model with a good mic.
As you wouldn't really want to end up sounding horrible. That would make you feel terrible, to be honest.
As for me, most of the gaming headphones I have used to date had a good mic. In the case of this model, I found the output to be decent. At least, what I heard from the person listening to me from the other side wasn't negative.
But there is one issue with this microphone, which is its supersensitivity. It sometimes can cause your voice to get a bit distorted. Mainly when I spoke a bit loud, it seemed like I was yelling with the person on the other side.
And to be frank, this is something you need to avoid while playing multiplayer games. As your teammates might find it disturbing or even offensive.
Besides, this gaming headset doesn't possess ANC. Although it's a bit over the ear, there is a bit of noise cancellation you might get.
5. Cable
Some gamers are okay with wired headsets, and some gamers like wireless ones.
For the gaming freaks who are okay with wired headsets, this model can be a perfect option.
The Bengoo gaming headset comes with a 49-inch cable, which is pretty long, in my opinion. Such a length will give you ample flexibility for roaming around.
In case if you jump out of excitement, your cable won't get out of the cord.
Find out where does the PWM Cable go.
Apart from these, the cable is braided and looks sturdy. In its construction, thick material has been used, which means minimal chances of tangling. And that said, such materials also play a big part in their durability.
Moreover, the cabling of this headset gives you almost no chance of any complaints. You can also buy some of the best fan splitter cables recommended by our experts.
6. Compatibility 
There is no point in buying a headset if it is incompatible with your device or system. Your money would go to waste if you didn't check the compatibility before making a buying decision.
In the case of the Bengoo G9000, there isn't much issue with the compatibility. Any platform that has a 3.5 mm jack can support this gaming headset.
Even if you want to use this with their PC, PS4, or even Xbox, you are free to do so.
I would say that this model is one of the most compatible gaming headsets that you would currently find in the market.
Final Thoughts
With all that said, the Bengoo G9000 Stereo headset comes with both pros and cons. But the point is whether this gaming headset aligns with your needs.
Through this review, I tried to portray a clear picture of this particular model. I touched all those points that would help you to make a perfect buying decision.
I hope you are pretty much clear about what I said in this review article. Still, any confusion arises, do let me know in the comments.