PnP (Plug and Play) is a part of Windows by which we can use a device by just plugging. Think about a mouse, keyboard, or monitor. You just plug them in & use them immediately.
But If you plug in a Wi-Fi router, it won't start to work immediately. Because it needs additional configuration by the user.
That brings up a question, how a GPU behaves when plugged in? Let's dive in to know more about this.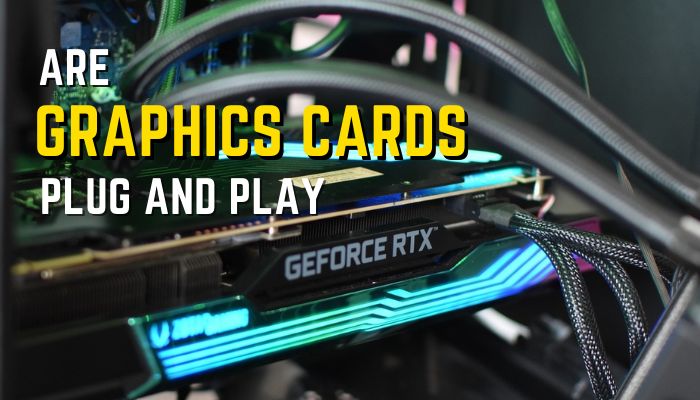 Is a GPU Plug and Play?
If you own a prebuilt PC & now want to change the graphics card, you may wonder how much trouble it can bestow upon you. Can you just plug the card in the slot & works like a charm, similar to a mouse or keyboard? Will the external graphics card Plug and Play?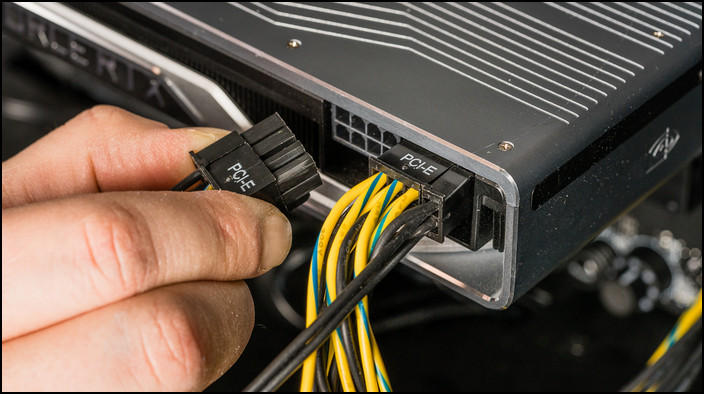 Apparently, to an extent, yes, dedicated video cards are PnP. You just have to plug in the card in the free PCIe x16 slot of the motherboard. Then lock the clamp, tighten the card with the PCI-e bracket of the casing, plug in the GPU power cable, and you are good to go.
With proper components, the GPU will work without giving you stress. Ensure your PCIe x16 slot is ok, have the right PCIe power connectors & the PSU is enough for the GPU. If the PSU is insufficient, then it can create an issue of not turning on the PC.
For example, RTX 4090 has a 450W TDP & can consume a lot of power. Besides the card, your GPU has other components that require power too. So using a 650W power supply is not a great idea for that PC.
Again, if your GPU requires 2 x 8-pin power connector, you must ensure to plug both 8-pin connectors.
Well, at this moment, if you think, can you hot-swap a graphics card? Well, No, you can't & shouldn't try to hot-swap the card. You can risk it for yourself along with the computer. So how to change a GPU then? Continue below to know about it.
How to Switch a GPU
So, if you want to swap out the old GPU & plug in a new graphics card, following some procedures will help you prevent damage to your PC.
So, here are the steps to change out a GPU.
Ensure the PC is powered off.
Plug out the PCIe power connector.
Unscrew the card from the casing's PCIe bracket.
Release the clamp from the PCIe slot.
Pull out the card carefully.
Now, if you wonder what to do with your old GPU, you can recycle or reuse the GPU. But for now, focus on what to do with your new graphics card.
What to Do After Getting a New Graphics Card?
So after upgrading to a newer GPU, you must install the new video card. The GPU switch can be Nvidia to Nvidia, Nvidia to AMD, or vice-versa.
This puts a question on the table, is it necessary to uninstall the old graphics driver? And if so, should it be done before installing the new display card?
Generally, it is a good practice to uninstall the old GPU driver before installing the new GPU. But, if you forgot, it's not the end of the world. Microsoft basic display adapter will still provide images on your monitor without the GFX driver. But, it is supposed to do basic tasks only.
Now, before installing the new driver for the newly installed graphics card, you have to uninstall the old Nvidia driver or AMD driver. Display Driver Uninstaller is an excellent tool for this work.
We have uninstalled the old driver & the monitor is still displaying pictures for the generic driver. So, can a graphics card work without its own driver?
Well, no. Subsequently, after uninstalling the old driver, you have to download the latest driver for your specific card from the manufacturer's site. Following this, you have to install the driver. Then the GPU can communicate with the system properly & ensure optimized performance.
FAQs
Is a graphics card input or output?
The graphics card is an output device connected to a motherboard & that shows images on a monitor display.
Can I plug an external GPU into a laptop?
Laptops with thunderbolt 3 ports & above can support eGPU. Some external boxes like Asus ROG XG Station 2, Razer Core X, and AKiTiO Node ensure that Mac users can also enjoy high-resolution games.
Are graphics cards just for gaming?
Graphics cards are primarily meant for gaming. But the card is also used for productivity works, mining, rendering, etc.
Final Thought
A consumer always prefers to use any device without extra hassle.
The graphics cards are almost Plug N Play; it just needs installing the graphics driver afterward.
In this article, I explained how simple it is to install a graphics card. If you have any further queries, please leave a comment.