When we install an OS on our computer or update to a new BIOS version, the first thing that comes to us is Aptio Setup Utility. Many of us have also faced some problems surrounding this Aptio setup utility.
For gaming and video editing purposes, I need to upgrade my system every now and then and hence am prone to issues concerning Aptio Setup Utility. Well, nevertheless, I have fixed them too.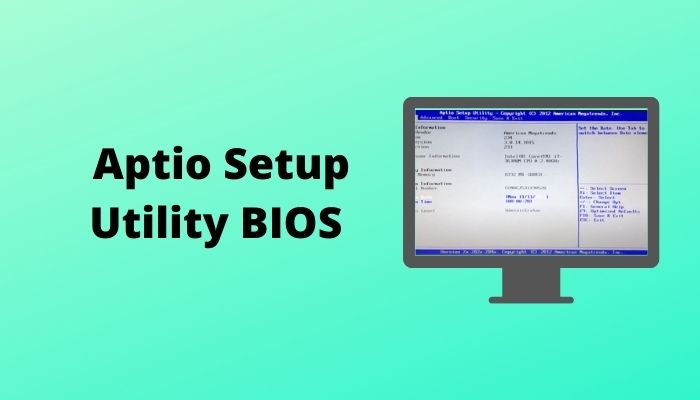 So, Is Aptio Setup utility BIOS?
No, Aptio Setup Utility is not BIOS itself; rather, it is a utility to access BIOS and change settings to help customize communication between your computer components.
In this article, I will be explaining every possible question in your mind, fixing some issues with the Aptio utility setup, and all the things you need to know about it. So hold on to your horses and stay tuned.
Check out the easiest way to Gigabyte BIOS ID Check Error.
What Is Aptio Utility?
Every computer has a configuration utility to access the BIOS of the computer. BIOS is the short form of Basic Input/Output System which consists of configurations needed for the communication between different components of the computer.
So it is obvious that if your computer does not have a configuration utility, you will not be able to call or run BIOS. Different companies tend to make their own BIOS and configuration utility. UEFI is an updated version of BIOS legacy mode and provides more features that also require a utility configuration to access it.
Aptio Utility Setup is a configuration utility to access your computer's BIOS and created by American Megatrends Incorporated (AMI). Nowadays, almost every computer and laptop come with Aptio Setup Utility.
Check out my new post on SVM Mode In BIOS.
How To Access Aptio Utility?
Hearing so much about Aptio Setup Utility, you would also want to know hot access it. 
Also check our exclusive tutorial on can SSD Improve FPS.
Here are the steps to access Aptio Setup Utility and its provided configuration options:
Restart your computer.

Press F2/F9/F12 or Del key continuously.

The computer will automatically boot into Aptio Setup Utility.
Check out our latest fix for fix M.2 SSD Not Showing Up In BIOS.
What Options Does Aptio Utility Provide?
The option will be given on the top of the screen. I am giving brief explanations about the options and how to use them here:
#Main:
When you boot into Aptio Setup Utility, you will be in the Main option by default. The Main option contains information about your system, product, CPU, and other hardware information.
To select a particular option, you just need to use the Up and Down arrow keys and enter.
Check out our experts tested and reviewed the best Aura Sync Compatible SSDs.
#Advanced:
You can Left or Right arrow key to navigate to the Advanced menu. The Advanced menu in Aptio Setup Utility is the main window that loads hardware settings on your computer, including Processors, USB Ports, Serial Port Console Redirection, Network Stack, etc.
Check out our separate post on SSD good for Gaming.
#IO:
Use Left or Right arrow keys to go to the IO menu. Some older editions of Aptio Setup Utility may not contain this option. It has PCI Subsystem Settings, IO Virtualization, IOAT Configuration, Internal Devices, Add-In Cards, PCIe Slot Hardware Configuration.
Follow our guide to fixing GPU not Detected in BIOS.
#Boot:
The boot menu is one of the most used menus in BIOS using Aptio Setup Utility. We use this menu to select boot drive priority or open USB flash drives to setup windows or update the BIOS version.
It also contains UEFI/BIOS Boot Mode, Retry Boot List, Network Boot Retry, OSA Configuration, Boo Priority, etc.
Follow our guide to know Can SSD Overheat.
#Security:
Using the Left and Right arrow keys you can access the Security menu. In the Security menu, you will find options regarding security as the name says. You will find Supervisor Password, User Password, Boot Sector Virus Protection, etc.
Also, check out our separate post on how to fix motherboard HDMI no signal.
#Save & Exit:
This will be at the end of the line. After making adjustments in configurations, you can save the settings and exit from the Aptio Setup Utility and boot to OS. In this menu, you will see Save Changes and Reset, Discard Changes and Exit, Discard Changes, and you can even Restore Defaults.
Do check our latest post on the BIOS Application Error 501.
Problems Around Aptio Utility & Fixes
Again, there have been multiple problems around Aptio Setup Utility, or some problems' solve lay in using the Utility. Here I will be mentioning some common issues and how you can fix them yourself:
1. SSD Won't Boot, Can't Install Windows on GPT Disk, Boot Windows From MBR
Sometimes you cannot boot from your GPT or MBR disk, or you cannot boot from your USB flash drive to install Windows on your system. This may be caused by Boot mode.
Change the Boot mode by following these steps:
Get in BIOS and navigate to the Boot menu.

Use the down arrow key to select UEFI/BIOS Boot Mode and hit "Enter" to bring up the Boot Mode options.

Select "UEFI" or "Legacy" and hit Enter.

To change the boot drive, go to "Boot configuration" and Set Boot Priority to the drive you want to boot from.

Save the changes and Exit Aptio Setup Utility, then restart your computer.
Follow our guide to fixing CPU Fan Not Detected in BIOS.
To boot from a USB drive :
Disable Secure Boot Control and enable Load Legacy OPROM.

Change Boot Mode to Legacy.

Change the first Boot Device to the USB Device you want to boot from.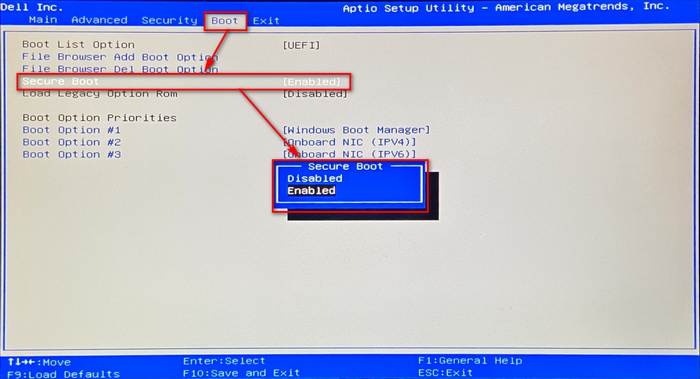 2. Computer Boots into Aptio Setup Utility instead of Operating System, Aptio Setup Utility Boot Loop
There have been many cases where the computer directly boots into Aptio Setup Utility instead of your OS. This is often caused by configured into false settings, or it might be a disconnected OS drive. I am including three fixes here:
#Fix 1. Reinstall SSD or HDD
Sometimes the solution to the issue is very small and just in front of your eyes. So shut down your computer and open your computer case or laptop case. Check if there is any connection cables are correctly connected or not. If the wires are broken, simply change them, and you should be good to go.
Have some time to spare? Check out our latest fix for BIOS Not Detecting USB.
#Fix 2. Set OS Drive as Boot Drive
To set the OS drive to boot drive, follow these steps:
In the Aptio Setup Utility, go to the Boot menu.

Navigate through Boot Configuration> Set Boot Priority.

In the pop up set the OS drive as your boot drive.

Save the changes and exit. Restart the computer, and the issue should be fixed
Go through our epic guide on how to Fix Keyboard Not Working In BIOS.
#Fix 3. Factory Reset
By factory resetting Aptio Utility you can fix this problem. To do a factory reset, follow these steps:
Boot into Aptio Setup Utility.

Navigate to Security and go to

I/O Interface Security> Secure Boot Control. There disable the secure boot option.

Another fix is to go to the Settings menu and enable the "Reset Configuration Data" or " Factory Reset" option.

Now save and exit Aptio Setup Utility and reboot your computer.
Check out our expert-recommended Gateway BIOS Updates.
Conclusion
In the article, I tried to list out all the things you need to know to run and fix problems around Aptio Setup Utility. Hopefully, you are now aware of what you are working with. If you find this article helpful, then let us know. If you face other problems, feel free to let us know.