The latest Ryzen 5600x is the most affordable one from the bunch of Ryzen Zen 3 chips.
But that doesn't make it anything less. It's a gaming beast whose boost clock goes up to 4.6 GHz.
In a hurry, check my #1 motherboard for Ryzen 5.
Now, this processor needs a board that will help to get the very best out of it. But, which one to choose?
I am here to make your job easy as I enlisted the best motherboards that you can buy for your Ryzen 5600x.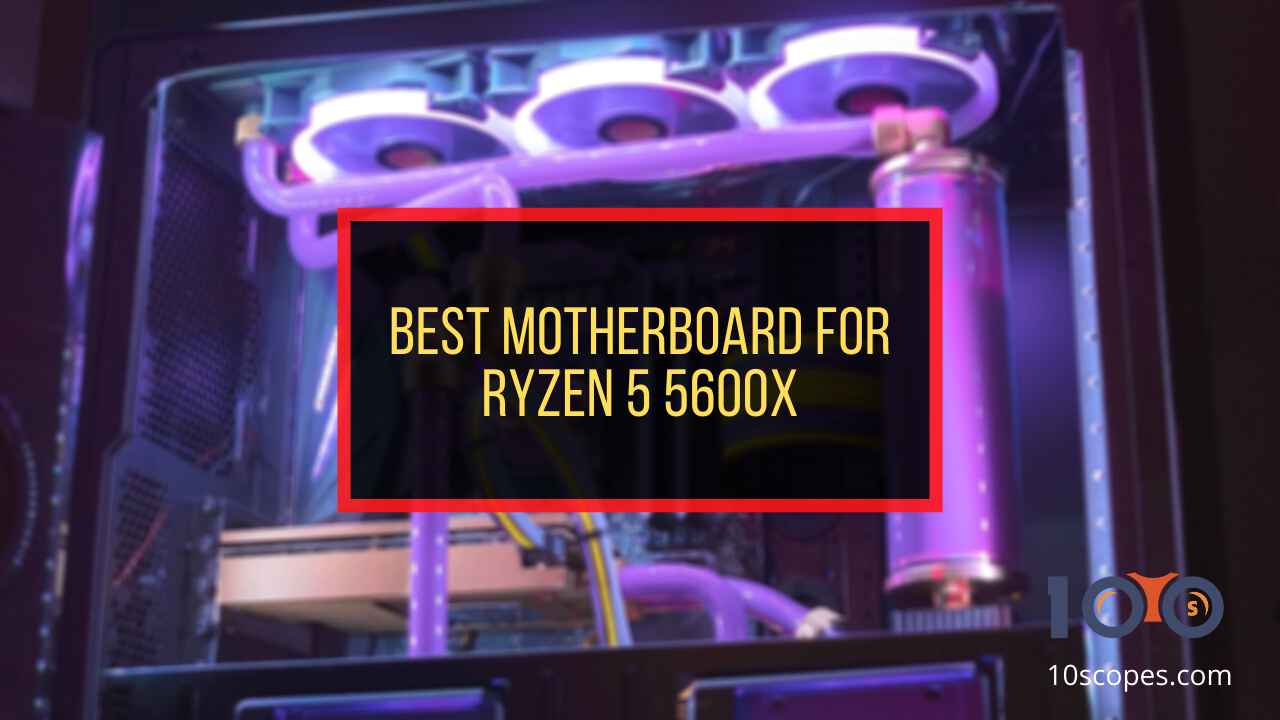 Or sit back and read my entire take on some beastly performing boards.
Also, check out our experts recommended motherboard for Ryzen 9 5900x.
Best AMD Ryzen 5600x Motherboard
For the Ryzen 5000 builds, the best motherboards come with the B550 and X570 chipsets.
These chipsets do possess top-end specs and are excellent for getting a superb overclocking performance. But only a handful of options are suitable for your Ryzen 5 5600x build.
Receive some latest updates concerning the Ryzen 5800x motherboards.
Here are the eleven best motherboard for Ryzen 5 5600x:
1. ASUS ROG Crosshair VIII Impact
The first motherboard for Ryzen 5600x that I got for you is the ROG Crosshair VIII Impact from ASUS. This model comes with the following specs:
X570 Chipset
2x DIMM
Form Factor: Mini-DTX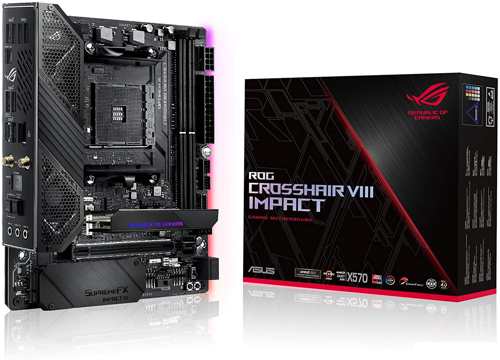 Check Today's Price of ASUS ROG Crosshair VIII Impact ➜➜
This is one of the best mainstream boards that you can find with an incredible design. I made it my top pick because it bears all the flagship features too in a small package.
The most amazing part is this motherboard is almost an SFF board. I am saying this because its layout fits everything you need in a top-end option.
Here's a complete guide on how to fix motherboard can't detect hard drive.
As for the design, I would rate it as top-notch. If you love matte black textures, then mate, this board is for you. Also, the subtle patterned lines over the matte finishing feel like a cherry on the top.
Durability isn't a concern for this board as ASUS ensured that it has an excellent aluminum backplate. And for the Ryzen 5600x, the VRMs used in the panel are perfect. In my testing, they withstood the pressure pretty well.
Performance-wise, I would say this is the best in this list when every factor is considered. Memory stability was there, but only 2x DIMM slots. I expected more.
The RGB implementation is decent—no complaints about it. However, a third M.2 slot would have made this motherboard absolutely perfect. But since ASUS opted for two traditional M.2 slots, there must be a strong reason behind it.
Overall, this board is an excellent option, with very few flaws that are insignificant. It's a must-buy for high-end enthusiasts.
Also, Check out our experts recommended best CPU coolers for Ryzen 9 5900x.
Pros
»

Decent RGB

»

Packed with features

»

Potent VRM
2. MSI MPG B550 Gaming Carbon
From their superb line of motherboards, MSI brings something out and out reliable. The MSI MPG B550 Gaming Carbon comes up with the following features:
B550 chipset
Form factor: ATX
Dual M.2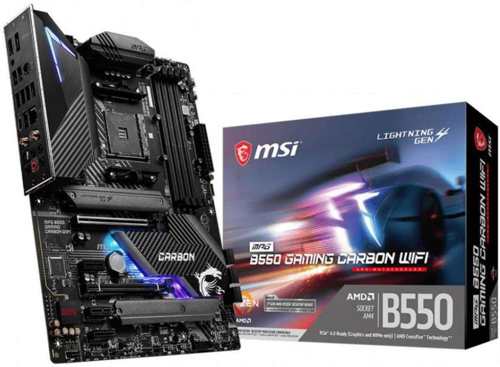 Check Today's Price of MSI MPG B550 Gaming Carbon ➜➜
This ATX motherboard is what you would want to get for the Ryzen 5600x build. It comes with a staggering 128 GB memory support, which you can overclock stably at a speed of 4800+ MHz.
It also possesses PCIe 4.0 x16, PCie 3.0 x4 and 3x PCIe 3.0 x1 slots.
Also, check out our separate post on how to fix motherboard HDMI no signal.
The best part about this motherboard is that there won't be any thermal throttling. In my test results, it was fine, thanks to the superb heatsink across the board.
As for the RGB, the Mystic light software is there to help you customize the lighting. There are a total of 29 LED effects. I tried out 9 of them, and it was pretty vibrant. You will also get a pool of 16.8 million colors to add up more flair to this effect.
The latest version of BIOS may not be installed in it. I would suggest you check MSI's Site and install the updated version because that is what your Ryzen 5600x demands.
To sum up, this is a superb option from MSI that you can go for. The VRMs, the build quality, everything will accentuate the performance of your Ryzen build.
Check out the superb RAM for Ryzen 9 5900x.
Pros
»

Excellent RGB

»

4x DIMM

»

Decent heat dissipation
Cons
»

Might not come with the latest BIOS
3. Gigabyte B550 Aorus Elite
After two high-end options that are relatively priced high, I think it's time to bring an affordable one to the table. That said, the Gigabyte B550 Aorus Elite can be the perfect choice for building a reasonably priced build.
This model comes with the respective features:
B550 chipset
Advanced thermal design
Form Factor: ATX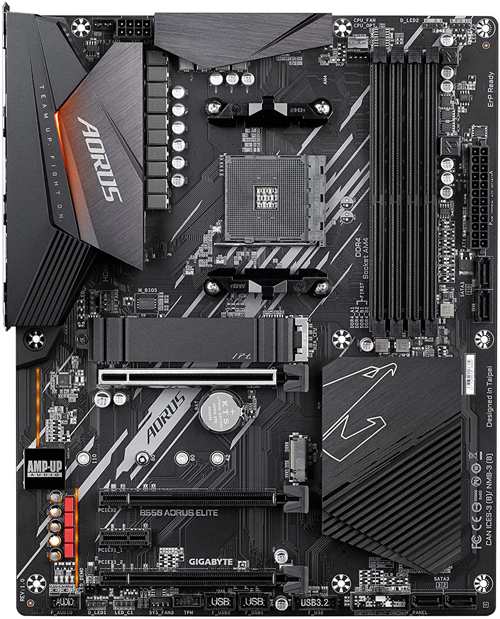 Check Today's Price of Gigabyte B550 Aorus Elite ➜➜
In my opinion, this motherboard is the most reasonable option if you take everything into account. It is one of those offerings from Gigabyte that will give you high-end output at the price of a mid-range option.
Have some time to spare? Quickly check out our epic guide on are motherboard standoffs necessary.
As a gaming motherboard for Ryzen 5600x, it bears all the specs that you will require. This ATX board possesses dual M.2 along with a durable PCIe 4.0 x16 slots. Also, the advanced thermal design adds more value to the performance on the whole.
After testing the 5600x, I feel there isn't anything to be unsure about the performance level.
The overclocking performance was decent, in my opinion. Going up to limits might bear some implications. But if you ain't that interested in tweaking, right choice as it will save you some bucks.
The only downside that I found is that the board doesn't possess any onboard wi-fi. Other than this, this board is good to go with.
Spare a few moments and explore the budget best Ryzen 9 5950x RAM.
Pros
»

Solid build-up

»

Great memory support

»

Nice aesthetics
4. MSI B550-A Pro
Here I bring you another board from MSI that too with a B550 chipset. This model from MSI attributes the following specs:
4x DIMM
Core boost technology
2x M.2 slots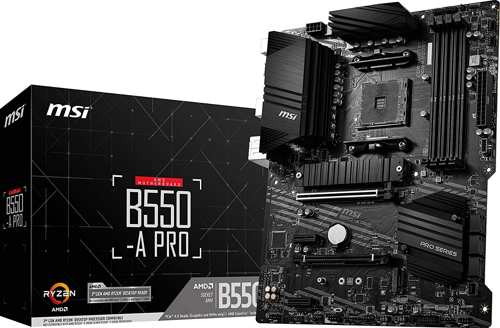 Check Today's Price of MSI B550-A Pro ➜➜
Now, it is another motherboard from MSI that doesn't possess a hefty price tag. In fact, this board is not only good for Ryzen 5 5600x but also for other Ryzen 5000 series processors.
Personally, I loved the implementation that MSI did on the design of this board. The extended heatsink on it does a great job in proper heat dissipation.
Also check our exclusive tutorial on are motherboard screws universal.
This motherboard also possesses the core boost tech, making it a game-changer among boards with a cheaper rate. With the help of this tech, the optimization of reserved parts of the circuits is possible.
The result of this optimization would be the precise flow of current to the CPU. The memory support for this board is pretty excellent. You can add modules up to a rated speed of 4400 MHz.
For RGB, you can heavily rely on the Mystic light software, and for connectivity, you are getting a gigabit LAN. The absence of onboard wi-fi might bother you a bit. But, then again, it's a budget option. You can't just expect everything stuffed in it.
Moreover, if you want a combination of everything within a budget, this board is the thing you need.
Have a couple of minutes to spare? Check out our related post on the best motherboard for Ryzen 7 3700x.
Pros
»

Affordable price

»

Nice memory support

»

Excellent VRMs
Cons
»

No onboard wi-fi

»

USB ports somewhat less
5. Gigabyte B550M Aorus Pro
This motherboard for 5600x is the micro-ATX version of the original B550 Aorus Pro from Gigabyte with a slight update in features.
This model from Gigabyte comes with the following specs:
4x DIMM slots
Hybrid fan headers
RGB Fusion 2.0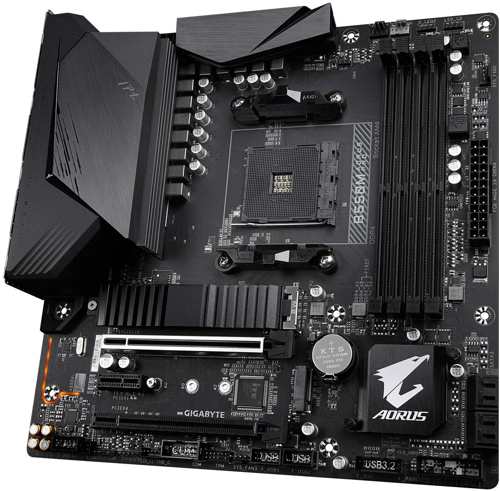 Check Today's Price of Gigabyte B550M Aorus Pro ➜➜
It is a good option for you if you are looking to build a compact rig. I found its design to be subtle with a nice finishing all-over. The installation process is also pretty quick, thanks to the pre-installed I/O shield.
The ultimate power design that enhances the performance of the Ryzen 5600x to the next level. I can assure you, as in my testing, the Ryzen 5600x fared up decently.
Have some time to spare? Quickly check out our epic guide on are motherboard batteries rechargeable.
Now for specs, this motherboard contains 2x M.2 slots, out of which the top one supports PCIe 4.0 x4 drives. And, as for the remaining slot, it can hold up to PCIe 3.0 x4 SSDs.
Besides, I liked the memory support that the board provides. You can add at most four modules with a max capacity of 128 GB that rates up to 4133 MHz. The Fusion 2.0 software is there for the LED strips on the board. You can customize them freely.
However, even after all such nice features, it doesn't get away from flaws. The issue is, if you install a dual-slot GPU, the second M.2 slot will be kind of blocked. Now you decide whether you would prefer it or not.
To end up, if you overlook that slot issue, it's a pretty good board. Still, it's all your choice to make.
Thinking of building a gaming PC with all 3rd gen AMD components? Check out the suitable graphics card for Ryzen 7 3700x and Ryzen 7 3700x RAM.
Pros
»

Suitable for SFF builds

»

Excellent build-up
Cons
»

Dual-slot GPU will block an M.2 slot
6. ASUS TUF Gaming X570-Plus
ASUS isn't all about the ROG series of products. The TUF series do have some finest of the components. Among them, this is a motherboard that can be a good entry-level choice.
The ASUS TUF Gaming X570-Plus comes with some superb specs:
Form Factor: ATX
X570 chipset
Four memory slots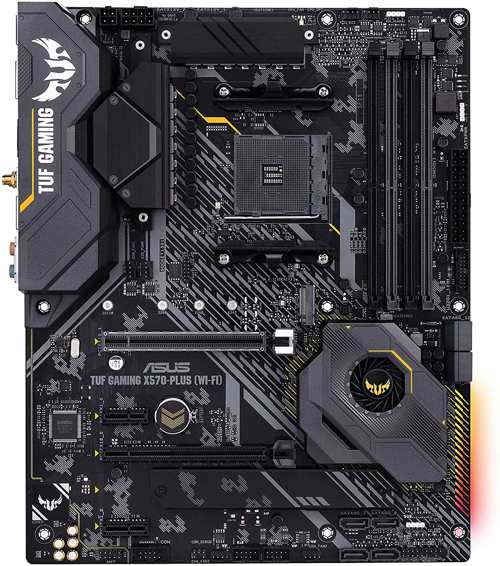 Check Today's Price of ASUS TUF Gaming X570-Plus ➜➜
This is a fantastic board in terms of VRMs and connectivity. It might be an entry-level option, but nothing to take away from the output it offers. If you love overclocking, do not get baffled by the specs.
Also, check out our separate post on can motherboard bottleneck GPU.
It might seem that the overclocking won't have any stability, but the reality is different. You can highly rely on this Ryzen 5600x motherboard.
Now coming to the looks, the design that ASUS went for is aesthetically pleasing. Also, no-nonsense with the durability, your PCIe slots alone will be relatively safe.
If I now talk about the performance, I would say that you won't get any better entry-level board for Ryzen 5600x. In comparison to Ryzen Zen 2 CPUs, there is an increment of 20% on the performance, which I think is more than reasonable.
However, ASUS could have done better with USB ports. Some might not like the absence of front panel USB 3.1 ports.
Still, I think it's okay.
This is what you get at a low price from a top-tier brand like ASUS. If you just stop thinking of all the sugarcoated elements that most high-end boards offer, this option would seem pretty solid.
What about checking the lists of low profile coolers for Ryzen 5 5600x.
Pros
»

Includes Wi-fi

»

Cheaper than contemporaries

»

Excellent durability
Cons
»

Front-panel USB Gen2 port absent

»

No usable PCIe x1 port
7. ASUS Prime X570-P
As a mid-range motherboard, the ASUS Prime X570-P is pretty decent. This board comes with the following features:
Dual PCIe 4.0 slots
Form factor: ATX
Dual M.2 support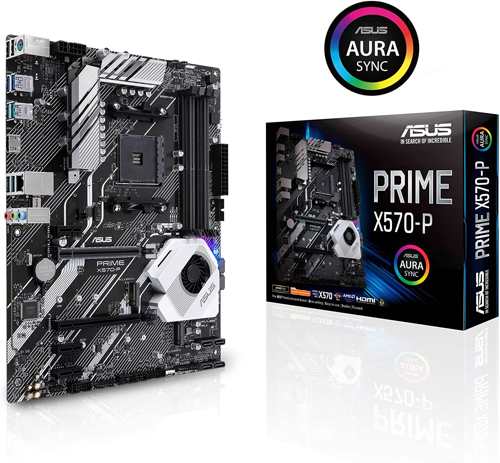 Check Today's Price of ASUS Prime X570-P ➜➜
This motherboard comes with pretty decent specs. With the whitish patches over the blackish texture, the total layout looks unique and elegant.
The layout also possesses an excellent heatsink, which provides such a thermal performance that prevents throttling. It is an important part to consider as this motherboard for Ryzen 5600x sports PCIe 4.0, which results in delivering 2x bandwidth of data flow.
Also, check out our expert's recommended EVGA X570 Dark Motherboard review.
This eventually produces a considerable amount of heat, way more than what used to be generated in Ryzen Zen 2 chips.
The heatsink isn't the only good thing about this board. The cooling controls on this board can be compared to the ones in a few high-end boards.
For a processor like Ryzen 5 5600x, if not the best, it's well enough. Now, you will need to use the aura sync software for the RGB to control the full lighting in the strips.
To sum up, it doesn't come with a hefty price tag that you need to worry about. So, if you feel you are okay with a mid-range motherboard for AMD Ryzen 5600x, do go for it.
Also, check out the suitable RAM's for Ryzen 7 5800x.
Pros
»

Excellent thermal performance

»

Good price
8. ASUS Prime B550M-A
Yet another affordable option from ASUS, and this time, it's their Prime B550M-A. This model comes with the following features:
Form factor: Micro-ATX
4x DIMM slots
Warranty of 3 years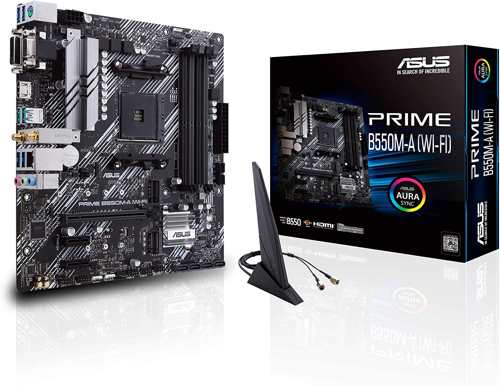 Check Today's Price of ASUS Prime B550M-A ➜➜
The ROG, ROG Strix, and TUF gaming boards from ASUS are the most considerable gamers' choices. But that doesn't make the Prime series anything less.
This very model under this series is mainly focused on people who like versatile rigs. This mATX board comes with a decent design with a combination of white and black textures. My opinion about such styling is that it will suit almost every rig but won't be something like a showstopper.
About the performance, the board offers decent stability while overclocking. While testing, I used a 64 GB memory rated 3600 MHz. Though, you can use up to 128 GB in the 4x DIMM slots present.
The results were somewhat okay, but I expected much more. Also, the absence of USB Type-C ports might prove to be a red flag to some users. However, if you are someone with no to limited overclocking desires, it is an option that can be a good buy.
Here's a complete guide on can motherboard affect performance.
Pros
»

Good for SFF builds

»

128 GB RAM support
Cons
»

No USB Type-C

»

VRMs often run hot

»

Nor for high overclocking enthusiasts
9. MSI B550M PRO-VDH
This mATX motherboard from MSI comes with simplistic styling. Hence, this is something you can get at a relatively low price. This model attributes the following specs:
4x SATA Gbps ports
Core boost tech
Warranty of 3 years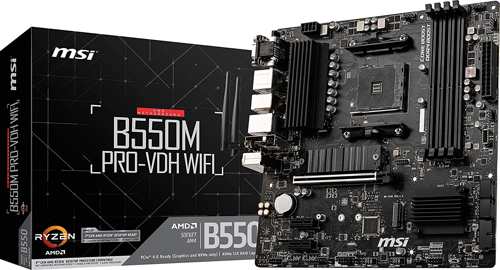 Check Today's Price of MSI B550M PRO-VDH ➜➜
As a motherboard, it sports all-black sockets and PCBs. This plays a huge part in giving this motherboard for AMD Ryzen 5 5600x a minimalistic look. In this case, your benefit is that it suits all types of rigs—more of a popular theme that can match all builds.
MSI's mystic lighting software controls the RGB lighting. Also, turning off this lighting is a pretty easy task as there is a switch on the board's bottom part.
Coming to the sockets, you will be delighted to know that it's not stuffed. I found the area where they are placed pretty clean. Not many mATX motherboards come with the same traits.
Also, check out the best aura sync keyboards for a premium feel.
As for the performance, in my testing, the board handled the Ryzen 5600x pretty well. It didn't seem shaky at all despite the not so robust structure. Also, I expected more SATA ports. But for a cheap option, that is, I think it is too much to ask.
Pros
»

Fast booting

»

Sockets aren't stuffed together
Cons
»

Very simple look

»

Build quality could've been better
10. ASRock B550M PRO4
In the PC components market, ASRock is quite relevant, especially for their motherboards. This model from them consists of the respective features:
8 phase power design
6x SATA 3 ports
Form factor: Micro-ATX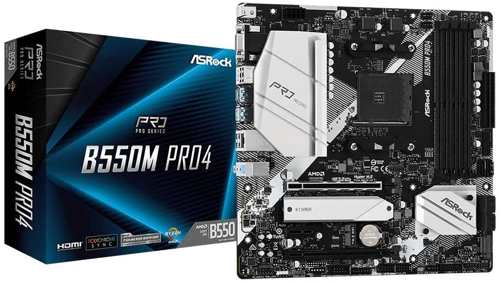 Check Today's Price of ASRock B550M PRO4 ➜➜
The texture in the layout of this mATX Ryzen 5600x motherboard makes it look stylish. What I loved about this motherboard is the top quality chokes, which ensures the proper saturation of current and improved voltage.
The DIMM slots it consists of will allow you to add or remove memory modules without removing the GPU.
Also, you will find ample of I/O ports. Booting isn't an issue for this board—also, no problems regarding clearance.
Also, don't forget to check out our experts tested best Aura Sync Compatible RAM for gaming freaks.
However, the M.2 slot isn't compatible with smaller SSDs, which might be problematic for some. But in case of bigger SSDs, nothing to worry about.
To conclude, this motherboard from MSI is a decent budget choice for Ryzen 5600x. The sturdy build, along with an easy installation process, makes it a good buy.
Pros
»

Impressive chokes

»

Nice color scheme

»

Free of clearance issues

»

Easy to install
Cons
»

Doesn't support smaller sized SSDs

»

Not for enthusiast-class overclocking
11. ASRock B550M Steel Legend
Another mATX motherboard from ASRock with the B550 chipset. It goes by the name ASRock B550M steel legend, which is my last pick for the Ryzen 5 5600x. This mATX board comes with the following specs:
Ten power phase design
4x DIMM slots
2oZ Copper PCB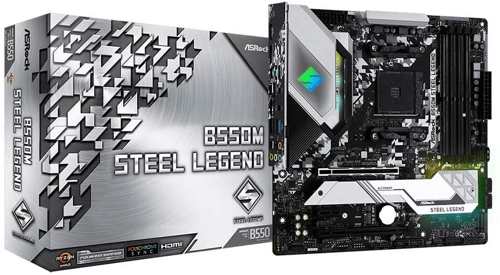 Check Today's Price of ASRock B550M Steel Legend ➜➜
As a mid-range option, this motherboard is good to go with. In it, you will find silver heatsinks, which will give you the flair of steel.
Maybe that's why ASRock named it steel legend.
I was pretty impressed with its good looks. It possesses enough pump and fan connectors, something that most mid-ranged options lack. Also, the number of USB Gen1/Gen2 ports is excellent.
The amazing thing I noticed is that the PCIe slots present don't get throttled. And for BIOS, it was easy to update.
Also, Get an aura sync compatible RGB fan for your rig!
But like every other mid-ranged option, it isn't devoid of some lackings. My testing found the control of RGB pretty mediocre. The ASRock Polychrome Sync could've been much better.
I don't know about you. But most gamers won't like RGB lights turned on even after the PC is off. This thing happens on this board. Then again, it's a pretty good looking board, which isn't costly at all.
If you ask my honest opinion, I would say the issues aren't that big to ponder about. You may go for it if it meets your requirements. I assure you it won't be a loss of money.
Pros
»

Good looking

»

Adequate number of USB ports
Cons
»

RGB sync could've been better
Ryzen 5 5600x Motherboard Buying Guide
The motherboard would be an integral part of your Ryzen 5 5600x build. So, you must buy the most befitting option that compliments your other components. However, this job isn't that easy.
But there isn't anything to worry about as I prepared a comprehensive buying guide that would help you out.
This guide contains all the tips that proved to be successful for me over the years.
Check out our experts tested and reviewed the best Aura Sync Compatible SSDs.
Here are those tips to follow to buy the AMD Ryzen 5 5600x motherboard:
Specify the size you need
Before buying, you need to ascertain what type of form factor you require in your build. Your build might be of any kind. It can be a conventional or even SFF.
Depending on that, you need to specify the size of your motherboard. Here in the post, the short form factor builds you will find the mATX motherboards, whereas, for the typical rigs, there are ATX boards.
Type of Chipset
You need to determine the type of chipset you need. For the Ryzen 5 5600x, the X570 and B550 are highly suggested. Both types consist of some unique traits. Like the X570 board can support multiple PCIe 4.0 slots, and in comparison to B550 boards, it possesses more USB Gen2 ports.
Similarly, the B550 boards consist of better networking features. That is why you choose your chipset wisely while selecting a motherboard.
Aesthetics
If you care about how your rig would look like then, yes, aesthetics would somewhat matter.
Now, if you are a beginner, I would suggest you better avoid dark-themed motherboards because you might face problems while figuring out on-board labels.
Besides, if you seek a clean looking build, do buy those boards whose fan and USB headers are placed around edges.
FAQ
Question: Is X570 better than B550 for Ryzen 5600x?
Answer: In the case of B550, the interconnect between Ryzen 5600x and chipset will perform at PCIe 3.0 speed, which is way less than PCIe 4.0 of X570. Also, the number of USB ports in the X570 is greater. However, B550 boards have better networking capabilities. That is why there is no clear winner between them.
Question: Which type of boards are cheaper for Ryzen 5 5600x?
Answer: The motherboards with the B550 chipset are budget-friendly as, unlike X570, it doesn't possess some high-end features.
Final Thoughts
As I end up, these are the eleven finest motherboards for AMD Ryzen 5600x. I covered almost every type of option, from high-end to mid-range, ATX to mATX, etc. I hope that you will find your desired motherboard among these very ones.
In case if there are any queries regarding anything about this review, then do let me know.