You're finally done with building your very first PC and now you are wondering if there you should install motherboard drivers before you can fully explore your computer.
Or perhaps you've already been using a PC and you just realized that you didn't install any drivers at the beginning.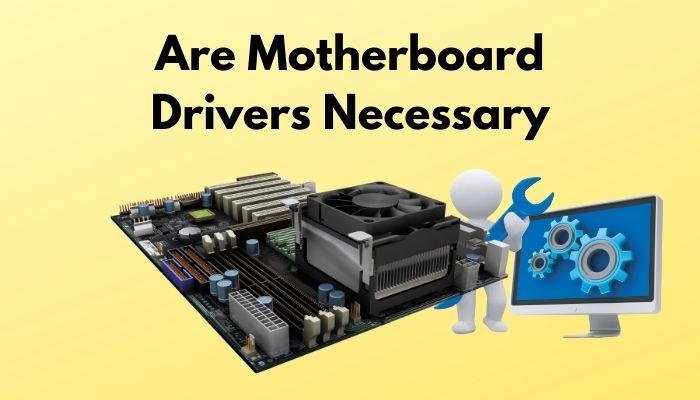 Are motherboard drivers necessary?
Yes, motherboard drivers are undeniably important. Motherboard drivers are the central component that is needed to control everything in a computer. Think of these drivers like a software interface between the motherboard and the software of the system.
Well, you've definitely come to the right place. I have wondered the same thing long before I became a tech enthusiast and I've gathered everything you need to know about motherboard drivers in this article.
So, grab yourself a fresh cup of coffee or tea and read every part carefully till the end so you can finally say goodbye to all your doubts.
Also, check out our separate post to find out whether Motherboard Screws Universal or not.
Do I Need To Manually Install Motherboard Drivers?
Windows automatically installs the basic drivers that are baked in with the installation disc by default. However, these drivers tend to be outdated so it's always recommended to download the proper ones from your motherboard manufacturer's website.
Here's a complete guide on how to fix motherboard can't detect hard drive.
What this means is that if you want a much better performance from your motherboard, you should, without a doubt, manually install motherboard drivers.
On the other hand, you should probably also keep in mind that if you use your PC for basic purposes like writing or browsing the web, it's not absolutely essential to download drivers on your own.
Windows 10 has improved significantly with the driver installations, and you even get proper driver updates, nowadays.
You should also know that many users have reported that Windows ran into issues after certain driver updates, so it's probably best to stick with third-party softwares like Driver Reviver instead of relying on Windows Updates.
Don't have time to read? Well, check out Best Motherboard For The AMD Ryzen 7 3700X.
Does Motherboard Come With Drivers?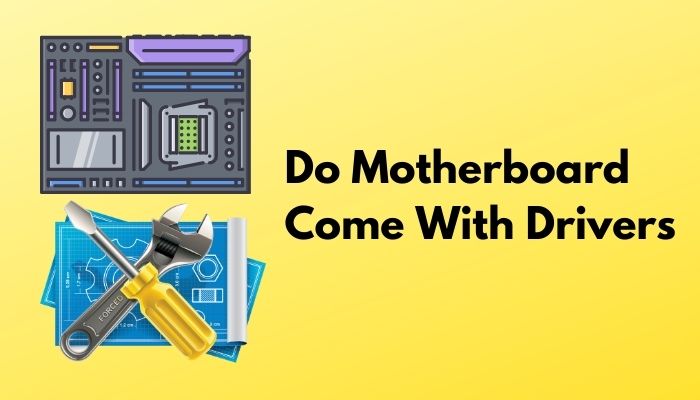 No, the motherboard itself does not have any capability to store any drivers but many motherboards do come with a disc that contains the necessary drivers. However, I will still recommend you get the latest ones from the website.
Also, check out our separate post on how to fix motherboard HDMI no signal.
The disc that you get can still be useful in the scenario where you are having trouble getting a connection to the internet.
In that case, just insert the disc and run the setup file, which is typically an exe file, and select only the network drivers to install them.
What you must have understood so far is that a motherboard contains only the hardware and nothing on the software side.
So, if motherboards don't store any drivers, what is inside them?
Well, any motherboard will typically contain subsystems, like the central processor, the chipset's input and output along with the memory controllers, interface connectors, and other similar components that are integrated for normal use.
Quickly find out if motherboard batteries are rechargeable or not.
What Are The Important Motherboard Drivers?
The drivers that are most essential include network drivers, chipset drivers, sound drivers, video drivers, and Wi-Fi drivers. These are the ones you should install first if you don't want to face any performance issues.
Network drivers are required to control the functions that connect your computer to any type of network, whether it's an ethernet or wireless network.
Check out our experts tested and reviewed the best RGB CPU coolers, best Aura Sync RGB GPU and best Aura Sync Compatible RAM for your PC.
Additionally, chipset drivers indicate a very small file that would assist your computer in identifying the motherboard.
They also have the potential of significantly improving the overall smoothness of the motherboard performance by improving its coordination with other components present in the system.
Sound drivers or soundcard drivers come in use when your system needs to transmit any type of audio information to any output device.
Similarly, video drivers have the ability to make your current operating system, for example, Windows 10, communicate properly with any graphics-mode application program.
Check out our separate post on how a Motherboard Bottleneck GPU.
Where Can I Download Motherboard Drivers?
The most common way to download motherboard drivers is to visit the website of your motherboard manufacturer and look for your motherboard's drivers there. If this sounds like a difficult task, you can use a third-party software instead.
Don't fret if you don't know the exact URL of your motherboard manufacturer's website.
All you have to do is type in your motherboard's model in google and you will instantly find the necessary drivers.
But what if someone else bought the computer for you and you don't know what your motherboard's model or manufacturer name is?
Also check our exclusive tutorial on can motherboard be repaired.
Ignore the part of your brain that tells you to worry and just simply follow these steps:
Power on your system.
Press the Windows key and R key at the same time to bring up the Run window.
Next, type in msinfo32 in the little text box and hit enter.
This will bring up a window with plenty of information on your system. However, you only need the fields containing System Model and System Manufacturer.
Lastly, if those two fields show up empty, look for Baseboard Model and Baseboard Manufacturer, instead.
As I've mentioned earlier, you can use third-party software to make things easier. Most of them can even detect the motherboard model easily, so everything really is a breeze.
Also, check out our separate post on will motherboard turn on without CPU.
If you go for third-party software, here are some of my favorite ones:
IObit Driver Booster
DriverPack Solution
Driver Genius
Driver Reviver
Also, check how to Apply & to Remove Thermal Paste On Motherboard PCB
FAQ
Question: How do I install motherboard drivers without Internet?
Answer: There's two ways to do this. You can use the disc that came with your motherboard and install those drivers, but they may be outdated. You can also use a third party software like DriverEasy and use another computer with internet connection to install the drivers.
Question: Does updating motherboard drivers increase FPS?
Answer: Yes, an update to the graphics card can, without a doubt, fix gaming bottlenecks and make them run much faster.
Question: Do you install motherboard drivers before Windows?
Answer: No, there is nothing for the drivers to work on if Windows isn't booted up first. So, you should definitely install Windows first and then install the drivers.
Question: Do I need to delete old motherboard drivers?
Answer: No, there is no reason to do that since the new drivers will automatically overwrite the existing drivers. If you do have problems after installing the new drivers, which is unlikely, you can definitely delete and reinstall the drivers.
Question: Are motherboard drivers necessary for Windows 10?
Answer: Yes, motherboard drivers are required for any system. It doesn't matter what operating system you are using, your computer needs the drivers for proper communication with the hardware components.
Final Thoughts
Drivers are the little things that tell any piece of hardware how to function and it does this by communicating with the operating system.
This is why I hope you now know exactly why it's so important to install the proper drivers and to keep them up-to-date.
Well, how does it feel to have your confusion finally cleared? You can always come back to us if you have any other confusions and I'll make sure to clear them too.