You are currently assembling a pc and might be wondering where to connect the case fans.
Or, you were facing heating issues and bought a new pair of fans and can't figure out how you can install them into your pc.
In short, Where do I plug my case fans into?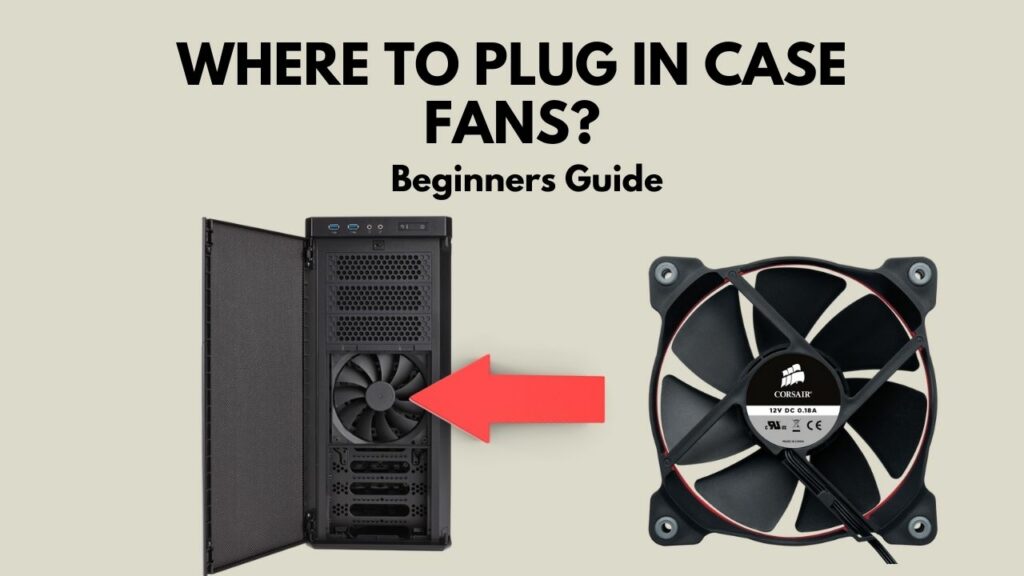 Case fans can be installed directly into your Motherboard's 3 pin header or 4 pin header and if your case fan has PWM Connectors then you need to install it into your 4 pin Headers. You can plug your case fans into the PSU via a Molex connector.
Well, I have been there and I know how hard it can be to get all the answers by searching through the internet.
You don't have to worry anymore; as a pc enthusiast and assembler myself, I will present you the complete guide on where to plug in your case fans.
Don't skip any part as I am going to explain the process step by step.
How to Install PC Case Fans
First, you need to know you can hook up your case fans with two components.
Motherboard aka MOBO.
Power Supply Unit aka P.S.U.
So, let's get into the procedure.
Here are the steps to install Case Fans:
1. Plug Your Case Fans Into The Motherboard
If you want the best possible outcome from your fans, it would be best if you hook them up with your Motherboard.
If you plug your fans with the Motherboard, that way, you can increase/decrease the fan speed from your motherboard BIOS. But for that option, you need to plug it in with a 4pin cable.
Usually, every MOBO comes with at least two fan headers. But you have like MOBO like B450m you will have like Four pin headers.
Now look for these pin headers around your Motherboard:
SYS_FAN (System Fan)
CHA_FAN (Chassis Fan)
PWR_FAN (Power Fan)
EXT_FAN (Extension Fan)
If you are facing difficulties locating them, search at the bottom left of your Motherboard. You will quickly get one Header.
After finding the Header, it's time to plugging it in
Every connector will have two tabs like a bump (at the beginning of the port and at the end of it) line it up above the Motherboard.
Gently push the connector down the Header until it's fully connected to the MOBO.
There you go; you are done plugging it up.
2. Plug Your Case Fans into Power Supply Unit
Before plugging in, you should check what PSU model you have. Things you need to connect your case fans to P.S.U.
Four pin MOLEX connector (Comes with the P.S.U.)
Three-pin MOLEX connector (Comes with the Fan)
Keep that in mind not all P.S.U.s or the Fans come with the connector. But most recent units will have connectors.
You can directly connect your Fan to the P.S.U. with a connector.
But what if there's no Molex connector in your Fan?
Well, you can get the P.S.U. to Fan Pin Header Adapter. That way, you can plug your fans into the P.S.U.
But plugging your fans into the P.S.U. have some back draw in it. Like you cannot control the fan speed. The Fan will always run at the maximum speed.
Installing Case Fans: Two Things to Consider
Before jumping into how you are going to attach the case fans. You need to know a thing or two about the fans.
When you open up your pc casing, you will see most likely Four types of fans:
CPU Cooling fan.
Intake fan.
Exhaust fan.
S.U. Cooling fan
You can easily pick up the faulty fans by just looking at them. Either they will not spin, or even if they spin, they make that weird grinding noise.
And If you have any fans that are heavily clogged with dust. Please clean them out to avoid the heating issue.
Now that you know about the type of fans, you need to look at how case fans work.
First, the intake fans will take in the cool air from your room or wherever your pc is, then cool your pc parts, and then with the help of the Exhaust fan will push out the Hot air.
Before installing the Fans, you need to know how to face them.
Read more on how to Fix PC Fans Loud When Idle.
1. Direction Of Case Fans
You need to set up your case fans properly. If you don't, the fans will do more harm than good.
So, some new Intake fans will have an indication on the body which way it should face.
But what if it doesn't?
For that, you need to see that fan label or the sticker in the body. Usually, the sticker side would be the front side. So put the Fan that way.
But if there's no sticker as well. Then it would be best if you looked for the spokes or the mesh grill of the Fan.
For example, when installing Intake fans, the sticker or spokes will be inwards the pc case.
Check out our separate post on how to Set Fan Curve on PC.
2. Place to Mount Your Case fans
Usually, the intake fans should be placed on the front side of the case to intake the cool air from outside, and the exhaust fans would be at the backside to let out the hot air.
Some new cases will have a vent on top of it. But don't make a mistake and install an Intake fane over there. That vent should be used for exhaust fans; that way, the hot air will have more ways to get out.
To mount the Fan first, you need to find a perfect place for it. So that when you install the Fan, you can reach the Motherboard or P.S.U. Easily. That will help you with cable management.
When you are done finding the perfect spot, align the Fan with the four holes in the case and screw them up.
You may also like to read: How to Fix a Noisy/Rattling PC Fan.
FAQ
Question: Can I plug casing fans without the preferred headers in the Motherboard?
Answer: Yes, you can plug them in your PSU or get a Fan splitter caller Y-Splitter.
Question: Can I plug a 3-pin fan into a 4-pin Header?
Answer: Yes, you can, though you won't be able to control the fans.
Question: Can I plug my fans into the AIO PUMP Header?
Answer: No, you can't AIO_PUMP Headers are for water coolers only.
Final Thoughts
Casing fans are essential for your PC's overall health, and one should be able to install them correctly.
My suggestion would be to research a little before picking up the fans to know what fans you can plug into your Motherboard.
And if you have any future queries, you can always reach us.