Do you want to experience the top quality virtual reality adventure with your android mobile? Well, google VR services can fulfill your Daydream!
Okay, that was a terrible one. But, I couldn't resist myself.
Let's get into the topic. Google VR services offer new virtual reality platforms named Daydream and Cardboard. It works to complete a simple objective; to navigate the VR world more efficiently.
As a geeky head, I try to collect every cool gadget that are available and observe each of their performance and functionality. In this article, I am going to share my thoughts and knowledge about google VR services. So that you can get a complete overview of this service.
If you want to discover more about this VR service and how it works with android apps, continue reading the article.
So, Let's answer your first query, What is Google VR service in android apps?
Google virtual reality services ensure capability for Daydream and Cardboard apps to run on your Android handset. Basically, this service is for avoiding the operating conflict between the regular functionality and the VR experience of your mobile.
Keep reading to get a proper outline about google VR services.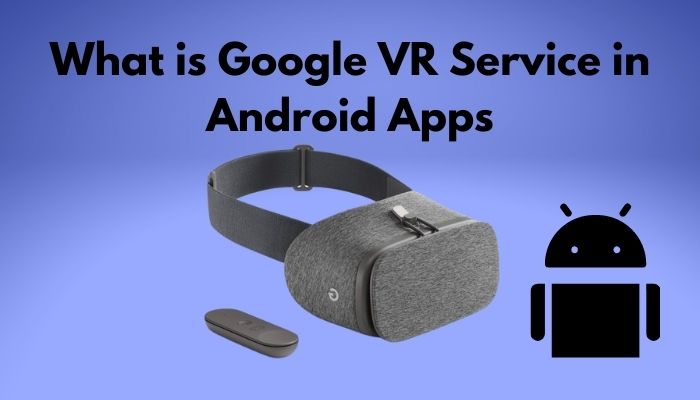 How do Google VR Services Work?
The Google VR services use a split-screen effect of your phone. It displays in a method that each of your eyes would be seeing in real time. The partitioned screen effect increases the immersion and helps you avoid nausea, which can happen if you watch VR content without putting the glasses on.
When you change the position of your head, VR cardboard tracks the movement by adapting your eye position. And by eye position, I mean both of your eyes. Through this process, you can watch different sceneries extended around you.
Your mobile's motion sensors handle the main pressure here. They constantly detect the moving and resend signals to background apps like daydream or cardboard.
All of these works remain in harmony for a third party service. The service makes sure that your sensors are sending proper signals and your device is working accordingly. This service has access to your machine remotely but it can't control the VR movements.
You know what I am talking about. Yes, that is the actual operation that google virtual reality services provides. To understand more about this topic, you must know what daydream and cardboard are.
Continue this passage to learn more about them.
Here's a complete guide on how to Fix VR Black Screen.
What is Daydream?
Daydream is mobile virtual reality platform. It effectively shortens the entry of a VR content to a smartphone by using advanced technology. Using daydream for watching a VR content helps you to get comfortable with the simulated reality, and it reduces the motion blur.
In order to use the headset, you just need to connect it with your android mobile phone. Plug in , turn on the google VR services, and you are good to go.
Numerous companies developed their own version of this VR headset controller. Google daydream can be a preferable option if you are considering experiencing virtual reality more smoothly.
What is Google Cardboard?
Cardboard is also a VR platform that Google developed. It is a low cost VR platform that also gets compatible with low-end devices.
Using it is even more simple than the daydream. Just plugging in the smartphone and turning on the google VR services will be enough.
Moreover, Google cardboard is a fun and simple device to enjoy the essence of VR, and it is a low-cost device to get an idea of what virtual reality is actually about.
That's all you need to know about google VR services. To know about the compatibility check, proceed reading the following parts.
Check out the easiest way to fix a Blurry VR headset.
Do I Need Google VR Services on My Phone?
Google virtual reality services allow the functionality for the Daydream and Cardboard apps. The service contains some basic functions like pairing with your VR headset or showing notifications when you are in VR. Moreover, this particular service is there to smoothen your virtual reality experience.
For instance, Imagine yourself roaming inside the virtual world using your phone. To get into that fantasy world, you need to make your daydream controller ready, and you need to make sure the VR headset is compatible with your android mobile.
And even if you manage to do all these without the help of VR services, how are you planning to remain connected with the real world? That's when you are in need of a mediator, and Google VR services work as that mediator.
The services help you to maintain the compatibility between your mobile and the VR box. If you don't activate the google VR services on your phone, most probably you are not going to be able to install the Daydream and Cardboard apps, let alone have fun in virtual reality.
So, to answer your question in a straight way, You require to google virtual reality services on your mobile phone if you want to experience artificial reality effortlessly.
Follow our guide on how to Fix VR Headset Not Working.
How to Fix Google VR Services not Compatible
When VR services were first introduced, it was pretty usual that ordinary phones were not compatible with the VR services. Nowadays, almost every smartphone are compatible with the VR service.
If your mobile phone can't work properly when connected to the daydream or cardboard, check a few things instead of searching through the internet. If your device doesn't have a gyroscope sensor, your google cardboard must have it.
Without the gyroscope sensor, VR headsets don't work appropriately. The other things you need to check besides the gyroscope is the accelerometer and the magnetometer. If your phone does not have all of these sensors, you can't enjoy VR, to be frank. These are mandatory to run VR.
Go to your internet browser and type in your mobile's model to check if those censors are available or not. If yes, then it might be problematic because of the faulty cardboard app.
Most cardboard apps have built-in ability to adjust the app with your VR. And lucky for you, most cardboard headsets come with a QR code, and you can scan the code from the apps setting button. Scanning the code will make your headset compatible with the app, and you will face no problem further.
However, If the scanning doesn't work for you, you can manually calculate the exact configuration.
Here is how you can manually generate the configuration:
Go to the Google profile generator page, and you shall get a unique browser page.
Open the page on your phone.
Adjust the settings till your cardboard app display a perfect cube.
That is the procedure you should follow when you find your cardboard app is not compatible with your mobile.
In terms of daydream, it is quite the opposite. You can pair your mobile with the daydream app in the following process:
Go to settings from your mobile.
Select Apps and notifications.
Find Google VR Service from the list.
Expand the list, you shall see three options at the bottom.
Select force stop/ uninstall/ disable from the list.
Restart your phone to complete the process.
This shall resolve the compatibility issue of your mobile with the virtual reality headset.
What is Google VR Helper Service on Android?
Google VR helper service is quite similar to the VR services. The difference between them is that VR helper services are mainly focused on notifying you while playing a game on your Vr headset or exploring a place.
That means if you get a notification like a text message or even a phone call when you are in an artificial reality, VR helper service will help you to come back in reality by sending a signal on your screen.
This is a necessary feature that google provides and it is effective if you get lost in the virtual world.
Conclusion
The last thing I would like to add is that using google VR service is pretty amazing, but overusing it can lead you to nausea and various eye-related difficulties. Always rest your eyes before putting on the VR headsets.
If you have read the words I have put there, I am sure you have got a proper overview of google VR, and I cleared out all the things you need to understand.
If you encounter any difficulties understanding the article, feel free to comment below. I will make them even easier.