VRChat is a gateway to escape from the reality for a few split moments and paint your imagination through VR games. But what could be more exciting than showing yourself off with a cool name?
You know the display name can tell a lot about one's personality, but you didn't quite think it this way, did you?
Worry not. I'm about to show you the easiest process to modify your name.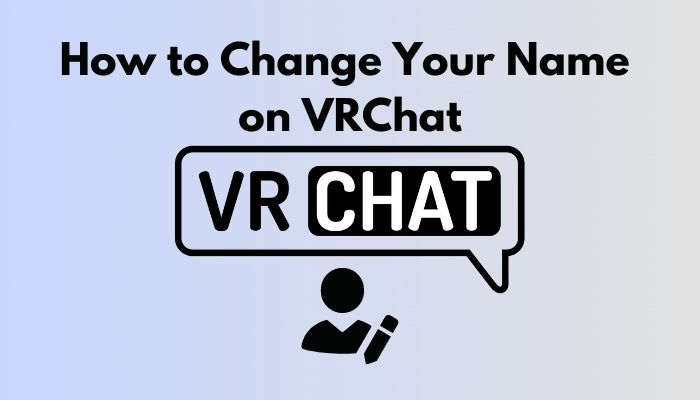 Tag along!
How to Change Name on VRChat Website
There's literally one universal way to change the name on VRChat and that is from its website. Whether you are using Oculus (Meta Quest, Meta Quest 2) or Steam, you have to access your account from a browser to set a new name.
You can only change the Display Name though, not the Username. This is where users confuse themselves.
See, Username and Display Name are different. The name you choose when creating a new account is the username. You cannot change it.
The confusion crop up due to the fact that, while registering for a new profile, your preferred username is set as the display name by default. But the truth is, later you can change your name which the rest of the world is going to see A.K.A display name.
So, with all this additional information aside, let's walk you through the process for changing the name.
Here are the steps to change your name on VRChat:
Open your browser and go to VRChat.
Click on Login situated in the top right corner.
Log into your official VRChat account.
Click on Profile Settings from the top of the left pane, represented with gear icons.
Type your desired name in the Change Display Name text field and retype it in the next field to confirm your name.
Write your password and click on the Change Display Name button.
Voilà! You have successfully changed your nickname. Enter any game to check if it is working properly.
Note: The name must be 4 to 15 characters long. Start it with letters. Use numbers, and symbols to set you apart from other users.
Remember, after you've done changing your display name once, you can do it again after 3 months.
But what if you have a change of mind and want to modify your name once again before 90 days? Is there any workaround?
There is literally no quicker way to change your display name again within 3 months. However, it is possible to get your old display name back.
You have to open a ticket to VRChat support. They can help you to restore your old display name or nickname. But they can't help you to change your name to something new.
Keep in mind that, it will take a minimum of two weeks for them to get back to you and help you get your old name back. So, basically, you'll be caught between a long-winded and complicated process.
Note: Official VRChat account is not the same as your Steam or Oculus Quest Account.
On a different note, if you're using VRChat with Steam or Oculus, modifying the name remains exactly the same as above. But if you somehow encounter a bug and can't see your display name, you should re-link or merge your Meta Quest and Steam accounts with VRChat. Let's have a quick glimpse at this in the next section.
Some more guides on change the Inbox View in Outlook.

Merge Steam or Oculus Quest Account with VRChat Account
Merging a Steam or an Oculus account with VRChat is pretty simple and free. But many people find themselves in a cold sweat sometimes. Just take a look and go through the steps sequentially.
Here is the process to merge your Oculus or Steam account with VRChat:
Open your browser and go to VRChat.
Click on Login, which is situated in the top right corner.
Choose Registration, fill the form out, and click Create Account. (Skip this step if you already have an account)

Click on the Account Link from the left side menu. You'll see some instructions and an Enter Merge Token field. Leave it here like this.
Open Menu>Settings from inside any VR game.
Click on the UPGRADE ACCOUNT in the bottom right corner of your screen.

Click Generate and press Copy.

Go back to that tab in your web browser and paste the code right below to Enter Merge Token.
Click Merge Accounts.
It can take around 45-50 minutes to merge these accounts. So, the merging process is quite lengthy, isn't it?
Anyways, don't worry if it takes that much time. When the process is done, you'll find all of your content is on your new account.
As Steam, Oculus, and VRChat are connected somehow right now, you can use your Steam or Oculus Account to log in to VRChat. But you can't link your account with any other one from now on.
Note: After creating the account you must verify your email address.
Conclusion
Which platform do you use to play the VRChat game? Is it Steam or Oculus? I'm using Oculus Quest 2 right now. Pretty amazing! Let me know which one you do use. Besides, comment below to know the answers to your further questions.