Meetings can be pretty boring, especially virtual ones, so why not liven it up a bit?
You might've seen your favorite streamers floating around as a potato. You can become one yourself and prank your colleagues, friends and loved ones in your next meeting on Microsoft Teams.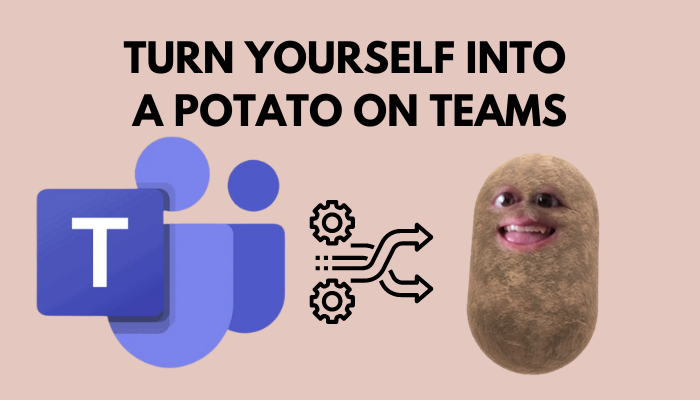 In this article, I'll explain how to use different filters and turn yourself into a potato in MS Teams.
How to Look Like a Potato in a Microsoft Teams with Meeting
To become a potato in MS Teams, you need a third-party software called Snap Camera because Teams doesn't have an in-built feature to use different filters. After choosing the potato filter, open Teams, go to Settings > Devices and select Snap Camera.
Follow the step-by-step process described below to use Snap camera filters in a Microsoft Teams video conference.
Here are the steps to turn into a potato on Teams with Snap Camera:
1. Check System Requirements
To use the Snap Camera app, you'll need a Mac or Windows device with a moderately good integrated camera or an external web camera and ensure your computer meets the conditions for the app.
Here's how to check system requirements for Snap Camera:
Operating System: Windows 10 (64-bit) and later versions & macOS 10.13 and later versions.
CPU: at least Intel Core i3 2.5Ghz or AMD FX 4300 2.6Ghz.
GPU: Intel HD Graphics 4000, Nvidia GeForce 710 or AMD Radeon HD 6450.
RAM: minimum 4GB.
Storage: 329MB.
Screen resolution: 1280×768 or higher.
Assuming your system has the above-described parts, the next step is downloading the Snap Camera app.
Follow our guide to fix Microsoft Teams can't hear other participants.
2. Download & Install Snap Camera
Download Snap Camera from the official page and install the setup file. The process is pretty straightforward.
Here's the process to download & install Snap Camera:
Open your browser and go to snapcamera.snapchat.com.
Click on the Download button.
Agree to the terms & conditions and prove that you are not a robot.
Download the PC or Mac version of the app.
Open the downloaded setup file to install the app.
After the installation, click the Finish button, and Snap Camera will start.
3. Become a Potato
Finally, choose the type of potato you want to be in the Snap Camera.
Here are the steps to become a potato in Snap Camera:
Launch the Snap Camera app.
Write Potato in the Search Lenses field.
Select the potato filter you like.
Now keep the app running in the background and link Snap Camera to Microsoft Teams.
Check out our epic guide to fix Microsoft Teams status unknown.
4. Use Snap Camera in Teams
Once you've selected your Snap Camera filter, you need to choose the app as your camera device in MS Teams settings to use the filter in a Teams video conference.
Here's how to use Snap Camera in Microsoft Teams:
Open the MS Teams app.
Click the 3 dots on the top bar and select Settings.
Go to the Devices tab from the left menu.
Choose Snap Camera in the Camera section.
After these steps, the filter will be applied when you enter a meeting in Teams.
If the Snap Camera filter brightness is off, you can easily adjust the camera brightness from Teams settings.
To disable the Snap Camera filter, simply choose the default camera in the Camera section on the Devices tab from the Microsoft Teams Settings.
Along with using different filters in a Teams meeting, you can also change your background on Microsoft Teams.
And if you are feeling rather adventurous, why not use Green Screen?
FAQs
Can you change your face on Microsoft Teams?
Yes, you can use a 3rd-party app called Snap Camera to change your face on Microsoft Teams.
Can you turn yourself into a potato on Skype?
Yes, you can turn yourself into a potato on Skype. To do that, open Snap Camera and select your filter, in this case, a potato. Then launch Skype, select Settings > Audio & Video and use the Camera dropdown to choose Snap Camera.
How to set background filters in Teams?
To set background filters in Teams, join a Teams meeting, select More > Background effects, choose the background you want and click on Apply.
Final Thoughts
By becoming a potato in Microsoft Teams, you can jazz up your meetings. You can also choose from hundreds of filters in Snap Camera and link them to Teams, which I've explained here.
Leave a comment below, and let me know which is your favorite filter to use.