Gmail is that one place where we sneak in at least once a day. As a Marketing Professional, I spent most of the day on Gmail. I receive tons of emails daily, many of which are filtered in the Spam folder.
However, this Spam folder is hidden underneath the More section. I had to expand the section every time before accessing the Spam folder.
Not only the Spam but any folder inside the More option is also expanded for a shorter period which is annoying and time-consuming at the same time. I know you are going through the same situation as I faced before.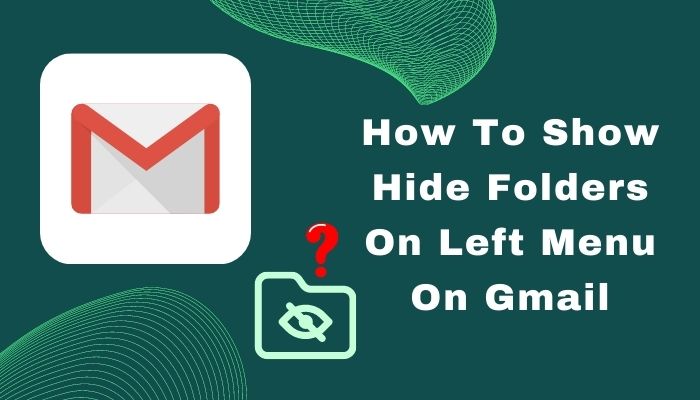 Do you know how I came out of this state? Nothing but just making the folders visible on the left menu; that's it!
In this article, I'll guide you through the simple procedure to show/hide folders on the left menu on Gmail. So let's get started!
Follow our guide on how to Fix Address Not Found Error in Gmail
You can easily show or hide folders on Gmail according to your preferences. It will take a minute or two to change the settings you need to tweak. All you need is an internet connection and a browser that you use to access Gmail.
Here is how you can show or hide folders on the left navigation menu:
Open your browser and log in to your Gmail account.
Click on the hamburger menu icon on the top left corner if the entire menu is hidden.
Click on the Settings Gear icon.
Select See all settings.
Navigate to the Labels tab.
Click on Show or Hide to enable or disable the folders on the left menu.
Just follow those steps thoroughly to add or remove any folders from the left menu of Gmail.
Check out our latest fix for how to Transfer Contacts to Gmail Accounts
How to Create a New Label on Gmail
Creating a personalized label can uplift your Gmail experience. You can have your preferred emails and messages that you can access with one click.
Personally, I have different labels on my Gmail. It makes my Gmail experience a whole lot better. It takes some seconds to create a new label on Gmail. Let me show you how to do it.
Here are the steps to create a new Label on Gmail:
Open Gmail from your preferred browser.
Click on the More dropdown button to access more options.
Scroll down and select Create new label.
Type the label name on the Please enter a new label name: box.
Click on Create.
By following these steps, you can easily create a new label on your Gmail.
Also, check out our separate post on how to view message headers in Outlook.
Frequently Asked Questions
Does Gmail keep emails forever?
Gmail will keep your emails unharmed till you decide to delete them. However, if you move any email to the Trash folder, it will be deleted after 30 days.
How do I check Gmail storage?
Checking Gmail Storage is a relatively more straightforward thing you can do. To check Gmail storage click on your account icon in the top right corner > Manage your Google Account > Account storage.
Why do emails go into the other folder?
The messages or emails that are determined not important by the machine learning algorithm are stored in the Other folder. But you often find your required emails inside the other folder as the algorithm hasn't achieved perfection yet.
How do I move emails from the Other folder to Focused?
To move emails from the Other folder to Focused, go to Inbox > select the Other tab > right-click on the message and select Move to Focused.
Select Always Move to Focused as you want to receive the future messages to the Focused from the sender.
Here's a complete guide on how to add email signature in Outlook.
Conclusion
So that's about it! Your Gmail left menu has more or fewer folders according to your need and accessibility. And hopefully, that concludes your query.
In case you have any other questions left, feel free to let me know in the comments below. I will be delighted to help you with that.
Thanks for reading this article. Talk to you at the next one. Till then, stay safe.
Peace!