Windows 11 is a snappier version of Windows 10. Win 11 has some better optimization in some criteria, and as well as some controversy still remains with Windows 11.
Besides that, you can encounter the difficulty or error message "This PC doesn't currently satisfy Windows 11 system requirements" when upgrading to Windows 11.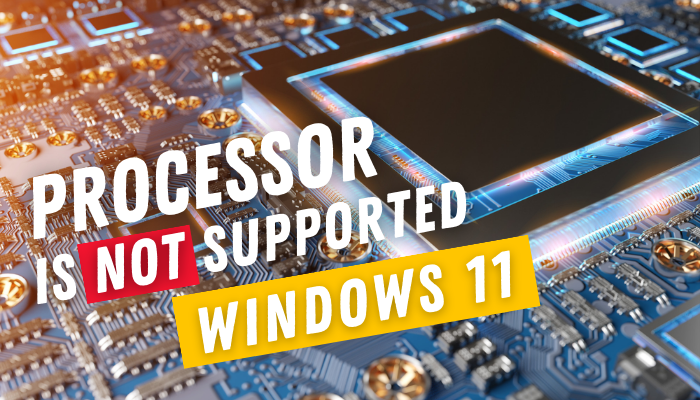 And I'll talk about how you can still install Windows 11 if you run into this issue. Therefore, let's begin the article.
Why Processor is Not Supported by Windows 11?
Your computer's CPU is not listed as a supported processor when you receive an error message stating that your PC does not meet the system requirements. This difficulty also arises when your motherboard is missing TPM 2.0, RAM, and a secure boot.
Windows 11 requires at least an 8th generation or newer Intel processor, while AMD requires at least a 2nd generation for auto-upgrade to Windows 11. The previous generation of these processors is not supported by Windows 11.
Also, there is a "Trusted Platform Module" or TPM, which is used to keep and routinely upgrade the security of your PC. Windows 11 requires TPM 2.0.
So, what to do if your pc doesn't fulfill the requirements? There are two things to do. You can remain in Windows 10 and get a security patch, auto-update, and have a legit experience until October 2025.
Or you can install Windows 11 on unsupported CPU to bypass Microsoft TPM. Even, you can follow the Microsoft official workaround for bypassing your CPU and TPM to install 11.
I mean, even if you don't have supported hardware, you can still download Windows 11 from Microsoft and install that, but you need to do some tweaks before that. And I will show you the workaround.
How to Fix Processor is Not Supported by Windows 11
If your system has incompatible or unlisted hardware from the Microsoft list, even then you can install Win 11 with the help of bypassing the registry. But that will be risky because Microsoft stated already, if you install Windows 11 on an unsupported PC you won't receive security patches and updates of the latest windows.
Furthermore, even if your PC doesn't have TPM 2.0, still it's possible to install Windows 11. But keep in mind there might be some compatibility issues.
If you have an old or additional PC, you might not even care about security patches and Windows updates. But for the personal core machine, I suggest you not get something without security and updates.
Simply for this matter, the fix is how to install Windows 11. And you accept certain risks and like to proceed. Let's install OS 11 on the unsupported PC.
Download Windows 11 ISO File
Foremost, for installing the Windows 11 to your system, you need to download the Win 11 ISO file. You can get the ISO file from Microsoft website. It's possible to get the file from other source, but it's best to get it from Microsoft.
Pursue these paths to download the Windows 11 ISO file.
Download the Windows 11 ISO file that Microsoft's website provides.
Scroll down until you find "Download Windows 11 Disk Image (ISO) for x64 devices".
Choose Windows 11.
Select Download Now.
Pick your preferred Language from the dropdown.
Select Confirm.
Select 64-bit Download to confirm.
When Windows keep downloading, you need to bypass the system for flawless installation.
Also, read on how to Boxed vs Tray OEM Processor.
Tweak Registry to Install Windows 11
When you like to run Windows 11 to your unsupported device, you have to tweak some changes with the Registry Editor. Otherwise, the new version of windows won't work.
Follow the steps to complete the bypass with Registry Editor:
Select the search field and type registry editor and select Registry Editor.
Navigate to HKEY_LOCAL_MACHINE.
Choose SYSTEM.
Select Setup, then choose MoSetup.
Right-Click on MoSetup and select New.
Navigate to Dword (32-bit) Value from New.
Name the value AllowUpgradesWithUnsupportedTPMOrCPU.
Double-Click on the new value that was just created and enter 1 into the value data field.
Click OK and close the Registry Editor.
Before starting your window's setup, this is all you need to change in the Registry Editor. Additionally, you should know how to backup and restore drivers on Windows PC.
Install Windows 11
After the ISO file is downloaded fully. Double-click on the file and choose the Mount option. That will take you to the file's folder. In the folder, there will be a file titled Setup at the  bottom.
Run setup with the Setup file. And accept all the terms and there will be a warning message for your PC that doesn't meet the regulations. Just accept the terms and the setup will start. After the setup completes, you can enjoy Windows 11.
If you face any issues with this installation method, then you can make a bootable USB device and use the UEFI boot menu to install Windows 11.
Follow the steps to install Win 11 using the boot menu:
Go to the Rufus Website.
Scroll down and download the latest version.
Lunch, the Rufus app.
Insert your USB drive and in the device, section select your flash drive.
Choose your downloaded ISO file in the Boot selection menu.
Choose the Select button.
Select Standard Windows 11 Installation option.
Select options as shown in the image. And a pop-up window will come with four options.
Put check marks on the first and third ones. That will cover the bypassing for Win 11.
Click Start and after the process finishes click OK.
Restart your system and get into the boot menu by continuously pressing one of ESC, F1, F2, F8, F10 or Del button on the keyboard.
Select Boot menu.
Choose the boot order and select the USB drive first to boot.
Exit from BIOS.
Your PC will start the setup of Windows 11. Now, install or update all the device drivers on your Windows 11 PC.
After installing Windows, 11 if you like to revert to Windows 10 you'll have ten days time period to do so.
If you like to go back to Win 10 then here are the steps:
Click on the windows menu and Choose Settings.
Click on System, then select Recovery.
Here you will find the option to go back. The option will be alive for 10 days. After that, in case you wish to use Windows 10 then you have to reinstall the Windows 10 again.
Risks of Installing Windows 11 on an Unsupported Processor?
You already understand why processor not supported by Windows 11. But still if you wish to install Windows 11 then there are some certain risks.
As Microsoft mentioned, whoever installs Win 11 on an unsupported PC, will not receive any future essential updates for 11. Also, Microsoft recommends you not install the latest windows on unsupported hardware.
As I have installed Windows 11 a couple of times to my old secondary PC, I have encountered many issues. I faced BSOD and other issue like slow PC and sudden shutdown. Once I have to install Windows 1, 5 times to work. But the experience is not always bad.
As I already mentioned, there will be some compatibility issues, and even you could encounter a Blue Screen of Death (BSOD). And the worst thing is if you have an issue after using Win 11 then you are not covered by your hardware manufacturer.
FAQs
Can I use Windows 11 if my CPU is not supported?
You can upgrade to Windows 11 if your machine has unsupported hardware, but not via Automatic Updates. Instead, manually complete a full install, either in an upgrade using a bootable USB drive or ISO file.
Can a PC run without TPM?
Windows can still be used without TPM 2.0, however, your computer won't accept even the most basic upgrades, putting your data at risk and even causing a crash. Therefore, we do not advise skipping TPM 2.0 when installing Windows 11.
Is Windows 11 faster than Windows 10?
Although Windows 11 is faster than Windows 10, the changes in real-world use are negligible. Windows 11 has a number of improvements that let it manipulate faster on less powerful devices, but Windows 10 still provides decent performance.
What is TPM in BIOS?
A laptop or desktop computer's Hardware Security Module (TPM) is a specific chip created to secure hardware using built-in cryptographic keys. A TPM authenticates a user's equipment and aids in establishing their identity. A TPM also assists in protection against malware and ransomware problems.
Final Thoughts
So, if the processor does not support Windows 11 then there is a way to install it. But this comes with certain risks. And you won't get further Windows updates from Microsoft.
Moreover, Windows 10 still performs pretty okay compared to Windows 11. My suggestion will be if you have an old system, and are not concerned about the updates or security, then get Windows 11.
Also, the way of how you can get Windows 11, regardless of the specification is shown in the article, so just suit yourself.