Windows 11 became a desirable upgrade because of its rich UI and attractive features. Users admire the polished look and craving for new features like tab-based in File explorer added in the 22H2 version update.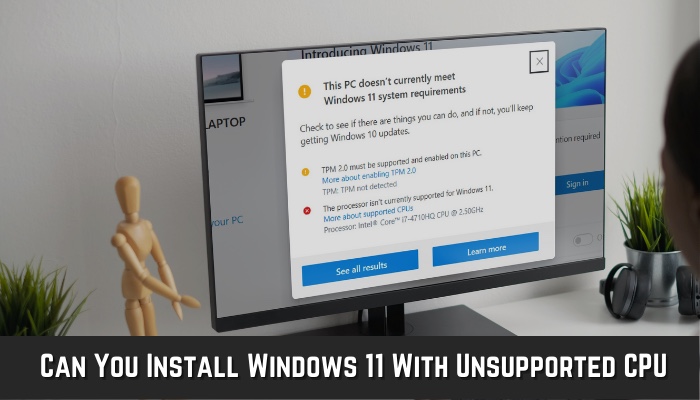 Which turned me into a user of Windows 11 also, but it wasn't easy for me to install. Since my system as well as my CPU, don't meet the Windows 11 minimum requirement.
In this article, I'll share the experience and methods of installing Windows 11 on Older CPUs.
Can You Bypass Windows 11 Installation Requirements?
Windows 11 is getting better with time. New features, supporting applications, and UI/UX betterment are focusing on Windows 11 solely.
While Windows 11 is getting major version updates with new features, Windows 10 aren't getting updated that much.
Such reasons are itching you to install or upgrade to Windows 11, but your CPU isn't compatible.
Let's get an insight into the minimum requirement: 
| | |
| --- | --- |
| CPU | A CPU of more than 2 Cores with at least 1 GHz or faster clock speed, that is 64-bit. |
| RAM | A minimum of 4 GB of RAM is required. |
| Storage | More than 64 GB of storage space is required. |
| Display | 8-bits per color channel, high definition (720p) display, 9" or larger monitor. |
| Security | TPM 2.0, UEFI firmware, and Secure Boot capability. |
| Graphics | GPU of DirectX 12 or later with WDDM 2.0 driver Compatibility. |
Although your PC over-qualifies most requirements, TPM 2.0 & Secure Boot is the only thing that holds your PC from Supporting Windows 11.
Can't your PC just cover up or skip the TPM (Trusted Platform Module) requirement with other components?
Fear not, such a requirement warning is easily crackable with simple tweaks.
Other than those, you might ask 一 does the bypass install cause any issues or diminish performance?
There is no straight answer, unfortunately. There are some dependable aspects to consider if your PC or CPU can handle Windows 11 properly.
Since Windows 11 is heavy on UI and comes with hefty features, it demands a little more hardware resources than Windows 10.
Check our exclusive tutorial on how to fix PC won't go to sleep mode in Windows 11.
How to install Windows 11 on an unsupported CPU?
Installing Windows 11 primarily seems more complicated than installing Windows 10, but it's not, actually. If you have an updated system like at least 8th generation Intel or above Ryzen 2000 series, you are eligible for TPM 2.0 natively.
You can just enable it from the motherboard BIOS and install Windows 11 normally or upgrade from Windows 10 easily.
Ok, let's consider you don't have recent devices, but your rig is powerful enough to handle Windows 11 loads. What are the possible methods you can use Windows 11 without any issues?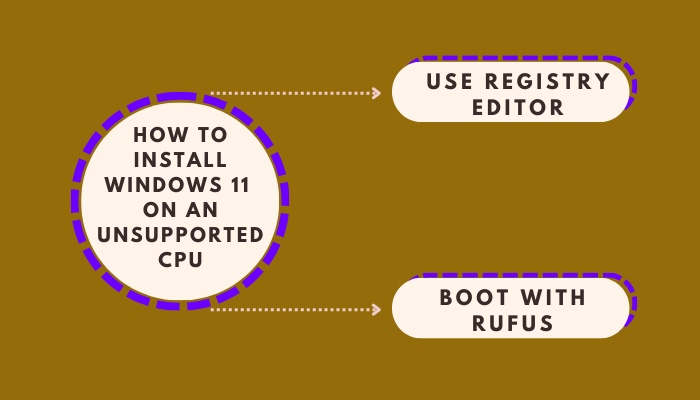 Here are the viable methods to install Windows 11 on your unsupported Computer:
Use Registry Editor
Installing or upgrading Windows 11 from Windows 10 is fluently easy by tweaking in register settings. All you need to do is edit your system registry, to stop checking for the TPM 2.0.
Here is the step-by-step process to edit Registry settings for Windows 11 installation on an unsupported CPU:
Press Key Combo Windows + R to launch RUN.
Type 'regedit' in RUN & Click OK.
Navigate to the given directory of the registry or paste it for easy access.

HKEY_LOCAL_MACHINE\SYSTEM\Setup

Right Click on Setup Folder.
Select New then key.
Rename The Key to the 'LabConfig' and save.
Right-click on the LabConfig folder and create a new DWORD (32-bit) by selecting New.
Name the DWORD (32-bit) file as 'BypassTPMCheck'.
Double-Click on the BypassTPMCheck file and set Value Data from 0 to 1.
Now you can either install Windows 11 with a USB flash drive directly by clicking on setup or upgrade your system from Windows Update from settings.
Note: You can't perform a clean installation as you have an unsupported PC. You can follow the other method to perform a clean installation through BIOS.
Follow our easy step-by-step guide to enter BIOS or UEFI in Windows 11.
Boot with Rufus
Useful software like Rufus deserves praise from PC users as it offers a really flexible process for booting a .iso file into a Pendrive. Booting with Rufus even allows users to remove TMP 2.0 requirements from the .iso file.
If you are about to perform a clean Windows 11 installation on your old PC, Rufus is the optimal solution for that.
Here are the simple steps to bypass Windows 11 requirements using Rufus:
Download the Windows 11 iso file from the Microsoft website.
Save the Rufus tool from its authentic website.
Launch Rufus and Click on Select.
Navigate to the downloaded Windows 11 iso file and Select it.
Select GPT / MBR according to your storage partition Type.
Hit on Start, and a Pop-up will arrive.
Tick the Checkbox saying 'Remove requirement for 4GB+ RAM, Secure Boot and TPM 2.0'
Hit OK after ticking the Checkboxes you need.
So, you can now perform a clean installation of Windows 11 on any of your unsupported hardware. Or, you can also install it directly by clicking on the setup file in the booted flash drive.
Note: TPM 2.0 is easily bypassable by various methods described in this article. But sometimes you may face the error because you haven't enabled the option from BIOS.
Follow our guide on how to Boot to safe mode in Windows 11.
FAQs
Is Windows 11 stable now?
Since Windows 11 has been in the mainstream for a long enough time, frequent updates and fixes have made it acceptable in the matter of stability.
Is Windows 10 or 11 better?
Both are good at distinct perspectives. If you choose features and look over performance, go for Windows 11 and select Windows 10 for performance.
Which Windows is faster?
Windows 10 S is one of the most lite Operating systems. Suitable for mobile devices and notebooks.
Which Windows takes more RAM?
Initially, Windows 11 demanded more RAM space than Windows 10.
Does Windows 11 use more battery?
Windows 11 is heavier than Win 10, which means it uses more hardware resources, causing more battery consumption.
Wrap-Up
Manufacturers and developers often over-require their software or products to ensure universal allowance. Some declared requirements are for security purposes, like the TPM 2.0 requirement by Windows 11.
These types of requirements aren't sitting on the system without reason. So, ensuring such features is indeed beneficial, but you can skip them if you don't have hardware support.
You can also ask for more and suggest for the betterment of this writing.