Outlook helps you bring all your personal mail services and calendars in one place. If you are an Outlook user and can not find the home menu, don't worry; you are not alone. Many users claimed that they didn't see the home menu in Outlook.
After facing the same problem, I have tried multiple fixes. Though most of them didn't work for me, I have managed to find some working fixes.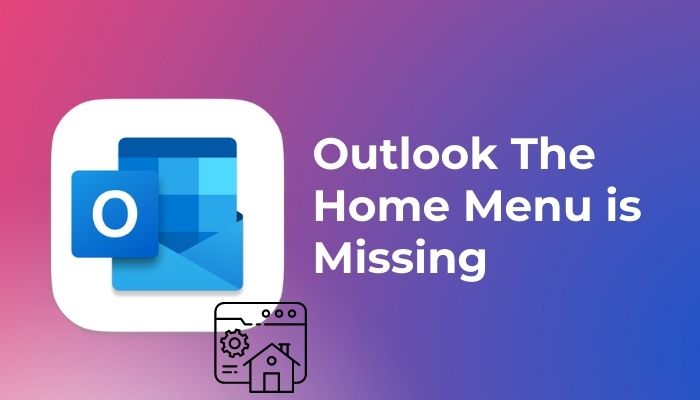 In this well-researched article, I will take you through a step-by-step guide to solve this issue.
Without further discussion, let's dive into the solutions for the missing home menu issue in Outlook.
Stay tuned!
Check out the easiest way to Enable Read Receipts In Outlook.
Your Outlook home menu is missing because of inaccurate ribbon settings mainly. Sometimes several bugs and glitches are also accountable for these unwanted circumstances. Out-dated Add-Ins and customs buttons on the ribbon are other influential causes.
After a recent update of Outlook 2016, people stated that when they open Outlook, they find the home menu is missing. This is probably for a buggy update file, though closing and relaunching the app fix this problem instantly.
Fun fact: Outlook Groups was designed for Windows Phone, iOS, Android, and Windows 10 Mobile for use with an Office 365 domain account.
People often ask where is the home tab in Outlook? The simple answer is that your home tab in Outlook is in the top right corner of your Outlook ribbon.
Here's a complete guide on how to add email signature in Outlook.
You don't have to go with serious troubleshooting to solve this issue. If you cannot find your home menu in Outlook, don't panic. There are multiple ways you can bring back the missing option by following the below fixes.
Here are the steps to bring back the Outlook home menu:
1. Run Outlook in Safe Mode
Running Outlook in the safe mode can solve this problem by showing you all the available options in Outlook. So, run Outlook in the safe mode to see if this solves the case.
Here are the processes to run Outlook in safe mode:
Ensure Outlook is closed.
Run Outlook in safe mode by pressing Windows+R and then type outlook.exe/safe.
The Coming Soon option is back in the upper right.
Toggle off the Coming Soon.
Close and relaunch Outlook (Not in safe mode).
Following these steps will bring your navigation bar back to the same position as before.
Also, check out our separate post on how to fix Outlook server-side rules not working.
2. Customize Your Outlook Ribbon
Now check your Home Mail option. If it is already enabled, try disabling it and enabling it again to fix this issue.
Here are the steps to customize your ribbon:
Open Outlook and right-click on the ribbon space.
Select Customize the Ribbon

option.

Uncheck Home (Mail) from Main Tabs.
Click Customize the Ribbon option again.
Check the Home (Mail) and press OK. Switch the Customize the Ribbon dropdown menu to All Tabs if you don't see Home.
Remember that this fix is not any permanent solution. Whenever the issue appears, you have to repeat the process.
Check out our separate post on how to view message headers in Outlook.
Adding custom buttons on the home tab is also responsible for this issue. If you placed custom buttons on the home tab, delete them and see if this fixes your problem.
Many users reported that every time clicking on a custom button makes the home tab disappear.
4. Repair Office Suite
Repairing your office suite can eliminate several glitches, including the home menu missing issue. Let's check if this solution works for your Outlook.
Here are the steps to repair your Office Suite:
Open the Control Panel from the Start Menu.
Go to Programs and Features.
Choose Office 365 or Microsoft 365.
Press the Change button and select Quick Repair.
If Quick Repair didn't work for you, try using the Online Repair by following the same methods.
Also, check out our separate post on disable Outlook deleting confirmation message.
5. Update Add-Ins
Sometimes your outdated Add-Ins can cause various problems, so ensure all Outlook Add-Ins are up to date.
Here are the processes to update Add-Ins:
Open Outlook and click on Files.
Select Options.
Go to Manage Add-Ins.
Select the desired Add-Ins to update.
Remove unnecessary Add-Ins.
Delete all the unnecessary Add-Ins and check for updates on a regular basis.
Follow our guide to fix Outlook can't create file error when opening attachment.
Frequently Asked Questions
How do I get my home tab back in Outlook?
To get back to your home tab in Outlook, follow these steps. Open Outlook > Right-click on Ribbon space > Select customize Ribbon option > Uncheck Home > Click customize Ribbon option again > Check the Home and press OK.
What is the Outlook Home tab?
The Home tab can change depending on which view focuses on Nav Bar. You can switch between a different view from the navigation bar on the bottom.
How do I show home toolbar in Outlook?
If you are missing the Home tab, there is a chance that your Ribbon Auto-hide feature is enabled. To disable it, look for an icon with an up arrow at the upper right corner of Outlook. Now click on it and press Show Tabs and Commands.
A Final Thought
Outlook is a professional platform for accessing messages in an organized environment. Another great feature of Outlook is that it uses shared calendars to set tasks and event reminders.
Outlook has a respectable reputation for its top-notch services, though, like any other extensive program, it has some bugs and glitches. The missing home menu is one of them, which occurred because of inappropriate settings.
However, in this article, I have tried to cover all the workable fixes for the home menu missing issue.
I hope you find this article engaging and helpful in solving your Outlook problem. If you still have additional queries, don't forget to mention them in the comment below.
Logging Out!