Microsoft Outlook has an individual filter that identifies the incoming junk mail and sends them to the trash folder. That's a very cool feature if configured correctly.
Since you get hundreds or more inbound emails per day, Outlook filtering gets confused between determining the spam and important mails. A recent study shows that nearly 85% of daily emails can be identified as spam.
That alarming percentage demonstrates it's not easy for Outlook to block junk mail when the email filtering isn't configured properly. And this article comes to the rescue, particularly for this situation.
After reading this detailed guide, you'll learn the reasons that trigger Outlook not blocking junk mail and its workarounds.
So, let's dive deep into the issue.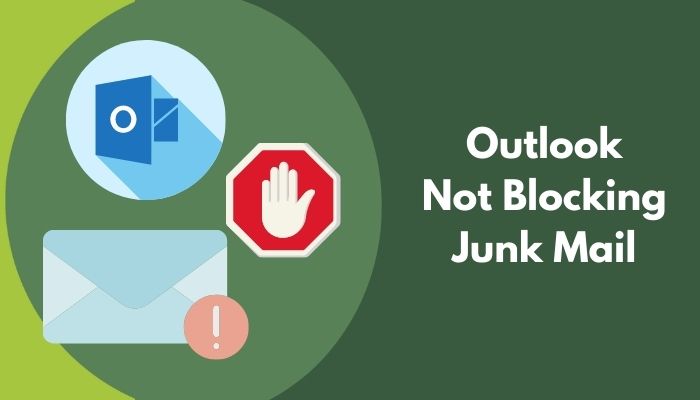 Follow our guide to fix Outlook can't create file error when opening attachment.
Why is Outlook Junk Mail Filter Not Working?
Outlook client's incorrectly customized junk folder is the primary reason why the spam mail filter is not working. Other than that, an outdated version of Outlook client and interference with other softwares trigger Outlook not to block spam emails.
Another reason that we overlook often is the innovative emailing of the spammers. To understand their method, first, you need to realize how mail addresses work.
An email address has two different sections; the display name and the address itself. Whenever you receive an email, you notice both of them. For example,
From: Harry J. Potter < harry@hogwarts.com > that template you see after receiving an email. Here, the display name is Harry J. Potter, and the email address is harry@hogwarts.com.
What spammers do is, change the display name from Harry J. Potter to deatheater@azkaban.com.
The result of these simple changes appears as From:deatheater@azkaban.com <harry@hogwarts.com>.
Outlook blocks the deatheater@azkaban.com, but that's not even an actual address. Hence the junk mail filter not working in Outlook.
Seems pretty amazing technique, right? However, you need to set the junk filter configuration even better to fight these reasons. And I'll guide you throughout the way in the following passage.
Also, check out our separate post on disable Outlook deleting confirmation message.
How to Fix Outlook Not Blocking Junk Mail
Now that you know there are various reasons why Outlook can't block spam mails, it's time to fix that scenario.
But first, I would like to suggest you clear out the application cache from your computer. Launch the run prompt by pressing Windows + R button > type %LOCALAPPDATA%\Microsoft\Outlook and hit Enter > Locate the .ost folder in app data and delete the file.
Then proceed to the forthcoming solution.
Here are the advanced methods to solve Outlook not blocking spam emails:
1. Add Senders to the Safe Sender List
A safe sender list is also considered the white list ― the list of senders who can send you emails without any obstruction. Outlook outlines the other email addresses in your junk folder when you assign a safe sender list.
In short, a safe sender list is a filter to keep away from every other email. So, I would recommend stretching your safe sender list a bit longer. You never know what important message you can miss in the process of blocking spam emails.
Here are the steps to add the regular email contacts to a safe sender list:
Launch Outlook from your device.
Locate the Junk menu in the Home tab and move your mouse cursor to Junk.
Select Junk email options from the floating menu.
Go to the safe senders tab and click on Add from the right menu.
Add the email addresses from whom you want to receive emails.
Tick on Also trust email from my contacts, click apply > ok to complete the process.
Note: You can add a specific domain to your safe sender list. Type the domain name you trust in the safe sender list and click ok.
Check out our separate post on how to view message headers in Outlook.
2. Select Appropriate Junk Mail Filter
Outlook isn't configured to reduce junk mail by default. You need to set up the configuration process manually. Don't know how the pre-configured options function? Take a look at the following list.
Select the filter according to your preference.
Here is the list of junk filters that you can use on Outlook:
Filters to Use
Pros
Cons
Low — Moves the Obvious junk mail to the junk folder.
You don't have to assign any email addresses to the junk folder.
●      Possibility of a smart spammer getting into your mail.

●      You'll be more vulnerable to spam emails.
High — Moves most emails to the junk folder.
A significant margin will reduce the number of phishing emails.
●      Some of your valid emails will be counted as spam.
Safe List Only ― Moves everything except your safe senders list.
You won't have to send the suspicious emails to the junk folder.
●      Most of your potential clients won't be able to reach you.
Decide which filter you want to use in terms of preventing junk email. After that, you can apply the selected approach.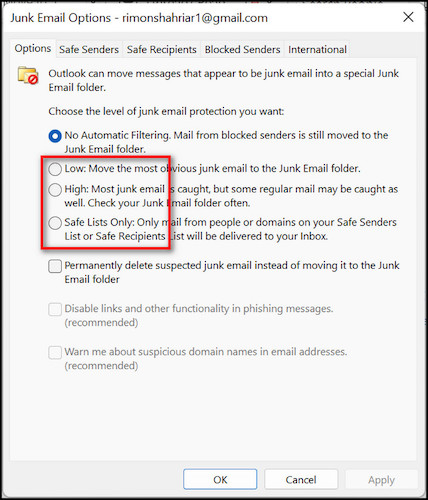 Here are the steps to change the level of protection for junk mail:
Launch Outlook and go to the Home tab.
Click on the three dots from the top right corner.
Navigate to Junk > Junk email options.
Change the level from no automatic filtering to low/high.
Tick on the recommended choices from the bottom.
Click apply > OK to finish the procedure.
Outlook will block junk emails once you set up this parameter. Check out the following section if you still notice junk mail in your Outlook inbox.
Also, you can instruct Outlook to delete the spam emails as soon as they appear. Deleting them would be appropriate when you're trying to be more cautious about junk emails appearing in your mailbox.
Open Outlook mail > Junk > Junk email options > tick on the checkbox Permanently delete suspected junk email instead of moving it to the Junk E-mail folder.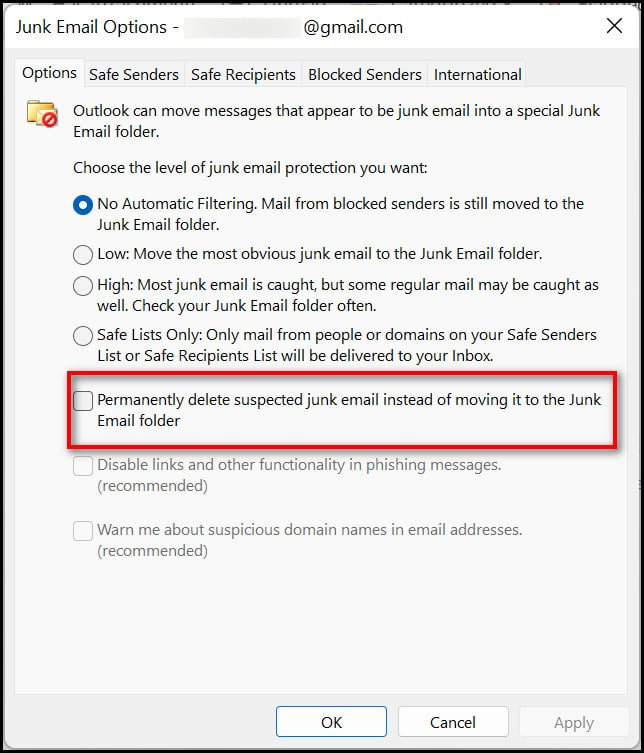 Here's a complete guide on how to add email signature in Outlook.
3. Set an Outlook Rule to Prevent Spam
If none of the above solutions could help you prevent phishing emails, this one surely will. The ultimate purpose of creating an Outlook rule is to customize the functions as you please.
When you set an Outlook rule to prevent spam, the rule's only focus is to move the spam emails to your junk folder and eliminate them. Setting an appropriate rule will enhance the chance of blocking spam emails tenfold.
Here are the steps to create an Outlook rule to stop spam emails:
Launch Outlook and move to the File tab.
Click on Manage Rules & Alerts in the main menu.
Select New rule from the email rules tab.
Click on a category from the Stay organized tab and click next.
Select the conditions you want to apply for an email to be junk.
Tap on specified from the bottom area.
Locate the Spam folder in the following windows and click Ok.
After creating the rule, exit Outlook and relaunch the application; your junk emails filter will start to work again from now on.
You should consider these advanced approaches when your inbox gets flooded with phishing emails.
Check out the easiest way to Enable Read Receipts In Outlook.
How to Fix Outlook 365 Not Blocking Junk Mail
If you're using the online version of Microsoft Outlook – Outlook 365 and can't seem to solve the junk mail not blocking, this section is for you.
Outlook 365 seems a bit complicated compared to its desktop client, as the options are limited here. But following the outline that I'm going to provide here will help you resolve the junk mail filtering issue.
Here are the steps to resolve Outlook 365 junk mail filters not working:
Go to Microsoft Outlook's official website and log in with valid credentials.
Click on the Settings icon from the top right.
Select view all Outlook settings from there.
Navigate to Mail > junk email > Filter.
Mark both the options (only trust email, block attachments) in the filter section.
You are good to go. Outlook will now stop the phishing emails that were troubling you throughout the period.
Have any queries regarding Outlook junk email? Check out the FAQ section next to clear out your confusion.
Also check our exclusive tutorial on how to change client-only Rule to server in Outlook.
Frequently Asked Questions
Why is Outlook not Blocking my junk email?
If you are using the previous versions of Microsoft Outlook, e.g., Outlook 2003/ 2007, you can't stop phishing emails from invading your inbox.
How do I permanently block spam in Outlook?
Launch Outlook > Home tab > Junk > Junk email options > change the protection level to high.
Will spam emails eventually stop from Outlook?
Unless you try out the solutions from this article, spam emails won't stop on their own.
The Bottom Line
Friendly advice; Don't take junk emails as lightly. Every malware cuts into your computer through a simple phishing email, from old trojan horses to the latest ransomware.
My suggestion would be to take the necessary steps as early as you can. To save your data from spammers, you need to prevent junk mail from appearing on your screen. And hence the functionality of this article.
Don't be shy to write your queries in the comment box. I'll be delighted to assist you.