Letting people join on your Minecraft server via forwarding port seems complicated? Well, this post will provide you the in-depth knowledge about port forwarding on Windows 11, irrespective of the channel you want to divert the internet crowd.
There are nearly 500000 registered private servers (and counting) in Minecraft. If you are one of the server owners, you need to ensure sharing of information between the server members. That requires quick access to the server data, and port forwarding is the best way to secure remote accessibility.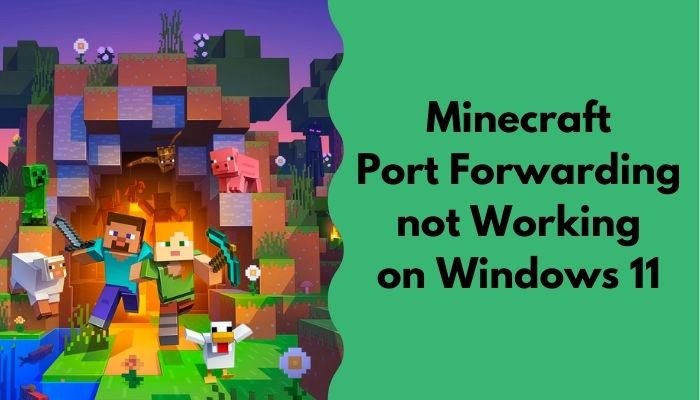 The port mapping process may sound pretty straightforward, but the issue begins when the existing server member can't gain the server access properly.
Don't worry, this article is about solving your horrible experience when your port forwarding procedure in Minecraft can't work in Windows 11. Keep reading.
What is Port Forwarding in Minecraft?
Allowing other Minecraft gamers outside of your local network coverage to your private server— is the general idea of port forwarding. Simply put, the method to get connected with Minecraft players on a remote server. And the objective of this process is to build a stable connection.
To get a complete overview of port forwarding in Minecraft, you need to understand the basics.
In essence, port forwarding allows computers over the internet to connect to a specific computer within a private network. It's the process your computer makes accessible to others within the network.
For example, imagine your friend wants to control your computer remotely. For starters, he launches the remote desktop connection application on his computer and sends a request to your IP address with a unique port number, e.g., 192.168.0.1.1111. That 1111 is his unique IP.
A Port number is a logical connection used to exchange information between computers.
When a request with a port number appears on your router's end, your router searches for if any files are preset to respond to that 1111 port request. And the presetting procedure is called port forwarding.
In terms of Minecraft, set up a server and create a unique IP that the wanna-be server members will use to access your Minecraft server ― the entire process is port forwarding in Minecraft. Basically, channeling someone from your IP address to a prearranged section.
Check out our separate post on how to find spawn chunks in Minecraft.
Why is my Port Forwarding in Minecraft Not Working?
Port forwarding in Minecraft fails to redirect the server members if your internet connection fluctuates more often. However, when you fail to set up the firewall setting in Windows or incorrectly assign the port number, your forwarded port won't respond.
That's not all. Since the process is a bit more complicated than regular cloud computing, there are other variables that might trigger the port mapping to stop working. Keep reading to find out.
Here are the reasons behind port mapping not working in Windows 11:
Your ISP might have banned the port mapping process for some unknown reason. That's why you can't redirect your friend's on the Minecraft server.
If you incorrectly set up the IP address when mapping the port, it will refuse to connect other members on your server.
Windows 11 has a strong firewall setup. Without disabling the security features, you can't allow others to access your server.
These are the most common reasons behind port forwarding failing to respond on your Windows 11 computer.
Since you read this article to this point, I'll share some great workarounds that fix your port mapping issue on Windows 11. Move forward to the following section to find out.
Also, check our exclusive tutorial on Minecraft kill command.
How to Fix Port Forwarding Stopped Working on Windows 11?
Now that you have the complete idea about port forwarding let's not waste any more. But before jumping to the solution, you have a simple task to perform.
Just reboot your computer and the router. If the problem is because of bugs, restarting the machines will help you remove them. Okay, let's initiate the fixing manually.
Here are the methods to fix port forwarding in Minecraft stopped working on Windows 11:
1. Switch Your Network to Private
This is the fundamental solution you need to try on. If your network connectivity is set to public, other members who want to join your server can't find you. Setting up the network to public makes you undetectable to others.
Switch the connection type to private if you want to solve the port forwarding situation.
Here are the steps to switch to a private network:
Press Windows + I button to launch the settings menu in Windows.
Go to Network & Internet.
Navigate to WiFi > WiFi properties.
Tick on Private in the Network profile type
Check if the port forwarding issue's been resolved. Move to the following solution if not.
2. Turn off Windows Firewall
The Windows firewall doesn't allow you to map your IP port to improve your windows security. And you need to turn off the Windows firewall to bypass the setting.
Here are the steps to turn off Windows 11 firewall:
Type Control Panel in the Windows Search box and hit enter.
Click on the system & security
Select Windows defender firewall from the next window.
Tap on Turn on windows firewall on or off from the left pane.
Select Turn off for each option and select Ok.
Restart your computer and check whether the issue persists or not. If yes, I would recommend you move forward.
3. Use Private IP Address
Utilizing a private IP address will do the trick if the mentioned solutions couldn't resolve your port forwarding issue.
Here's the procedure for using a private IP Address:
Search cmd in the Windows search box and hit enter.
Type ipconfig/all in the command prompt.
Locate the IPv4 Address, Subnet Mask, Default Gateway, and DNS servers in the prompt and note down the addresses.
Navigate to Control Panel > Network & Internet > Network & Sharing center > Change adapter settings.
Right-click on the internet connection and select properties.
Double-click on internet protocol version Ipv4.
Insert the information you have noted down earlier from the cmd.
Click Ok once you recheck the information.
This is the ideal solution when you face port forwarding in Minecraft doesn't work on Windows 11. Reread this whole method if you have any confusion about understanding the process.
4. Reinstall Minecraft
If the previous method couldn't help you with the port mapping inability in Windows 11, you need to reinstall Minecraft. The issue might be the Game itself, and a fresh install of the game will help you to port map the router.
Here's the procedure to reinstall Minecraft: 
Search for the control panel in the Windows search box and press enter.
Select Uninstall in the program menu.
Locate Minecraft and right-click on the game.
Click on Uninstall and follow the on-screen instructions.
Download the game from the Minecraft official website and Install it again.
Restart your computer once you reinstall the game. Your problem should be resolved by now.
5. Contact Your ISP
Communicate with your ISP to check whether they have banned port forwarding for your IP address. Otherwise, there's no reason that your port mapping can't work on Windows 11.
Also, you can get technical help from the ISP if there's an issue remaining with your internet connection.
These are the most valid solutions you can implement if Minecraft port forwarding seems complicated to you. Have any questions about port forwarding? Check out the FAQ section.
Frequently Asked Questions
Is Minecraft port 25565 TCP or UDP?
That depends on the Minecraft version. Minecraft Java Edition uses the TCP 25565, and the bedrock edition uses UDP 19132.
Why Can't I connect to Minecraft Server?
That's because of a faulty internet connection. To solve that, Update your network driver > Turn off Windows firewall > Re-login to your Microsoft account.
Do I need to Port Forward for Minecraft Server?
If you want your friends across the town to join your Minecraft server, then you definitely need to port forward.
How do I allow Minecraft through my firewall?
Go to Control Panel > Windows defender firewall > Change Settings > Double click Java.exe > Private > Ok.
The Bottom Line
Let's sum up; this fixing manual covers the complete process of port forwarding on Windows 11. From explaining the main idea to solving the port mapping issue, this is the only blogpost you need if you ever encounter Minecraft port forwarding not working on Windows 11.
However, if any topic of this detailed discussion feels complicated, don't hesitate to comment below. Share this content with your friends if they have a Minecraft server. Who knows when this article is going to be helpful?