Minecraft's randomly generated world is composed of big blocky cubes with simple but charming textures. What makes them great is how they offer creativity. Piece by piece, you will refine the pristine primordial world into whatever you want
These cool experiences become more additive when you bring your friends to your server. Whether you are cooperating or trying to outdo yourself with larger creations, having other people on the server makes Minecraft more rewarding.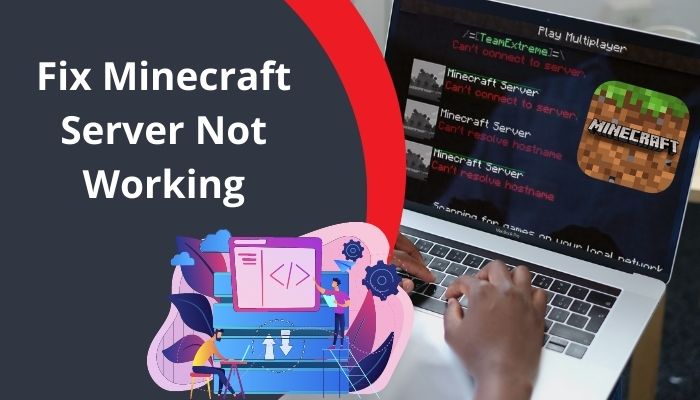 However, for some ghostly reasons, you sometimes face server errors in Minecraft, and the joy of gaming is replaced with annoyance, frustration, and distress.
For this reason, I've searched deep on the internet and luckily found the best solutions for this problem.
So, fellow miners, grab your shovel, and let's solve this problem once and for all.
Check out our separate post on Quick Fix: Friend can't connect to Minecraft server
Why Can't You Join the Minecraft Server?
Generally, the joining server error can occur for inputting the wrong server address or error from Minecraft's end. But when you put the current server address, and the Minecraft server has no problem, the issue could be related to your computer, system, or network.
You can also face the Minecraft server not working problem after port forwarding. This issue can occur if your Wi-Fi gets any error or your network provider has blocked any IP.
Here are some of the main reasons for the Minecraft server not working:
You have a faulty internet connection.
Minecraft is restricted by the Windows Defender firewall.
Minecraft severe is under scheduled maintenance.
Your account gets corrupted.
The IP you are using is corrupted.
Your network driver is outdated.
There is an unknown error in your router/modem.
The Background application doesn't give Minecraft enough bandwidth.
You have an old Minecraft version.
These are the main reasons behind the Minecraft server error. As you know, the core reason behind the issue is. Now it's time to apply the solutions. Go to the section below to solve this error within minutes.
Follow our guide to know how to Where do Minecraft Screenshots Go
How to Fix Minecraft Can't Connect to Server Issue
Minecraft can't connect to the server error is quite frequent among the players. But the solutions to this problem are pretty easy. In this section, I will show how to troubleshoot problems like Can't Connect to Server while playing Minecraft on various systems.
Here are the 12 best fixes for the server not working problem in Minecraft:
1. Restart Your network
Rebooting your network device is the best first step regarding any network-related issue. And it easily solves any temporary glitches for your router.
Just unplug your router/modem, and wait for 10 seconds. After that, plug the device back.
Now open Minecraft and check whether this trick worked. If the issue still remains, apply the next solution below.
2. Re-log into Your Minecraft Account
You can refresh the profile's authentication and the server just by log-out and logging in again. This method will remove the minor game and server issues. This will solve your problem.
Here are the steps to re-log into your Minecraft account:
Open Minecraft and Click Settings.
Go to Profile > Manage account. (An Xbox popup menu will open)
Select the Settings button.
Choose Sign out.
Close the Xbox menu and your Minecraft again.
Lunch Minecraft again.
Select Sign-in.
Input your Microsoft account details.
Left-click the Sign-in button.
After that, you should check if the server issue remains.
Also, check our separate post on how to Saddle Minecraft
3. Install Latest Minecraft Server
The outdated Minecraft server can cause the server error in your game. So you need to install the latest version of the Minecraft server to solve this problem.
Here are the steps to install the latest Minecraft Server:
Go to the Minecraft JAVA edition server website.
Check for the available new version.
Download and install the updated version.
Restart the computer.
After completing the steps, try to run Minecraft again.
Note: This fix is only for Minecraft: Java Edition.
4. Refresh your Server List
You can refresh the server list of the java version of Minecraft. By refreshing the server, all the minor issues go away. And the error you are facing regarding the Minecraft server will be solved.
Here are the steps to refresh your server list:
Open Minecraft.
Go to Servers.
Click Refresh at the bottom of the list.
After that, try playing Minecraft. If the solution doesn't work for you, apply the next fix.
Follow our guide on Enable Windows Update for Minecraft VR
5. Flush DNS and Renew IP
You can flush the DNS And renew your IP to solve various Internet disconnectivity issues. And this will also solve the Minecraft server error.
Here are the steps to flush DNS and renew IP:
Click the Windows search icon and Insert cmd in the search box.
Right-click Command Prompt, then select Run as administrator.
Type ipconfig /flushdns, then tap Enter key.
Input ipconfig /renew and press Enter button.
After that, open Minecraft and check if the problem is solved or not.
Read more on Minecraft Port Forwarding not Working on Windows 11
6. Update Network Driver
Normally, when you update Windows, the network driver is also updated. However, you might miss the most recent update and face Minecraft server issues. In that case, you must manually upgrade the Network driver.
Here are the steps to update your Network Driver:
Right-click on This PC.
Click Manage.
Go to Device Manager > Network adapters.
Right-click all drivers one after another in the list.
Select Update Driver for each driver.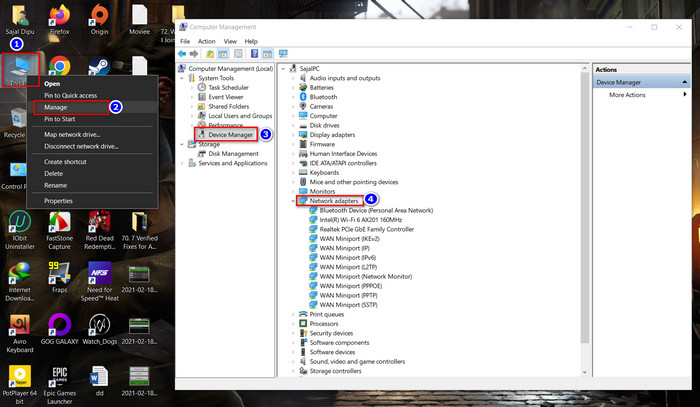 As you apply these steps, your network driver is updated. Restart your PC after this because sometimes your PC won't apply updated changes without a restart.
Also, check out our separate post on how to Keep Inventory When You Die in Minecraft
7. Close Background Application
Some background programs eat the bandwidth and don't let Minecraft have enough speed to connect with the server. So you need to close those background applications.
Here is the method to terminate the background apps:
Navigate to Task manager > Process.
Click the network (This will sort the programs according to network usage)
Choose the unnecessary programs from the list.
Select End Task for each program separately.
Executing these steps will close the unnecessary apps and ease bandwidth usage. That will solve your server issue.
Here's a complete guide on how to Make Red Concrete Powder in Minecraft
8. Disable the Windows firewall
Sometimes Minecraft is blocked by the Windows firewall. For this reason, you may face server issues in Minecraft. So you need to disable the Windows firewall.
Here are the steps to allow Windows firewall access:
Click the Search icon on your PC.
Type Windows Defender Firewall in the box and Click it from the search result.
Select Turn Windows Defender Firewall on or off.
Tick mark Turn off Windows Defender Firewall for all the network.
Click OK.
Now your server issue is solved.
9. Contact Your network administrator.
The network admin can block Minecraft when you are using any public network or work or university network while playing Minecraft. That time you need to contact your network admin to remove the blockage. This will solve your server issue.
Also, you need to contact your ISP's server network to ensure there isn't any problem at their end.
Check out our separate post on how to Fix Minecraft Not Update Error
10. Use a Paid VPN
VPN can disguise your actual location. Sometimes this server issue happens in a specific region, so using VPN can solve this issue. VPN will set your location to the region where Minecraft works fine.
But you must use a paid VPN to execute this method because Minecraft authorities will block the free ones and make your account blacklisted.
11. Change the DNS
DNS stands for Domain Name System. Your ISP's default DNS servers may be slow or unstable while playing Minecraft. And for this, you may face server problems in Minecraft. So you should switch the DNS server.
Here are steps to switch the DNS server:
Open the Windows Run program.
Insert ncpa.cpl and select OK.
Right-click the Ethernet current in use, then click Properties.
Select Internet Protocol Version 4 (TCP/IPv4) and choose Properties.
Mark the box for Use the following DNS server addresses.
Type 8.8.8.8 for the preferred DNS server and 8.8.4.4 for the alternate DNS server.
Select OK.
Restart your device and launch Minecraft.
After completing the steps, your server issue will be solved for good.
12. Try to Connect Again After Some Time
Sometimes Minecraft won't load for their internal server problem. Also, sometimes Minecraft servers get overloaded or are taken down for maintenance.
If the server is down, wait for the authorities to fix the issue. When the issue sets, you will be able to play Minecraft easily.
Here's a complete guide on how to Blast Furnace Minecraft
FAQs
How Do I Contact the Server Owners?
You need to find who owns the server. Then try to contact the owners via email or any social media they have. You can find the owner of the server on the website.
Are Minecraft Servers Free?
No. You need to pay a subscription fee to play on the official Minecraft servers. Also, you can create your own servers for yourself and your friends.
What Does Can Not Connect to Server mean?
Can Not Connect to Server error massage indicates the connection issue between you and the server or the Minecraft server directly. You can solve this problem by applying the fixes described in this article.
Conclusion
Long story short, the Minecraft server not working problem can usually happen for an internal server error at Minecraft's end. But this issue can also be caused by any computer, system, or internet errors.
If the fault is at the Minecraft server's end, you can do nothing but wait. But for other reasons, apply the solutions described above.
After applying the above solutions, I'm sure your problem is solved, and you are enjoying a smooth game. Which of the following fixes has done the trick? Comment below.
And for everything else, stick with 10 Scopes.