So, you might be wondering whether Minecraft is free or not on your PS4. If it is free, you will want to know how to get it on your PlayStation 4.
Well, Minecraft has a demo mode (albeit with some restrictions) which is totally free for PS4.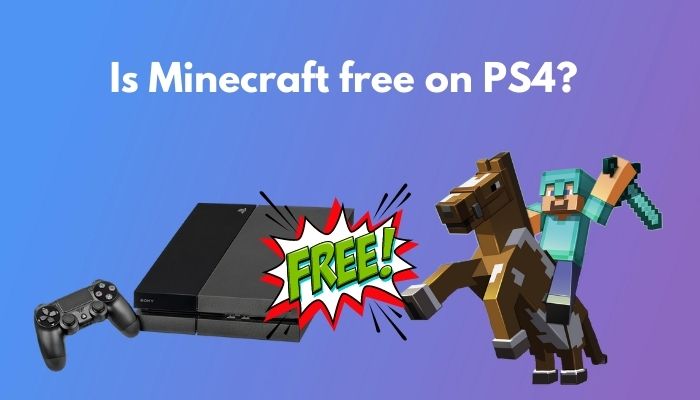 And in this article, you will get the detailed steps to download Minecraft and enjoy it for free on your PS4. All you need is an internet connection with decent speeds.
So, without further ado, let's begin.
Is Minecraft Free on PS4?
Yes, you can play Minecraft for free on a PS4 courtesy of a demo version on the PS Store. But it limits many functionalities of the core game. But nevertheless, it is a great way to have a taste of the game before you buy it.
So, how different is it from the other versions of the game?
Minecraft has two different versions, namely the Java and Bedrock versions.
The Java version runs exclusively on Windows, Linux, and macOS operating systems. The Pocket Edition, which came out for mobile in 2011, was renamed Bedrock edition and supported major consoles such as PS4 and all mobile devices. The demo for PS4 is based on the Bedrock version.
The demo version of Minecraft limits the play time by 90 minutes. You can roam, interact and build objects from this world during this time. After the time runs out, you need to reset the game to continue playing. But this removes all the progress made earlier in Minecraft.
Additionally, if you were thinking of playing alongside your friend in the demo mode sadly, multiplayer is not available on the demo version.
Another limitation is that you can only play in Survival mode. To build majestic structures in the Creative mode, you have to buy the full version of the game. Also, the terrain you will be playing in the demo will be limited to the infinite world type.
Now that you know what you are getting on the Minecraft demo, let's download it on your PS4.
Did you know Minecraft has 17 different Biomes? To know everything about Biomes on Minecraft, read our in-depth article.
How to Download Minecraft for Free on PS4
To download Minecraft for free, connect your PS4 to the internet. Once that is done, go to the PS Store and search for the Minecraft demo and download it. After the installation finishes, you can play Minecraft for free on your PS4.
Important: You do not need a PS Plus subscription to download games from the PS Store. You just need a PSN account which you can create for free, and login to your PS4 using that account.
For your simplicity, I will show you the detailed steps of this process.
Here are the steps to get Minecraft for free on PS4:
1. Connect your PS4 to the Internet
You can connect the PS4 to the internet either using WiFi or an ethernet cable. A WiFi connection will provide a cable-free experience, while using a cable will ensure the connection is stable. Using either of the two is fine.
To connect the PS4 to the internet, first, navigate to Settings > Network > Set Up Internet Connection and then follow the procedure for ethernet and Wifi, respectively.
Wi-Fi connection process:
Choose Use Wi-Fi from the menu.
Select Easy to see a list of available Wi-Fi networks.
Choose your Wi-Fi network and enter its passcode.
Press on Ok.
If the password is correct, the PS4 will connect to the internet successfully.
If your Wi-Fi network isn't available, choose Set Up Manually and adjust the parameters manually.
 LAN cable connection process:
Select Use a LAN Cable.
Choose Easy and follow the instructions on the screen. The setup is done for you automatically.
2. Sign in to your PlayStation Network account
You can log in to the PlayStation Network, which is the gateway to all of Sony's online services, once you've linked your PlayStation 4 to a fully functional internet connection.
These are the steps to sign in to PSN on your PS4:
Go to Settings.
Now, navigate to Account Management.
Go to Sign In.
Enter your email and password using the on-screen keyboard.
Press Sign In.
If you don't already have a PlayStation Network account, you can sign up for one for free by following these instructions. Use any browser on your mobile or computer to do this.
Go to the PlayStation webpage.
Click the Create New Account button.
Now, select Create.
Now, select your date of birth, region, and language and press Next.
Enter the email address and password to be registered with the PSN account.
Now enter your region, online ID, and personal details.
Select all the checkboxes and press Agree and Continue.
Next, open the link on the verification email.
After successfully creating the account, log in to the PSN network on your PS4 using the earlier steps.
3. Download the Minecraft demo from the PS Store
You can now download the free Minecraft demo on your PlayStation 4 to engage yourself in the world of the popular Mojang title.
Follow these steps to get the free Minecraft demo on PS4:
Press the PlayStation Store icon on the console home screen.
Select the Search option at the top of the page.
Type Minecraft into the search bar and choose Minecraft from the results.
Simply hit the Try Free Demo button to begin downloading the Minecraft demo.
When the download is complete, tap the Minecraft button on your PlayStation 4 home screen to start playing.
Minecraft for PS4 Digital Codes
You can also purchase a digital code for Minecraft. You can redeem this and use it to play on your PS4.
Digital codes are sometimes cheaper than the PlayStation Store. There are many retailers, such as Amazon and Gamestop, who sell these. Look out for discounts and compare prices between several stores before buying.
You can find Minecraft codes for PS4 for less than 20 dollars. I have seen them go for as low as 15 dollars. And if you shop when there are a plethora of deals going on (knock knock, Black Friday), then expect to get some big discounts.
Is Minecraft PS4 compatible with PS5?
Yes, it is possible to play the game on your PS5 console, but there is no PS5 version of Minecraft despite the reality.
The PlayStation 4 edition is PS5 compatible, and it can be purchased and downloaded through the PlayStation Store. It will function similarly to how it did on the PS4. If you want to, you can even use PlayStation VR.
Normally, Minecraft for PS4 starts at $19 on the PS Store. The Starter Collection with Little Big Planet add-ons cost $30. There are options to buy tokens separately, which you can use in the game.
Did you know you can create a Jack o lantern on Minecraft? Read our guide and create a Halloween vibe in your Minecraft realm.
How to play Minecraft PS4 Edition on PS5
To play Minecraft PS4 Edition on PS5, you need a Minecraft disk for PS4. Insert it on the PS5, and you can play instantly. Just select the Edition button on Minecraft's home screen and play the earlier version made for PS4.
You can also download it from the PS Store. If you have already purchased it on your PS4, make sure the PS5 is logged in to the same PSN account. Then navigate to your game library and download Minecraft.
It is recommended to update the PS5 with the latest software installed before running any backward-compatible game, such as Minecraft.
Normally your inventory is cleared every time you die in Minecraft. But we have found a great way to keep the inventory when you die on Minecraft. Do check that out.
Frequently Asked Questions
Does Minecraft cost money on PS4?
Yes, Minecraft for PS4 starts at $19. The Standard Edition costs $30, which includes tokens and skins.
Can I get Minecraft for free if I have it on PS4?
No, you need to buy Minecraft separately for consoles and PC. Though they use the same version (Bedrock) and allow cross-play between them, you cannot use the same account on two different devices.
Is Minecraft Dungeons free on PS4?
No, Minecraft Dungeons is not free on PS4. The basic edition costs $19. The Ultimate edition, which comes bundled with all six DLCs, costs $39.99.
What is the PS4 Minecraft version?
Minecraft for PS4 is the bedrock version that is also available for Windows 10, Xbox One, Nintendo Switch, Android, and iOS.
Final Thoughts
After following the steps above, I hope you can now get and play Minecraft on your PS4.
In this post, I show you the best way to get Minecraft free on PS4 and the best way to play Minecraft PS4 Edition on PS5.
I hope you find this post helpful. Feel free to share your experience with your friends and other readers.
Until next time, it's goodbye.