Minecraft is great when playing with friends. Just think of all the activities you can do with friends on a server. But when you cannot find the server itself, you are left alone on the quest.
This problem exists due to a network misconfiguration inside Windows Settings. That can be easily solved, as mentioned in great detail right in this article.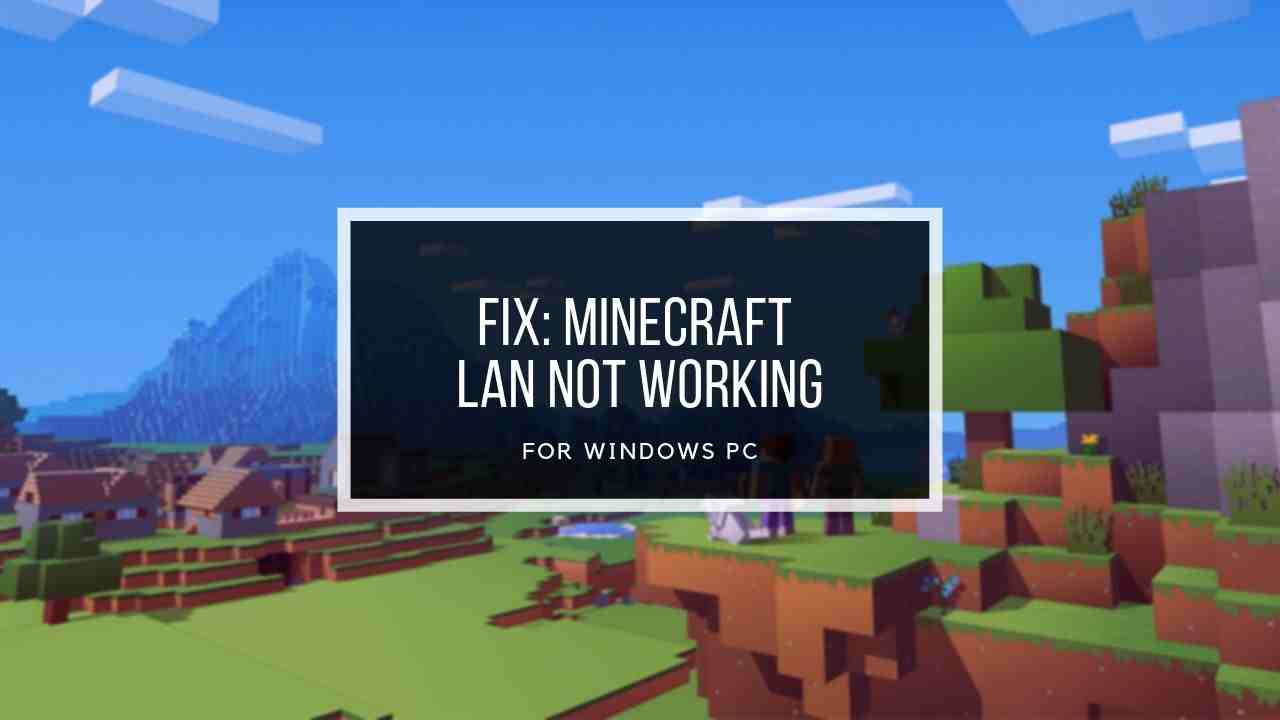 So, let's not waste any further and get right into the fixes.
Why Is Minecraft World Not Showing Up on LAN?
The main reason is associated with the network set as public inside Network Settings on Windows. Due to this, the OS blocks any outbound connections, so Minecraft cannot receive any search results for the world data being requested. This is when you see Game not found or Failed to connect error on Minecraft.
Also, if Network Discovery is set to off, you can experience the same issue.
Another thing to keep in mind is Windows Firewall. By default, it will block any incoming request from the web. This is designed to protect your computer from intruders. While this is great, Firewall will stop multiplayer modes from working on Minecraft.
Not only that, but antivirus programs can block Minecraft's connections and cause it to stop working.
Finally, if you are hosting a game and willing to play with your peers on the same map, make sure they are on the same network. Otherwise, Minecraft will keep searching for a hosted game and cannot find any players.
How to Fix LAN Not Working in Minecraft (Windows 10/11)
To fix LAN to work with Minecraft, first, make sure everyone is connected to the same network. Once you do that, next check if the network is set to Private. Then open Windows Firewall and allow Minecraft for Inbound and Outbound connections. Finally, ensure everyone is running the same Minecraft version.
How about a step-by-step guide to all that is mentioned above, eh? That would be much better.
These are the methods to fix LAN not working in Minecraft:
1. Connect to the Same Network
This applies if you and your peers are in one place and want to play on an identical map. Then you must be connected to the same network, otherwise, Minecraft will have trouble locating the server that you have just created.
Wired connections are generally more reliable than Wi-Fi. So if you have access to a LAN cable, connect that to your computer.
Also, different versions of Minecraft will cause issues when connecting between clients. Check for the latest version available and update it before joining the game.
2. Set Network to Private
When you connect to the Wi-Fi network at your home, Windows sets this as a private network, meaning you can share files and Printers. But these functionalities are removed once you join your cafe or restaurant's Wi-Fi network. This is to prevent intruders from getting onto your computers.
To play Minecraft on LAN, you have to revert the network back to Private. Only do this when you are connected to your home network. If you are in a public place, connecting to your phone's hotspot and using it to play with your friend is a better idea than connecting to the not-so-safe open Wi-Fi connections.
Jump to the separate sections for Windows 10 and 11.
Follow these steps to set the network as Private on Windows 10:
Click on the Wi-Fi icon at the bottom.
Select the network connected to and click on Properties.
Set the Network Mode to Private.
Here are the steps to set the network as Private on Windows 11:
Click on the Wi-Fi icon at the bottom.
Expand the arrow next to manage Wi-Fi connections.
Click the info icon next to the connected network.
Select Private Network.
Once you do this, next make sure that Minecraft is allowed from Windows Firewall.
3. Whitelist Minecraft From the Windows Defender Firewall
Windows Defender firewall often blocks Minecraft from using the internet if it's not given access. You may see the Windows security alert while opening the game for the first time.
If you have clicked on Allow Access. Then it's OK. If you didn't do it or if you haven't seen the message at all then, you have to do it by yourself.
These steps will allow Minecraft through Windows Firewall:
Open Control Panel by searching it.
Go to System and Security.
Click on Allow an app under Windows Defender Firewall.
Change settings and then give a check mark beside java.exe.
Click the Allow access button when prompted.
And it's done. Now, you can check if LAN works for Minecraft or not. If it does then congratulations. If it doesn't then maybe it is time to see if any Anti-Virus program is messing up with Minecraft.
4. Disable Antivirus Temporarily
Some antivirus software blocks Minecraft from connecting to LAN. Try disabling the antivirus program temporarily. If you are using Windows Defender as the default antivirus software, disable it as well.
This process is the same for both Windows 10 and 11:
Search for Windows Security from Windows Search and open it.
Click on Virus and Threat Protection > Manage Settings.
Turn off the toggle under Real-Time Protection.
Fire up Minecraft and see if this fixes the issue for you. If not, proceed to the next steps.
5. Disable The AP Isolation
AP Isolation is a security feature for some routers. This prevents devices connected to the same network from communicating with each other. If you have that enabled, Minecraft will not find the hosted server from the other user.
When connecting to Minecraft, you have to disable the AP Isolation security.
Here are the steps to disable AP Isolation:
Open cmd and type ipconfig.
Note the address near Default Gateway.
Now open your browser and enter the IP Address from the previous step. Press the Enter key.
Under Advanced Network Settings find AP Isolation and uncheck it.
If you cannot find this option, it could be that your router does not support this feature. Then you can skip to the next section.
6. Make a Direct LAN connection
When you start hosting a game the IPV4 Address and the game port number will automatically show on the bottom left corner. If it shows only the port number then don't worry, just write it down somewhere.
You will need the IP Address of the host computer too. I have already mentioned how you can get the IP Address of your computer in the previous step. Make sure to follow it.
These steps will create a direct LAN connection on Minecraft:
Open Minecraft and click on Multiplayer.
Click on the Direct Connect button.
Type the host player's IP Address and host game port in this format (e.g. 192.168.1.100:54886).
Click on Join Server.
Now you should see Minecraft joining the server instantly.
Sometimes port forwarding can be a hassle to work with on Minecraft. Check our separate article to find out the solution.
7. Play With The Latest Minecraft Version
Different Minecraft versions often cause several problems like the LAN not working.
This happens because updated Minecraft versions come with new maps. If you try to join that with an old version, the map would simply refuse to load. Also, there can be performance and other bugs which can arise due to this.
So, make sure the host and the joining computer both are running the updated version of Minecraft.
Minecraft automatically downloads the latest version and it shows up in the launcher. All you need to do is select which version you want to play with.
Here are the steps to update Minecraft:
Open the Minecraft Launcher and log into your profile.
You will see a drop-down menu showing the latest version. Select the latest version from here and click on Play.
Now click on Single Player.
Select the world you want to play and press on Play Selected World.
Click on Create Backup and Load.
Make sure you do this on all the PCs you are playing Minecraft and select the same version when you are joining a game.
8. Update Network Drivers
Outdated network drivers crash the Minecraft game (as it is a LAN game) and also don't allow you to play Minecraft smoothly.
Here are the steps to update network drivers manually:
Open the Windows Search box and type Device Manager.
Expand Network Adapters and select the driver that needs an update.
Right-click on the device and click Update Driver.
Windows will now search automatically for updated drivers. Once it finds a new driver, it will proceed to install it.
What to Do When Minecraft Kicks You Out of the Server?
Sometimes Minecraft can remove players even when they have joined a server successfully. If this happens to you, then your internet speed is slow. A ping too low can cause this problem as the synchronization between the client and the server is hampered due to a long time between data transfers.
As multiplayer requires a good internet connection, make sure you have one before firing up the game. A good idea would be to run a quick speed test to see if your slow internet connection is causing the problem.
Another thing to look out for is, make sure that you are running the same version as the host. Different versions can cause problems loading the in-game assets.
Frequently Asked Questions
How to I fix LAN world not showing up on Minecraft?
Whitelist Minecraft from the Firewall Setting of your Windows and Disable AP isolation to fix the Minecraft LAN server not showing up. Next, you need to check if the Network is set to Private on Windows Network Settings and try connecting to the same server on Minecraft.
How to enable LAN on Minecraft?
To create a world that your friends can join on Minecraft, click on Single Player and create a world. Then go to options and click on Open to LAN. Now you will have to share the Port number and IP Address with your friend which will allow them to join you.
Which IP to use for Minecraft LAN?
You need the IP Address of the host computer to join them in multiplayer. To get this, type ipconfig inside the command prompt and enter it on Minecraft's Multiplayer > Direct Connection menu.
Final Words
The error LAN Not Working is a great torment for Windows PC users. But hopefully, the fixes I mentioned above worked for you. Do let us know which fix worked for you in the comment section below. For further Minecraft-related problems or tech queries, join our community.