As an experienced Minecraft player, I know the difficulty to locate Biomes in a huge Minecraft generated world.
But what if I told you there's a super-easy way to find those rare lucrative biomes?
That's where my biomes finder guide comes in handy. After tedious research, I narrowed down the three best tools to locate any biomes easily.
What is a biome finder?
A biome finder is a tool to find any biomes in Minecraft within a certain radius. The radius is within 14,000 blocks. You have to know your Minecraft seed to use this tool. Biome Finders help reveal structures and important treasure maps within a Minecraft server. You can easily locate rare items and villages using this utility.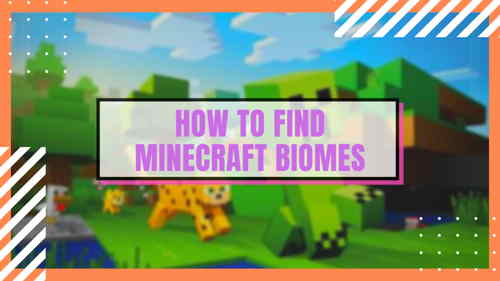 Continue reading , As I'll explain all the details to navigate the rarest biomes available in your Minecraft Edition.
Also, check out my complete minecraft biomes list to explore the unknown.
What Are The Most Accurate Biome Finders?
The most accurate biome finders in Minecraft are AMIDST and Chunkbase's Biome Locator. These two locator tools show 100% accurate results. Make sure you are playing the Minecraft JAVA Edition while using these tools.
I highly recommend using the latest version of a major browser like Chrome, Firefox, Edge, or Safari. These locator apps support Minecraft  JAVA version and Minecraft Bedrock Edition.
AMIDST: AMIDST is a Minecraft biome tracker and it renders an overview of the world with the help of the Minecraft Seed. Seed is always a number up to around 20 digits. This app is able to fetch the seed from your savegame folder.
Some awesome features of AMIDST are:
Displays slime chunks, biome information, and end islands.
You can save an image of the map.
Use the Slider to zoom in and out of the map and add the marker marker by double clicking to locate valuable points easily.
Quickly find out how to get Minecraft free on PS4.
Chunkbase's Biome Locator: This locator allows you to easily view different map features and find points of interest in your Minecraft world with just your map seed. You can also Enable Touch control and use your finger to navigate the treasures, spawn chunks, and ruins. It is a best tool if you want to find all the hidden structures at once.
Some awesome features of Chunckbase's Biome Tool are:
Version support variability
Selection of Dimensions
Complete overview of any structure, village, temple, and so on.
Also check out the best Minecraft Music Bots and the Best VPN for Minecraft.
How To Find Biomes in Minecraft
Every biome looks different from one another. Some biomes are full of sand, whereas some are full of ice. The availability of additional resources, villagers, animals, plants, and seeds is different in every biome.
Some Minecraft Biomes are so dangerous that you don't even want to visit them while you are in survival mode (like the tundra or Ice Plains spikes).
It's just like the real world where you can't survive in an Icy plain Biome for too long.
Here's a complete guide on how to change difficulty levels in Minecraft.
I know it's tough to locate biomes in Minecraft without any external tools. But, keep reading because I narrowed down some steps to find biomes in Minecraft easily.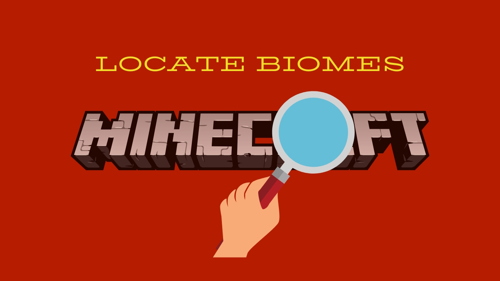 Here are the three easy ways to find Biomes in Minecraft:
Step 1. Use the Minecraft Biome Locator
This Minecraft tool shows 100% accurate result by providing the exact coordinates of the biome. One main feature of this tool is to filter the rarest biomes available for any Minecraft edition.
You need to know your Minecraft Seed. If you want all the biomes located at once, Select a seed and click on generate data.
Check out the easiest way to zoom in on Minecraft.
And of course, you need to find the seed for a new world if you are playing in a brand new server..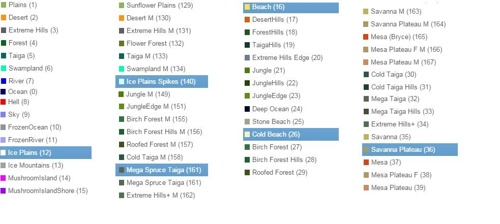 Here are the steps to use Biome finder in Minecraft:
Find the saved game in the saves folder of your Minecraft installation and Enter the seed of your Minecraft generated world. You can either type it in manually, or you can load it from your saved game folder.
Select the exact Minecraft version of the game.
Scroll down and select any of the three dimensions (Overworld, The Nether, The End) to find the biome in that specific area.
Filter the specific biome you want to locate.
Hover over the seed map to know the exact coordinates of the biome.
Point to be Noted: Not all Minecraft Editions have the same Biomes available. Some biomes are Edition exclusive.
Want to make a Jack o lantern in Minecraft? Click on the link to find out.
Step 2. Utilize the Advanced Minecraft Interface and Data Structure Tracking Tool
You can find biomes in Minecraft by using a simple app named AMIDST. According to your Minecraft version, this app lets you know where the biomes are in Minecraft.
What is AMIDST Tool?
Advanced Minecraft Interface and Data Structure Tracking or AMIDST is a tool specially made to render an overview of a Minecraft world. This overviewing tool works as a slime chunk finder, a village finder, and a biome locator.
Other incredible features include displaying end islands, the world spawn, strongholds, witch huts, jungle temples, desert temples, and more.
You can download AMIDST and install the executable file. If you don't know how to use AMIDST tool, then here is a quick look through guide.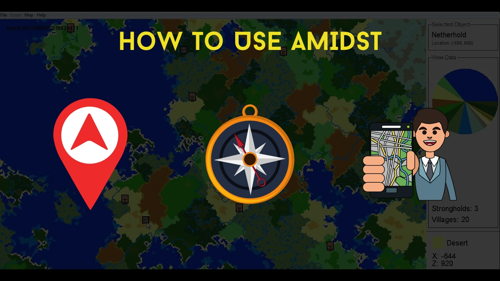 When you run AMIDST, it will pop up a new window where you will need to provide certain information like the Minecraft version you are using.
Once you complete everything, you need to select your profile and load maps from there. You can see biomes, jungle temples, slime chunks, spawn chunks, buried treasures, etc. with different colors on the map.
No doubt that AMIDST tool works as a great alternative seed mapper in Minecraft.
Step 3. Apply Biome Locate Commands 
Minecraft commands are like cheat codes, which makes things  relatively easy for you to locate any biomes. Use the /locatebiome command to find a biome in any of the three dimensions (Overworld, Nether, and End).
Also check out how to find all Minecraft Biomes using Biome Finder.
It's one of the most excellent features of Minecraft so far. Finding anything using the locate command is such an easy task.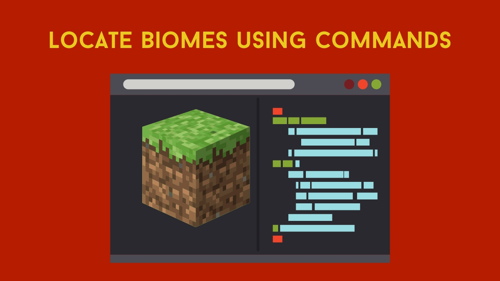 Teleporting might seem fun. But this feature doesn't work for most Minecraft versions. But you can still try this out and check if it works for you or not. These Minecraft 1.12 commands worth it.
Important: Don't use any Mods while using the Biome Locate Commands. You can  use the Command Block to execute the commands. And also use the command block to get Stonecutter, Composter, potion of weakness, and Curse of Vanishing Spell Book.
Biome Locate Command
Examples
Supported Version
/locatebiome
/locatebiome

/locatebiome warped_forest

/locatebiome end_highlands
Java Edition (PC/Mac) 1.16
Here is how to use biome locate commands in Minecraft:
Open the Minecraft Chat Window by pressing T.
Type the Command to locate the coordinates of the biome.
Use the teleport commands to teleport to the desired location.
Important: Enter the correct dimension before using any biome locate commands.
There are a lot of commands too. You can get the lists from various sites. Try these two commands to find biomes first, and then if you don't face any problems to deal with, only then go for more.
Go through our separate post on how to allocate more RAM to Minecraft for a smooth gameplay.
Is Minecraft 1.8 seed Map Fake?
Minecraft 1.8 seed Map is not a fake implementation of finding the Biomes in Minecraft. You can use the Minecraft seed in any biome rendering tool.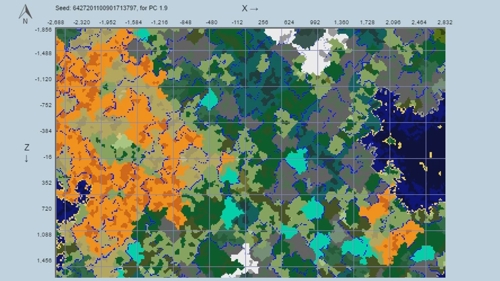 What is a Minecraft Seed Map?
A Minecraft Seed map is a computerized generated map that gives an overview of biomes, structures, and ruins.
Seed map is not a fake thing, and it does work if you know your seed. So, try finding Minecraft biomes using a seed map. Don't provide your personal information on those websites (if they ask for it). Otherwise, you will lose your account forever and also can get banned.
Seed map shows the exact map of your server in the same way Minecraft does. So, it is 100% safe to input the seed of your server. You can also filter biom according to your will and with that option enabled you can drag the map to locate amazing structures. You can also tap and hold or move your mouse holding down the left button to set a marker on the map.
Also, check out how to use Blast Furnace in Minecraft.
Frequently Asked Questions
Question: Can you locate biomes in Minecraft?
Answer: Yes. You can easily locate biomes in Minecraft by using the Seed. Input the seed in any biome finding tool to filter the rarest biomes in your platform.
Question: What is the easiest way to find a Mesa biome?
Answer: There aren't any mesa biome finder, and so the easiest way to find a Mesa Biome is to use the AMIDST tool or the Chunkbase Biome Finder Software. Select your platform and Edition to filter mesa biome from all other biomes.
Question: How do you teleport to a biome?
Answer: You can teleport to the desired biome by knowing the coordinates of the biome. Use the teleport command to move towards the coordinates.
Question: How to find a jungle biome in Minecraft?
Answer: There aren't any jungle finder in Minecraft, and so, you have to know your seed to locate any biome in Minecraft. Input the seed into any Biome Locator app and filter the jungle biome to know its coordinates.
Question: Are there any Minecraft PE biome finder?
Answer: There aren't any Biome locator for Minecraft Pocket Edition. There is a Minecraft Bedrock Biome finder edition and a JAVA edition only.
Final Thoughts
Finding out rare Biomes is a must for all Minecraft players. This gives an immense experience of exploring the beautiful Minecraft world.
Hopefully, our way of finding biome in Minecraft worked for you. Stay tuned for more.
Want help regarding any biome? Just comment below!