As a gamer, I can understand how annoying it can be to get laggy & stuttery gameplay due to high CPU & low GPU usage in Warzone or other competitive titles.
So I have compiled the most precise methods to fix this issue for my fellow Warzone vets.
Enough chitchat, let's get started.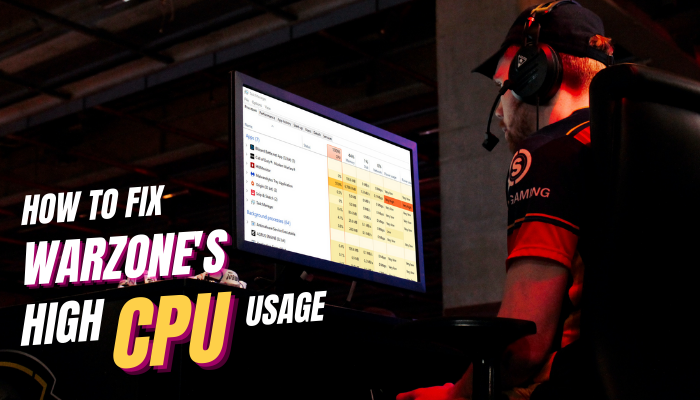 Fix Warzone's High CPU & Low GPU Usage Issues
Warzone's high CPU usage can be fixed by setting the application priority to Normal. To do so, press Ctrl+Shift+Esc to open the Task Manager. Navigate to the Details tab & search for ModernWarfare.exe. Right-click on it & select Set priority from the context menu. Then choose Normal & hit Change priority.
Additionally, you can update the graphics driver and disable Nvidia & Discord overlays to see if it resolves the issue. If not, update Windows and run the game in compatibility mode.
Too brief for you? Don't worry. Below, I have thoroughly discussed all these solutions along with some additional methods to get rid of this annoyance once and for all.
Here are the methods to fix high CPU usage of Warzone:
1. Set Warzone Application's Priority to Normal
Windows usually sets High priority for games by default to ensure that the apps can fully utilize the available hardware. Reducing the resource priority from High to Normal for Warzone is an effective way to resolve its high processor utilization issues.
Here's how to change Warzone's priority level from the Task Manager:
Right-click on an empty space in the taskbar and select Task Manager.
Go to the Details tab.
Scroll down and find ModernWarfare.exe.
Right-click on it and select Set priority.
Choose the Normal option from the context menu.
Click on Change Priority to confirm.
Now run the game and notice if its CPU utilization is still maxing out or not.
Are you running out of memory in Warzone? Check our separate guide where we allocate more RAM to COD Warzone.
2. Update GPU Driver
Keeping the GPU drivers up to date is essential to ensure the best gaming experience. Outdated or corrupt drivers can introduce performance issues and improper hardware utilization.
So in case you've noticed Warzone's CPU utilization being abnormally high, consider updating the GPU driver of your PC. Download the latest driver according to your GPU brand and model from their corresponding website.
Click on the Setup file & follow the on-screen instruction to start the updating process. Make sure to tick the Perform a clean install box, otherwise, the update might not be effective.
Personally, I use Geforce Experience for Nvidia and Catalyst for AMD GPUs to update the graphics card driver of my PC. Why? Because it's a much more convenient way to install any available updates with one simple click.
Before installing new GPU drivers, it is a good idea to uninstall the existing drivers. If you are lost, look no further than our separate article where we guide you through the steps.
3. Disable Nvidia & Discord Overlays
Game overlays can often conflict with the ongoing game and cause various technical issues. So if the Warzone gameplay becomes choppy due to sudden CPU spikes, disable all the current overlays.
Follow these steps to disable the Nvidia overlay:
Launch the Geforce Experience app.
Click on the gears icon to open Settings.
Go to the General tab.
Toggle off In-game Overlay.
You'll need to do the same if you have Discord installed on your computer.
Here's how to disable the Discord overlay:
Run the Discord app and click on the gears icon next to your profile pic to open the User Settings.
Scroll down to find and select Game Overlay from the left side pane.
Toggle off the Enable in-game overlay switch.
Keep in mind, disabling the in-game overlay for Discord won't conflict with voice chats. You'll be able to communicate with the people in your Discord lobby without any trouble.
If you messed up and now you cannot find the NVIDIA Control panel anymore, do not panic. Our separate article is tailor-made for you. Follow the steps and get back the Control Panel in no time.
4. Verify Game File Integrity
Corrupted or missing game files can also be the cause of abnormal resource usage. So you should verify the integrity of Warzone's game files, just to be sure.
Warzone is available for both Steam and Battle.net. These two launchers require different steps to verify game files. So for your convenience, I have mentioned the concise steps for both launchers.
Here are the steps to verify Warzone game files:
For Battle.net
Launch the Battle.net launcher and select All Games.

Find and select Call of Duty: Warzone from your game library.
Click the gear icon next to the Play button.
Select Scan and Repair from the context menu.
Click on Begin Scan.
For Steam
Open Steam and find Call of Duty®: Modern Warfare® II | Warzone™ 2.0 from your game library.
Right-click on it and select Properties.
Click on Local Files > Verify integrity of game files.
If any game file is missing or corrupted, the launcher will download the necessary files automatically to fix any errors. Now launch Warzone to check if the problem has been resolved.
5. Run the Game as Admin & Disable Fullscreen Optimizations
The compatibility issue is another possible reason for the abnormal CPU usage of Warzone. Fortunately, you can run a game in compatibility mode for such scenarios.
The Fullscreen Optimization feature can also conflict with a game's compatibility with the OS. So disabling this feature can be beneficial to fix a game's technical issues.
Follow these steps to run Warzon as admin and disable fullscreen optimization:
Run the Battle.net launcher and go to the Warzone tab.
Click on the gears icon to bring up a small context menu.
Select Show in Explorer.
Open the Call of Duty Modern Warfare folder and Find ModernWarfareLauncher.exe.
Right-click on it and select Properties.
Go to the Compatibility tab.
Tick the box for Disable fullscreen optimizations and Run this program as an administrator.
Hit Apply > OK.
Do the same for Warzone.exe.
Additionally, since the developers optimize their games for the latest Windows build, keep your computer's Windows up to date.
6. Disable or Remove Any Third-Party Antivirus
Third-party anti-malware softwares are notorious for causing conflict with video games. So, you can disable or remove the antivirus programs on your PC to see if it resolves the high CPU usage issue of Warzone.
Click on the Windows Search bar & type Apps & features. Now hit the Enter button & find the third-party antivirus app you've installed on your PC. Click Uninstall to remove those programs from your computer.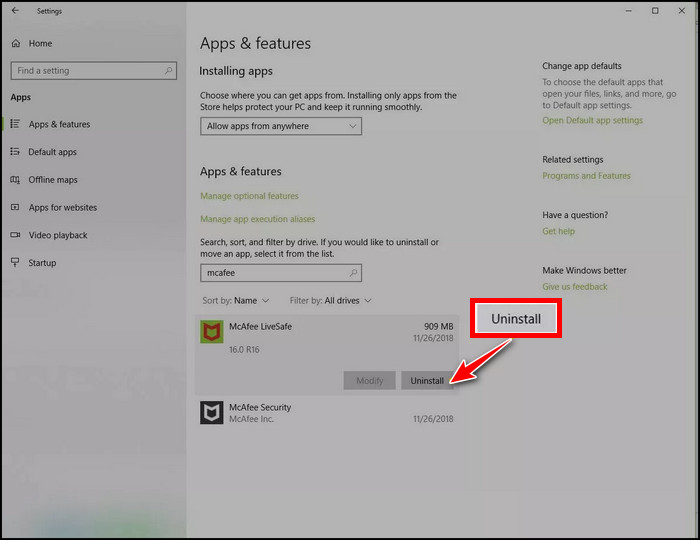 You might need to restart your computer to finish the uninstallation process.
You can also try lowering the graphics settings of Warzone, but it wasn't effective for me. There are some additional solutions you can follow which are mainly for fixing all kinds of high CPU usage issues.
Frequently Asked Questions
How do I lower my CPU usage in Warzone?
You can lower the processor utilization amount of Warzone by lowering the priority of the warzone.exe app from the task manager.
Is Warzone CPU or GPU heavy?
Warzone is mainly a GPU-heavy game. But if you're targeting a higher framerate, then the game will be CPU bound as more fps increase CPU drawcalls.
How do I optimize my PC for playing Warzone?
To optimize your PC for Warzone, keep the Windows and graphics card driver up to date. Lower some in-game graphics settings to get smoother gameplay. Close all background running programs.
Ending Note
Warzone 2.0 is currently one of the worst-optimized titles in the market. So it's no surprise that many PC gamers, especially the ones with budget-friendly builds, are facing high CPU/memory usage issues.
Hopefully, this guide has helped you reduce the overall processor utilization of this game. Which method has worked for you? Let us know in the comments below.
GGWP!