All your hardware component in your computer needs drivers to run perfectly and without any issues. But still, confused about whether you should install drivers for your CPU? Is it worth it?
Don't be anxious. To clear all your doubts you are just in the right place. You will get all the essential info here.
I have been working as an intel hardware Engineer for five years. I have solved many issues regarding driver-related problems. I will guide you through every topic you need to know.
To know the facts and to clear all your doubts, read till the end. I have dug out every fact behind this.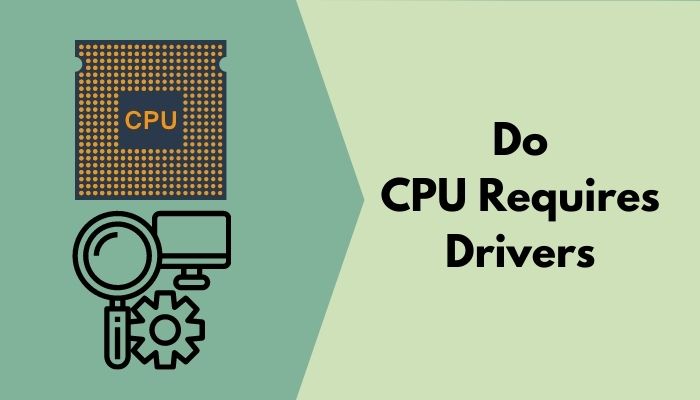 What are CPU Drivers?
Drivers are the core Software component that lets the operating system and hardware component make contact together. It is a very crucial component for your system to run to its fullest capability. Each and every type of computer needs drivers to run its multiple hardware components and application.
There are some devices that don't directly interact with their driver. These types of drivers are called Filter drivers. But like hardware drivers, software drivers don't interact with hardware devices. Software drivers only interaction between the software applications and Operating systems.
Devices like printers, Scanners, Graphics Card, Gaming mice and Keyboard, Scanners, game controllers, sound card, Network Interface cards, Storage device like HDD or SDD needs drivers to interact with OS.
As you know drivers are software-based programs, they are the link between hardware parts and Operating systems. Drivers help to instruct the hardware components by sending mandatory requests. How to execute the operation and in which way to do this is mainly instructed by the drivers.
Suppose you bought a scanner or printer, to use it you have to install a software which may include with the printer or scanner through a disk or you have to download it. After installing the driver it detects the printer or scanner.
The operating system has a layer which is called Kernel. Device drivers work with the kernel layer of the OS. Kernel directly interacts with the physical devices.
Drivers are mainly created by the same company that makes the hardware component. Sometimes you will find it created by other third-party software companies but when making them they follow the hardware standard. Driver mainly.
Do you Really Need CPU Drivers?
The answer is kinda yes. You need to install CPU drivers to run it perfectly for the operating system to interact. To use all the systems functions and to integrate all the components your motherboard requires its CPU's chipset driver. The chipset driver handles all the core operations for the CPU.
Most of the CPUs have onboard graphics and to use them you need to install them. However, the processor itself does not require a driver. These onboard graphics helps to play normal games and helps normal day-to-day tasks.
If we talk about intel's latest 12th gen CPU then they have onboard graphics built into them. But not all of intel's 12th gen CPUs have onboard graphics. Those models which have "F"  and "KF" designated at the end of the model name like i5-12400F do not have onboard graphics.
Similarly, AMD also includes onboard graphics in their APU (Accelerated Processing Unit). But the model name ends with "G" only has onboard graphics. Another model AMD Ryzen 5 5600X doesn't have built-in onboard graphics.
On the contrary, you don't need to install APU drivers if you have a discreet GPU. Simply disable the integrated graphics on your CPU.
What are the Drivers you should install for the CPU?
You can install a few selected types of drivers for your CPU. Essential drivers are automatically detected and downloaded through OS. Operating systems detect which drivers are a must for the device then download them and install them automatically.
But you need to manually download some essential drivers if OS didn't automatically detect them to download and install them.
Again, if the drivers are installed in the first place, you can always update your CPU's driver.
Here are Drivers you can install for your Intel CPU:
Intel Chipset Driver: It's a must-driver for your intel CPU. To use the controller perfectly chipset driver is required. The chipset driver provides support for the chip. SATA controller, USB controller, Audio controller, and Network cards are motherboards components that are connected through a chip. This Chipset driver helps to control all of the motherboard controllers through the chip. So, it is an important driver to install.
Intel Management Engine interface: This driver is for Intel Management Engine (ME) which is also called a tiny, low-powered subsystem compter. This ME helps to perform all the tasks while your computer is in sleep mode or running or is in the boot process. This driver helps to stable this working progress as it should be by executing various actions.
Intel Graphics Accelerator Driver: This is the driver which is only for that processor which has onboard graphics. This driver helps to interact graphics with the OS. Rendering and gameplay of all the other OS-related Interface programs are done through this onboard graphics if you don't have a graphics card.
To download and install these drivers you need to go to Intel's website and search for the perfect driver for your CPU. Like Intel AMD APU also has some drivers which are very essential to install.
Here are the AMD APU drivers you can install:
AMD Chipset Driver: As I mentioned earlier this also works the same as the intel chipset driver. This driver helps to interact with all of the motherboard controllers with the chipset.
AMD Graphics Driver: APU processors which have onboard graphics like AMD Ryzen 5 5600G needs to install this graphics driver. For Ryzen 5 5600G this driver is available which is named AMD Software: Adrenaline Edition. To install this you need to go the AMD's website and download the perfect driver for your APU. 
There's one simple trick to avoid any additional procedures, however. When you install a new component, simply update the drivers on Windows.
FAQs
Do you really need to update CPU Drivers?
Yes, it is very important to update CPU drivers. Not only your CPU drivers but also your motherboard driver, graphics card, and other related drivers. It helps overall systems stability and improves the performance of your system.
How to Update CPU Drivers?
Manufacturers provide drivers for their related devices on their websites. All you have to do is just go to their website and find the device for which you want to download the driver.
If you are an Intel user just go to their website and search for your product. Then download your desired updated version driver. A similar process is applicable to AMD.
There is some driver updater software that you can use to update your drivers.
For whom CPU Drivers is a must?
For those who want top-notch performance and a stable system CPU driver is a must for them. If you have a system without an external GPU then you must install an onboard graphics driver. It will boost up your system with a stunning visual experience. 
What are the benefits of CPU Drivers?
CPU drivers give you full control of access to your motherboard.CPU is the core of the entire system. CPU drivers help the CPU to interact with the motherboard controller through OS. So, CPU drivers help to overall system performance improvement.
Conclusion
So, now you know that CPU requires drivers for a stable system and more improvements through driver updates. If you have gone through every line I think I have cleared your confusion on CPU drivers.
I think this article helps you to clear your doubts. If you have further queries or failed to understand any topic just let me know by commenting.