Call of Duty Warzone is an online multiplayer FPS game enjoyed by gamers all over the world. As the game grows in size and complexity, it requires more memory to run smoothly.
As a result, even with low settings, many players report stuttering throughout the game.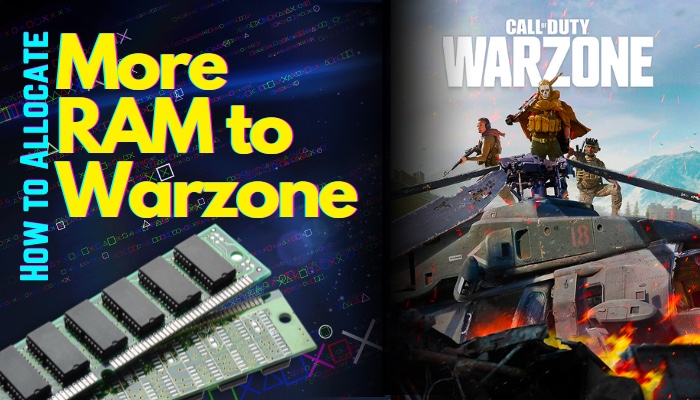 So, in this article, I'll show how to assign Warzone additional RAM and how to optimize the game to make it enjoyable.
Let's get started.
How to Allocate More RAM to Warzone
To give the Warzone more RAM, right-click the Warzone application file and pick the Set priority option. Change the value priority to high. As a result, your system allocates additional RAM to Call of Duty Warzone and prioritizes it above other operating services.
However, before allocating more RAM to Warzone, ensure that your system has enough RAM to meet the COD Warzone system requirements.
Note: The lowest memory needed for Call of Duty Warzone is 8GB, and the maximum or competitive ram requirement is 16GB. To run COD Warzone effectively on your machine, you must have more than 8GB of memory.
You may also like to read about does Ram brand matter?

Here are the methods to allocate more RAM to Warzone:
1. Disable Fullscreen Optimizations
Fullscreen Optimizations was intended to allow players to get the most out of both fullscreen and borderless windowed mode by allowing the game to operate at the highest graphics settings with fullscreen mode.
However, if your game is set to its highest graphical settings, it will require more memory bandwidth to execute its tasks. As a result, if your memory bandwidth is less than 8GB, you must disable the Fullscreen Optimization options from the Warzone Properties menu.
Here are the steps to disable fullscreen optimizations:
Go to your COD Warzone installed folder.
Right-click on the warzone.exe file.
Select Properties.
Navigate to the Compatibilities tab.
Click on the checkbox beside Disable fullscreen optimization.
2. Editing the Advanced Options File
There is a Videomemory Scale option in the Gane file's Advanced Options file. This Videomemory scale determines how many pixels appear on the screen. A high pixel count needs greater processing power.
As a result, decreasing the Videomemory scale setting reduces processing power. Therefore, Call of Duty Warzone will consume less memory bandwidth.
Here is the process for editing the Advanced Option file:
Go to Documents\Call of Duty Modern Warfare\players\adv_options.ini.
Open the file with a Text editor.
Press Ctrl+F to open the search menu.
Type VideoMemoryScale.
Try dropping the value from 0.85 (Default Value).
Note: If you reduce the VideoMemoryScale value below .60, the game graphic will be so low that you will be able to detect the pixel with your naked eyes. So, keep the figure between 0.85 and.60 and see what works best for you.
3. Customize the Paging File
A page file is a RAM extension for data that hasn't been utilized in a while. It can access the data from an HDD in from one location, which is faster than reading from different locations. It basically uses storage to create virtual RAM for your system.
So increasing some page files in your game will effectively enhance its memory bandwidth. You can expand your virtual RAM by changing some options from the paging file.
Here are the steps to customize the paging file:
Press the Win key and type Control Panel.
Open Control Panel.
Select System and Security and choose System.
Click on Advanced System Settings under the system.
Go to the Advanced tab and select Settings under Performance.
Click the Advanced tab and choose Change.
Select the Custom Size.
Enter the value in Initial Size and Maximum Size and click Ok.
Note: Set the limit to 1.5 times to 4 times your device's real Memory. So, if you have 4 gigs (4096 megabytes) of RAM, your range should be (6144 – 16384) megabytes.
Check out our separate post on MHz vs MT/s in RAM modules.

4. Set Warzone on High Priority
The Task manager allows you to allocate extra RAM to your Call of Duty Warzone. Simply setting Warzone.exe to high priority will ensure that it receives more memory allocation from the system than the other active apps.
Here is the procedure to set Warzone on high priority:
Press the Win key and type Task manager.
Open Task manager.
Navigate to the Details tab.
Find Warzone.exe file
Right-click on the file and select Set priority.
Choose Realtime from the Set priority option.
5. Change Game Settings
If these methods do not work for you, you can make some changes to your game settings to improve performance. Depending on the hardware installed on your computer, you must alter the settings.
Here are some settings for your game:
Limit your graphical options to 1080p or lower.
Deactivate any running hardware monitoring program.
Play it in full-screen mode rather than frameless or windowed mode.
Check to see if your graphics drivers are up to date.
Lock your frame rate under 60 frames per second.
Cosmetic elements such as post-processing upgrades and elaborate lighting effects should be disabled.
Note: This method does not increase the system memory but improves gaming performance by tweaking some settings in the game.
Check our latest post on can increasing RAM help CPU usage?
Conclusion
Memory bandwidth is a significant aspect in modern games like COD Warzone because it has a large play server and performs numerous instructions simultaneously. As a result, more memory bandwidth is required than usual to run it efficiently.
So, in this article, I demonstrated how to allocate more RAM to your game and boost its performance by resetting some settings.
Leave a comment if you have any questions or feedback in your mind.