If you are unable to communicate with your discord buddies because you can't hear people in discord then this post will help you to solve the problem
In this post I'll give you a series of steps by following which you can easily fix can't hear people in discord and similar issues.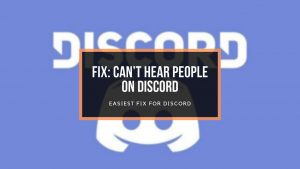 And if you need do it once and you won't face that problem again.
Why Can't I Hear People On discord?
One of the main reasons why you can't hear anyone on discord is the inappropriate audio settings on your Audio Device. Again, Due to Discord updates and bugs, discord audio not working will be noticed frequently.
Discord can't hear anyone issue is commonly seen because of the above mentioned reasons.
However, discord audio issues can be solved within minutes.
How to Fix Discord Can't Hear Anyone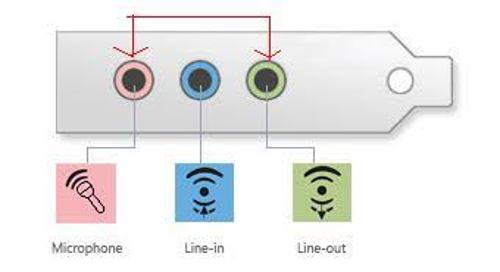 If you can't hear anyone on discord then the first thing you need to make sure to get proper results from discord voice chat is to check your headphone/microphone's connection.
Your primary task is to check if their jacks are securely connected to your PC's audio input and output ports or not if discord no one can hear me issue takes place.
In case you are using a Gaming headset and you cant hear voice on discord, then check mute button for both input and output. Turn it off.
Make sure that their drivers are updated to the latest versions.
You can also check your microphone testing using the app audacity or by online calls.
1. Restrict Other Voice Impairing Apps
Turn off any software that's related to voice recording or calling if you are noticing can't hear on discord problems. Then check if it has fixed the problem or not.
Why?
These types of apps tend to mess with Discord's well calibrated audio infrastructure and cause various types of problems like the discord audio not working issue.
Here's a complete guide on how to fix Discord not turning purple when streaming.
2. Provide Proper Audio Output & Input Settings
Discord can't hear others if you have inappropriate input and output Audio Settings.
The audio tweaking feature of discord is very amazing.
Want to know the best part?
You can edit the audio according to your needs.
Here's how you can use proper Sound input/output settings on Discord:
1. In the discord app, browse to User Settings by clicking on the icon next to your avatar's picture in the bottom right corner. On the left side menu, you'll see Voice & Video, click on it.
2. Scroll to the bottom and select Reset Voice Settings.
3. Make sure that you have chosen the correct input and output devices from the drawer style menus.
4. Now Select Default. If that doesn't work and you've got a gaming headset with an inbuilt microphone, then choose that (recommended).
5. If you hear the audio trigger BEEP in your headphones then your task is complete.
Another thing to keep in mind:
6. Ensure that the Output Volume Slider isn't on zero and if it is, then move it towards the right according to your wish.
If you hear your voice, then everything's good, and you have resolved the problem.
Lastly:
7. Enter your desired voice channel and check to see you are hearing other users.The green circle will glow/blink when you make any sound. Now check if Can't hear people on Discord problem vanishes or not.
Pro Tip: You can add colorful texts on discord by learning easy ways of discord text formatting.
3. Select Playback and Recording Devices Manually
Often the right solution is the simplest.
It isn't impossible that:
The Discord can't hear anyone problem will always arise from Discord. It may also happen for default settings of Windows.
If the Output is being directed to the wrong speaker or headset then you won't be able to hear anything from your friends.
What's the remedy?
Make sure that your audio device is set as default device as well as the default communication device.
Quickly check out our epic guide on how to fix Discord Crown not showing up.
Your question might be:
How to Setup default communication device on windows 10?
Here's how you can setup default communication Device on Windows 10:
1. Right click on the speaker icon in the taskbar, and then select Playback Devices.
2. Then go to the Playback Tab. Select the desired device and right click on it. Then click on Set as Default Device.
3. A green color tick will show up beside its icon once its selected as a default device.
4. Now, Click Apply then select OK.
You should be ready to enjoy using discord voice chat once your device is selected as the default device and default communication device.
4. Use Legacy in Discord Audio Subsystem
Most of the discord ps4 users have solved this issue just by turning on the Use Legacy Audio Subsystem option. If you follow this step then you will never say i can't hear anyone on discord again.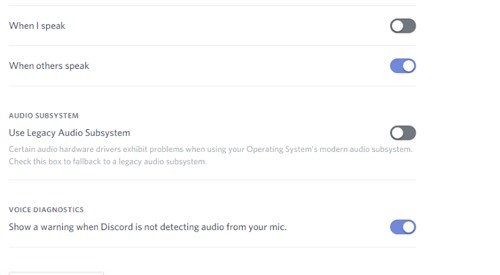 Sometimes, your hardware might not be compatible with the Discord's latest audio subsystem. Turning on the legacy Audio Subsystem will resolve this issue very easily.
Here's how you can use Legacy Audio Subsystem easily:
1. Open Discord.
2. Click on the User Settings on the right side of your avatar.
3. Click Audio & Video.
4. At the bottom you will find an option named Use Legacy Audio Subsystem.
5. Toggle Use Legacy Audio Subsystem on.
6. Click Okay to confirm in the given dialogue box.
7. Close the settings by hitting the Esc button.
5. Change Advanced settings in discord
Inside the Voice & Video settings, you can find a section named Advanced at the bottom there you will find a drawer style menu named Audio Subsystem. Simply set it to Standard.
Then discord will restart after asking for your permission.
The feature Quality Service in the advanced sections can sometimes wreak havoc with ISPs and routers/modems. It's more reliable to disable the Ensure Quality of Service High Packet Priority.
Follow our guide to Discord not working on Wi-Fi.
6. Refresh all settings
Discord releases a lot of updates and it usually takes few minutes to download and install them. You may not notice but your Discord might have updated and this problem might be caused by a bug or problem which came with the new updates.
In these cases, Discord usually releases a new fix soon or after. SO, refreshing the discords will trigger the update and therefore solve the issue.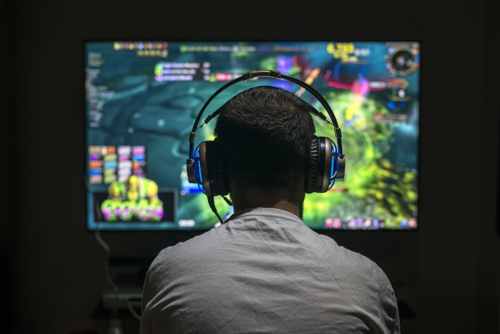 You can easily close the Discord app and restart it or press CTRL + R to refresh the Discord app.
Bonus Tip
The problems you have faced might also cause for any bugs in the Discord app. But don't worry.
Here's The Easiest solution for you:
There's a Web version of Discord. You can use it without facing any issues. Simply open your web browser and enter discordapp.com. And you will be ready to join your friends in discord voice chat.
FAQ
Question: How do I fix not being able to hear people on discord?
Answer: Here are the ways you can fix not being able to hear people on discord:
Using Legacy Audio Subsystem.
Restrict other voice impairing Apps.
Set the proper Voice Input/Output Settings.
Refresh all Discord Settings.
Use the Advanced Discord Settings.
Update Discord.
Question: How do I unmute my friend on discord?
Answer: Here is how you can unmute anyone in Discord:
Open The Discord app.
Call your Friend.
On the Left side of your Friends Username you will see the mic button.
If it is toggled off then click on it once and your problem will be solved.
​Final Thoughts
Can't hear people on Discord issues are commonly seen yet they aren't that difficult to get rid of.
Feel Lucky Because:
If you fix discord volume too low or Discord no audio issues once, you won't face it ever again.
Do mention in the comments section which step worked for you.