Spotify is like morning coffee. Without Spotify, your day won't start, and that is a fact. And someone like me who is always into music will keep the app running all day long.
I am not even kidding as I am writing this piece; I have my Spotify running in the background. Hey, don't judge me; I can multitask!
But there is a catch. Spotify takes way too much storage of your device.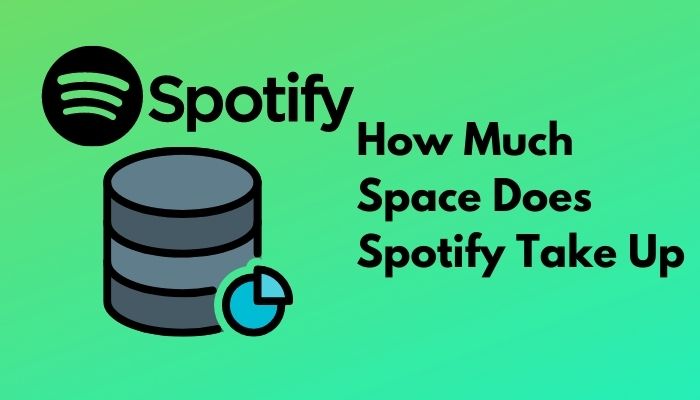 How much space does Spotify take up?
Spotify can take up to 5 to 10 GB of cache memory. And if you have around 250 songs and downloaded at the maximum quality, add 3 or 4GB of memory for that. Your quality of streaming and download quality will decide how much space the app will take.
I know many of us still have a mobile with less space than 32GB. And a laptop with just 256GB SSD on it. So it is important to know how to utilize the space, or else your memory will be full in no time.
Don't worry too much. In this guideline, I will describe how you can manage your Data and space for Spotify.
So keep reading till the end to get your desired fix.
But before that, if your Spotify isn't letting you log in, quickly check our post to solve this issue immediately.
What is the size of Spotify?
On android phones, the Spotify app is around 30 MB, and on iPhones, it is about 45MB. But it will take up to 110MB on the desktop version of Spotify. On the other hand, Spotify Lite is under 10MB.
If you think, hey, this is just in megabytes, where is the worry? Yeah right. True, the app size is in megabytes. No question there, but you still have to worry about the space left in your system.
Also, to save up room for other apps, Spotify released Spotify Lite. Like Facebook Lite and Instagram Lite, it is for devices with less memory and an old processor. You can do everything important as you can do in a normal Spotify app. Just some features are not there. But I don't think you will need that anyway in your daily routine.
You can stream, download, and make your playlist in the Spotify Lite App. The app is still in the Beta process. So you will see some minor bugs here and there. But we can hope with major updates; it will be more user-friendly.
But don't worry too much if you want to use the regular Spotify Application. I will tell you how you can make room for all your songs and clear cache memory so that your device can have breathing space.
Quickly check out how to make multiple Spotify profiles with a single account.
How to free up space on Spotify iPhone
Hey, I know why you are here. You have an iPhone with less than 64GB of memory. Or your someone who is storing. All their 4k videos and pictures are on their phone. Look, I understand why you keep all the images and videos on your phone for memories, right? Here is a small tip you can now cloud store all your important videos and pictures without the fear of losing them.
Also, I believe cloud storage is safer than storing in your local directory as there is a big risk of losing the device or an unwanted crash on the storage system.
Now coming back to the topic of how you can make room for other stuff when Spotify is piling up all memory. You even need the extra memory for more offline songs.
See, Spotify can acquire most of your memory in two ways. Storing cache and offline songs. If you can manage these two, you don't need to worry about how much storage Spotify is taking.
As a music lover and a lifelong Spotify user, I will guide you exactly on how you can fix your Spotify application from stuttering.
Here are the steps to free up space on Spotify:
1. Clear Cache Memory
Spotify can store huge amounts of cache memory. It can pile up to 5 to 10GB of cache memory, which is a lot when you are already on a storage warning. If you clear out cache memory, it will make room for your iPhone to do other stuff.
Here are the steps to clear Spotify Cache:
Open Spotify Application.
Tap on the settings icon.
Go to storage.
Click on delete cache.
Don't be shocked if you see there are more than 5 GB of Cache memory. You can delete the cache with ease. Don't be in a fear that you will lose your personal data or songs.
2. Change Download Quality
If you change the download quality of songs, you can have more space on your iPhone. With higher quality, it would take 10MB per song, but if you set it to medium, it would take less than 5MB and a little less if you set it to low. Quickly check out how to stop Spotify from opening on startup.
Here are the steps to change download quality on Spotify:
Start the Spotify app.
Go to Settings.
Click on audio quality.
Scroll down to Download.
Set on Normal or low.
With less download quality, you can save up space on your phone. You can store more songs with less download quality. It will save your mobile data as well.
Why does Spotify use so much storage?
Spotify can even take up to 50 GB of space. With the streaming, Spotify stores cache in your system. If you are streaming on high quality, it will store more data, and if it's on medium, then a little less and a little less if you are streaming in low.
I am not even kidding when I am writing this. Yes, Spotify legit can take 50 GB of space equal to a FIFA game or take Ghost of Tsushima instead.
See if you stream songs all the time; around 5GB of cache memory will be stored in Spotify by the end of the week. Now you might ask, hey, what is the point of keeping cache memory if it takes so much space.
See, cache memory is really important when you have internet disruption. Because of cache memory, you don't have to load the song, again and again, to hear the music when you don't have the internet. This is a great method to save the internet when you are on mobile data. So yeah, cache memory is important, no doubt about that.
Also, if you download songs of very high quality, then per song will take up to 10 GB, and the lowest quality will take 3 or 4 MB per song. It depends on the duration of the song. So it varies from song to song. But now you do the math, if you have around 300 or 400 songs, how much space Spotify will eat up. So as I said earlier, Spotify can eat up to 50 GB. That is now somehow making sense, right? Yes.
Also, your Spotify will take more space if you are randomly liking songs on Spotify. Because if you are downloading your favorite music list, then every time you press like, it is automatically being downloaded in your system. Maybe you don't even want the song to be there on your offline playlist. If you go to your Offline playlist, you will find many tunes you didn't even know were there. And these songs are taking up way too much space on your device.
How much space does Spotify take up on the iPhone?
A Spotify application with a good amount of songs can take up to 10 to 20 GB of space on an iPhone. The storage memory depends on your cache memory, how many songs you download, and which quality.
Storage is still an issue for many mobile phones. Look, I get it; we now have phones with 256GB of space, but it is as large as the storage system when it comes to the price. Also, with the growing bigger space desktop/phones, the app size rapidly increased as well.
See, in 2016, I used to use a phone with 16GB of space in it. But I never felt like I needed more space. And I used to play GTA SA and had many pictures and songs stored on that phone. But then I moved to a phone with 32 GB of space in it and felt like, hey, I need more storage. And now I am using one with 128GB. Guess what, it is not enough.
We tend to save bucks on getting the smaller storage iPhones. There is nothing wrong with it, As long as you have the latest iPhones, right? I mean, yes, the price of the 256GB ones is just ridiculous.
And now you may ask how much does it take on android phones. Well, it is pretty much about the same. As I said earlier, it depends on what quality you are streaming and how many songs you are downloading.
So someone can have the app in-between 1GB to 5GB if they are strictly on streaming. And it can take up to 10 to 20 GB if the person is streaming on high quality and downloading like 500 songs.
Final Thoughts
At this point, we all know Spotify is a storage-hungry app. Without managing it, you will be out of space in no time.
Hopefully, with this guideline, you can land a solution.
And if you still have any queries, then you can always reach out to us.