Spotify is a very important application for every music lover out there. Trust me; I cannot even think of living a do without listening to music.
Life without music is just plain boring. I cannot go to my workplace or even to my university without any music in my ears. Think about going on a road trip without music! Scary.
Even though we love Spotify, but as with everything, it will let you down at times.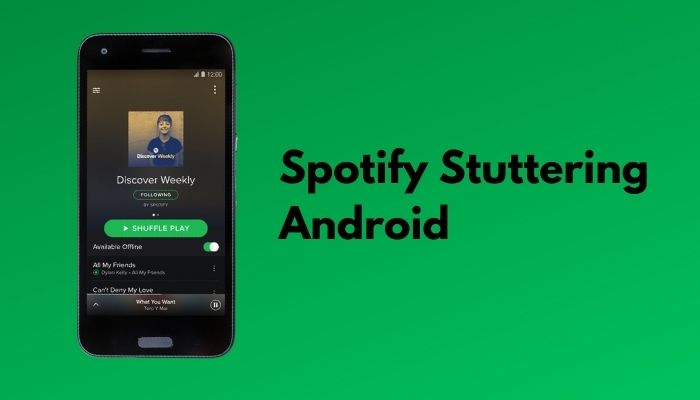 Why does my Spotify keep stuttering?
Your Spotify app will stutter if you have a corrupted cache file. And if you have a PC or a Mobile with low specs, then it might be the reason for stuttering. Also, if your mobile is running in any battery-saving option, that can make your Spotify app stutter.
We need our music applications to be smooth as butter. Because music is where I find my peace, and any little disruption in that can ruin my day.
Quickly check out how to stop Spotify from opening on startup.
So keep reading till the end to get your desired fix.
Why does Spotify keep pausing on my Android?
Your Spotify application can be turned off automatically if your battery saver option is on. Tap on AirPods might be another reason. Also, if you have a sloppy internet connection, it might be why your music track is getting paused.
Spotify not working at times can break people into pieces. Like I cannot start my day at full force without listening to my favorite track, and that is why I adore Spotify.
But it is irritating when the music application fails you big time. It is a simple job. Just keep the music running! Most people on android are currently reporting that their Spotify application is either pausing their music or randomly turning the music player off. This can easily happen if you are mistakenly touching your Airpods. Because the gesture settings will pause or play the music. So be aware of that.
But before that, if your Spotify isn't letting you log in, quickly check our post to solve this issue immediately.
Before going into the fix, you should check out your internet speed. If It is bad, then your music will pause, stop/break while you are streaming. But you can do one thing set your streaming quality to low. That way, even if you have a slow internet connection, you will be able to listen to the music with ease.
Here are the steps to set music quality in Spotify:
Open the Spotify application.
Go to settings.
Navigate to Audio Quality.
Set Wifi Streaming to low.
Say bye-bye to buffer. You will save a lot of data as well. Honestly, you will not feel the difference between low quality vs. very high quality if you don't have good headphones. So if you are listening on a cheap pair of headphones, it is better to set it down to low.
Now how to stop Spotify from pausing your music on android?
It is very easy to fix this on android phones. You don't have to worry about how difficult the process is. Just follow the steps written below, and you will be good to go.
Quickly check out how to make multiple Spotify profiles with a single account.
Here are the steps to stop Spotify from pausing your music on android:
1. Turn off the Battery Saver option
We tend to keep our phone-in battery-saving option to save some extra battery power. But that comes with cutting off some features. It will prevent your processor from running in full force, and it will clear out all your background apps the very moment you come to the home screen.
Here are the steps to turn on battery saver on android:
Go to settings.
Click on battery.
Turn off the battery saver.
Now it is how most Android phones work. But you might have to search for the option a little more if you are not using the stock android UI.
2. Sign Out from Everywhere
Every time you log into another Spotify application with the same account, your music will pause. Also, Spotify limits one profile at a time to hear music. So if there is someone with your password trying to change the music can end up pausing your song.
Here are the steps to log out from Spotify:
Go to the official Spotify website.
Log in to your profile.
Select account.
Click on Sign out from everywhere.
Signing out from everywhere will log you out from your current device. So log back in and see if your application is working fine or not.
If you still face any trouble, though, the possibility is less, but if you are still facing issues, then try and reinstall the Spotify application. Hopefully, that will fix your problem. So, How much space does Spotify take up on your device? Quickly check out our post to find out.
How to stop Spotify Stuttering on Android
See, it is very common for an application to lag or stutter in low specs devices. But if you are using one of the expensive flagship devices out there and still your application is stuttering, that will invoke the rage of a volcano inside you, right? Yes, it most probably will.
But I guess you have to blame your device than Spotify for this mishap. Because most of the new phones come with a feature that will put your Application to sleep or pause the activity while in the background to save battery power. So In order to save your battery, your phone is killing your music experience. Another reason for your application to stutter can be faulty cache files. Deleting them will fix your problem. So now that we know why your application is stuttering let's get into troubleshooting.
Here are the steps to stop Spotify stutter on Android:
1. Whitelist Spotify Application
If you didn't put your Spotify application in the category of unmonitored apps, your phone would continue to use the application in the lowest power possible to save battery. Which will cut down performances, and you will face stutter and lag here and there.
Here are the steps to whitelist Spotify application:
Go to settings.
Click on device management.
Select Battery.
Navigate to unmonitored apps.
Add Spotify in unmonitored apps.
Now your phone will no longer put any performance cap on the Spotify application. And with this method, you can even use the battery saver option. Because whitelisting the Spotify application will give the app full freedom to run even in the battery saver option.
If you are still facing lags or stutters, then follow the next method.
2. Delete Local Cache
Your Spotify Application might be stuttering because of a corrupted local cache. Deleting your local cache will solve the issue and free up some space in your memory.
Here are the steps to delete Spotify cache files in android:
Turn on the Spotify app.
Select settings.
Scroll down to delete the cache.
Now that you have cleared the cache, your Spotify application should run with ease. But if you are still facing lag or stutters, you should download the Spotify lite application, which will save you from the lags and stutters. Also, if you are in the process, you should reinstall the application to save yourself from the stutters.
Why does Spotify stop playing when I leave the app?
Your Spotify will always stop if you close or leave the application. To save data or battery, your android phone will always force the application to stop every time you leave the application.
This is a necessary step if you are always using social media apps. Because the amount of data or battery these application takes in the background. But at the same time, you want your music to run even if you close the application. I mean, if you don't want to hear the music, you will simply just pause the player.
Very weirdly, there is no solid fix for this as the phones nowadays are designed to save battery and data while in a deep sleep. But I have made my solution for this. With this trick, you can run Spotify even in the background.
Here are the steps to run Spotify in the background:
Open your Spotify app.
Swipe up to see your recently opened apps.
Long Press on the Spotify Application.
Click on lock.
Save the settings.
This way, every time you tap on clear application, Spotify will not close down. It will run in the background. And there will be no interruption in your music.
Final Thoughts
Spotify as a music application is amazing. Because of its vast library, many people listen to Spotify daily. But it is annoying when you cannot hear your favorite tune because of Bug and Errors.
Hope with this guideline; you can solve your issue.
And if you still have any queries, then you can always reach out to us.