Since its first appearance in the music streaming era, Spotify has ruled out all its competitors. I don't even need to speculate on the mobility of Spotify.
Of course, the User experience of the streaming mode needs no interpretation, but the issue arises when you try to utilize the offline mode. Let's be honest, you can't use an internet connection every time to listen to a song/podcast. There can be a power cut or issues with your isp.
Forget about any issues, you purchased the monthly/yearly subscription, and you have the authority to utilize the offline mode. And as you have landed on this page, I will guide you to resolve Spotify's inability to play downloaded music.
So, let's dive deep in.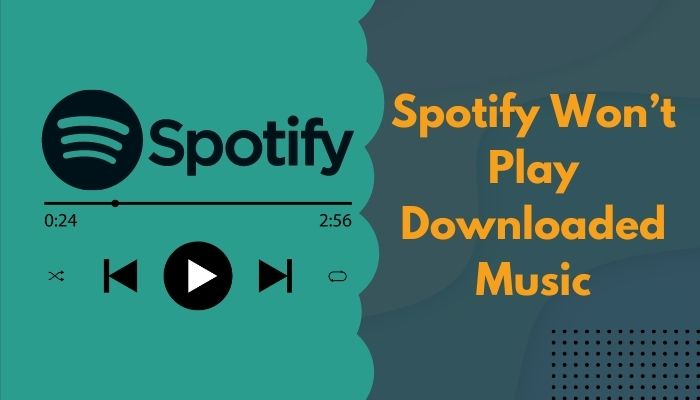 Also, check out our separate post on Spotify not working on WiFi.
Why Can't I Play Downloaded Music on Spotify?
Lack of permission to access the Spotify application is the prime reason for your inability to play downloaded music. Other than that, if the application is malfunctioning, or if you have downloaded the same music over five devices, you seem to encounter the issue.
Those are the theoretical aspects of your issue. But if you get deep inside the functional area, you'll notice that even your device's storage is responsible for the issue.
Additionally, if you didn't activate the offline mode, which is not possible unless you overlooked the option, you won't be able to play the downloaded music. And if for any reason, you didn't log in to your Spotify account for more than 30 days, your offline mode will be deactivated.
So, which reason do you think is responsible for your problem?
Follow our guide to fix Spotify stuttering on android devices.
How to Fix Spotify won't Play Downloaded Music on PC
Usually, PC users don't try the offline Spotify features. For that, they face less complicated situations than mobile users. But, since you are looking into this section, I'll assume you are having difficulties playing your favorite podcast in offline mode.
Here are the methods you should follow to play downloaded music offline:
1: Re-login to your Account
The heading of this method may seem comparatively childish, but trust me! I found a really good number of people who resolved the issue only just re-logging in their accounts.
So, what you need to do is, log out of your Spotify account > restart your device after logging out > Log in again.
Yeah, that works! Primarily if the issue is occurring because of bugs in your system.
The fix should work out. Did you enable the offline mode on your account? If not, check out the following method.
Check out the easiest way to fix Spotify no internet connection.
2: Enable the Offline Mode
Well, when you are busy finding the solution, the most important thing — enabling the offline mode, can be crossed off your mind. It's essential to human nature.
Here's the procedure to enable offline mode on Spotify:
Launch the Spotify application on your PC.
Click on the horizontal dots from the top left corner.
Point your mouse in the file
Click on offline mode from the list when it appears.
That's easy, right? Enable the offline mode and listen to your downloaded content from now on. If you are facing issues with the mobile version of Spotify, read the following section.
Check out our separate post on how to change equalizer on Spotify PC.
How to Resolve Spotify Offline Music Won't Play on Mobile
As I explained earlier, the major issues you encounter on Spotify usually occur on the mobile version, and the application is mainly focused on mobile users.
For that reason, I have enlisted the three most effective solutions you can try to resolve offline music playing issues. Try these techniques one after another.
Here are the methods to play Spotify music offline:
1. Enable App Permission for Spotify
At the time you installed Spotify on your mobile, you may have forgotten to allow the necessary permission. That's a very crucial reason why you can't play downloaded music on Spotify.
Here are the steps to enable permission for Spotify on your mobile: 
Launch the Settings menu of your mobile.
Navigate to Apps > Manage Apps.
Scroll down and locate Spotify in the list.
Tap on permission and allow access to every available option.
You are all set. Relaunch Spotify and check whether the problem has been resolved. Don't worry if that doesn't. There are other methods that I will enlist in the upcoming section.
Follow our guide to fix Spotify waiting to download issue.
2. Disable Battery Optimization for Spotify
If you enable the battery optimization for Spotify, you are more likely to miss out on the application's core features. Enabling battery optimization for an application restricts its limit to using the additional features.
Disable the battery enhancement to get rid of the issue.
Here are the steps to disable battery optimization for Spotify:
Tap and hold on to the Spotify application on your phone till the app info option appears on the screen.
Scroll down and select Battery Saver.
Select No restrictions from the next window.
Close the settings menu and log in to Spotify. Your problem should be resolved by now. Enjoy listening to offline music.
Check out the easiest way to add an entire playlist to another playlist Spotify.
3. Connect Internet for ReSynching Spotify
When you download tons of music on your Spotify account and listen to only those songs, you may encounter the situation.
I think you remember my point mentioned above; if you stay offline for 30 days consecutively, your downloaded music won't play.
So, in order to get rid of the issue, you need to log in at least once every 29 days if you don't want your offline music to get stopped from playing.
Here's a complete guide on what is listening activity on Spotify.
4. Re-install Spotify
That's the last thing I would suggest you commit. Reinstalling the application will delete all the saved data and your music library.
But, on the bright side, your issue will be long gone when you reinstall the application.
Here's the procedure to reinstall Spotify on your mobile: 
Go to the settings menu on your mobile.
Navigate to apps> manage apps.
Scroll down and locate the Spotify application.
Click on the app, and you'll notice an uninstall button in the bottom dashboard.
Tap on Uninstall and follow the on-screen commands.
Go to the app store/play store on your mobile and install
After installing the application again, provide valid login information and check if the issue has been persistent. That's not gonna happen if you follow my instructions strictly.
I think you got my point. These are the most needed techniques when you are to solve Spotify's refusal to play offline music.
Quickly check out our epic guide on how to fix Spotify not updating.
Frequently Asked Questions
What Happens when I'm Offline and Spotify Premium Ends?
You can't stay offline forever. Actually, Spotify won't let you. When you are offline for more than 30 days, your downloaded library will be deleted automatically.
Can you listen to Spotify offline without Spotify Premium?
No, you need to purchase a premium subscription to utilize the offline mode. After all, your offline feature won't even show up if you are not a premium user.
Where are Spotify offline files stored on Android?
Launch the Spotify application on your mobile. Navigate to Settings > Other > Storage > your offline music library is stored here.
Closing Remarks
To sum up, the entire article, when you encounter this type of issue, all you need to do is make sure you have enabled the offline mode, restart your device, Enable app permission and finally, reinstall the problematic application.
That's doable, right? Especially when you have read this article thoroughly. But, if anything goes south, I need you to remember that I'll be just one comment away to help you with a different solution.
So, what's stopping you from applying these solutions?