Music makes everything great. If you are in a dull mood, you can just boost your mood by listening to Daft Punk. Trust me; Daft Punk is all about moving your body.
You can boost your listening experience if you have great speakers or headphones. A music system with good bass and treble can really make the difference. That is why Bose, JBL, comes with a price.
But if you have a decent speaker, you can tweak with an equalizer and can make the difference as well.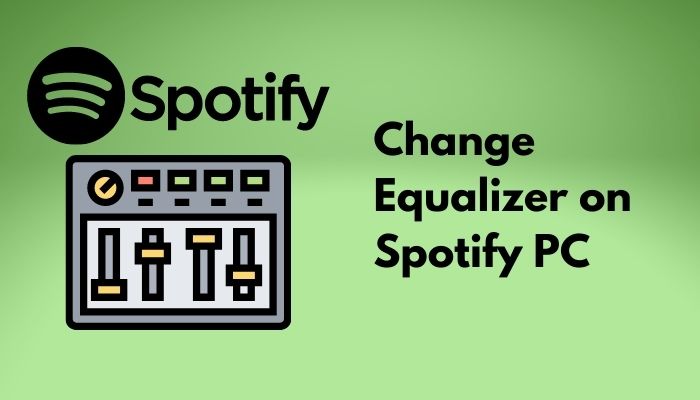 Did Spotify get rid of equalizer?
No, Spotify never had any options for enhancement or customization of music, both on their PC and the Andriod version of the application, because both systems will play songs on the device's default settings.
It is kind of sad because I know most people want to set their own hearing preferences. However, you can still tweak the settings on most of the devices. It is pretty easy to set your hearing preference on a windows PC.
As a music lover and a PC enthusiast, I will walk you right through the process.
So put on your reading glasses to get your desired fix.
Also, check out our separate post on fix Spotify waiting to download issue.
Why can't I use the equalizer on Spotify?
You cannot use the equalizer on Spotify because it is not available on all the platforms of the Spotify application.
The equalizer option is only available on iOS devices, mainly iPhones. It is not available on Mac, so if you are jumping in joy! Just calm yourselves a bit. You can only use the equalizer on Iphones from the default Spotify application.
And now you might ask why this feature is not available on most platforms? Well, it was available on many android phones before. It was available on my OnePlus Device for a long time after the Andriod 11 update it suddenly disappeared.
The equalizer feature was also available on the Samsung Galaxy devices. But it was never available on the Desktop version of the Spotify application. There was this rumor about the web application of Spotify that it was beta testing on its equalizer.  But it disappeared after a while. Though still, the equalizer feature can be seen on many android devices. A probable reason would be they haven't updated the application or their android system.
Follow our guide to know what is listening activity on Spotify.
One of the main reasons Spotify doesn't have any soul equalizer option is that it uses the default sound settings of your device. Meaning if your android phone has its own sound system, then Spotify will run at the settings by default. As my phone has Dolby DTS and Dirac audio tuner, whatever I change on these audio settings, my Spotify will run automatically on those preferences.
Same for the Dekstop version of the Spotify application. If you have any dedicated equalizer or sound system on your desktop, your Spotify, by default, will run on those settings. Let's say you have set your music preference on bass boosted on your PC and chose pop as your hearing preference, then every song you play on your Spotify will run on those settings.
Do keep in mind that Spotify doesn't save any of these settings on your account. So if you have different equalizer settings on different devices, your hearing preferences will also be different in other platforms of Spotify. If you have set rock on your mobile phone, then your mobile application of Spotify will produce rock, and if your pc settings on pop, then pop on the desktop version of Spotify.
Another reason for Spotify not having a dedicated equalizer would be that maybe music labels have put restrictions on them. You see, every music has its own creation. If you tweak it, it probably destroys the essence of that music. This sounds more like a conspiracy theory, but it can be a good reason if you give it a thought.
How to Use Equalizer on Spotify
Spotify introduced music quality, mix fade, and many things on the application. Probably in the future, we will get a dedicated equalizer.
Now, if you are one of the lucky ones with an Iphones and you might be wondering, How to use the equalizer on Spotify on an iPhone. Then follow the steps below.
Here are the steps to use the equalizer on Spotify:
Open Your Spotify application.
Click on settings.
Go to Audio Quality.
Click on the equalizer.
Turn on the equalizer mode.
Set your preferences.
You will find bass reducer and bass booster options there and many more, honestly. You can choose between acoustic, jazz, Latin, etc.
Now you might be a little jealous because of these settings. Well, don't you worry, I will show you how you can tweak your hearing preferences on your Desktop.
Also, check out our separate post on view recently played songs on Spotify.
How do I use the equalizer in Windows 10?
At this point, you know that there is no dedicated equalizer feature on Spotify PC, and you might be a little jealous that these features are available on iPhone but not on PC. To be honest, it doesn't make sense to me why these features aren't available on windows pc, but you can still make your Spotify sound great with a little trick.
As I said earlier, your Spotify sound quality will be the same as your default sound quality. So if you change the sound settings from windows settings, then Spotify will run on those settings by default. All you have to do is tweak some settings from your windows settings.
Here are the steps to use the equalizer on Spotify PC:
1. Enable Equaliser from Windows settings
You can use the equalizer from the windows settings of the desktop. It is quite easy to tweak the sound quality from there.
Here are the steps to enable equalizer from windows settings:
Right-click on speaker on the bottom right.
Click on open volume mixer.
Double click on the speakers.
Go to enhancements.
Select equalizer.
Change the settings by your preferences.
Click on Apply to save settings.
Easy right? You will find every possible genre preset in the settings. So choose in between to improve your listening quality. Any settings you apply will immediately affect all your applications on the desktop, including Spotify for PC.
Follow our guide to fix Spotify stuttering on android devices.
2. Via Third-Party Sound Manager
You will not be able to customize your sound quality on all PC. But you can always use Third Party equalizer for your pc. As my laptop doesn't have a built-in equalizer, I have to use the third-party app the came with my Laptop.
Here are steps to use an equalizer from a third-party app:
Search for the control panel.
Click on hardware and sound.
Double click on your third-party sound application.
Go to sound effects.
Customize your music preferences.
You can also download third-party equalizer applications. Research a little bit and download the best application suited for you.
Also, check out our separate post to fix Spotify no internet connection.
How to make Spotify sound better on my computer
If you think your Spotify is producing below per sound quality, you might have to tweak some settings.
Spotify, by default, sets your music quality. Depending on your internet connection, it will stream the available music quality. To save data and for bufferless music streaming, Spotify will stream in terms of your internet quality.
It helps a lot when you are in your Mobile Data. But while you are on your PC. You are always on Broadband. Unlimited data and good enough speed. So the music quality cap doesn't work then. And it gets annoying when you hear very poor audio quality of your favorite music.
Luckily you can change the settings. And make your Spotify sounds better.
Here are the steps to make Spotify Sound better on Computer:
Tap on your profile.
Go to Settings.
Scroll down to audio quality.
Set streaming quality to very high.
Turn off auto adjust quality.
Now your Spotify will always produce a very high quality of Music. But you may face buffer while streaming if your internet connection is slow.
Follow our guide to know how much space does Spotify take up.
Final Thoughts
It's been a long ask for a dedicated equalizer on the Spotify application. We can only hope Spotify will listen to our request and make a built-in equalizer for the PC version of the application.
Hopefully, with this guideline, you can land a solution.
And if you still have any queries, you can always reach out to us.